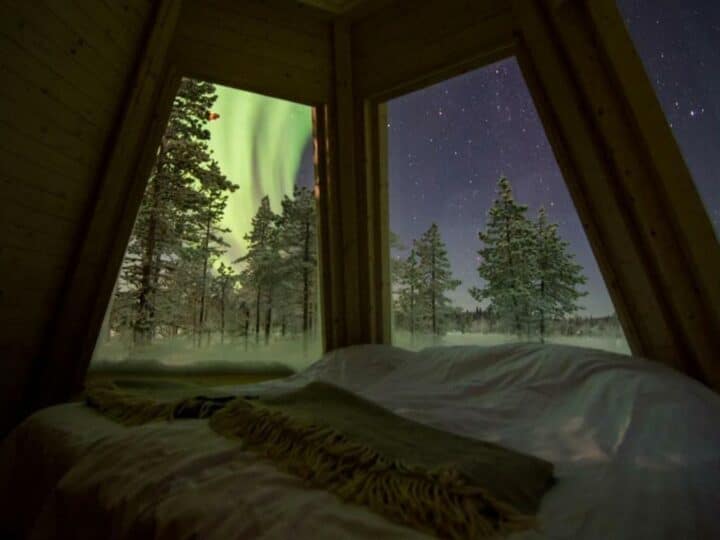 Get ready to discover the most incredible Northern Lights hotels in Sweden with this practical guide.
If you love the Northern Lights, then join the club. Those dancing waves make for a gorgeous display that is truly a once-in-a-lifetime experience for anyone who doesn't live close to the poles.
Lucky for you, Sweden is a great place to catch these lights.
It's close enough to the Arctic Circle that if you choose a northern town or city, you'll be (pretty) sure to at least catch a glimpse of them. Or, hop on a Northern Lights tour and spend an evening hunting down those pretty hues.
However, the easiest (and my favourite) way to spot this phenomenon is by staying in a Swedish Aurora Borealis hotel. It truly is the best way to make a week-long vacation chasing the Northern Lights much more comfortable.
The Northern Lights hotels in Sweden offer various ways to enjoy the magnificent event, including watching them from a hot tub or even spotting the spectacle from your room.
So if you want ultimate luxury while taking in the beauty of the Aurora Borealis, then one of these six hotels is sure to appeal to your needs. Let's explore.
Best Northern Lights Hotels in Sweden
From hotels tucked away in trees to a hotel made of ice, there are many comfortable and unique ways to enjoy your stay in Sweden while hunting the elusive Northern Lights.
Northern Lights Hotels Sweden: Practical Tips
The Northern Lights in Sweden can be seen from September to March; however, some people have even spotted them in late August. If you're keen on spotting this beautiful light show, researching the best time to see the Northern Lights and booking your trip during this time is ideal.
Use the Aurora app when hunting for the Northern Lights to show you the best time to see the lights. It is a forecasting app, though, so the information can be wrong sometimes. However, it does help a lot.
These Northern Lights hotels can fill up quite quickly, so booking far in advance is best. Not to mention that it helps give you the best rate possible.
Best Northern Lights Hotels Sweden: Map