Get ready to discover the most incredible Northern Lights hotels in Sweden with this practical guide.
If you love the Northern Lights, then join the club. Those dancing waves make for a gorgeous display that is truly a once-in-a-lifetime experience for anyone who doesn't live close to the poles.
Lucky for you, Sweden is a great place to catch these lights.
It's close enough to the Arctic Circle that if you choose a northern town or city, you'll be (pretty) sure to at least catch a glimpse of them. Or, hop on a Northern Lights tour and spend an evening hunting down those pretty hues.
However, the easiest (and my favourite) way to spot this phenomenon is by staying in a Swedish Aurora Borealis hotel. It truly is the best way to make a week-long vacation chasing the Northern Lights much more comfortable.
The Northern Lights hotels in Sweden offer various ways to enjoy the magnificent event, including watching them from a hot tub or even spotting the spectacle from your room.
So if you want ultimate luxury while taking in the beauty of the Aurora Borealis, then one of these six hotels is sure to appeal to your needs. Let's explore.
Best Northern Lights Hotels in Sweden
From hotels tucked away in trees to a hotel made of ice, there are many comfortable and unique ways to enjoy your stay in Sweden while hunting the elusive Northern Lights.
Jukkasjärvi Icehotel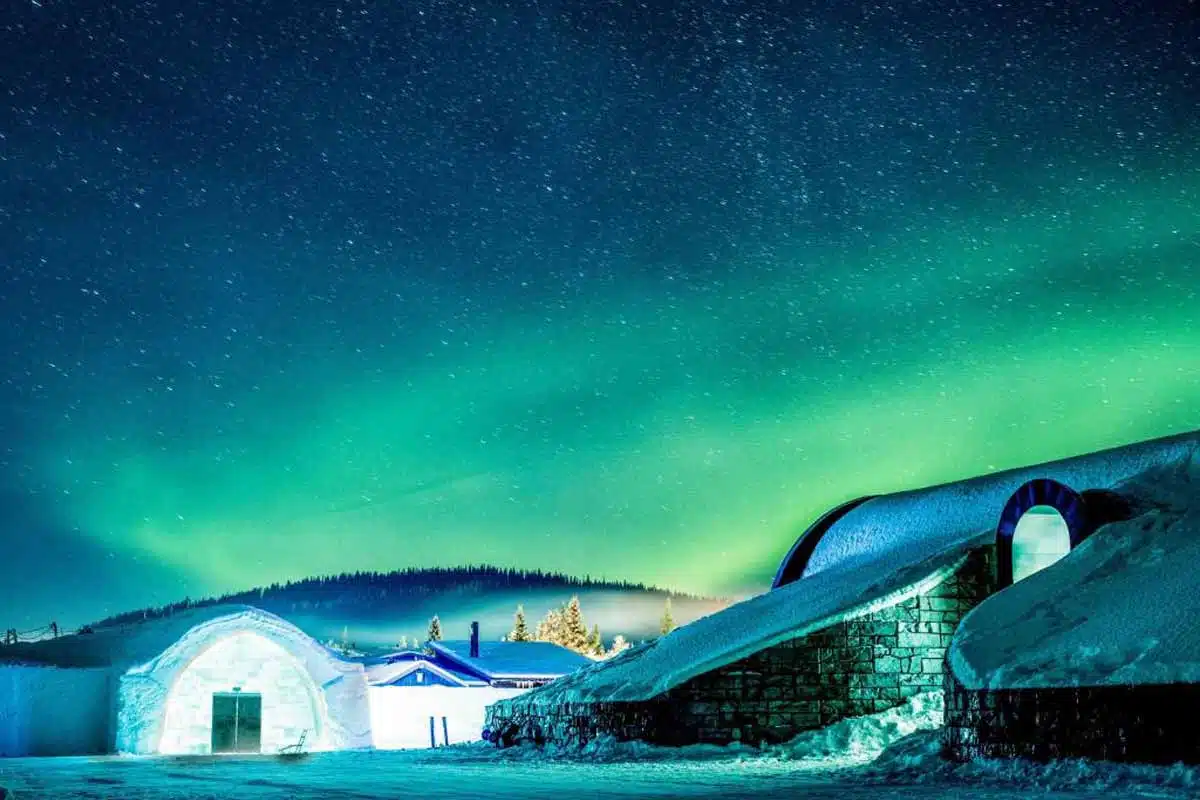 Northern Lights Ice hotels, in general, are iconic in the Nordic and Scandinavian regions. And the Jukkasjärvi Icehotel holds that title high.
It's made entirely of ice and snow, and the staff rebuild it yearly. Even if you visit two years in a row, you will never see the same hotel twice.
The hotel offers standard rooms made of ice where you will sleep in sleeping bags and reindeer hides to stay warm. There are also ice art suites with hand-carved designs by artists from around the world.
The recommendation is only to stay one night in the ice rooms and spend the rest of your time in the hotel's warm rooms. So if you want to see the beautiful Northern Lights while staying in the ice hotel, you need to plan your one night just right.
Camp Ripan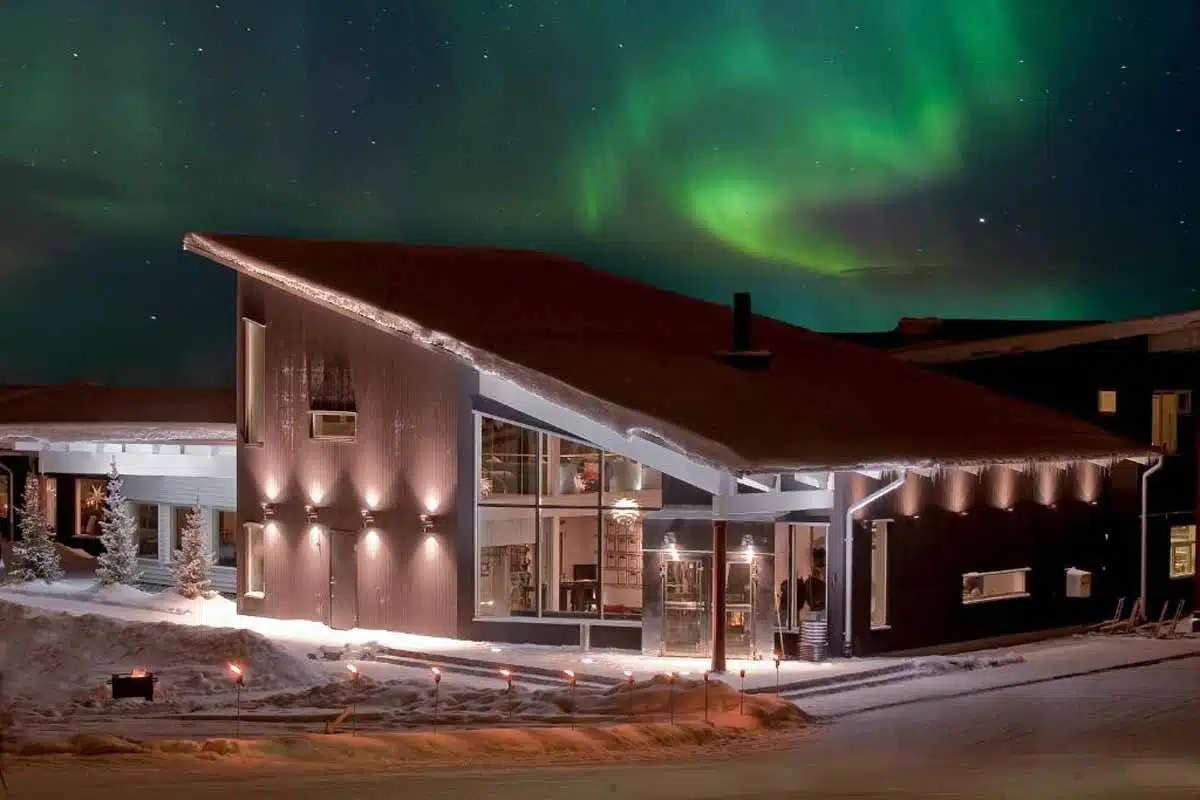 Imagine enjoying the Northern Lights from a spa or sauna. Well, let me tell you; there's no need to imagine if you decide to stay at Camp Ripan, one of Sweden's most popular places to spot the Aurora Borealis.
Located in the heart of Kiruna, the spa has an indoor pool with panoramic windows and an outdoor pool. So it's up to you whether you want to spot the lights from inside the spa or indulge in the crisp air outside surrounded by dancing lights—such a hard decision to make.
Or, if you would rather stay toasty, the sauna has massive windows where you can relax and sweat it out while taking in the beauty of the Northern Lights.
STF Abisko Turiststation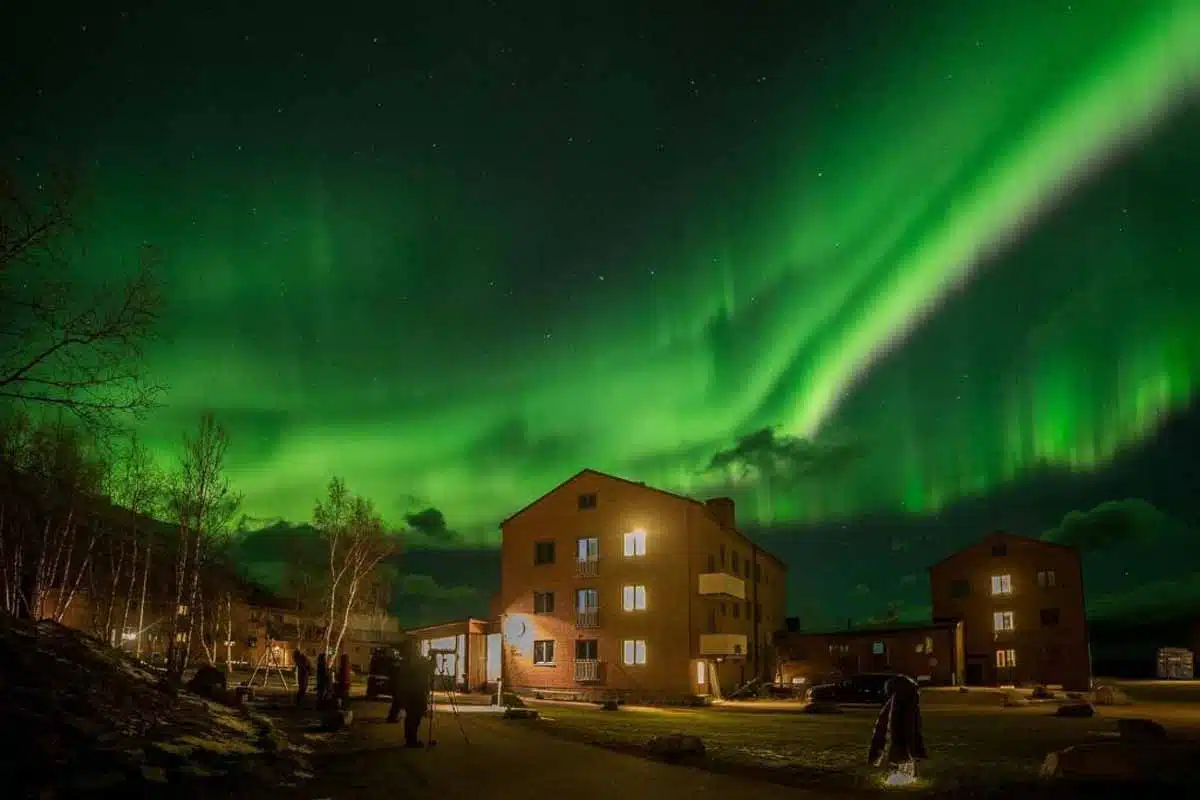 If you're serious about hunting out those lights, STF Abisko Turiststation is in a great location to spot them, right in Abisko National Park. This park is where you will find the Aurora Sky Station, an observation tower that boasts the best views of the Aurora Borealis.
The park also has many aurora experts, so you will quickly get an answer if you have any burning questions about this beautiful phenomenon.
Not only can you spot the lights from the tower, but there are also hiking trails where you can go on your journey. During the day, you can even go skiing on Mount Njullá to pass the time.
STF Abisko Turiststation offers rooms for every budget, from private cottages and rooms to shared hostels with bunk beds. So no matter your budget, you will be able to see the Northern Lights from one of the best locations in Sweden.
Máttaráhkká Northern Light Lodge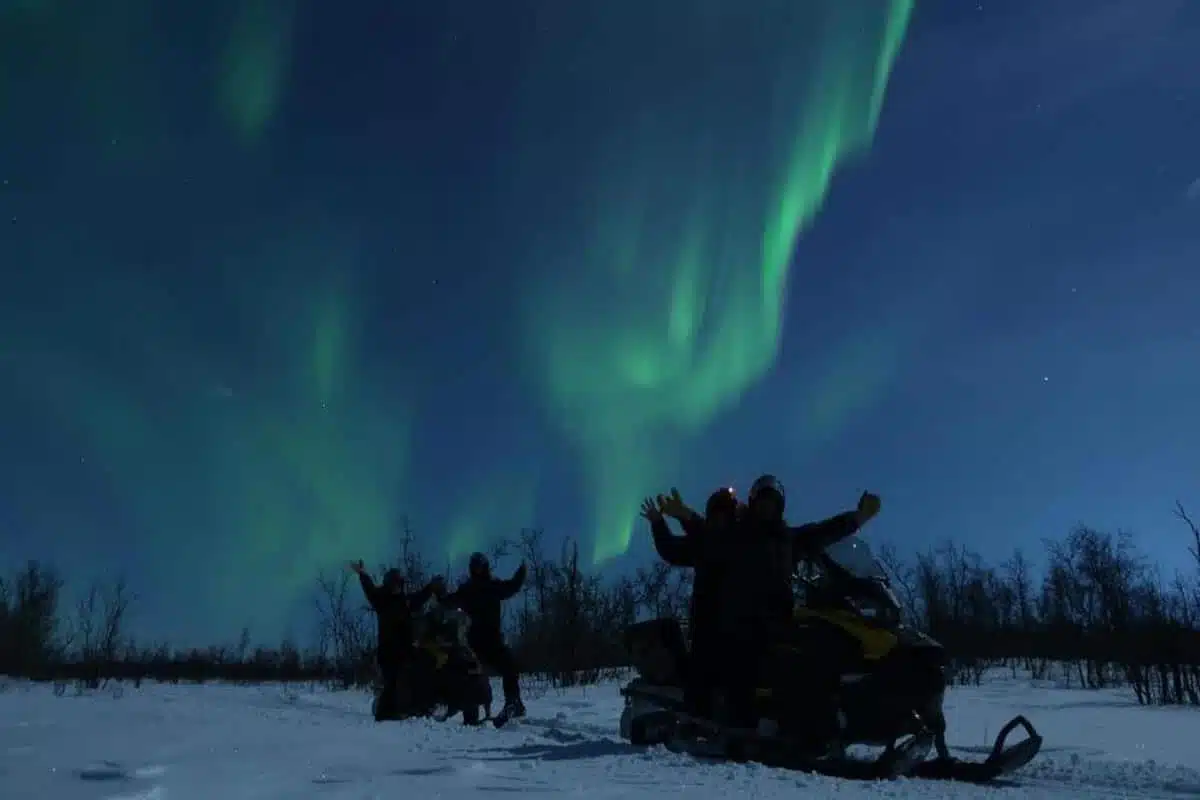 This lodge sits right in the middle of the Swedish wilderness – but, don't worry, that doesn't mean you must sacrifice comfort to see the Northern Lights.
Enter Máttaráhkká Northern Light Lodge. It has everything from a sauna, hot tub, and lounge with a fireplace to gorgeous mountain views and comfortable accommodations.
Each room's décor draws inspiration from the art of the Sami, people indigenous to Scandinavia. Besides being surrounded by art, history and culture, you'll also get complimentary breakfast and tea or coffee to keep warm while you're here.
The lodge is also ideally situated with gorgeous mountain views to spot the Northern Lights dancing across the sky. Who says staying in the wilderness needs to be so drab?
Pinetree Lodge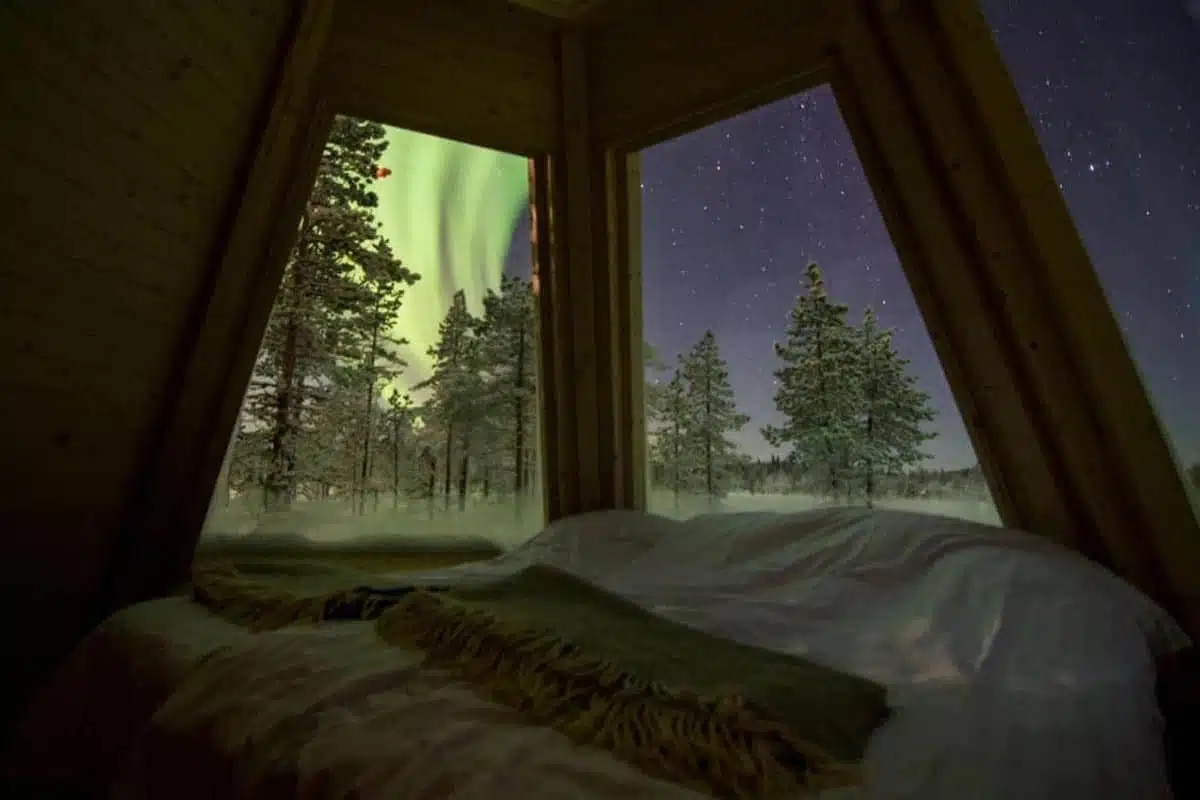 The Pinetree Lodge is one of the best Northern Light hotels in the world.
Don't believe me? This lodge sits on the edge of the Lainio River, far from the city noise, and offers guests spectacular views of the Aurora Borealis from their little glass igloos.
Yes, you can stay in an actual glass igloo while here. They're called Aurora Hideaways and are perfect for spending time in nature and spotting the lights dancing in the sky.
Pinetree Lodge also has Northern Light cabins and apartments if a small igloo is not your style. But, trust me, you'll want to spend an evening in an igloo.
This Northern Lights lodge also has a Husky Camp where you can make friends with some adorable huskies – it's any dog lover's dream. And, after spending a day petting some cute pups, you can relax in the lodge's hot tub or sauna and defrost.
Harads Treehotel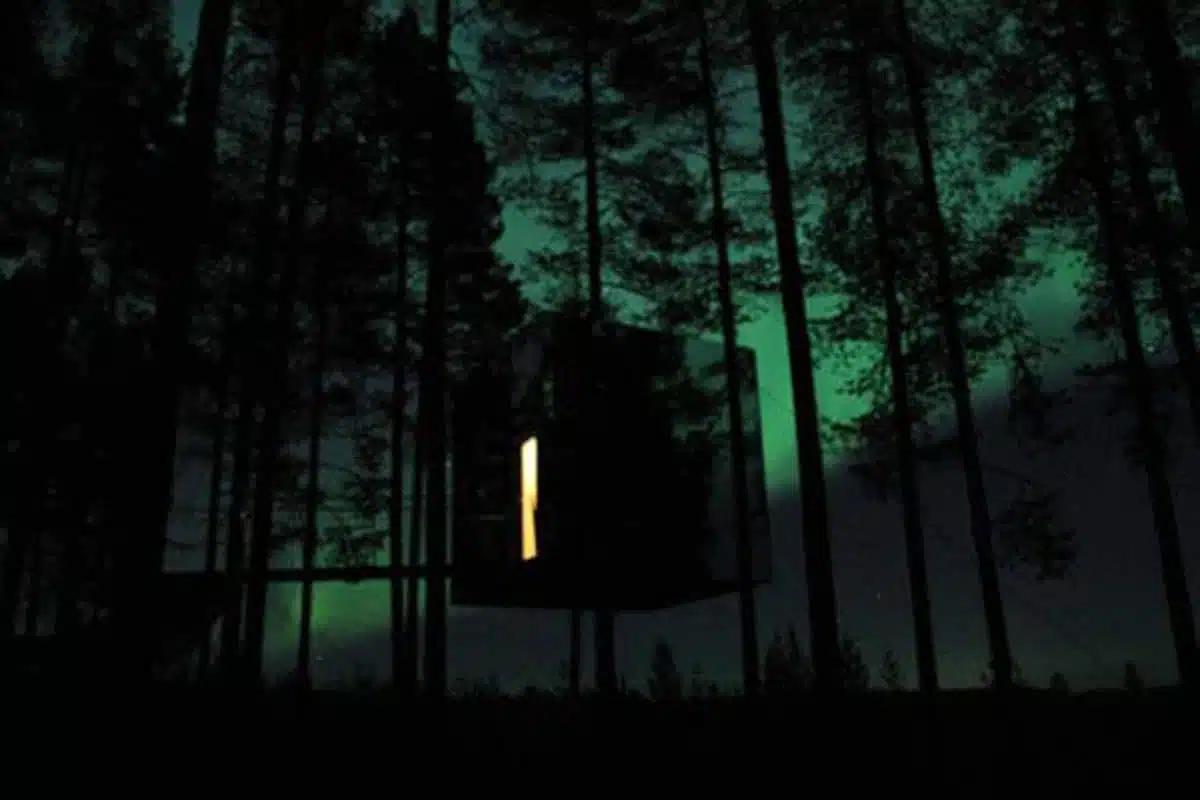 If you want to spot the Northern Lights from a unique and distinctive location, then the Harads Treehotel is the place to be. Better yet, you can choose from seven different treehouse rooms to stay in while here.
If you want to feel like an actual bird, you can stay in the Bird's Nest room, which stays true to its name and looks like a bird's nest. There's also the UFO for the space lovers among us, which is a treehouse shaped like a UFO with starry décor.
However, you're here to see the Northern Lights, and the best room to spot them is the Seventh Room (just don't tell anyone that I told you). This suite has panoramic views of the pine forest and a perfect sight of the Northern Light display. The suite also has a skylight so you can fall asleep underneath the dancing Aurora.
Northern Lights Hotels Sweden: Practical Tips
The Northern Lights in Sweden can be seen from September to March; however, some people have even spotted them in late August. If you're keen on spotting this beautiful light show, researching the best time to see the Northern Lights and booking your trip during this time is ideal.
Use the Aurora app when hunting for the Northern Lights to show you the best time to see the lights. It is a forecasting app, though, so the information can be wrong sometimes. However, it does help a lot.
These Northern Lights hotels can fill up quite quickly, so booking far in advance is best. Not to mention that it helps give you the best rate possible.
Best Northern Lights Hotels Sweden: Map