Planning a trip to The Grand Canyon? Get ready for some epic adventures on these cool Grand Canyon tours.
I'm not spilling any secrets to say that the Grand Canyon is jaw-droppingly beautiful, but what you might not know is that it has taken almost two billion years for the Colorado River to carve out the Grand Canyon as it stands today. So… the least you could do is make the most of your trip right?
Sure, you can (and should) take a hike, or one of the scenic drives while you're visiting the GC – but there are more adventurous ways to explore too. Nab a spot on one of these Grand Canyon tours to gawk at the trails, stunning viewpoints and amazing sunsets by helicopter, plane, or railway.
Ready for your next adventure? Let's go!
Best Grand Canyon Tours
Helicopter Ride and Optional Hummer Tour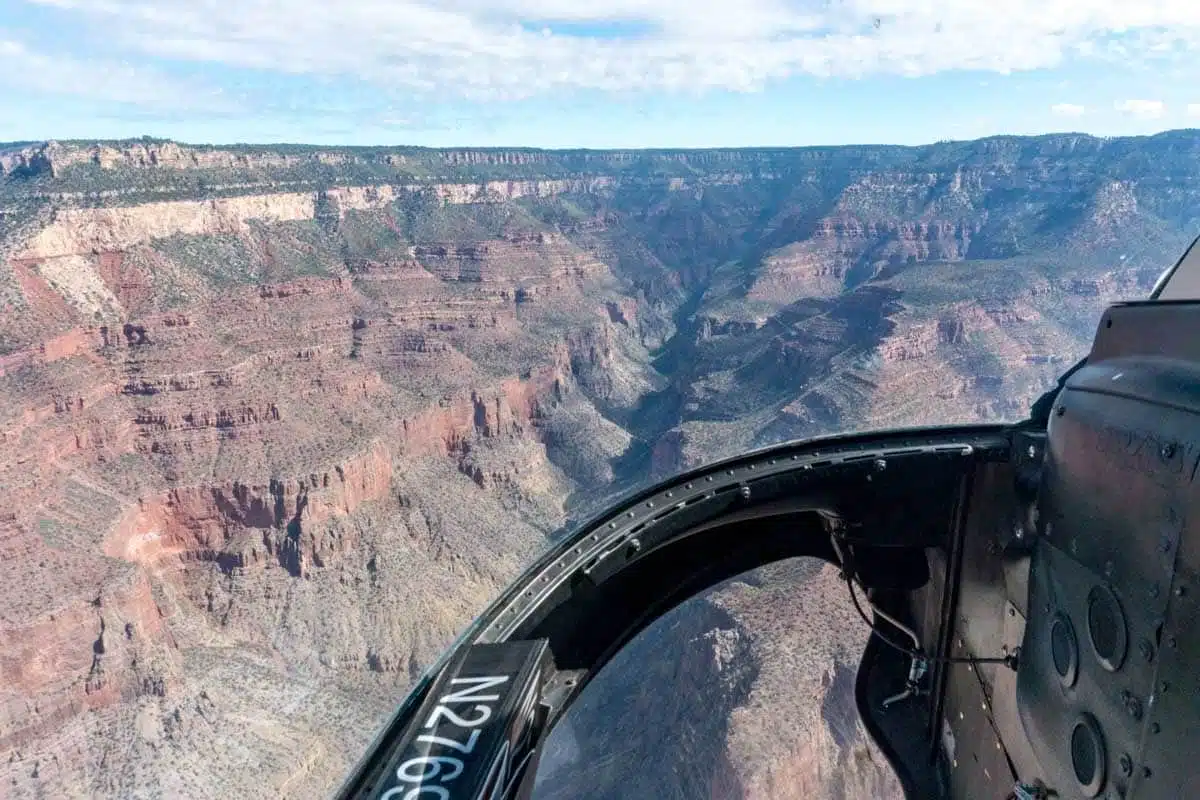 Treat yourself to one of the most luxurious tours in the Grand Canyon – you deserve it. On this Helicopter Ride and Hummer Tour, you'll get to appreciate the canyon from a different and unique perspective.
The tour takes you through the entire canyon from the South to the North Rim, where you'll spot the likes of the Colorado River, Kaibab National Forest, and the Dragon Corridor. In my opinion, it's definitely worth the extra $50 to book a front seat spot so that you get uninterrupted views.
If you'd like, you can also choose to include a Hummer tour of the Grand Canyon. This ground tour takes you on a closer look at the park's rock formations, gorges, and plant life.
Tip: You can also book this excursion as a sunset tour to see the best sunsets in the Grand Canyon
Book a Spot on the Helicopter & Hummer Tour
From South Rim: Grand Canyon Spirit Helicopter Tour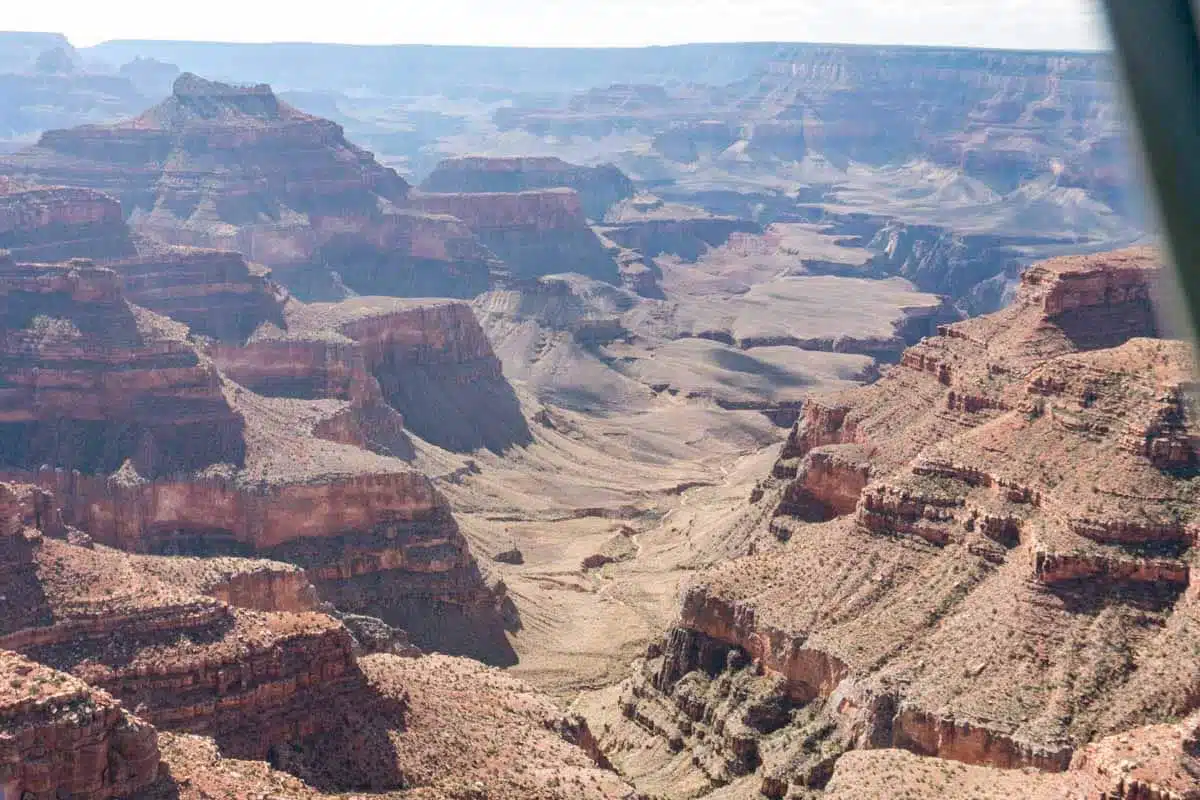 If you're a little strapped for time, I suggest you take this 45-minute helicopter flight from the South Rim instead. It's a great way to start your morning as the first flight is at 8 am in the summer. Rise and shine, folks!
Passengers meet at the Grand Canyon Airport at Tusayan, Arizona, where the pilot sweeps them off to fly and hover over the most fantastic natural marvels. To start, you'll move from the diverse terrains of Kaibab National Forest to the canyon's broadest and deepest section — Dragon Corridor.
While it is a relatively speedy way to tour the Grand Canyon, it still manages to show you so much of the National Park you may have missed otherwise on foot.
Book Your 45 Minute Helicopter Tour
The Grand Canyon Railway Round Trip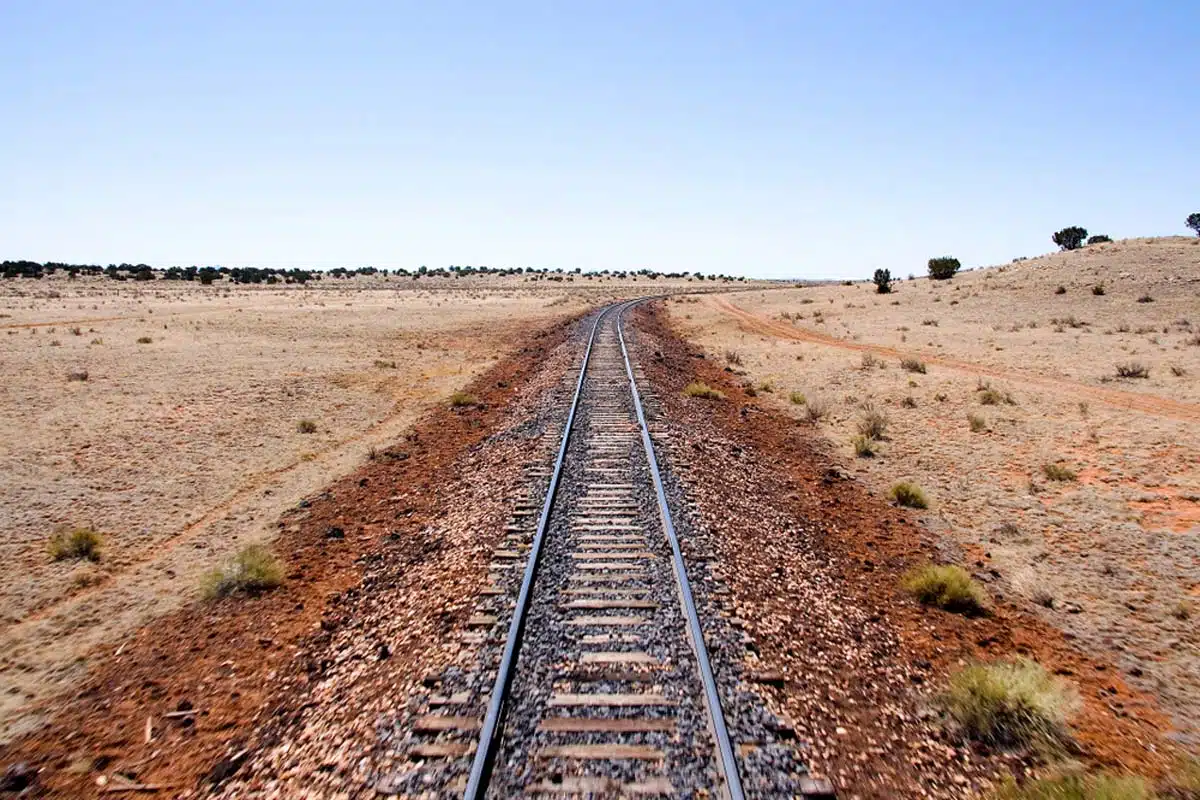 All aboard for a nostalgic trip through the Wild West. It turns out the town is big enough for both of us… Well, at least on this nine-hour tour on a 1950s-era passenger car on a Grand Canyon Railway.
If you couldn't tell by the (excellent) cowboy puns, this railway tour to the Grand Canyon is western-themed. To help immerse yourself in the experience, western cowboys entertain with fantastic views as a backdrop.
You'll start your train ride in Williams, Arizona, around 9:30 am. From there, you'll travel over 64 miles to the National Park, where you'll have plenty of time to explore, eat, and take pictures.
Yeeehaw: Grab A Spot on the Railway Tour
Grand Canyon Hummer Tour with Transfer
If you're more of a swish four-wheel driver, this Hummer tour with transfer from Tusayan or Grand Canyon Village might be more your style.
This is an exciting two-hour journey in a former military Humvee. Get ready for a thrilling ride that sees you exploring the bumpy and amazing landscapes of the Grand Canyon National Park. From here, you'll have the best seats in the house with panoramic views and plenty of stops for photo ops.
Along the way, your guide will teach you a few facts and share stories about different parts of the park – so get ready to nerd out and impress your friends after.
Note: Remember to bring hiking shoes and warm layers — especially if you're going on the early morning tours.
Grand Canyon: Discovery Air Tour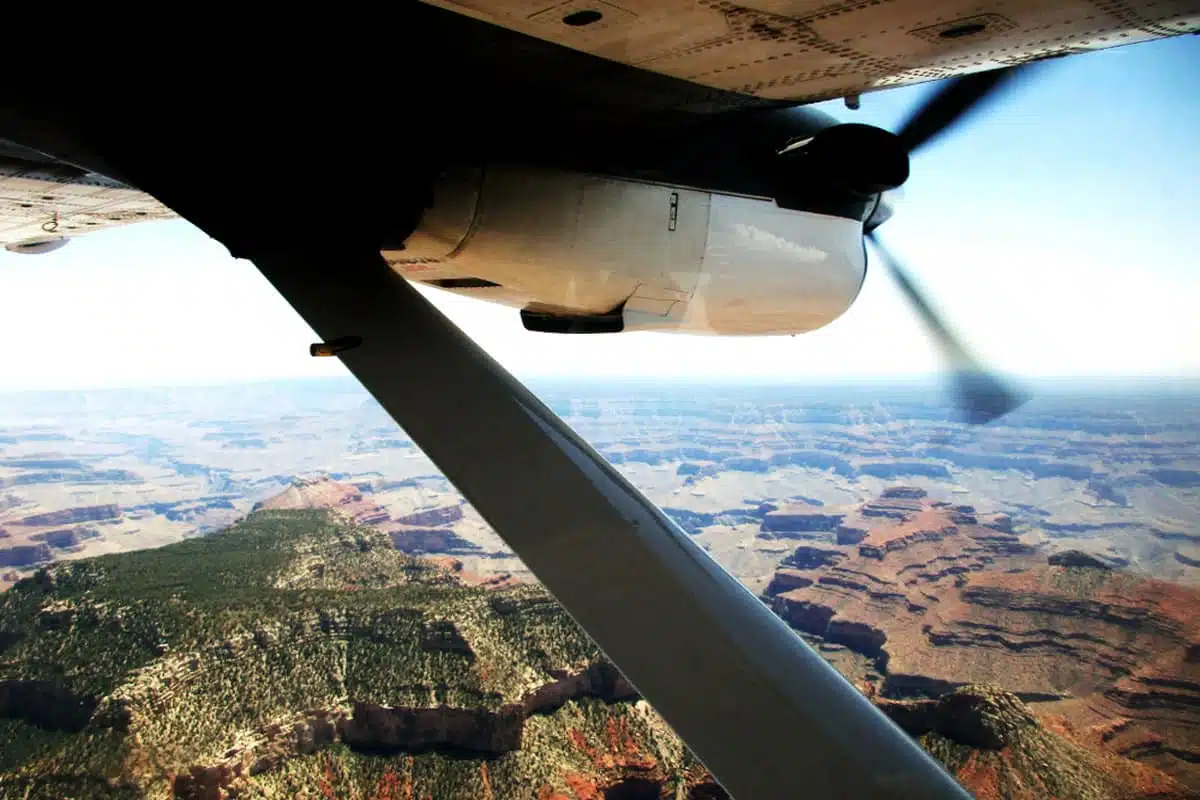 Okay, so you've seen the helicopter tours available, but what about a plane tour of the grand canyon?
This 40-minute air tour allows you to soar over the canyon with clear views of must-see spots like the Colorado River, Imperial Point, Kaibab National Forest, and Confluence of Colorado.
The tour is also great for non-native speakers as multi-lingual audio guides are available in all major languages spoken in Asia and Europe.
Note: Along with the ticket price, there is an additional 15 USD fuel surcharge.
Take a Discovery Air Tour of the Grand Canyon
From Las Vegas: Grand Canyon West Bus Tour with Hoover Dam Stop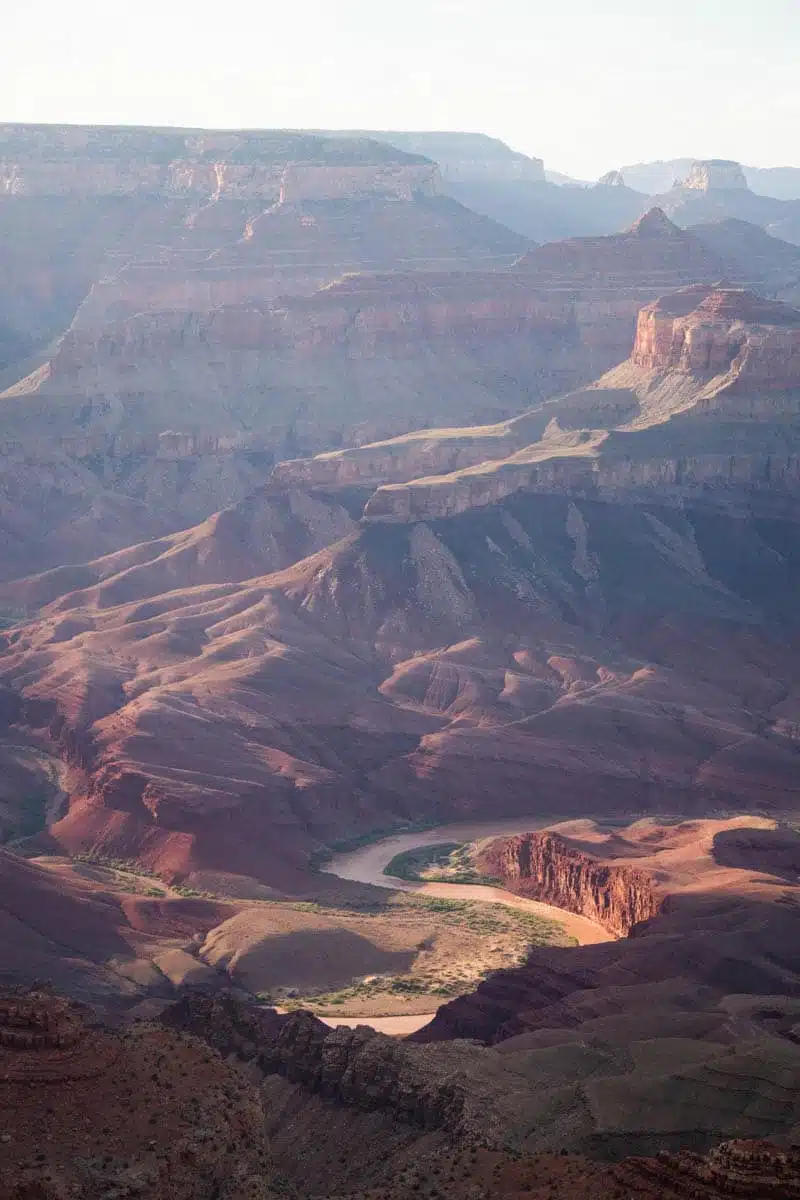 As one of the more major cities near the Grand Canyon, there are many tours of the Grand Canyon from Vegas. Like this bus tour which includes an additional stop at the Hoover Dam on the Arizona-Nevada border.
Starting from Las Vegas, pick up is at 6 am at takes you on a full-day guided tour of the Grand Canyon. It's jam-packed full of activities and sites like Joshua Tree Forest National Park, West Rim in Grand Canyon, and, of course, the iconic Hoover Dam.
You'll have plenty of time for photo ops at each site. And, if that's not enough site seeing for you, you can add extra activities like a helicopter flight and skywalk. An incredible way to pack in a whole lotta sightseeing in one day.
From Las Vegas: Grand Canyon South Rim with Snacks & Lunch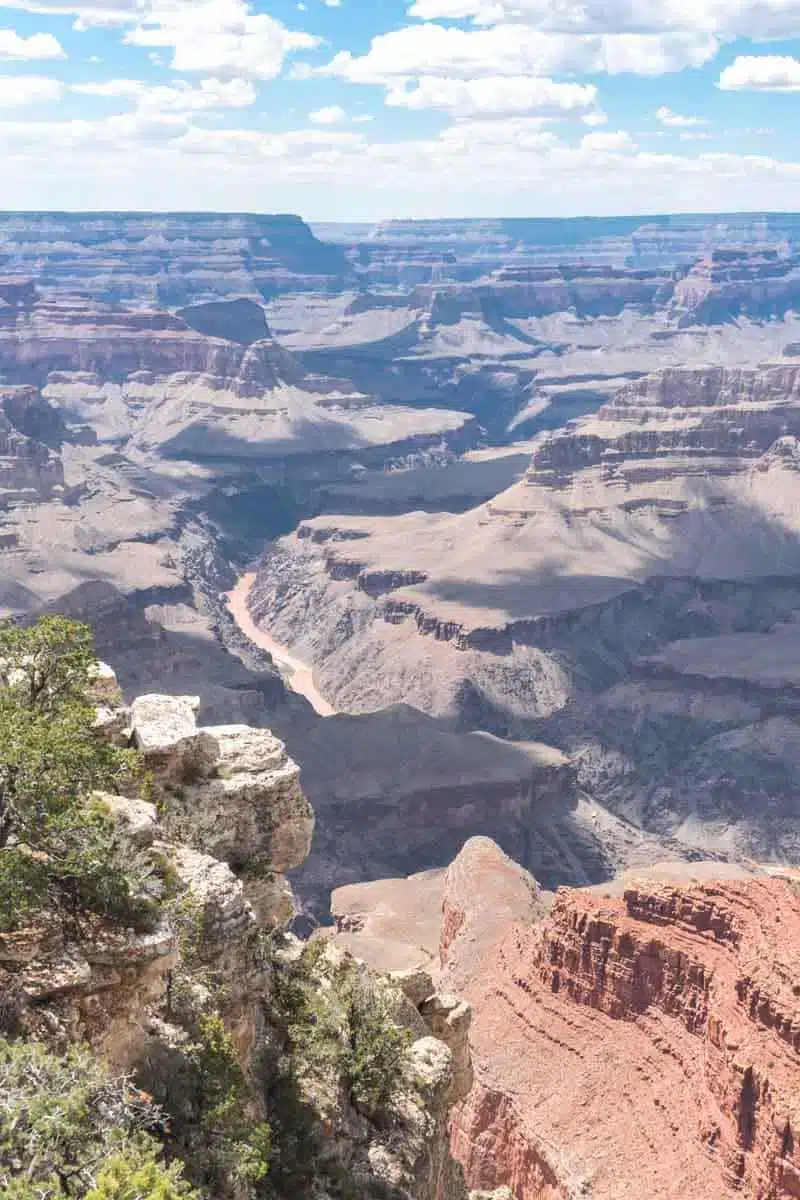 You won't find a rock unturned, photo op missed, or trail not tracked on one of the best tours of the Grand Canyon's South Rim. This tour from Las Vegas is another full-day excursion lasting up to 16 hours – so wake up early and stock up at breakfast.
Your first stop in the Canyon after breakfast is Mather Point, where you'll get the first glimpse of the canyon's seemingly never-ending beauty. After, you'll have time to explore Bright Angel and the ever-changing views and terrains of the nearby trails.
The best part? This trip includes breakfast, lunch, and refreshments throughout. Plenty to keep you buzzed all day. After your tour, you'll stop at a family diner for a hearty dinner before your transfer back to Las Vegas.
Book This Full-Day Tour from Las Vegas
Practical Tips for Booking the Best Tours of the Grand Canyon
Many Grand Canyon guided tours don't include food and drinks unless stated. Make sure to pack a lunch or bring cash to buy something to eat at the National Park's restaurants or grocery stores.
If you're planning on having a more extended trip, consider a stay in an Airbnb in the Grand Canyon – you'll find great deals and unique accommodation.
Arrive at least 30 minutes before your Grand Canyon guided tour starts. The park gets packed, which means there could be unexpected delays.
These tours are great but don't forget to explore the park on foot with these beautiful Grand Canyon Hikes.
Best Tours of the Grand Canyon: Map
Love This? Save and Share on Pinterest