Bali is a beautiful travel destination, packed with culture, wonderful food, beaches and striking landscapes. Here are 17 spots you shouldn't miss while you are in Bali.
They call it the Island of the Gods – a hint at the island's vibrant beauty. I first travelled to Bali over a decade ago and have watched as it's evolved and developed over the years.
Sure it's different, but it's no less joyful, riotous and colourful than before. Whether you're into riding the swells, temple hopping, hiking or chilling out in a luxury hotel – Bali has got you covered.
The island is so many things, but at its very heart, Bali remains a place you can't help but fall in love with.
Best Things to do in Bali
Admire Tanah Lot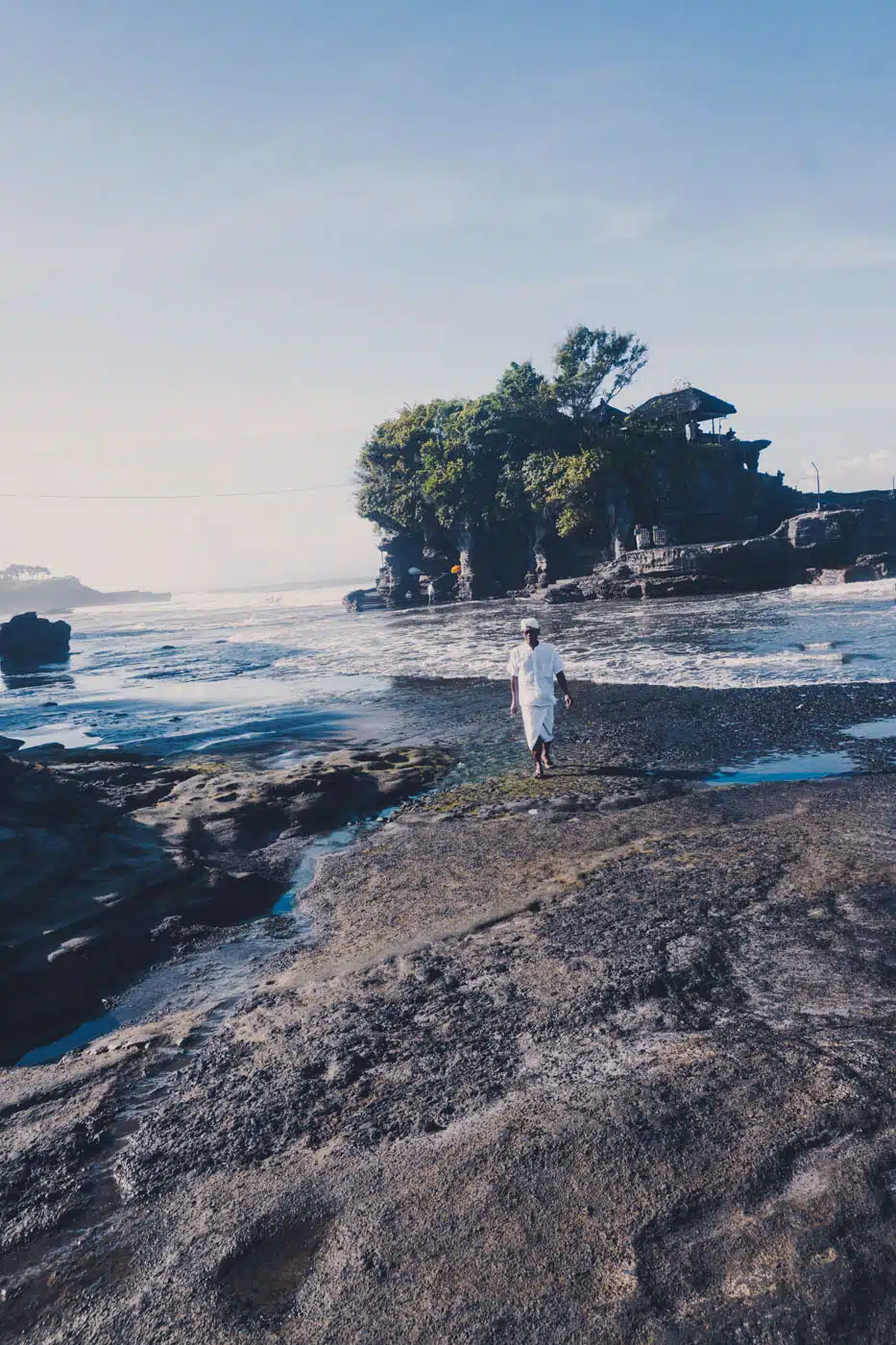 Tanah Lot's breathtaking location – complete with a black sand beach and pounding surf – makes it one of Bali's most striking holy sea temples.
The temple's design is extremely intricate, with several shrines and tiered pavilions nearby – each of which boasts impressive views of the Indian Ocean.
Listen carefully and you might just hear holy mantras being chanted by the priests of Tanah Lot.
Relax on Balangan Beach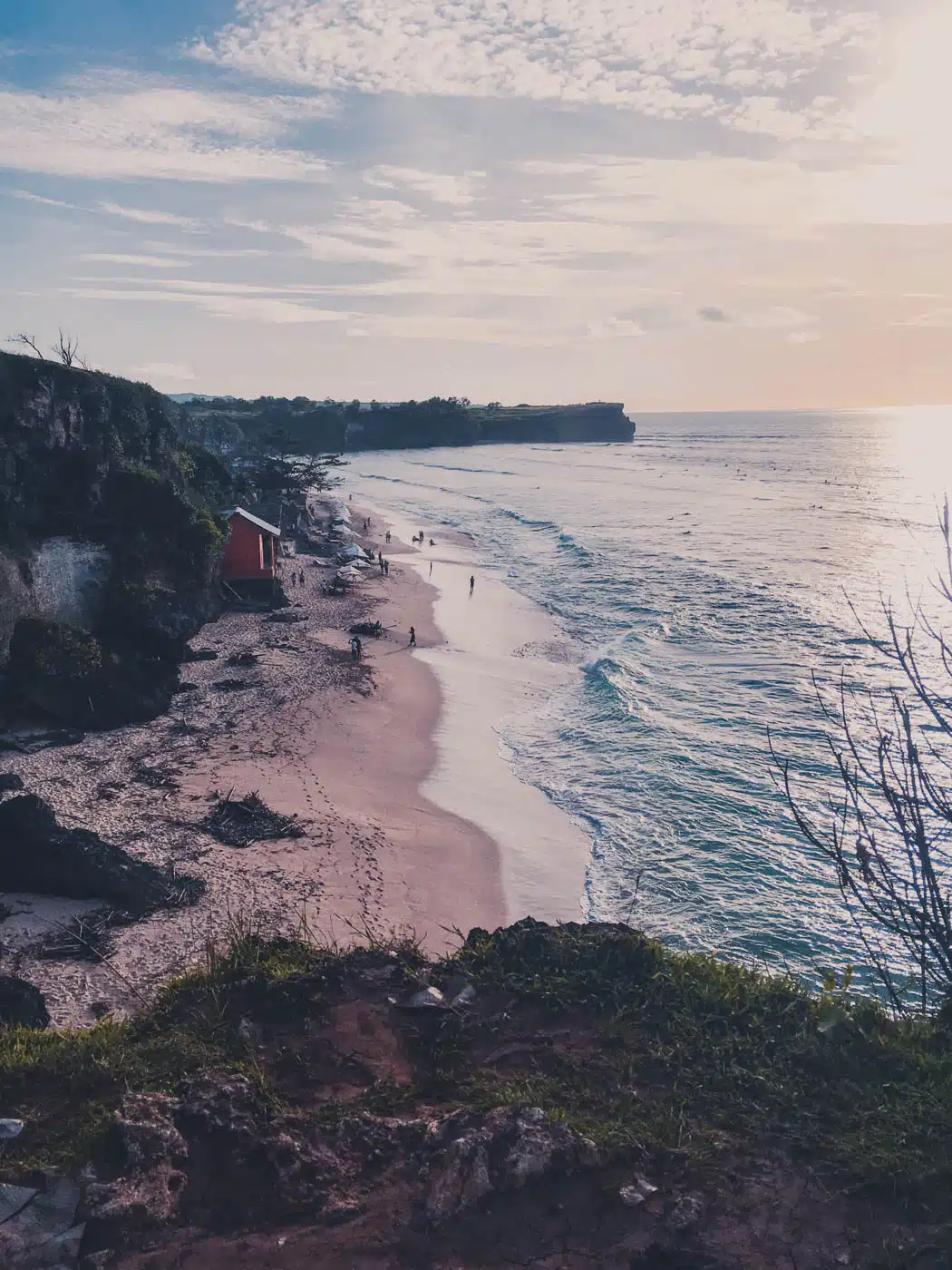 It shouldn't be a surprise that Bali has plenty of postcard-worthy beaches. And, while so many near Canggu get rammed, surfers and sun worshippers want to keep laid-back Balangan a secret and you can see why.
Head a little further south to find this gem. Tucked in a picturesque cove and sporting bright golden sand, it's one of Bali's best beaches.
Take an Authentic Cooking Class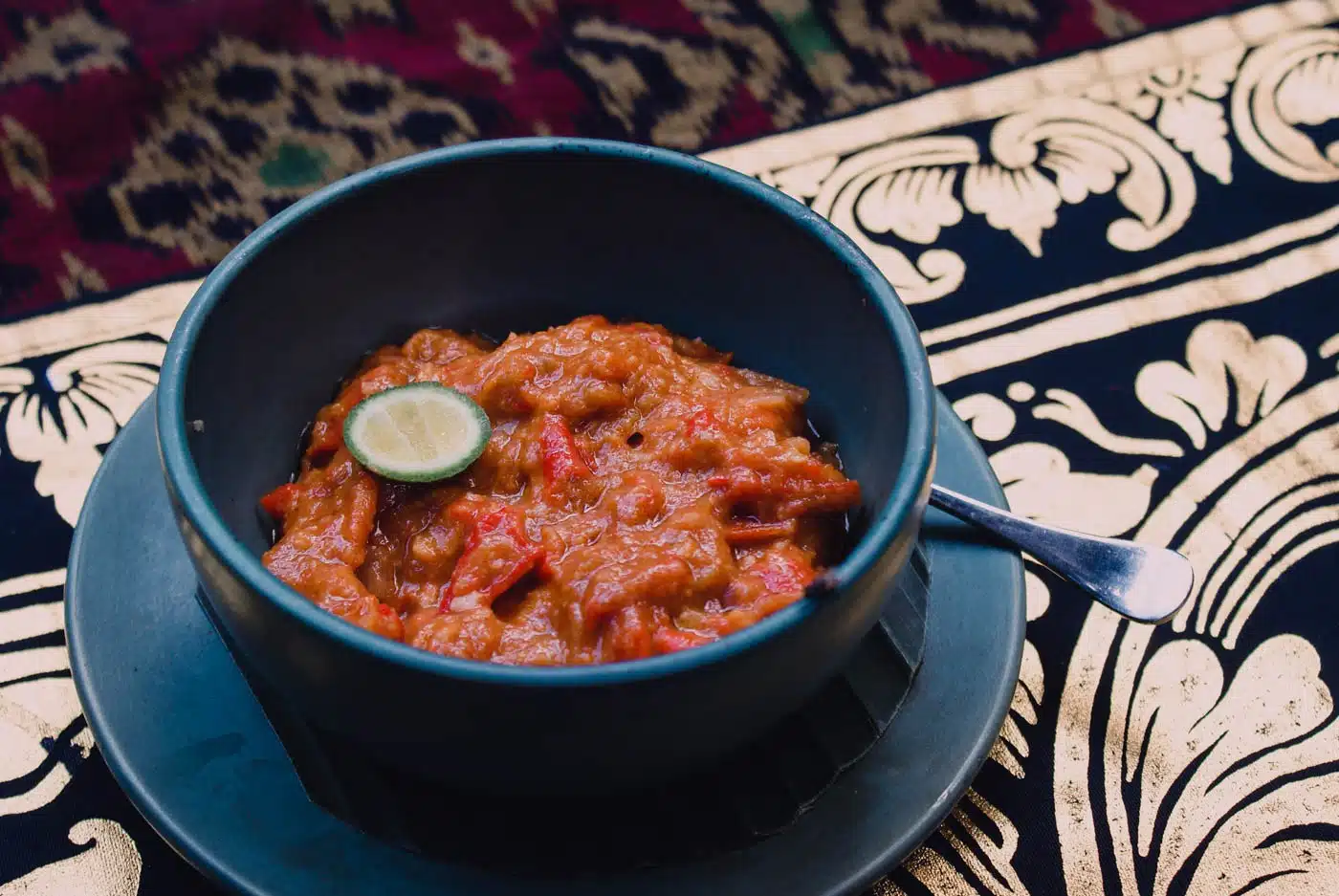 Balinese cuisine is a riot of flavours and fresh ingredients. Learn how to make some traditional Balinese dishes and bring a slice of the island home with you.
You can read my Bali food guide to find out more about Indonesia's delectable cuisine, and you can book a Bali cooking class here.
Visit Uluwatu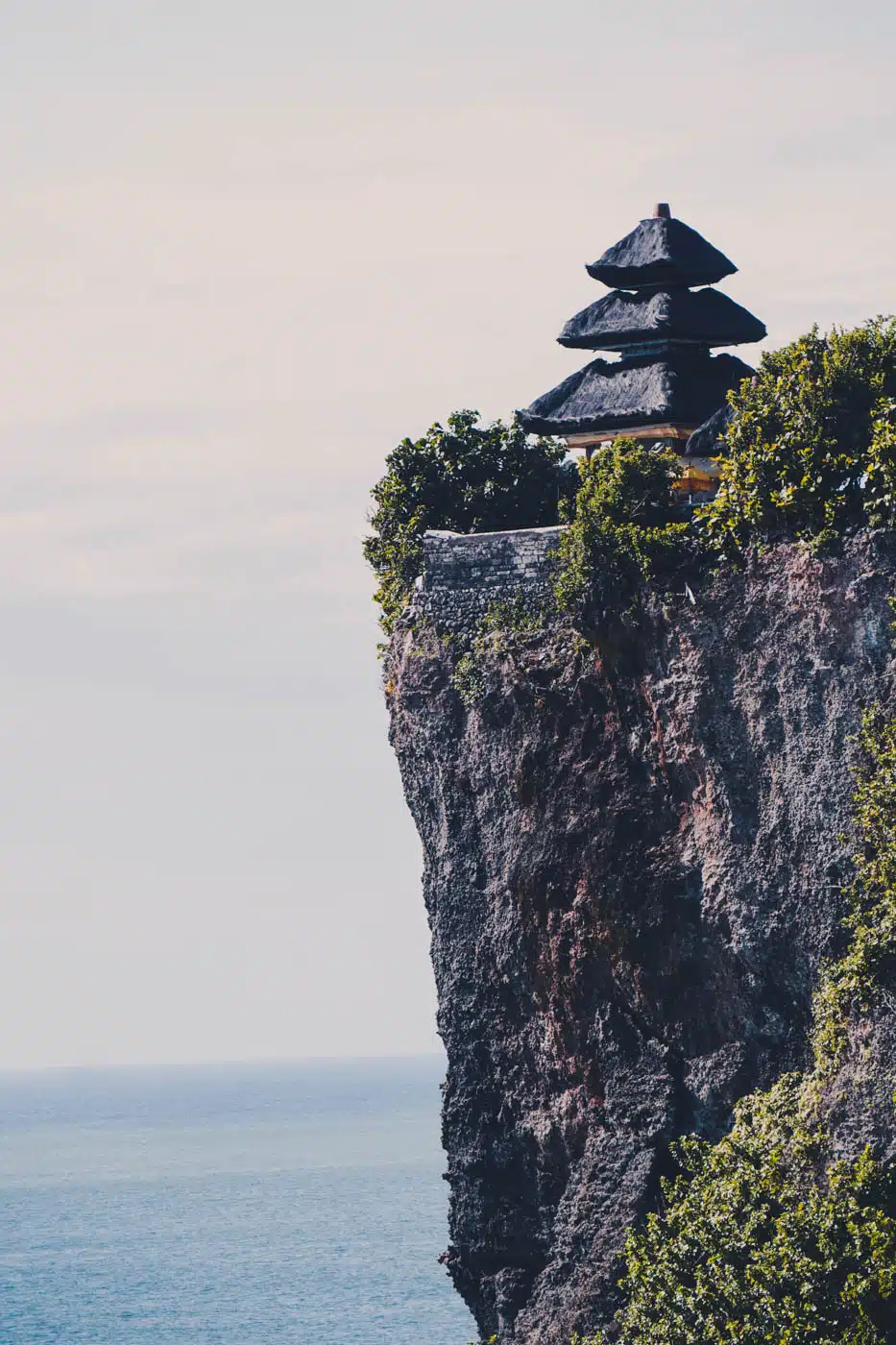 Perched high on a dramatic cliff on the Bukit Peninsula, a trip to Uluwatu sea temple is a must. Just watch out for the cheeky monkeys who roam the surrounding forest…
This temple is regarded as one of the six major temples which are considered the spiritual pillars of Bali.
It dates back to the 11th century, when it was built by a Javanese sage named Empu Kuturan, who was believed to have created the temple as part of his meditation to attain immortality.
Trek in the Jatiluwih Rice Terraces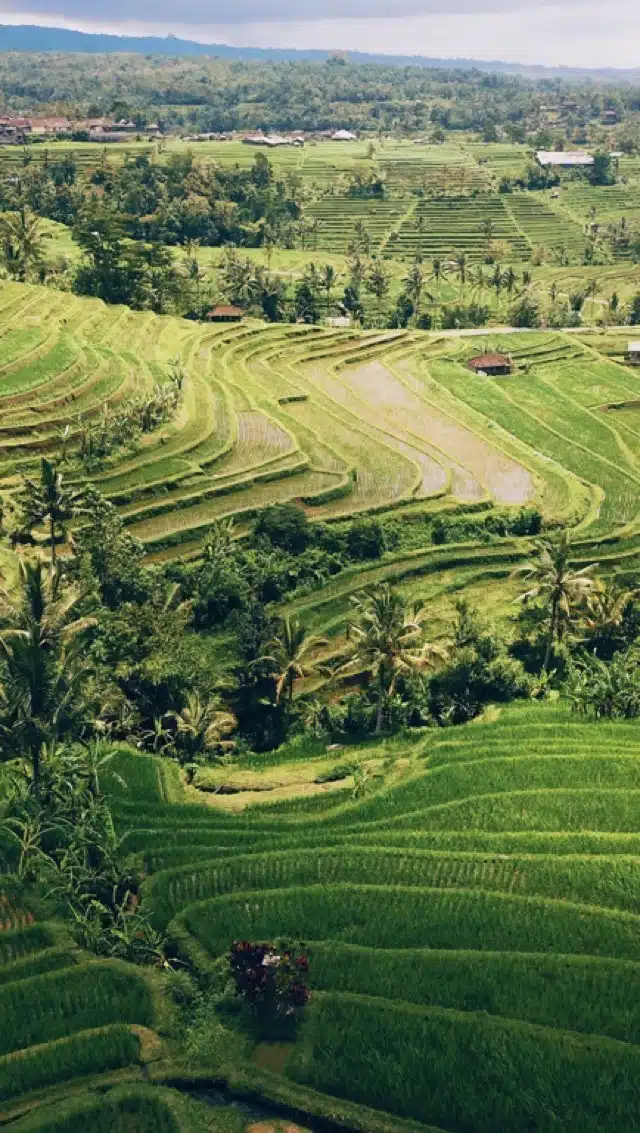 Verdant, lush rice paddies as far as the eye can see – the Jatiluwih Rice Terraces are one of the island's most striking landscapes. And, one of the best ways to explore the rice terraces is by trekking through the trails and meeting local farmers.
The area's unique water management system was developed over centuries by local farmers and acts like a giant irrigation network. The result? One of the most beautiful terraced farming landscapes in the world.
Explore the Ubud Monkey Forest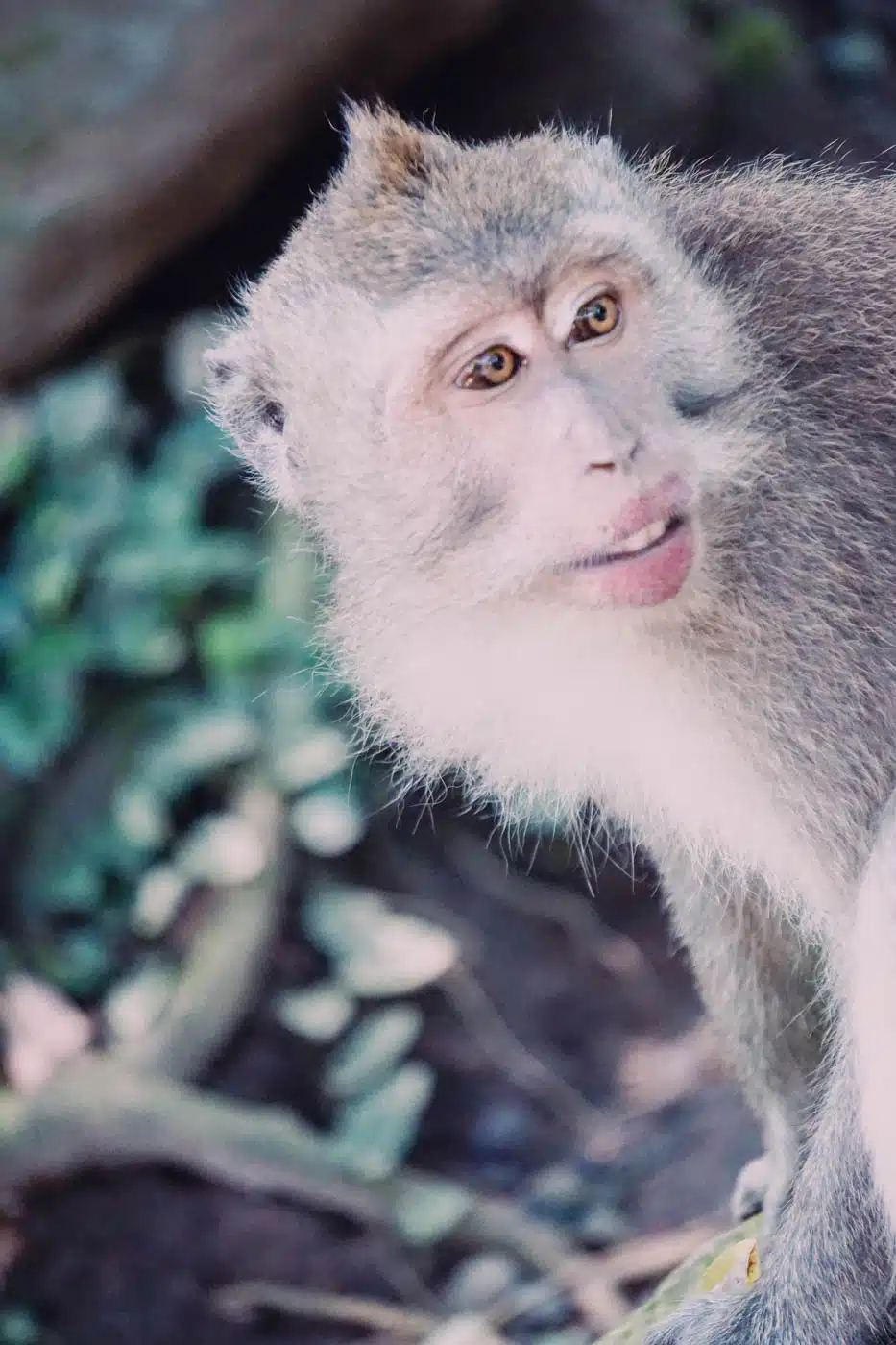 From the moment you step into the forest and down into the slightly creepy but atmospheric tunnel that leads into the forest, you are surrounded by hundreds of monkeys – the Ubud Monkey Forest is an unforgettable experience.
Keep your eyes, hands, ears and all other body parts on your items – these monkeys are tiny, adorable thieves.
Top tip: book this guided Monkey Forest and waterfall tour in Ubud to make the most out of your trip.
Marvel at Sekumpul Waterfalls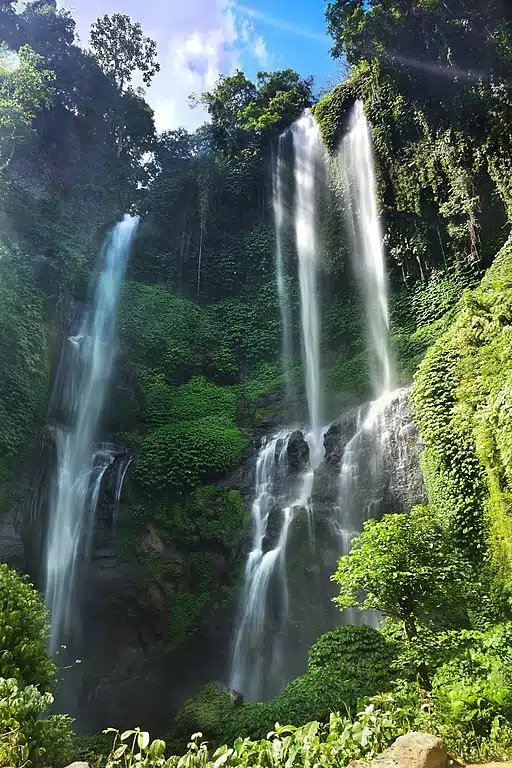 A cluster of seven waterfalls, it might require a bit of effort to reach Sekumpul Waterfalls but they're well worth it.
Situated in the north of Bali, these waterfalls are some of the most beautiful on the entire island. Trekking around the hills of the waterfall or exploring the forest to discover the wildlife are popular activities (keep your eyes peeled – there are plenty of unique birds nearby!)
Catch the Sunrise in Sanur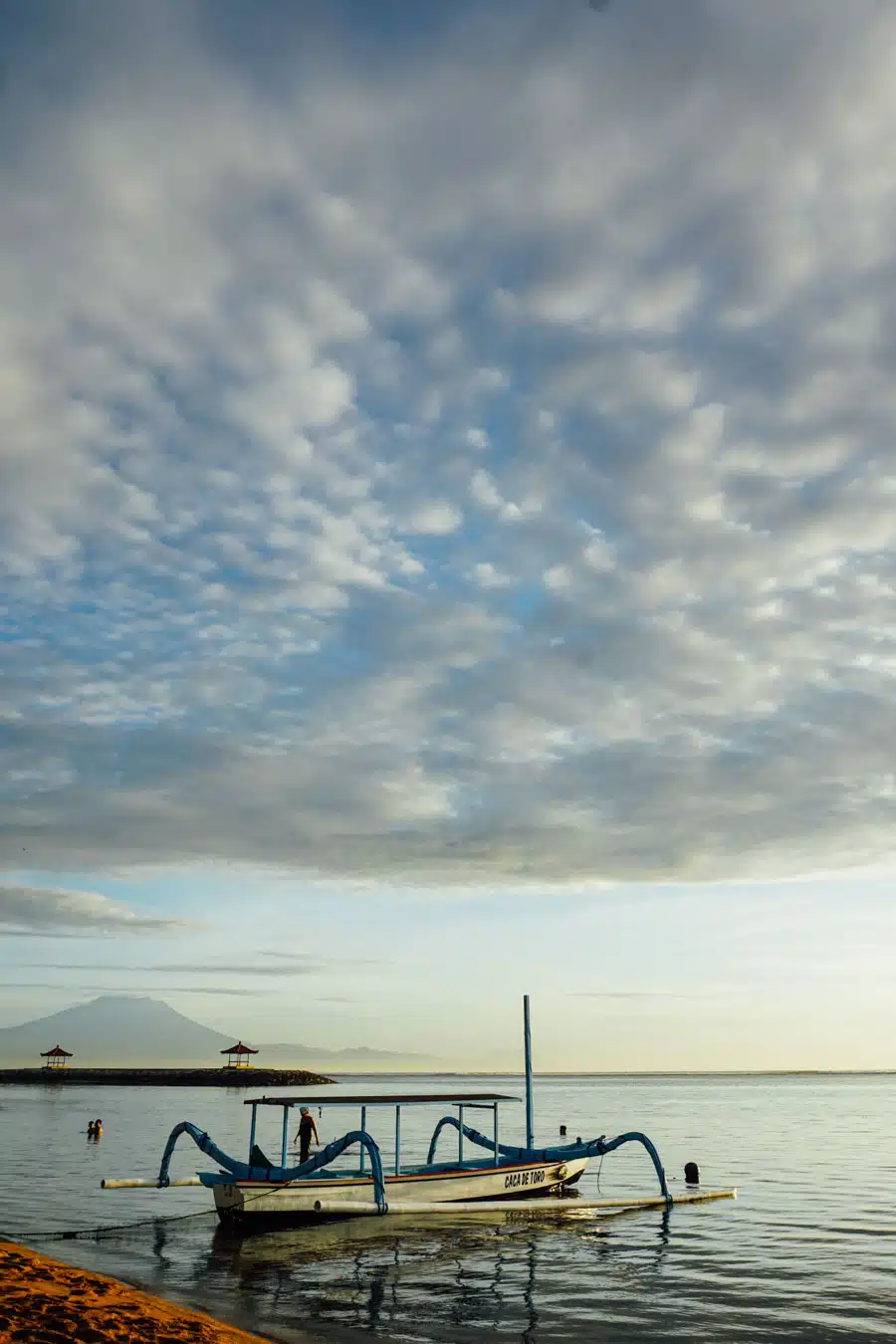 On the eastern side of the island, Sanur Beach is another personal favourite. And, with Mount Batur looming in the background, there's no better place to watch the sunrise.
Grab a cocktail from a nearby beach bar and pull up a chair as the beach illuminates with an orange glow.
Take a Trip to Nusa Lembongan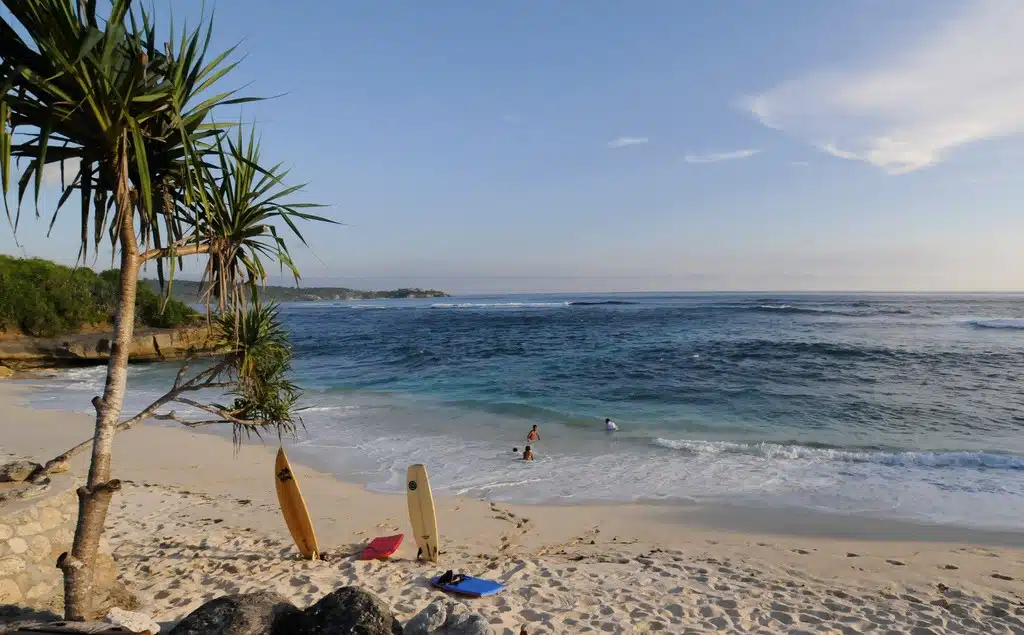 Bali's much smaller island paradise, Nusa Lembongan is all about gorgeous beaches and relaxed vibes.
Some of the most popular beaches are Dream Beach, Mushroom Beach and Sunset Beach – hit up these spots to catch a few waves or go snorkelling in the clear waters.
The easiest way to get to Nusa Lembongan is by taking a ferry from Sanur – it takes around 30 minutes and the ferries run multiple times per day.
Check Out Temeling Cliff, Nusa Penida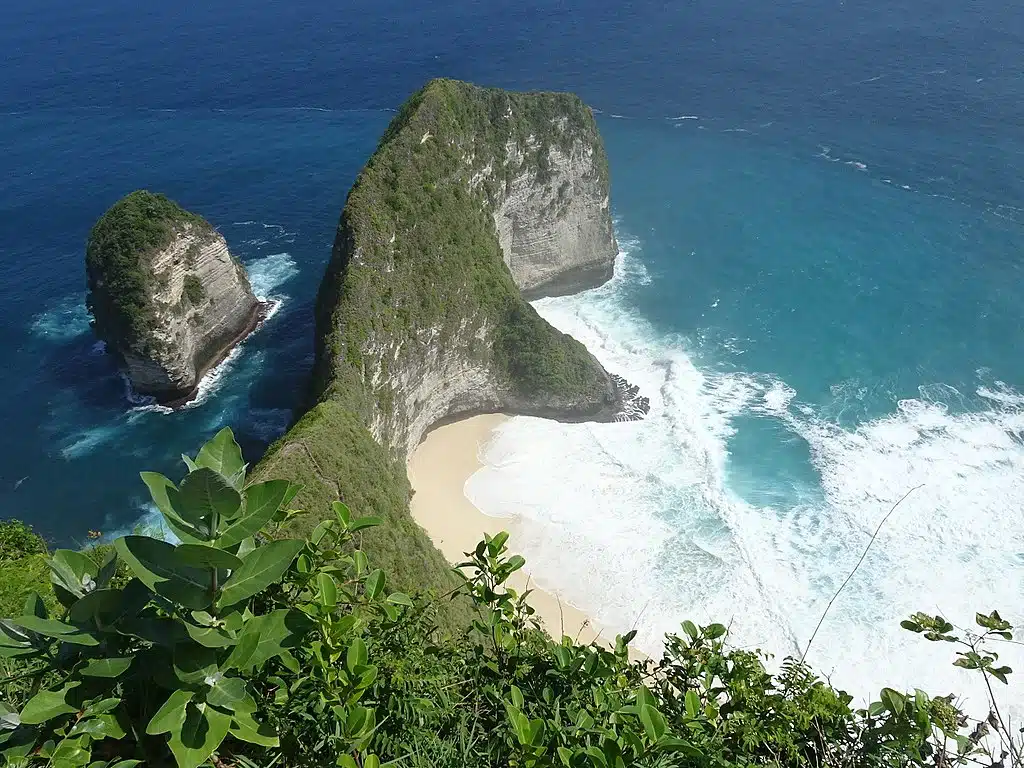 Looking like something straight out of The Lost World, Temeling Cliff cements Penida's reputation as one of Bali's best-looking spots.
Fair warning: to reach Temeling Cliff, you'll need to head out on a steep and adventurous trek through the lush forest that surrounds the area. The walk only takes thirty minutes but it is quite challenging. It's well worth it though.
Go for Brunch at Milk & Madu in Canggu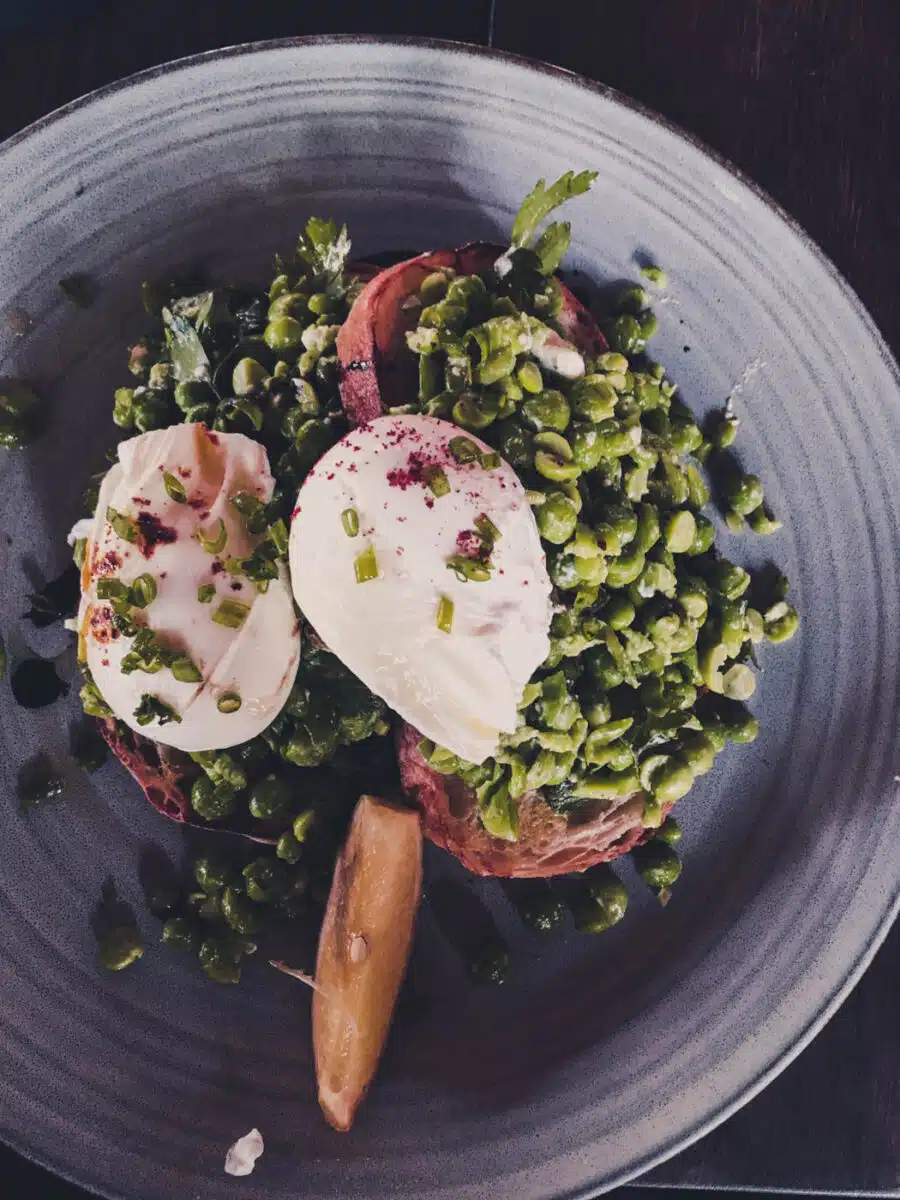 When I was in Bali, most of my mornings were spent at Milk & Madu. Brunches haven't hit the same since.
The food is ridiculously tasty – and there's a decent selection of Western plates bursting with fresh ingredients and flavours. Expect your avo on toast, acai bowls and classic granola.
More importantly, though, the coffee is excellent.
Explore the Temples of Ubud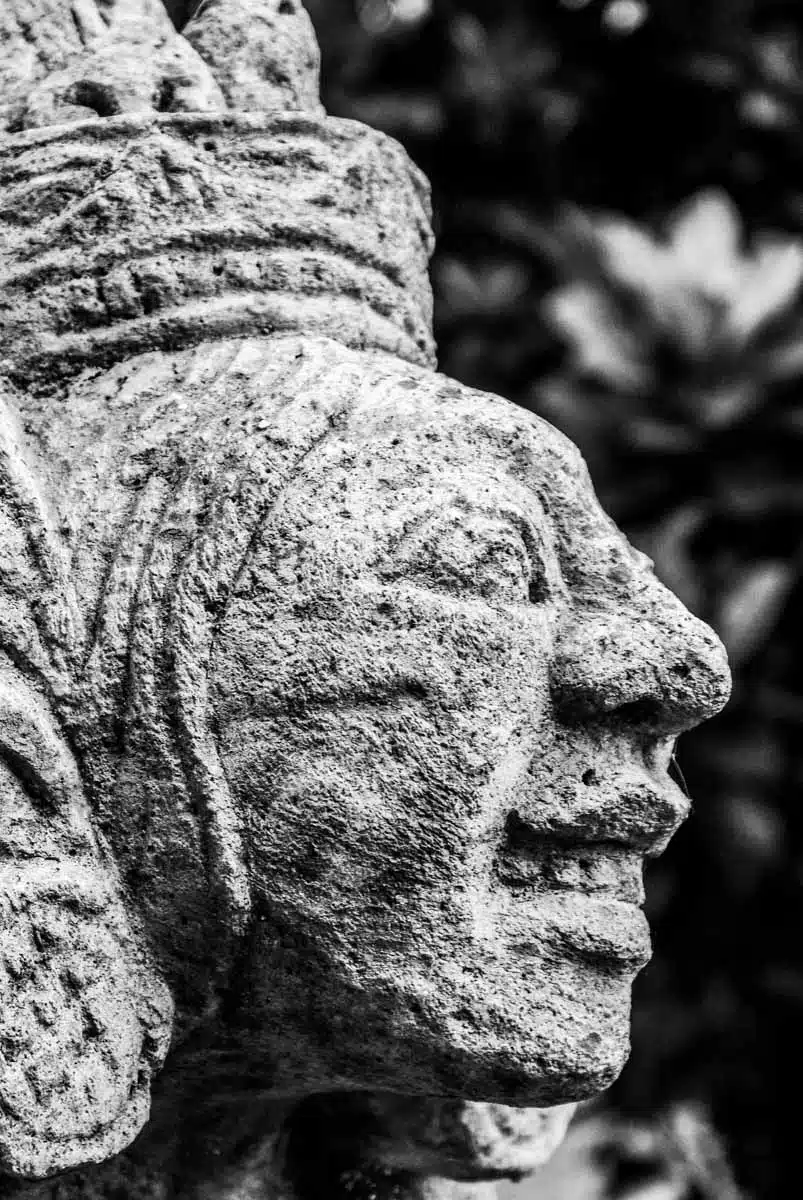 Canggu might be the home of all things brunch and fun, but Ubud is where you'll get to dive deeper into Balinese culture. And there's nowhere better to do just that than at the temples of Ubud.
My top picks? The Pura Taman Saraswati, a small temple dedicated to the Hindu goddess of wisdom and art, Dewi Saraswati, as well as Tirta Empul, the Water Temple, where Balinese Hindus come to bathe in holy water.
Top tip: book a Bali sacred temple tour to skip the queues.
Take a Yoga Class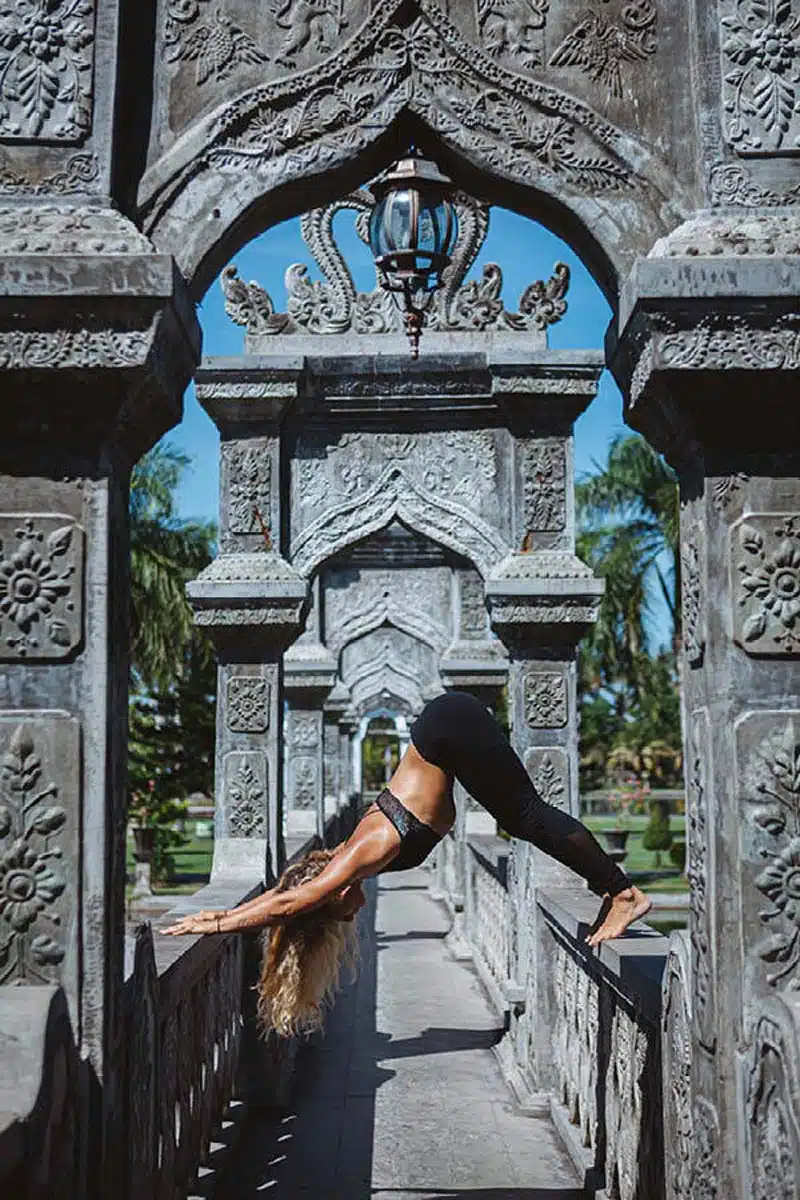 I might not be big into yoga, but who would I be if I didn't recommend you take a yoga class in Bali? This is an unmissable experience for yogis and newbies alike. Known for hosting world-class yoga retreats, Ubud offers plenty of classes.
Not sure where to start? The Yoga Barn is the most popular place in Ubud. Here you can sign up for any of a range of different classes available for different ability levels. You'll be perfecting your crane pose in no time.
Tackle the Campuhan Ridge Walk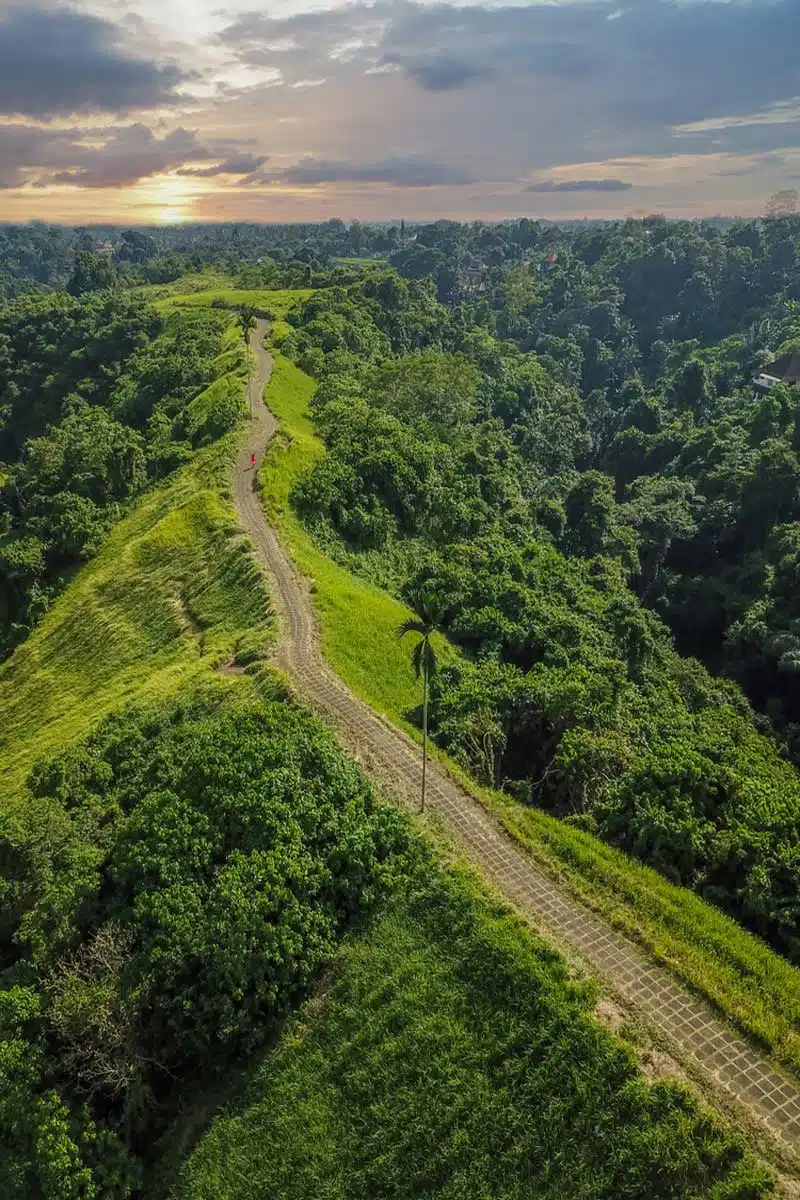 It might be swelteringly hot, but taking the Campuhan Ridge Walk is one of my favourite ways to explore Ubud.
The path is well-paved, making it accessible for all skill levels, and it's lined with some of the city's most Instagram-worthy spots. Oh, and it only takes around 90 minutes to complete, What's not to love?
As you stroll along the ridge, you'll be able to take in breathtaking views of lush rice paddies, vibrant greenery, and iconic palm trees. The natural beauty of the ridge is made all the more striking by the contrast with the bustling city below.
Top tip: bring a comfortable pair of shoes – I highly rate the Tropicfeel Geysers.
Explore Canggu's Coffee Scene
Canggu's coffee shops = the best. Take my word for it.
Like I've already mentioned, Milk & Madu's is hella cool. But you should also swing by Crate, BGS and Canggu Cafe for a cup of the good stuff.
Hike Up Mount Batur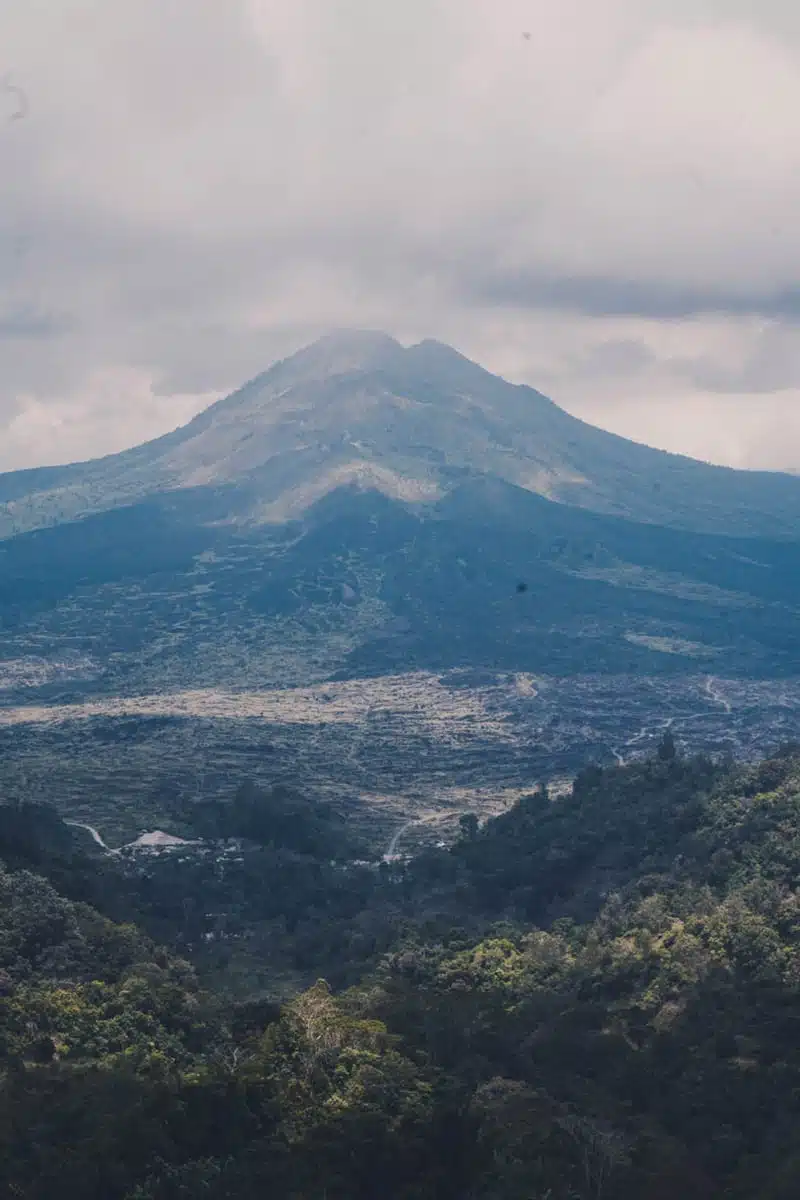 Fancy a thrill while you're in Bali? Hiking up Mount Batur, an active volcano, is a breathtaking experience.
Fair warning: it's an early start. Pick-up from your hotel will be at around 2 am – but this means that you reach the starting point in time for sunrise. The ascent isn't too steep or strenuous, and most people can complete it in 2-3 hours.
As you climb higher, the views become more and more spectacular. The trail winds its way through a dense forest of pine trees, with plenty of pit stops along the way to catch your breath and enjoy the scenery.
Top tip: book your Mount Batur climb in advance here
Spend Time in a Canggu Beach Club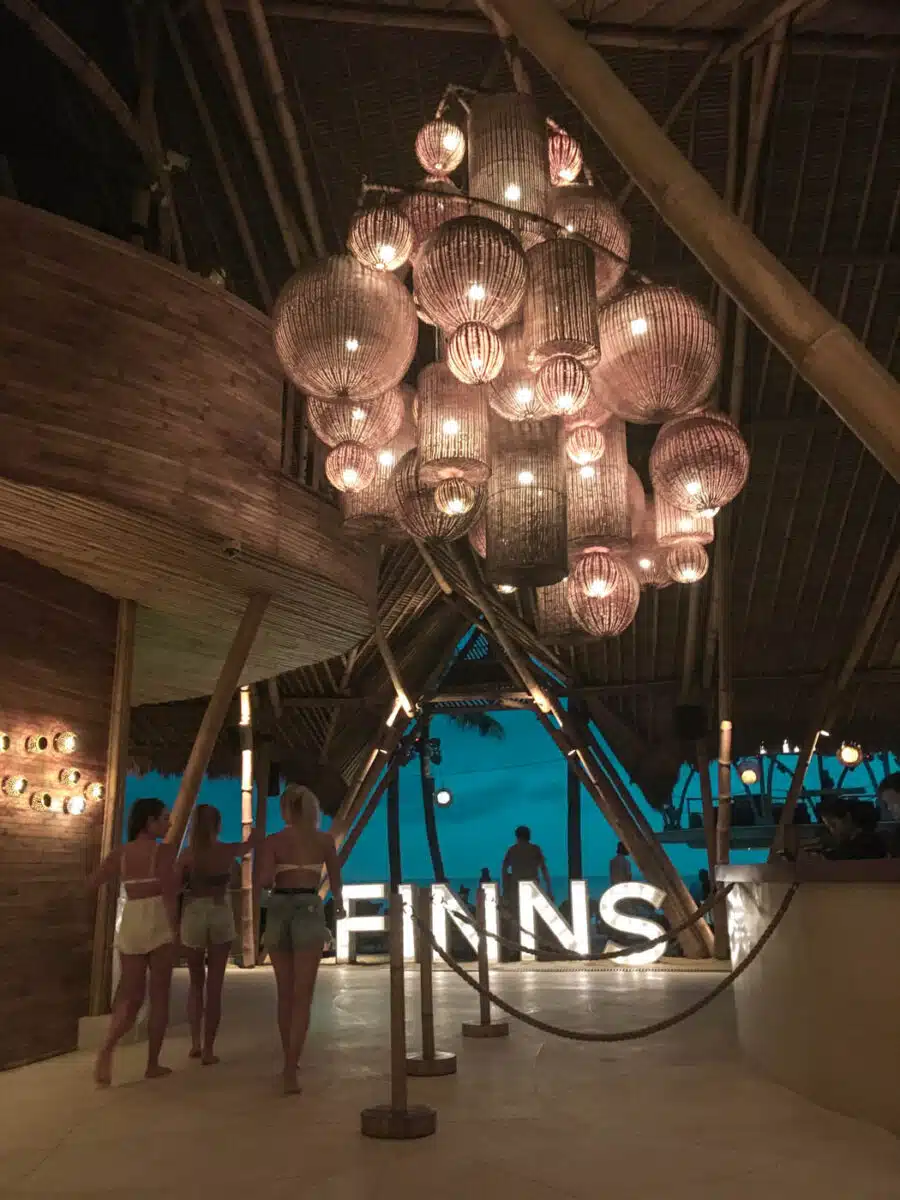 Canggu's beach clubs are pretty legendary. And Finn's Beach Club is one of the most popular (and definitely my favourite). I can't quite think of a better way to spend a day in Canggu than by flitting between the pool and bar, sipping cocktails while catching up on my latest read.
COMO and Desa Potato Head are other popular beach clubs (I've been to both and they're great), though Finn's is the original and the best, so don't leave without swinging by!
Like this post? Save and share on Pinterest!