Looking to spend a few days basking in the natural grandeur of Yosemite Valley but don't know where to stay? Then you'll want to check out these cosy Airbnbs near Yosemite.
Get ready for the adventure of a lifetime at Yosemite National Park. Of all the epic things to do in California, this park is one of the top destinations for nature lovers.
From spectacular mountain views, enchanting wildlife and greenery to the most serene atmosphere and fun hikes, I guarantee you'll fall in love.
So, with lots to do and even more to see, you'll want to stay close by for a few days. Here's my pick of the top Airbnbs in Yosemite for a fun getaway.
Best Airbnbs in Yosemite: At a Glance
Best Airbnbs in Yosemite
As Yosemite National Park is almost entirely just a natural landscape, quite a few of the best Airbnbs are outside the park. But incredible scenery will still surround you at every turn.
Micro Cabin at Glamping Resort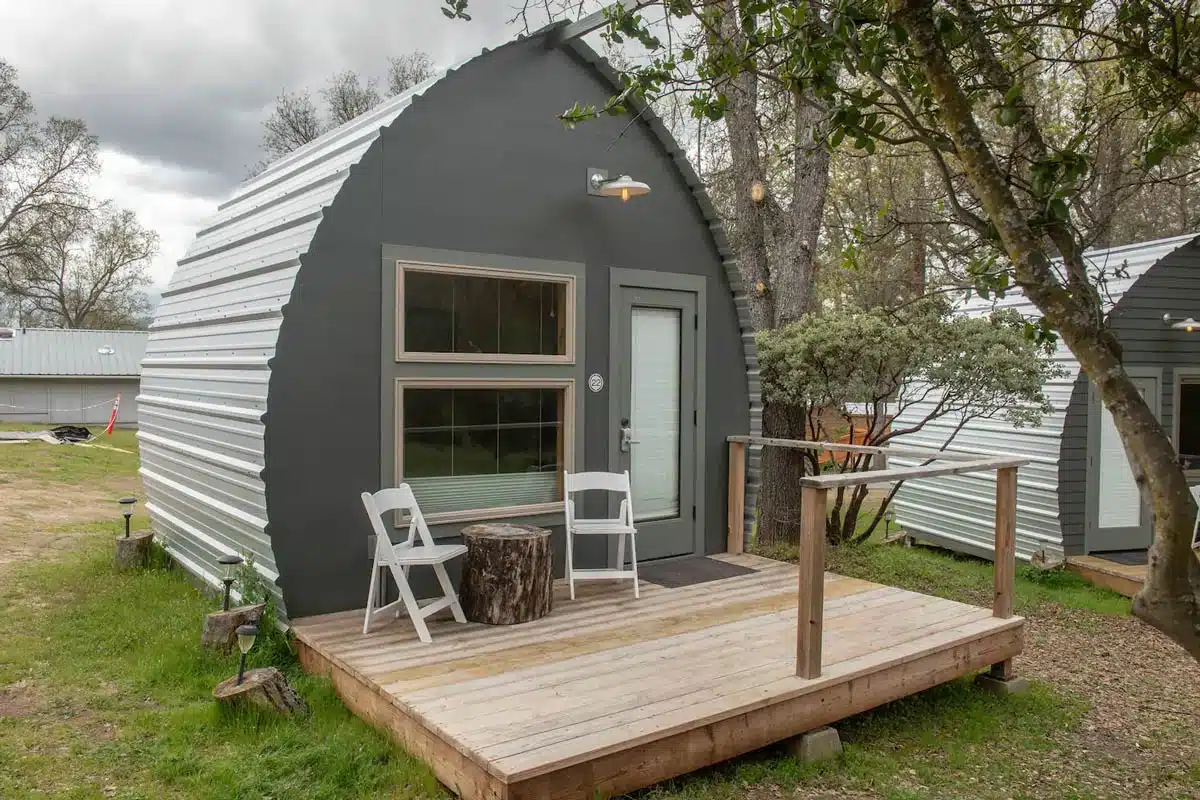 I'll start right on the doorstep of Yosemite Valley with this adorable and charming one-bedroom two-sleeper micro cabin, perfect for a comfortable woodland experience.
The simple (and uber-cosy) interior is ideal if you plan on spending most of the day outside, and there's Wi-Fi to ensure you're not totally off-grid. The room also has a coffee machine and mini fridge but no other cooking appliances.
The bathrooms, however, are communal and separate from the cabin.
Location: Ahwahnee
This cabin sits in the Sierra Foothills, about 45 minutes from the Yosemite Park entrance. There are also over 140 acres worth of footpaths, creeks and sculptures to explore, and many dog-friendly meadows.
Edelweiss Lodge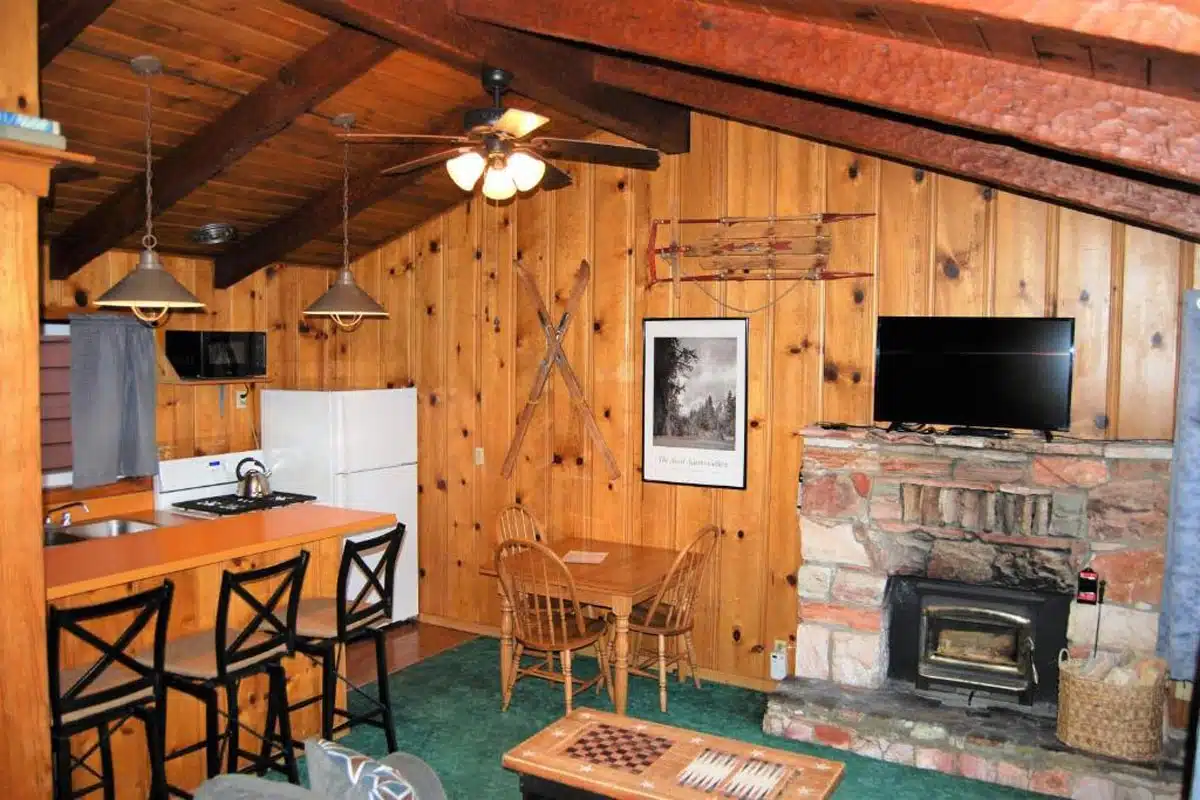 For a better-equipped B&B that still retains a rustic charm, this one-bedroom Studio Queen cottage is a great place to start. It has a private bathroom and a comfortable living area with a flat-screen cable TV.
The kitchenette has a microwave and mini-fridge, so you can still enjoy your meals from the comfort of the indoors. Feeling like some outdoor living? Head outside to enjoy a picnic by the on-site barbeque while enjoying the spectacular mountain views.
The cherry on a very tasty cake? There is also free parking and Wi-Fi.
Location: Mammoth Lakes
Park access is simple from Mammoth Lakes if you take the Tioga Pass State Highway 120. There is also a nearby golf course and ski lifts.
YoBee! Heart of Yosemite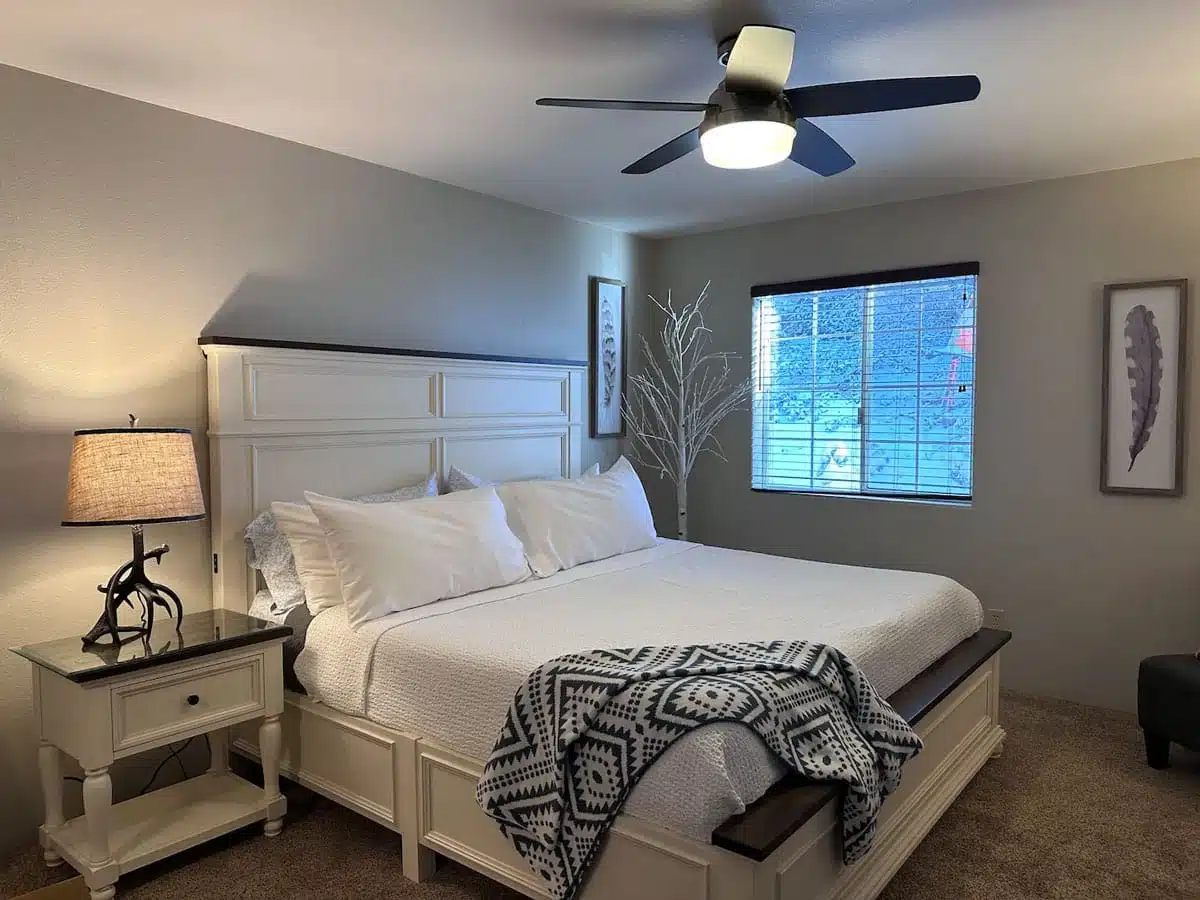 This cosy one-bedroom studio is a great Yosemite National Park Airbnb with a perfect balance of rustic charm and casual luxury.
The quaint living room is complete with a grand fireplace and flat-screen satellite TV and opens into a charming kitchen and dining area. This area has poor reception, with only access to the Verizon and Sprint networks. The Wi-Fi is complimentary but be warned, it's very slow.
On the plus side, you can treat yourself to views of the mountains or some wildlife watching from the patio. The studio also comes equipped with central heating and window air conditioning.
Location: Yosemite National Park
Being in the heart of the park gives you the perfect uninhibited opportunity to see the natural wonders of the valley. You also get guaranteed access to the park, but you must get a vehicle park pass for $35.
Yosemite Magic "A"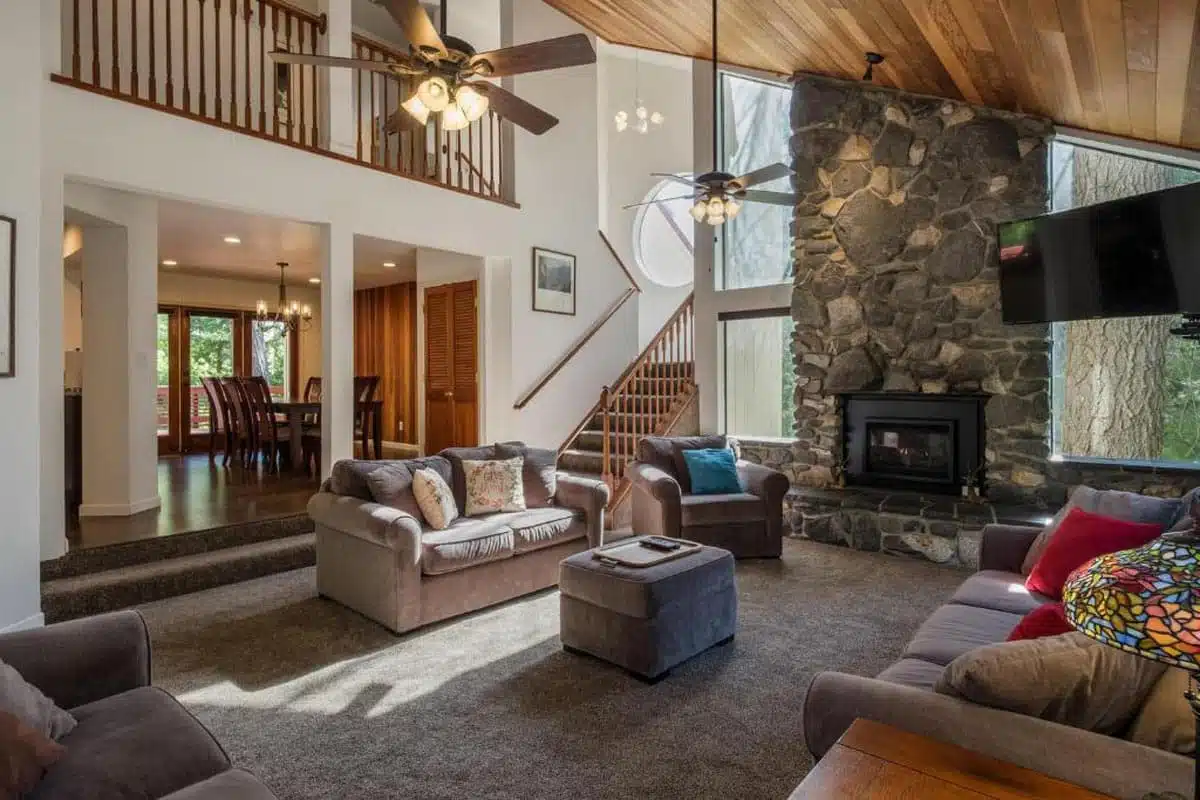 This three-bedroom holiday home is perfect if you're looking for an atmosphere of luxury that still feels homey. Here, space comes in abundance, even in the very posh bathrooms.
Chill out by the numerous fireplaces (in the cooler months, of course), take advantage of cable TV and free Wi-Fi, or take out the board games for some old-school fun. How about experimenting in the grand kitchen or fine-tuning your barbeque skills on the patio while enjoying the scenic views?
Welcome to your home away from home in Yosemite.
Location: Yosemite West
This Airbnb in Yosemite West is about 22 miles (35 km) from the park's southern entrance and is a private community that expects a serene environment. It is near most hiking and biking trails and only 12 miles (19.3 km) from Yosemite Village.
Yosemite Riverside Inn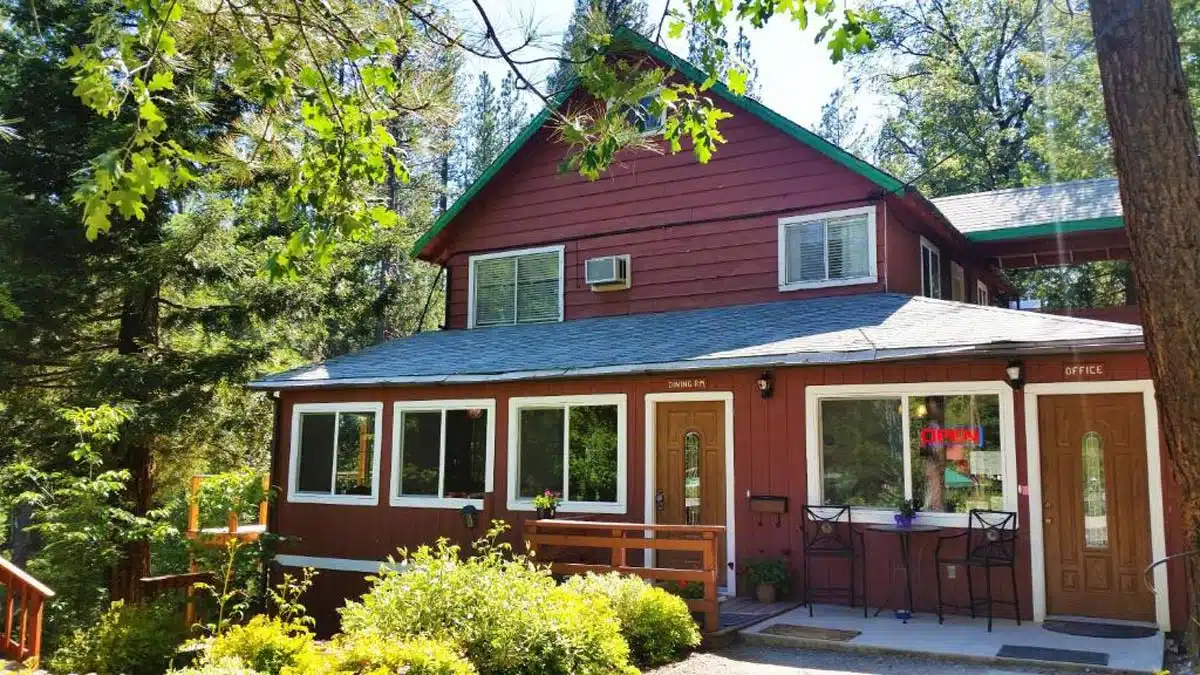 This four-sleeper cottage at the Yosemite Riverside Inn is excellent for a cosy stay and perfect for immersing yourself in nature for several days.
It comes with a fully equipped private kitchen and bathroom and a comfortable living area fitted with a flat-screen cable TV. Wi-Fi is available for $10 per day, and dogs can even join you on your getaway for an additional $60.
Elsewise, the cottage has incredible views of the river and garden, with an outdoor area fit for sunny days. The room also has a fireplace, which is great if you travel in the winter.
Location: Buck Meadows
This cottage hides away in the woods and overlooks the Middle Tuolumne River, making it a great spot for fishing. It's an Airbnb near Yosemite Falls, only 37 miles (60 km) away.
Alpine Hut Flat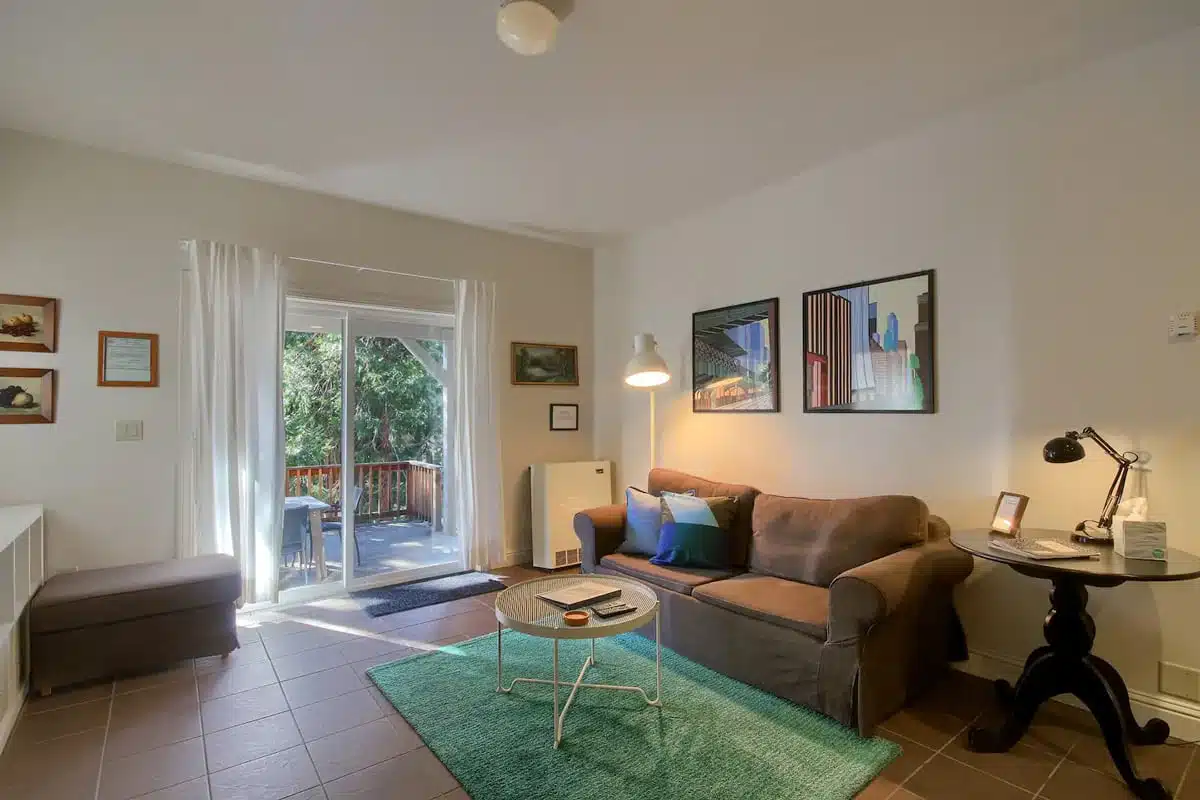 Craving something comfier while enjoying incredible views of Yosemite's lush greenery? Look no further than this simple one-bedroom unit.
Enjoy the delights of the fully-equipped kitchen, or lounge in the sun on the private patio. The flat is a laptop-friendly environment with satellite TV, although the Wi-Fi isn't great given the region's poor reception, so there is no streaming.
Free on-site parking space is available, allowing you to easily move about the park. What more could you ask for?
Location: Yosemite West Yosemite National Park
This is a great Airbnb near Yosemite Valley. It is the closest b&b to Glacier Point Road and Mariposa Grove. There are no amenities nearby, though, so you will need to bring groceries with you.
Bass Lake Cottage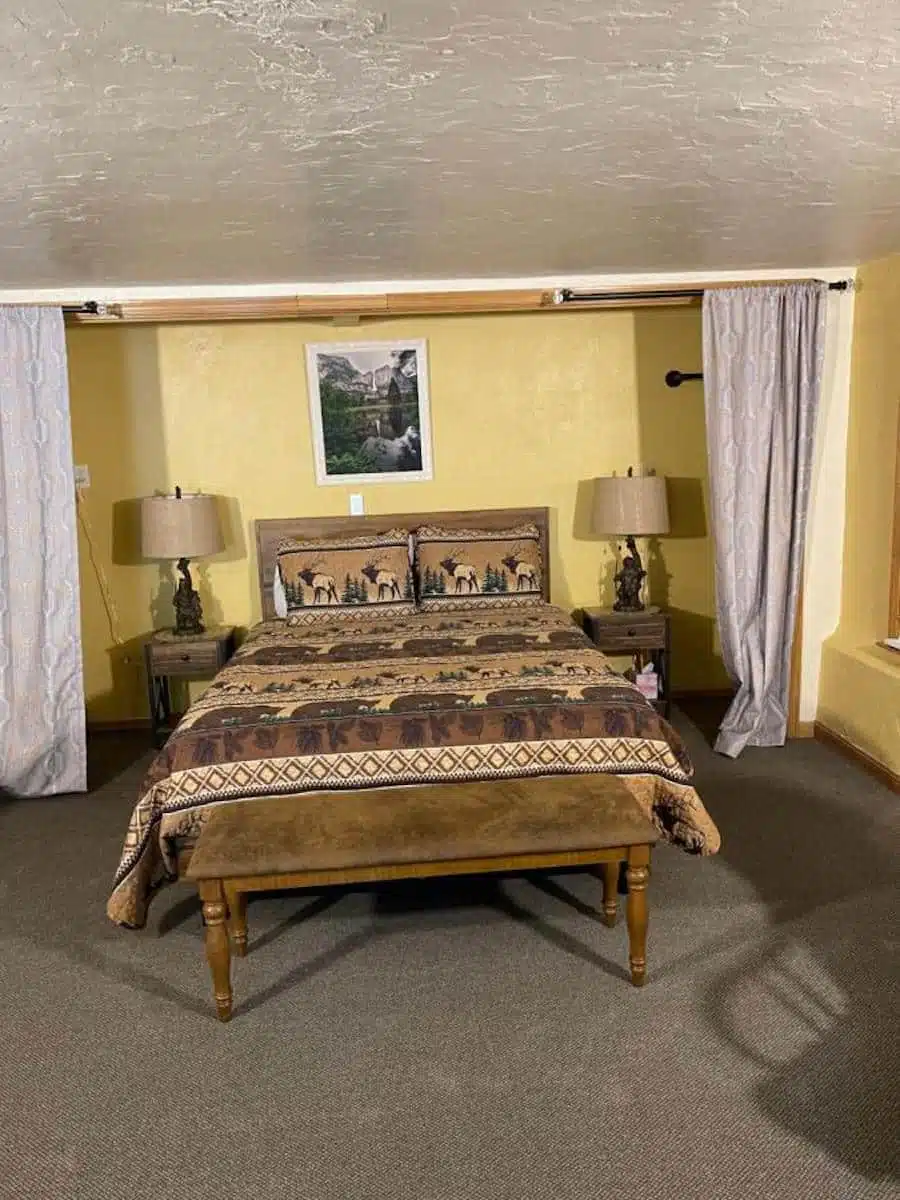 If you're looking for a more down-to-earth stay, this one-bedroom two-sleeper cottage is just for you. Though small, you'll feel right at home in no time.
Take advantage of the free Wi-Fi and stream away on the flat screen, head onto the patio for some epic mountain views, or dip in the on-site hot tub. The cottage is perfect for any season, with central heating and air conditioning units.
You'll also have pet-friendly hosts, but your pup's stay will come at an additional cost.
Location: Madera County
Yosemite National Park is only 40 minutes (24.6 miles or 40 km) outside Madera County. There are also many ski lifts in the area and other nature parks like the Oakhurst Community Park.
Homestead Cottages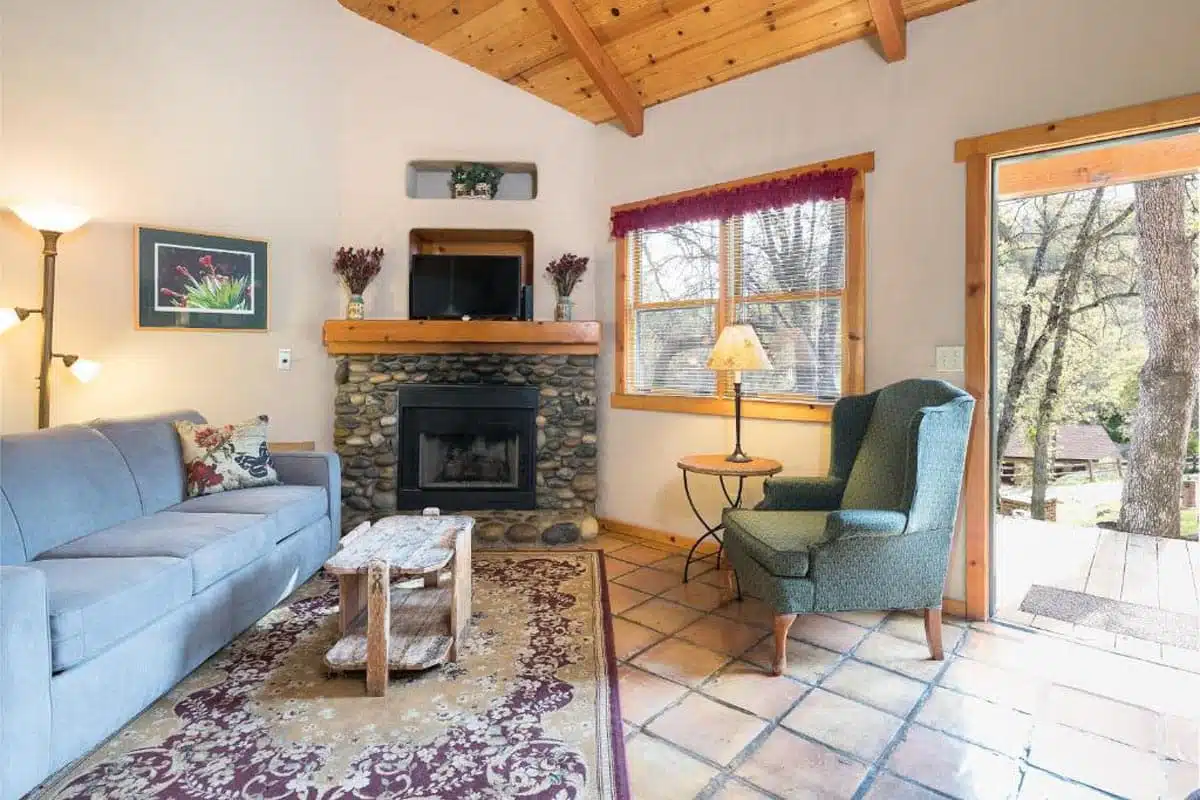 If you're looking to spend uninterrupted time in the wild, you'll feel right at home in this two-sleeper Stargazer Loft, fully equipped to ensure an enjoyable stay.
Entertain yourself with the board games and puzzles, spend your nights streaming your favourite Netflix shows, and enjoy the free Wi-Fi. You will also have complete privacy with the soundproof walls.
You will need to ascend a staircase to enter/leave the unit. Despite this, the downstairs patio still offers great views of the mountain and gardens.
Location: Ahwahnee
Found in the heart of a dense woodland just 11 miles (17.7 km) away from the Yosemite Lakes Park Recreation Area, this is one of the best Yosemite Airbnbs. There are also ski lifts nearby.
Black Ranch Mountain Cottage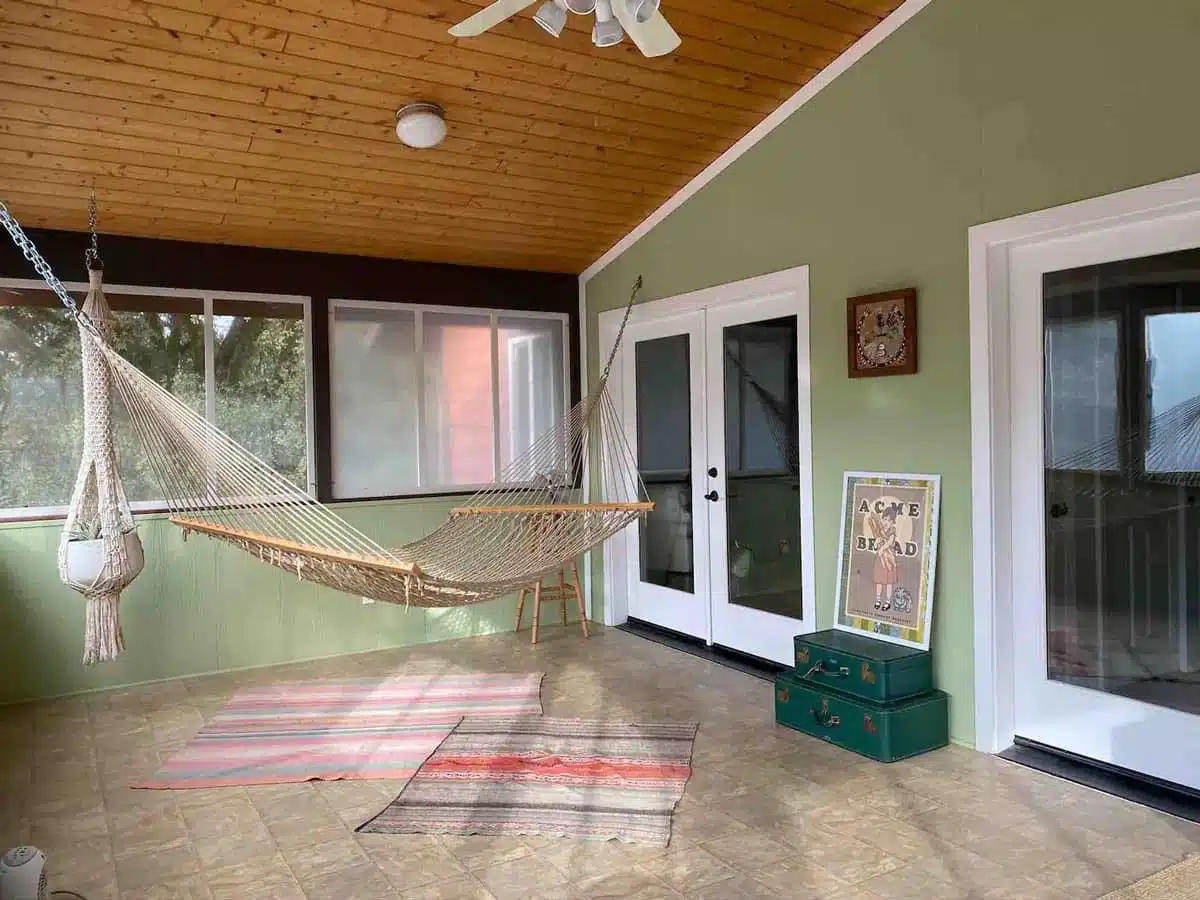 This one-bedroom cottage is a heavenly Airbnb near Yosemite. The cosy living room with a fireplace and flat screen is perfect for colder nights. Plus, a comfortable bedroom with a great working space is sure to ease away the worries of the outside world.
The real treat is the sunroom, where you can curl up with a good book on the indoor hammock. This cottage is ideal for any weather, with the gas fireplace and air conditioning allowing you to enjoy nature from anywhere.
And there's Wi-Fi. Could it get any better?
Location: Oakhurst
This is another Airbnb near Yosemite National Park, the closest entrance only 35 minutes away. There are numerous opportunities for wildlife watching in the area, and it's only 10 minutes from town.
Spacious King Serenity Suite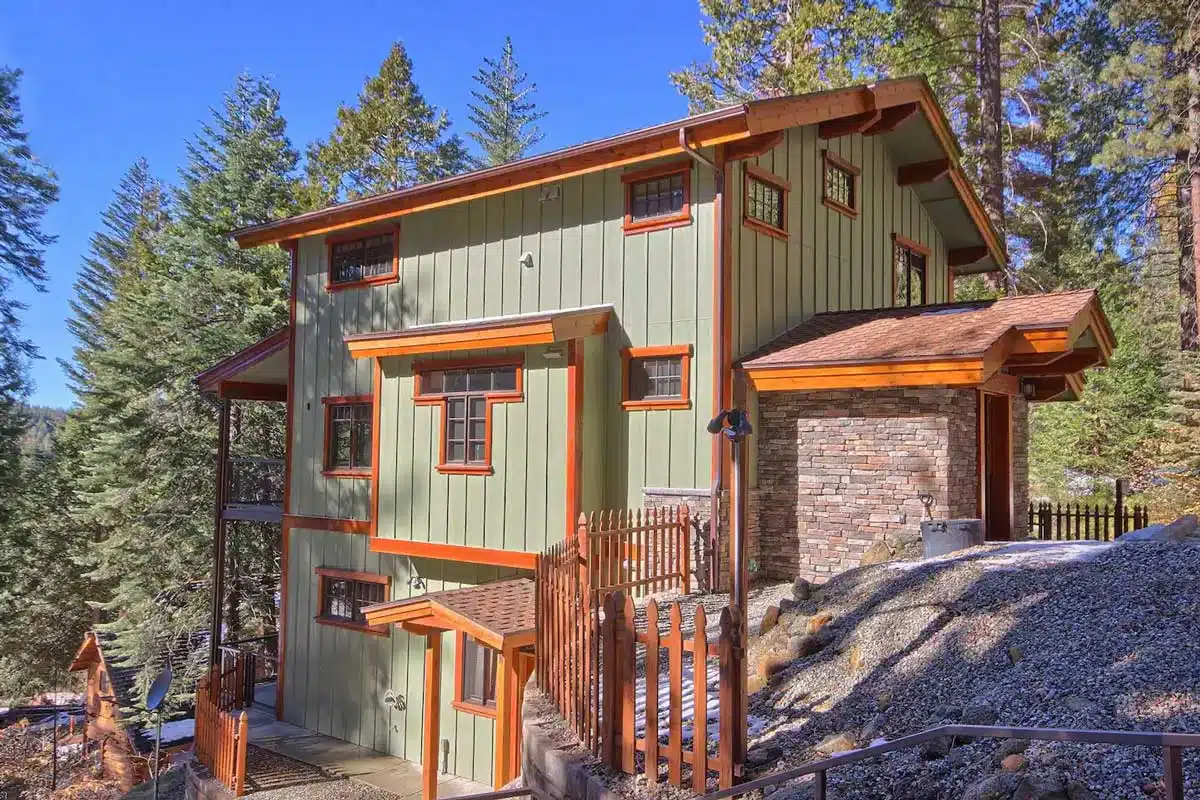 This romantic one-bedroom suite needs to be on your agenda when heading to Yosemite. You'll feel stuck in a fairytale among the rustic finishes and comfy furniture.
Snuggle by the classic brick fireplace, enjoy your meals in the charming kitchen or soak up the fresh air on the private patio if the AC doesn't cut it. There is free Wi-Fi and parking, but there are no TVs – perfect for real one-on-one alone time.
Location: Yosemite West
Sitting high in the Yosemite Valley, this Airbnb offers the best access to the park's wonders. Wildlife watching, hiking and cycling are popular activities in the area, and your access to the park is 100% guaranteed.
Water Fall House on Lewis Creek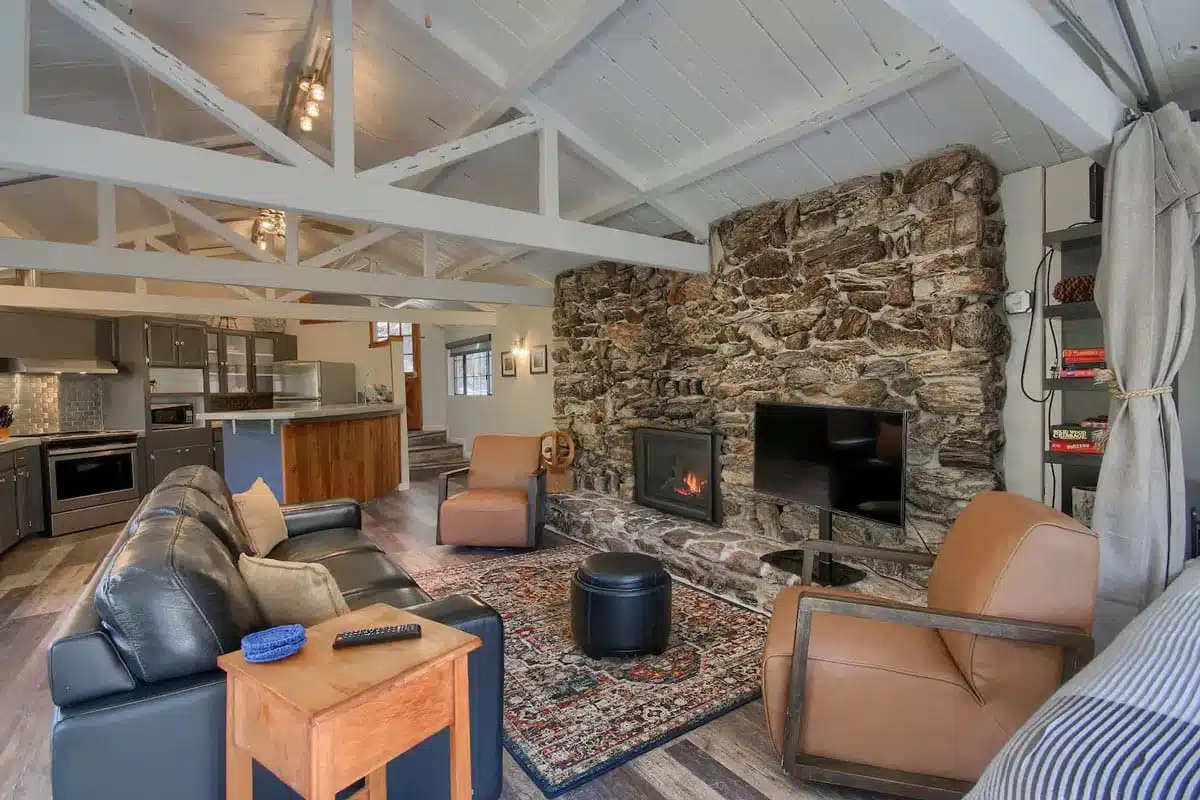 If you find the sound of running water relaxing, this four-sleeper open-plan one-bedroom cabin studio is just what you need. The high ceilings, wooden floors and large windows bring the room a spacious but snug feel.
Enjoy cooking your meals while the fireplace burns, watch as much TV as you like or admire the view of the nearby granite that falls just beneath the private balcony. There is also Wi-Fi so you can catch up on last minute emails or stream your fave series.
The studio is part of a duplex apartment on the top floor, so expect some stairs.
Location: Oakhurst
This is a great Airbnb to pick if you want an equal balance of the wilderness and civilisation. You can find shopping and restaurants a mere 6 miles (9.7 km) away in Oakhurst, but only 23 minutes from the park.
Practical Tips to Consider Before Booking Your Airbnb in Yosemite
The closer you are to Yosemite, the more expensive these Airbnbs get. If you're looking to save some cash, staying somewhere like Oakhurst is a good idea.
If this is a trip with man's best friend, double check the pet-friendly Airbnbs to see if they charge extra or have specifications for which pets can join.
Airbnb Yosemite: Map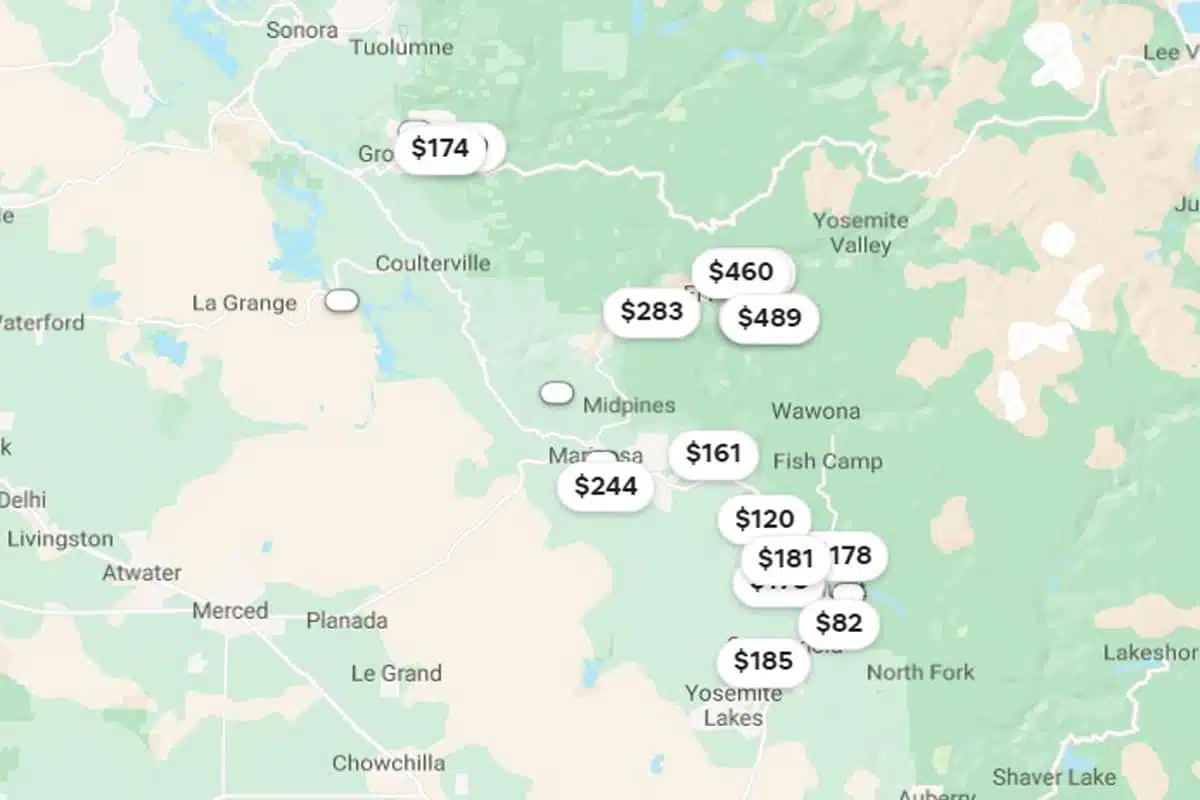 Click here for a map of the hotels featured in this guide