Looking for the best hotels in Cortona? Discover iconic luxury hotels and surprise hidden gems in this idyllic Tuscan town.
Anyone who saw the film Under the Tuscan Sun when it came out (somehow 20 years ago now) has most likely dreamt about taking a trip to Tuscany at least 100 times. I know I've imagined staying in Cortona – the town in which the film was set – surrounded by olive trees, vineyards and towering hillsides my fair share.
Cortona doesn't look exactly like your typical Tuscan town. Don't get me wrong – you still get healthy doses of picturesque olive groves and ancient vineyards but with a slightly more dramatic landscape of low-lying valleys and steep hillside terrain.

I just returned from a trip to Tuscany and visited a few incredible hotels along the way. Guess what? Cortona has more than a few.
But where can you find the best luxury hotels in Cortona or a hidden gem outside town? Keep reading.
Best Hotels in Cortona: At a Glance
Best Hotels in Cortona
Monastero di Cortona – Hotel & Spa
£££
Old Town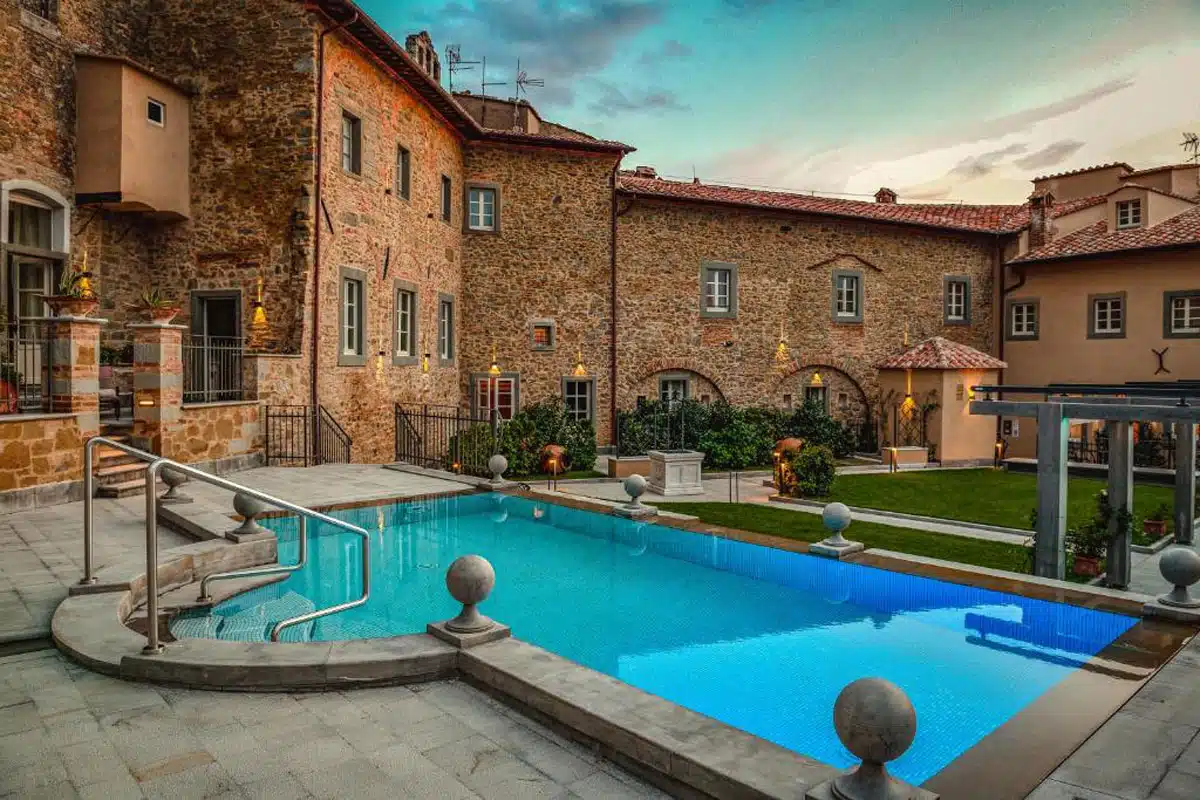 Monastero di Cortona – Hotel & Spa sets you up with a luxurious stay in a historic monastery dating back to the 1600s.
Walk around the stone walls and gardens of one of the top Cortona, Italy hotels, and it's easy to feel like Diane Lane. You know, taking in the idyllic countryside while planning your future in Tuscany and all.

But unlike the film, you won't need to put in much effort to enjoy your stay at this five-star Cortona hotel.

Instead, you'll find the accommodations are basically perfect, with luxurious beds and antique furniture adorning the charming rooms. Vaulted ceilings stretch high above the cosy interior, allowing plenty of light through charming nooks and crannies.
And when you're ready for some R&R, head to the courtyard or spa. The outdoor pool is perfect during warmer months, and the indoor pool and spa are a delight when the weather turns a bit cooler. 
Hotel San Michele
££
Old Town 
Hotel San Michele is a perfect getaway for couples who want a taste of La Dolce Vita in Cortona.
The 15th-century estate boasts 40 rooms, and every one of them has a style of its own.

You'll find antique furniture and vintage decor in each room, which at times feels a bit dated but, at others, impossibly romantic.
If you plan ahead, you can reserve one of the suites with a jacuzzi tub. Book that room. The spa bath rests in the corner of the suite, with incredible views of Cortona below.
Relais La Corte dei Papi
£££
La Dogana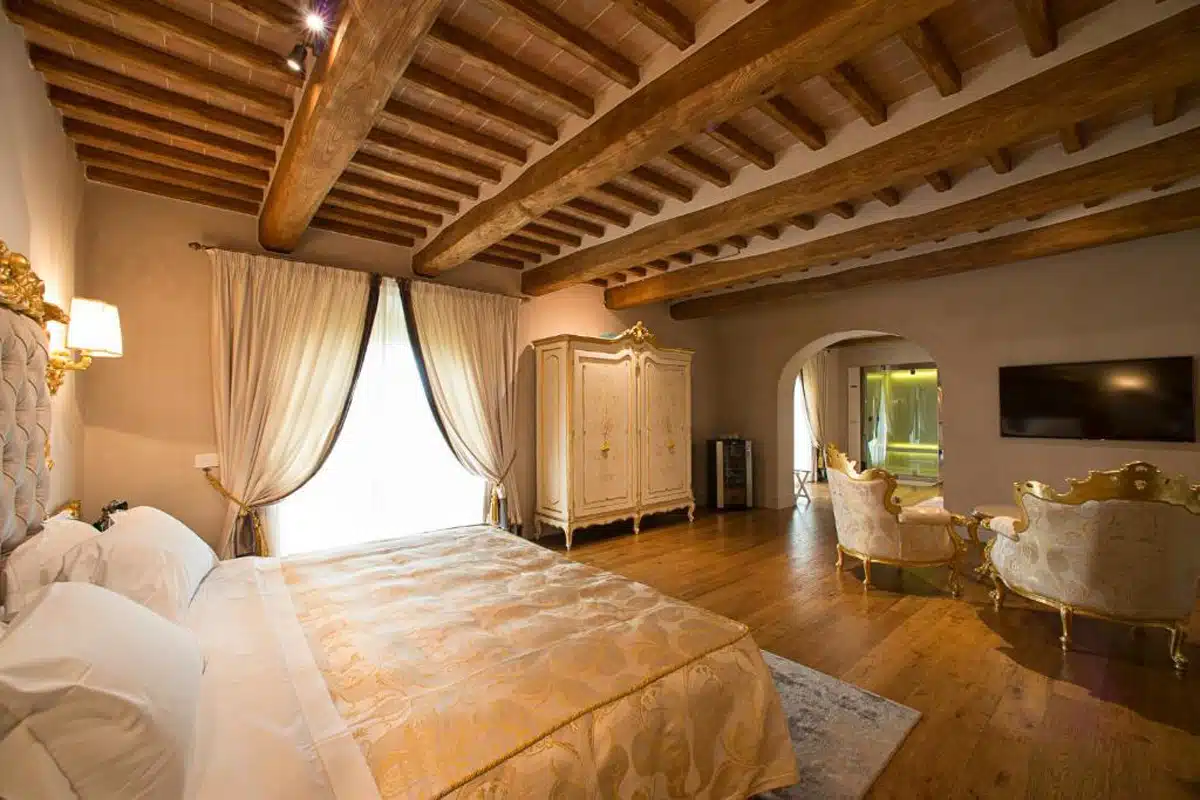 Every once in a while, I find one of those resorts that feels too good to be true. Relais La Corte dei Papi is that resort.

I'm not exaggerating when I say that the ambiance and service at Relais La Corte dei Papi make you feel like royalty from the moment you set foot on the pristine hotel grounds outside Cortona.
The pool and gardens offer a lovely setting to spend some time during the day, evoking everything romantic about the Tuscan countryside.

Rooms are opulent without feeling cold, with luxurious touches like gold-painted headboards, high beam ceilings, and a jacuzzi tub as the centrepiece of the Luxury Spa Suites. Heaven.
Pro Tip: Treat yourself to a meal at the hotel restaurant at least once. The expert culinary team prepares thoughtful Tuscan cuisine, crafting each dish from scratch, including handmade pasta and bread.
Hotel San Luca
££
Old Town 
Hotel San Luca offers guests small but pleasant accommodations in the city centre with beautiful views of the nearby farms and vineyards.
It's a great option for guests who want close access to the city in a quieter part of town.
Ready to explore Tuscany? You can arrange to see many of Cortona's charms directly through the hotel. Schedule cooking classes, horseback riding, or e-bike tours to learn more about the scenery and culture around you. 
Relais & Châteaux Il Falconiere
£££
Cegliolo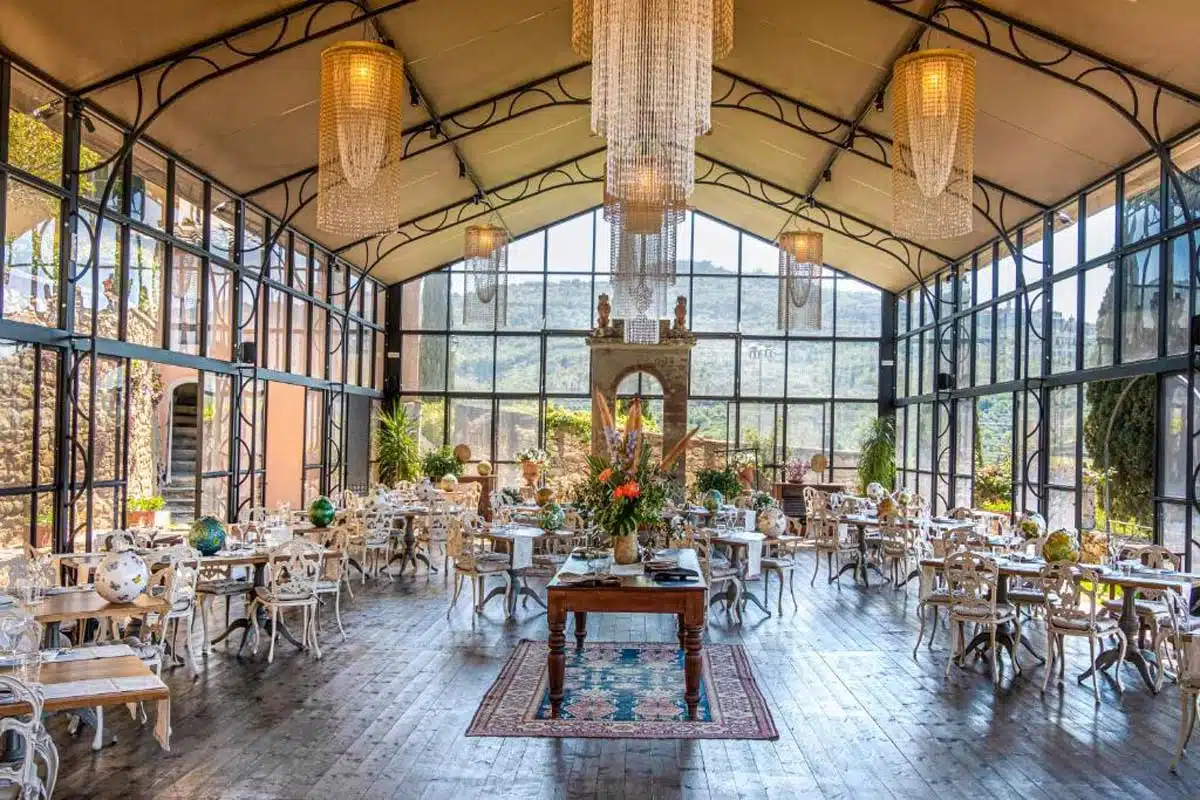 Located just north of Old Town near Cegliolo, Relais & Châteaux Il Falconiere allows guests to experience luxury in the Tuscan countryside at one of the top Cortona hotels.
The pool and outdoor gardens are immaculate. The hotel epitomizes just about everything that makes Tuscany beautiful. Between the lush gardens, towering Italian cypress trees, and nearby mountains – you'll be feeling those I don't ever want to leave vibes.
Hungry? The olive groves and vineyards on the property set the stage for an authentic Tuscan meal, which you can enjoy at the excellent hotel restaurant or schedule a cooking class to roll out your own pasta.
But the rooms are what separate this five-star resort from other hotels in Cortona, Italy.
Each suite features unique and often lavish design touches like vanities cast into stone walls, fairytale canopy beds, and views of the Tuscan countryside you need to see to believe.
Hotel Italia Cortona
££
Old Town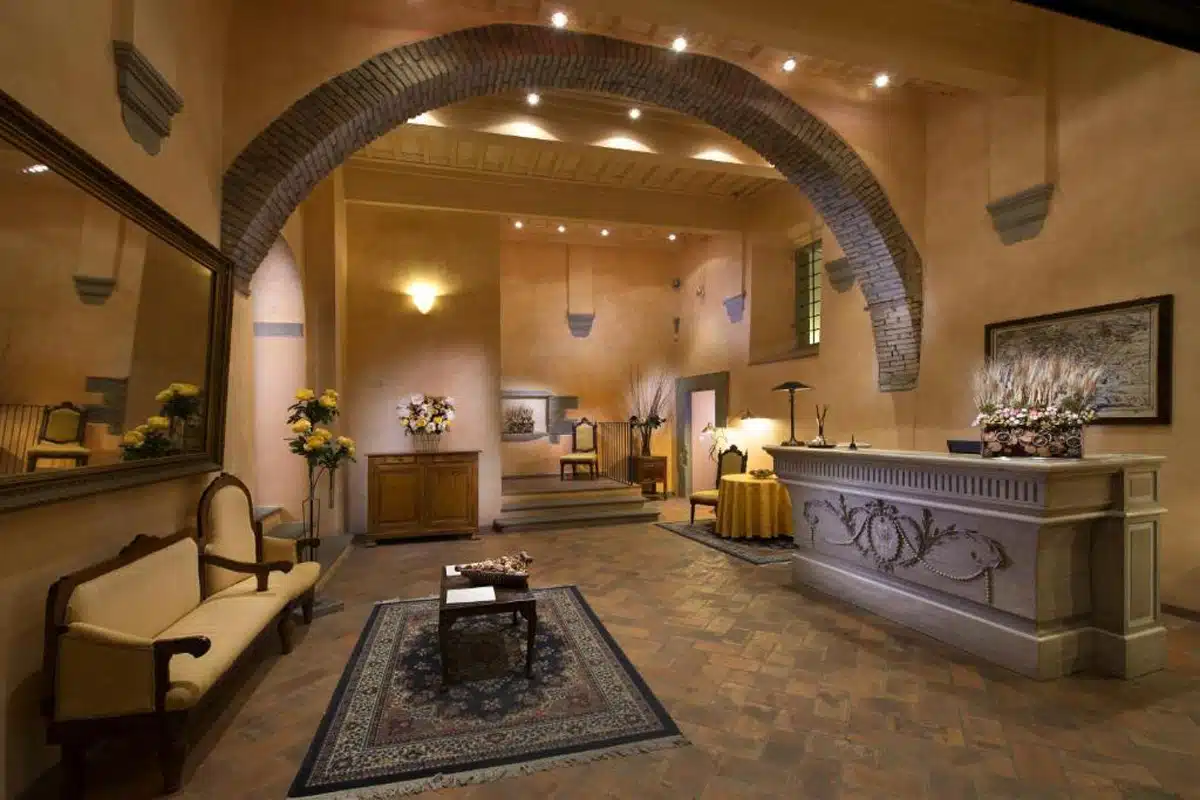 Hotel Italia Cortona has moody decor with stone walls, an earthy colour scheme, and exposed-beam ceilings that lend a medieval charm to the rooms at the 13th-century villa hotel.

The hotel doesn't have a lot of amenities (besides a popular complimentary breakfast), but it's a wonderful choice for its historic ambiance and central location.
Parking is tricky as it's in the Limited Traffic Zone, but if you reach Cortona by public transportation, it's a perfect location near Piazza della Repubblica.
Villa di Piazzano
£££
Piazzano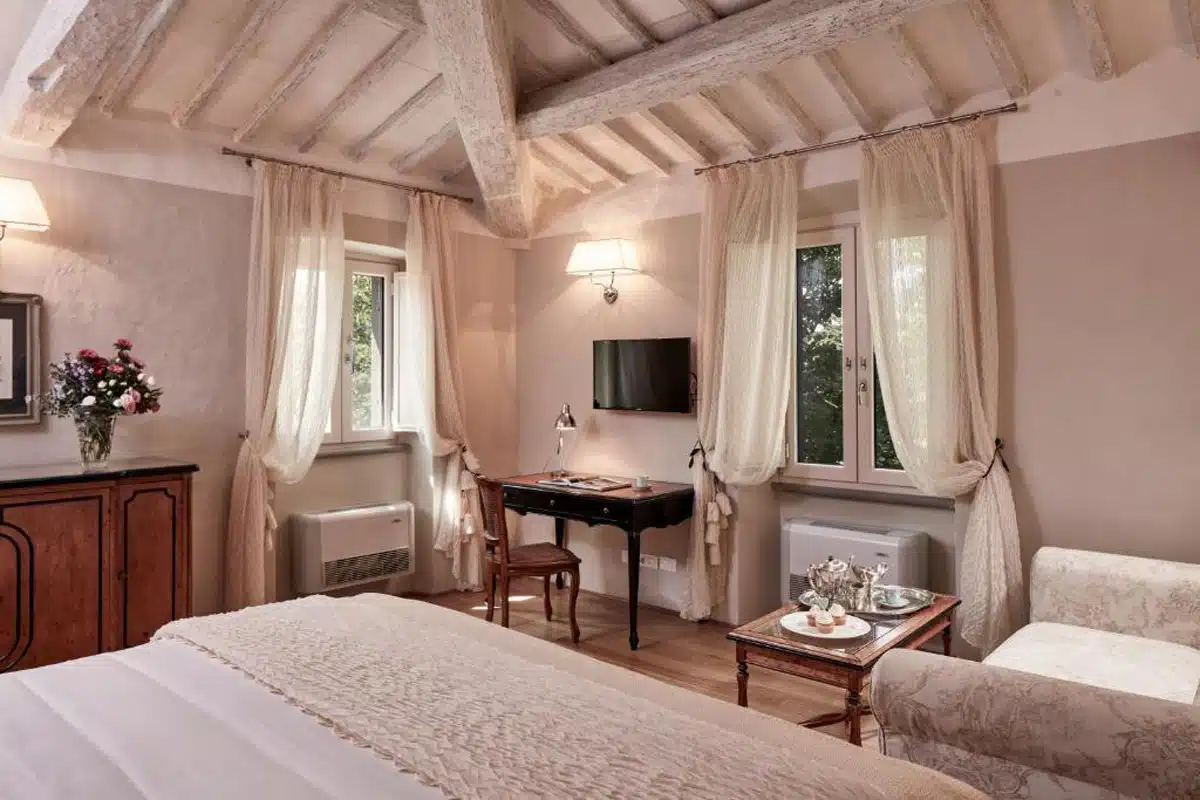 When I think of hotels Cortona offers, I often go back and forth between staying in the city centre, or on the outskirts of town.

Located about 15 minutes from Old Town, Villa di Piazzano makes a strong case for why choosing a boutique hotel in a historic farmhouse (read mansion) is the way to go when you travel to Tuscany.
This charming five-star hotel is on the border of Umbria, giving you the chance to explore two of my favourite regions in Italy side-by-side.

The accommodation is stunning, with marble bathrooms and luxurious bedrooms that feature modern design with clear nods to historic Tuscany.
But the real standout for many is the restaurant L'Antica Casina di Caccia. Chef Gabrile Corrias delivers rich flavours and bold presentations using hyperlocal ingredients with a unique "0 km philosophy".
La Corte Di Ambra
££
Old Town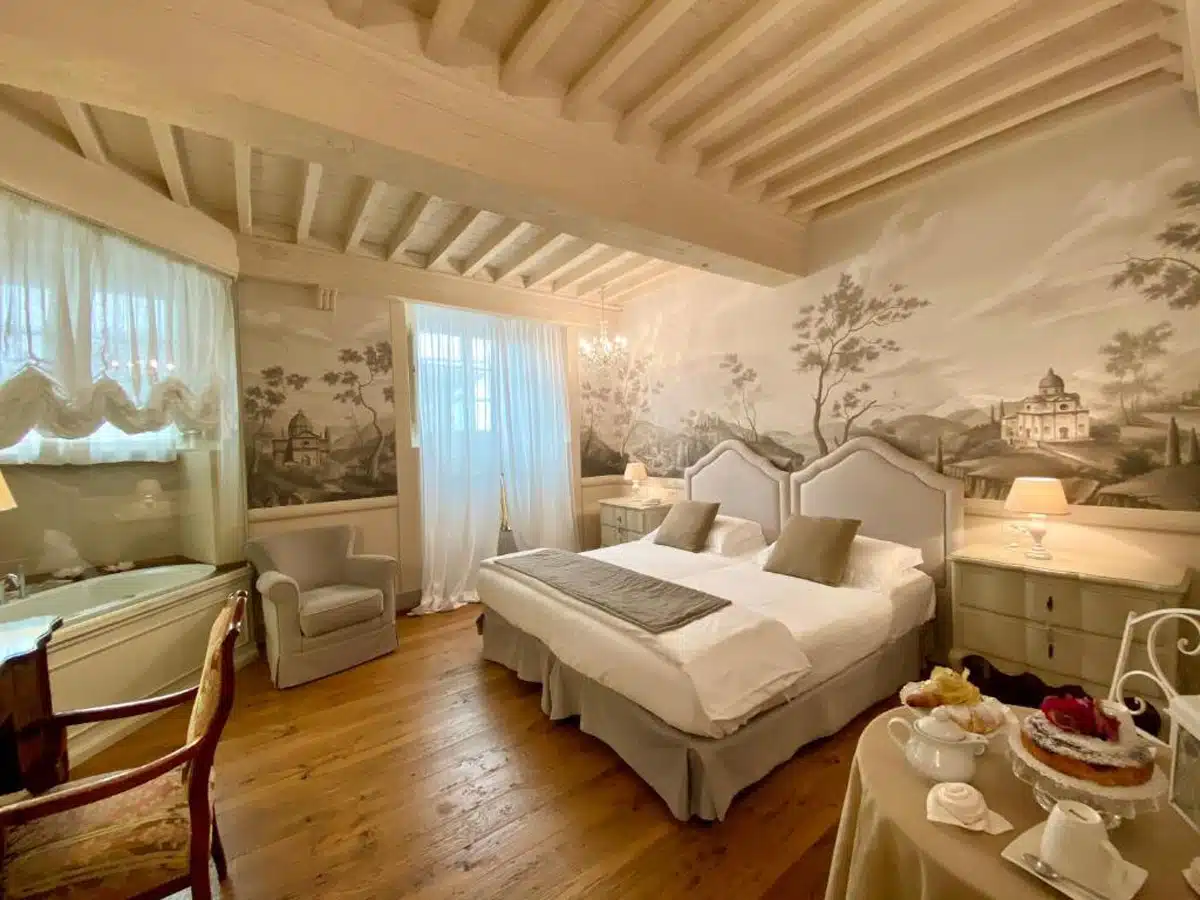 Step inside your room in the lovely boutique hotel La Corte Di Ambra from Cortona city centre, and you'll step back in time.

The antique candelabras, high beam ceilings, and hardwood floors transport you to medieval times but manage to feel contemporary and stylish. Elegant fireplaces, luxurious jacuzzi tubs, and grand chandeliers are a few luxe features you'll find from one room to the next.

But the Imperial Suite with a private sauna stands out as a real treat at one of the best hotels in Cortona, Italy.
Podere Casorbica
£
Campaccio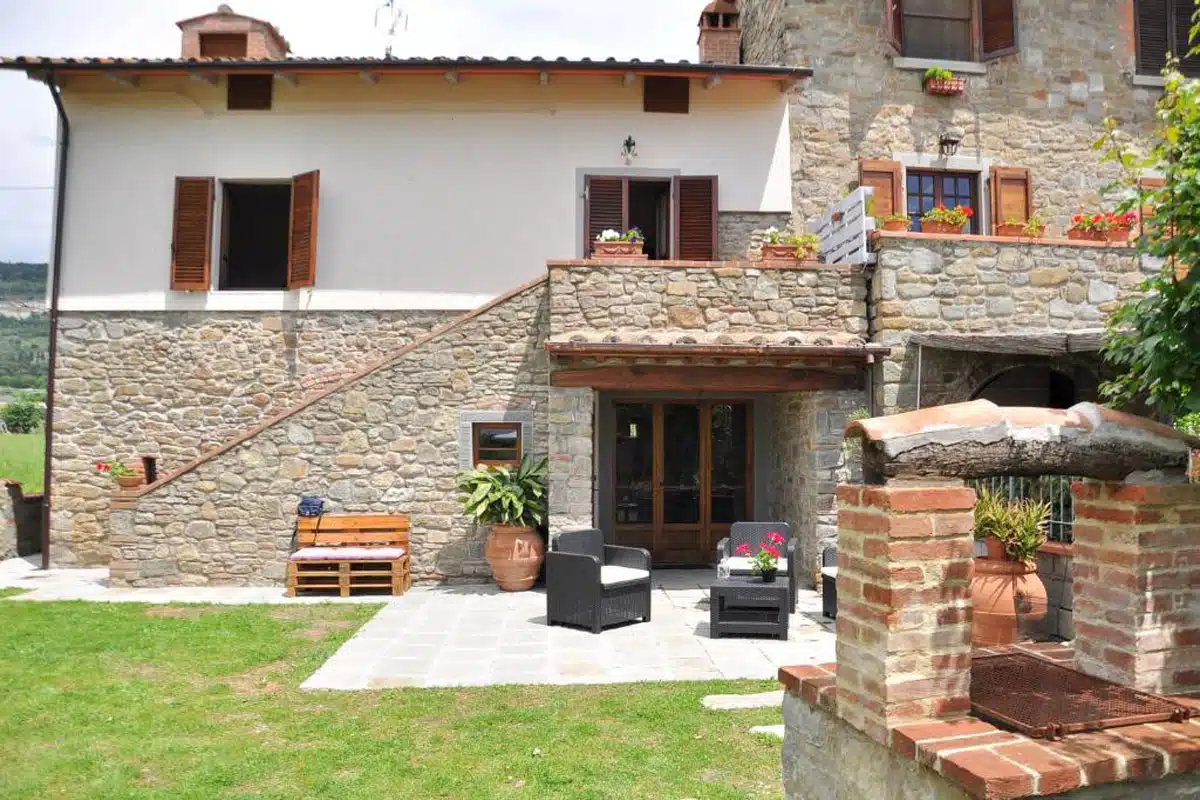 Many of the best Cortona hotels in Italy boast luxury and style with a price tag to match (especially during peak season). Podere Casorbica is a bit different.

The charming boutique hotel sets you up with the same Tuscan charm you'll find at high-end options at an affordable price point, ideal for travellers on a budget.
Rooms in the villa are comfortable and large, giving you access to a kitchen, private bathroom, and terrace.

Want to enjoy Tuscany like a local? The seasonal pool and BBQ grill are great for warmer months, and you can rent a bicycle or arrange transport to explore the village and countryside near Campaccio or go into Cortona.
Locanda Petrella
£
Old Town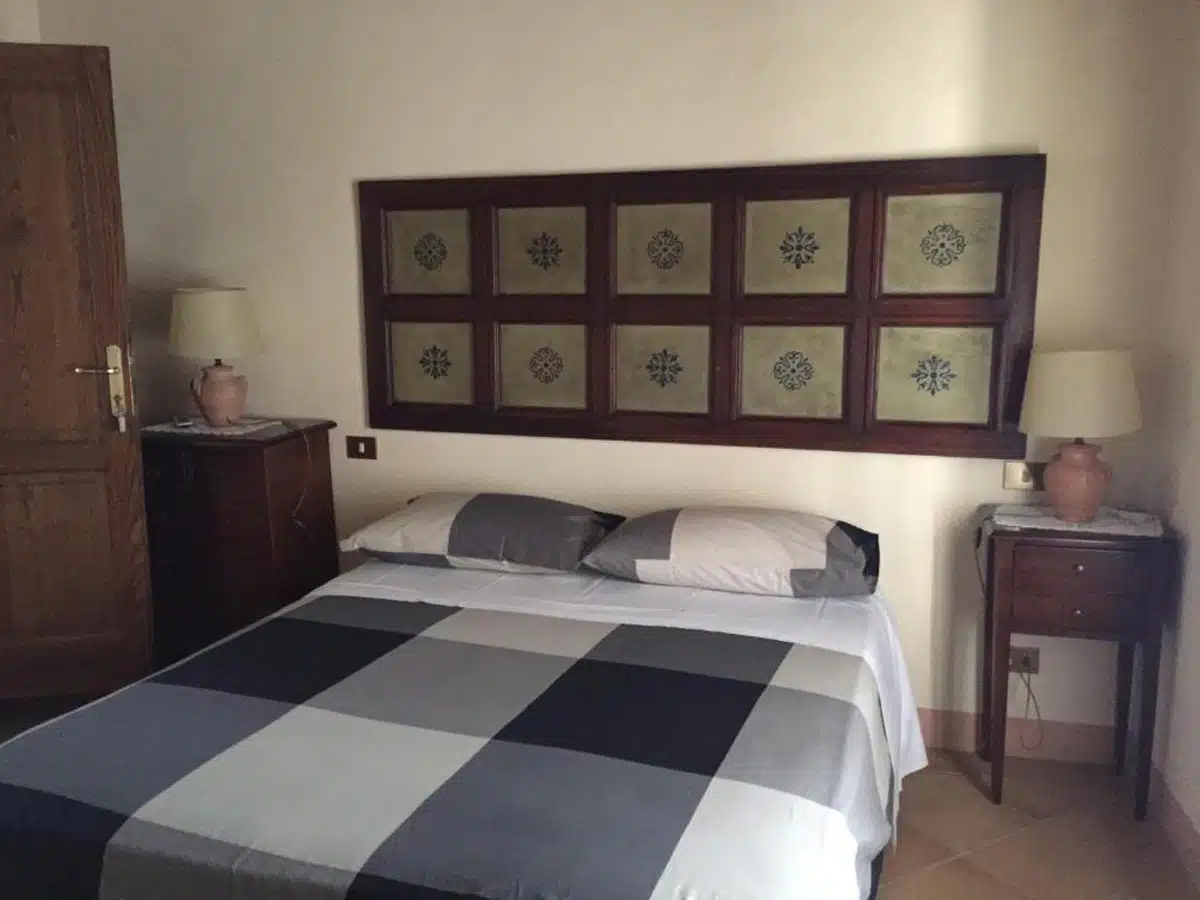 Stay in this 19th-century villa just a block away from the busy Via Nazionale, where you'll find many of the best shops, cafes, and restaurants in Cortona.

Locanda Pertrella sets you up with comfortable accommodations with plenty of style and a free breakfast each morning before you walk to the Duomo and other famous landmarks nearby.
Air conditioning, a refrigerator, and WiFi are also available during your stay, giving you everything you need for a comfortable weekend in Cortona.
Where to Stay in Cortona: Frequently Asked Questions
What is the Best Area to Stay in Cortona?
Staying in the city centre is the best area to walk around the city, exploring Old Town's shops, restaurants, and historical landmarks. 
How Long Do You Need in Cortona? 
A few nights in Cortona is the perfect amount of time.

Three days allows you to see the city for a day or two before exploring the Tuscan countryside and nearby villages. 
Is Cortona Walkable
Old Town is very walkable, and many of the best hotels in Cortona, Italy, allow you to get around on foot to the Duomo, piazzas, and Accademia Etrusca.

But if you want to see the Tuscan countryside (you should), you'll need to hire a car or arrange transportation with the concierge. 
Practical Tips to Consider Before Booking Your Cortona Hotel
Some hotels near Cortona, Italy, are open seasonally. Check with the hotel if you plan to travel during shoulder season or off-peak months.
Research the different room options at your hotel. Many hotels in Cortona, Italy, are boutique properties where each room is much different than the next.
When deciding where to stay in Cortona, Italy, consider whether you want a quiet retreat or want to be in the city centre.
Many hotels in Cortona have restaurants on site. While I normally like to branch out and eat around town, a few of the best Cortona hotels have impressive restaurants.
Love This? Save and Share on Pinterest