Discover the best beaches in Barbados – these spots are perfect for swimming, sunbathing, and relaxing.
I'll make a bold statement: The beaches of Barbados are some of the most beautiful in the world. The sand is white (in some cases pink – more on that anon), and the water is a deep blue.
With its rugged shoreline, the East Coast is the wild sister to the calmer West Coast's warm shallows and gorgeous white sands.

And best of all, each of the fantastic beaches in Barbados is open to the public, even the ones that cater to fancy resorts. So you don't have to spend a penny to enjoy a luxe beach day. Cheers to that!
If a Caribbean Island winter getaway is what you need (and let's be honest, you totally deserve it), grab your passport and take a look at some of the best Barbados beaches the island has to offer…
The Best Beaches in Barbados
Crane Beach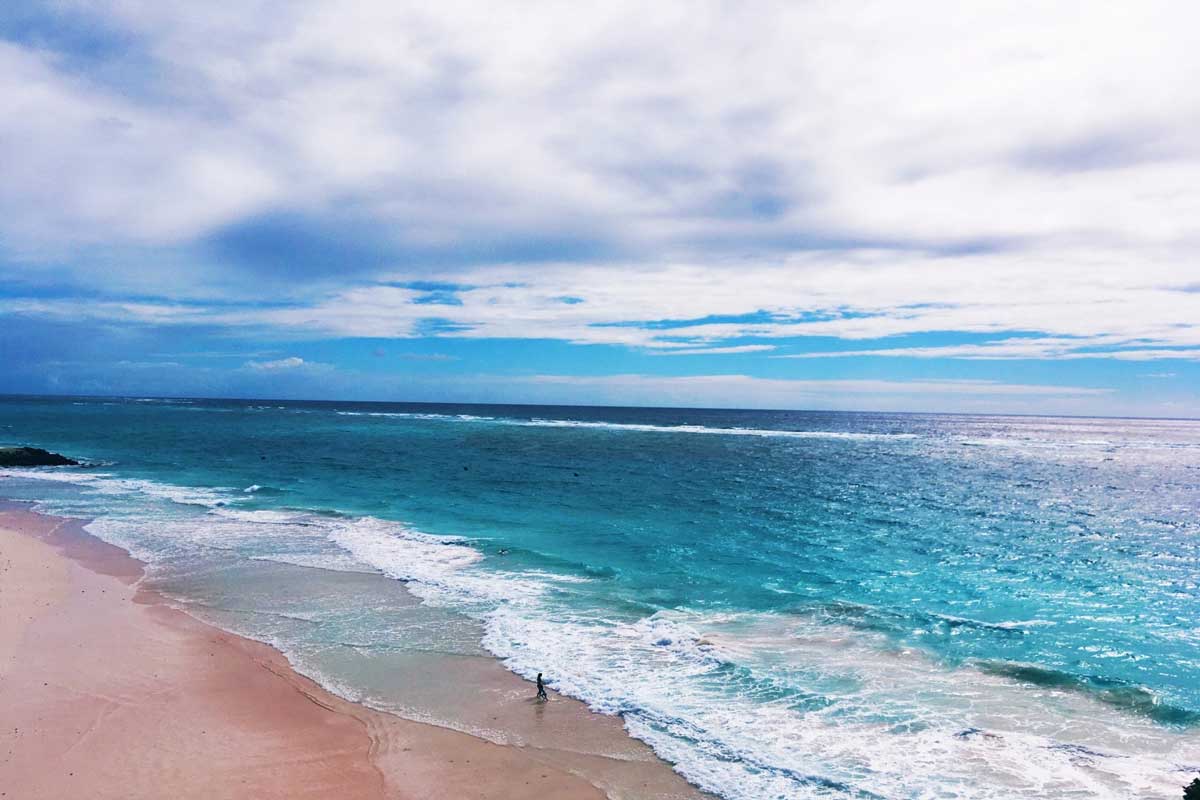 Never heard of pink sand Barbados beaches? Well, you have now. Crane Beach's shore has a pink glow that is, quite frankly, delightful.
Towering cliffs with elegant hotels perched on them overlook the unicorn colours of the turquoise waters, white foamy waves, and pink sands below. It's an Instagram picture waiting to happen, if you ask me.
Now, there are only two ways to access this peculiar beach:
via the Crane Resort, down a flight of 98 steps,
or through a small road and across a rock path at the other end of the beach.
Sunbeds are available for rental, and vendors sell food and cold drinks towards the back of the beach. The surf can get a little wild, being on the West Coast, but it's the perfect excuse to grab your boogie board if lounging is a little low-key.
Accra Beach (Rockley)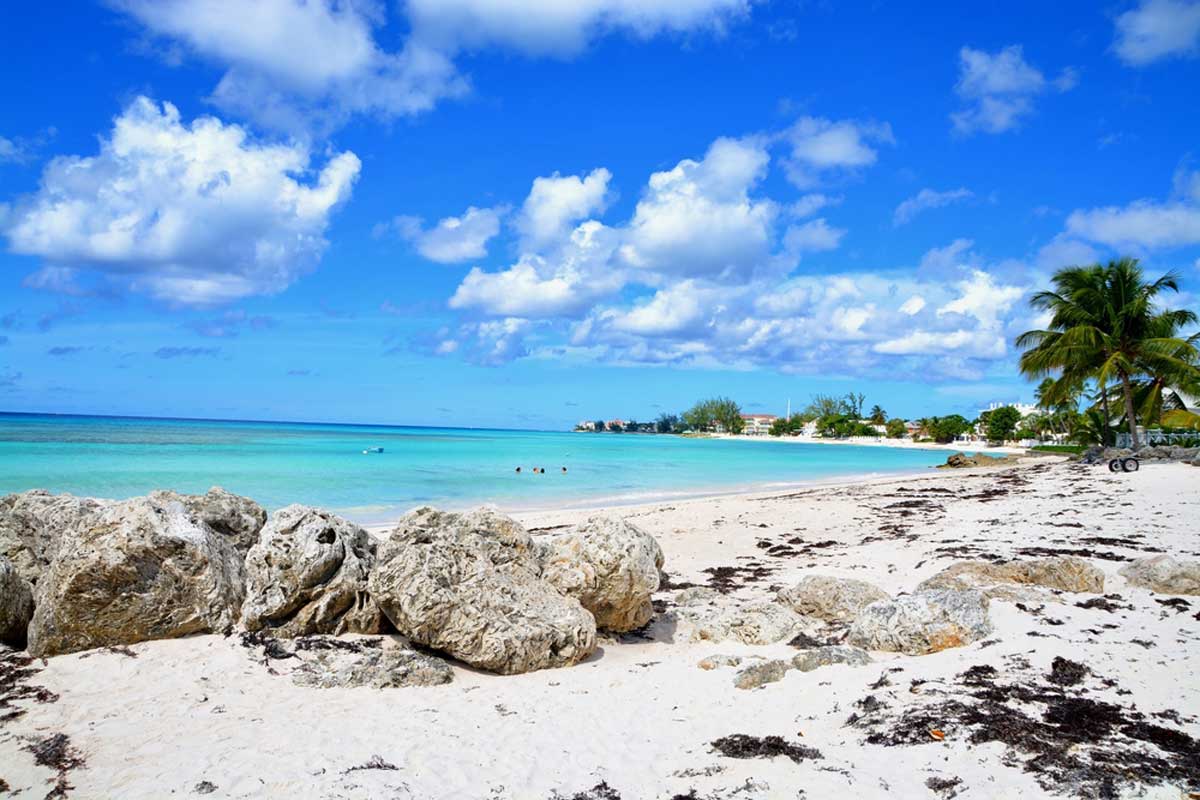 Accra beach has warm shallow waters that sparkle in every hue of blue imaginable and white sand backed by sea grape and casuarina trees – it really does look as if you've stumbled upon an idyllic forest clearing.
In other words, it's one of the prettiest ​​beaches of Barbados.
Bring your wallet because you'll find a bustling retail area with dozens of kiosks and boogie boards and surfboards for renting. If you're not out adventuring on a sailboat or lounging in the sun, walk the famous Barbados Boardwalk that begins near the kiosks.
It reaches all the way past the Needhams Point Lighthouse to some upscale waterfront restaurants like The Sipping Room, with tasty bar snacks and icy drinks.
Bottom Bay Beach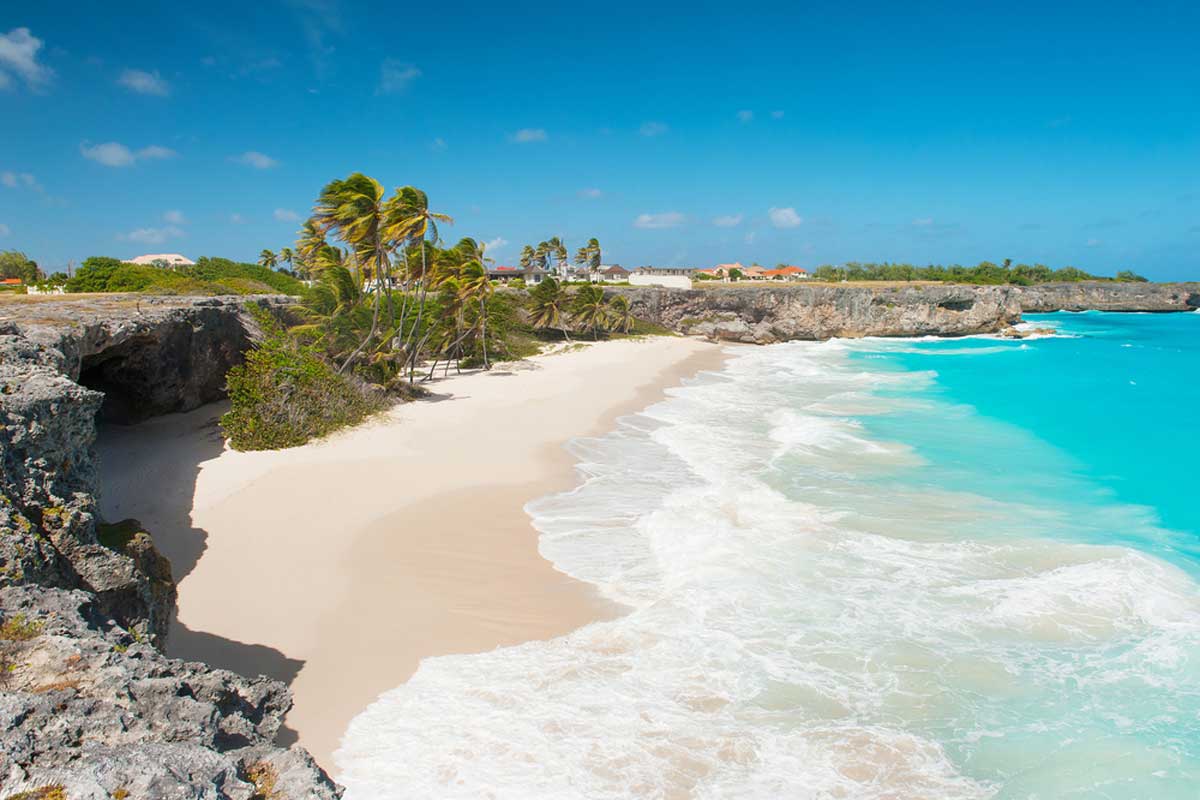 When you see pictures of Barbados beaches, they're likely of Bottom Bay Beach. It's the ultimate tropical island beach with large swooping palms, white sands, and turquoise waters.
Coral cliffs are at its sides, and you'll have to walk down a set of stairs cut through the cliffs to reach the promising sands below. There's even a large cave at the north end of the beach you can explore.
Ironically, it's one of the quieter beaches on the island. Tucked in a corner of the southeast coast, it represents a pristine piece of island wilderness. It's not the best beach for swimming as there are no lifeguards and the currents are sneaky, so be careful.
Stick to the sand and get that sunny glow you came here for. Be on the watch for whales further out to sea — you might just get lucky and spot some!
Paynes Bay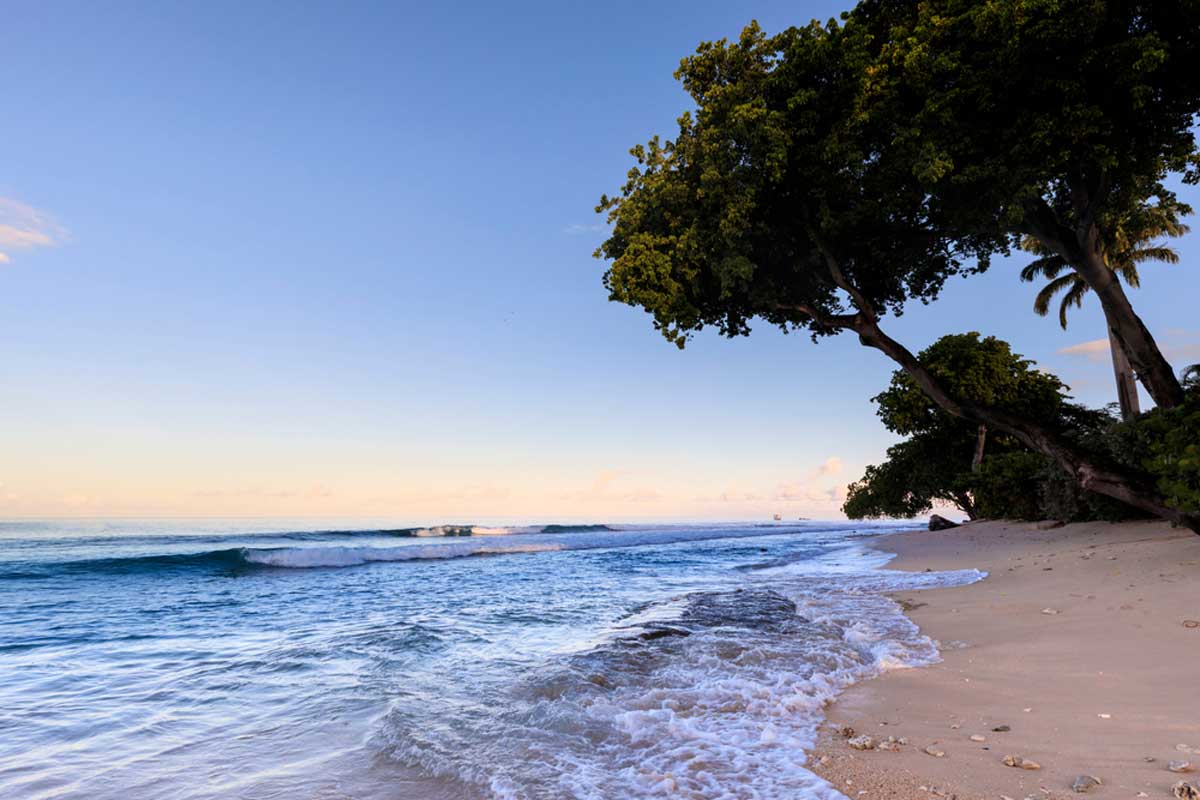 Paynes Bay Beach is near the exclusive Sandy Lane Hotel, so you'll be sharing the space with folks paying big bucks to be there. An aquamarine gem nestled along the West Coast, the sea here is always calm.
The shallow, warm waters are perfect for lazy, lingering swims. Or you can set up shop on a lounger and get that sun-kissed beach glow to take back home.
There are shade trees, picnic tables, and washrooms to offer you everything you need. You can also rent a jet ski or catamaran from the beach vendors.
Don't miss the opportunity to go snorkelling near the reef and catch a glimpse of some stellar sea turtles. Stick around for sunset — it's one of the best places on the island to watch the sun disappear. All in all, if you're looking for the ​​best beach in Barbados, this one is a top contender.
Bath Beach
Bath Beach is a true rarity on the East Coast. Rather than swirling currents and huge waves smashing into the shore, the waters are calm, and washrooms and picnic tables line the beach.
It's a popular picnicking place with the locals, and is picturesque to boot, with rocky outcrops and lots of sandy foliage adding pops of green. Concession stands sell local snacks and cold drinks on the grassy lawns, so no worries if you forget to pack your own.
Towards the north end of the beach is a small waterfall and stream, giving this Barbados beach something a little extra to look forward to.
Folkestone Beach
If you're dying to get out in the water, Folkestone Beach is one of the best beaches for Barbados snorkelling.
It encompasses a protected marine area with shallow reefs and calm waters that even beginners will be at ease with. Flashes of vibrant tropical fish fly past you as you explore their underwater kingdom; you may even see a roaming sea turtle or two.
Don't have gear? No stress! The Folkestone Marine Park Visitor Centre rents out equipment.
After your snorkel adventure, you can take the time to explore the Centre's small museum or perhaps just laze away on the beach's golden sands. The shady park that leads to its hot sands will offer respite from the midday heat.
Pebbles Beach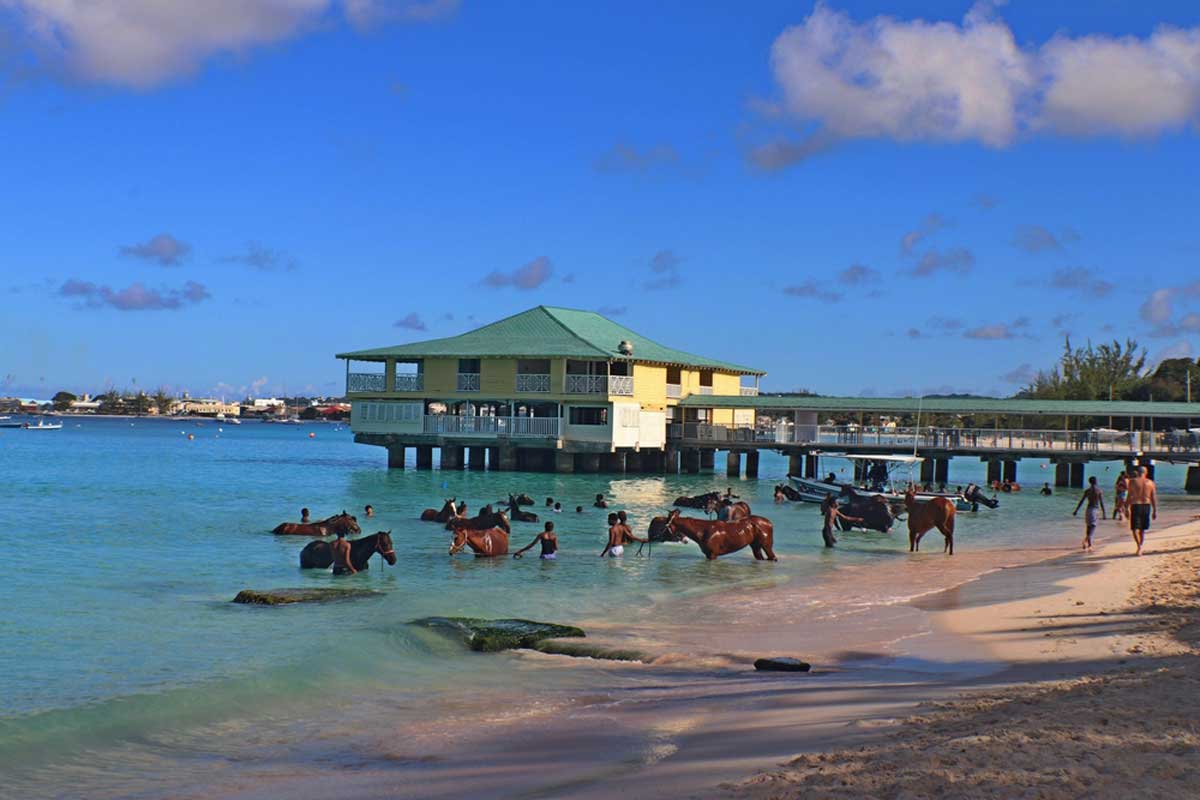 There's nothing worse than a shingle beach, I think. Ironically, Pebbles Beach is not a pebbly beach at all. Phew.
Coconut palms line the sugary-white sands, and the waters here have virtually no currents.
This makes it an excellent place for water sports, and there are plenty of rental shacks on the beach. Bathrooms, showers, and picnic tables offer everything you might need during a relaxing day at the beach.
The restaurants that line the shore may call to you, but trust me and head to Cuzz's Fish Stand to grab a fish cutter sandwich. It's by no means fancy, but the food is to die for.
Brownes Beach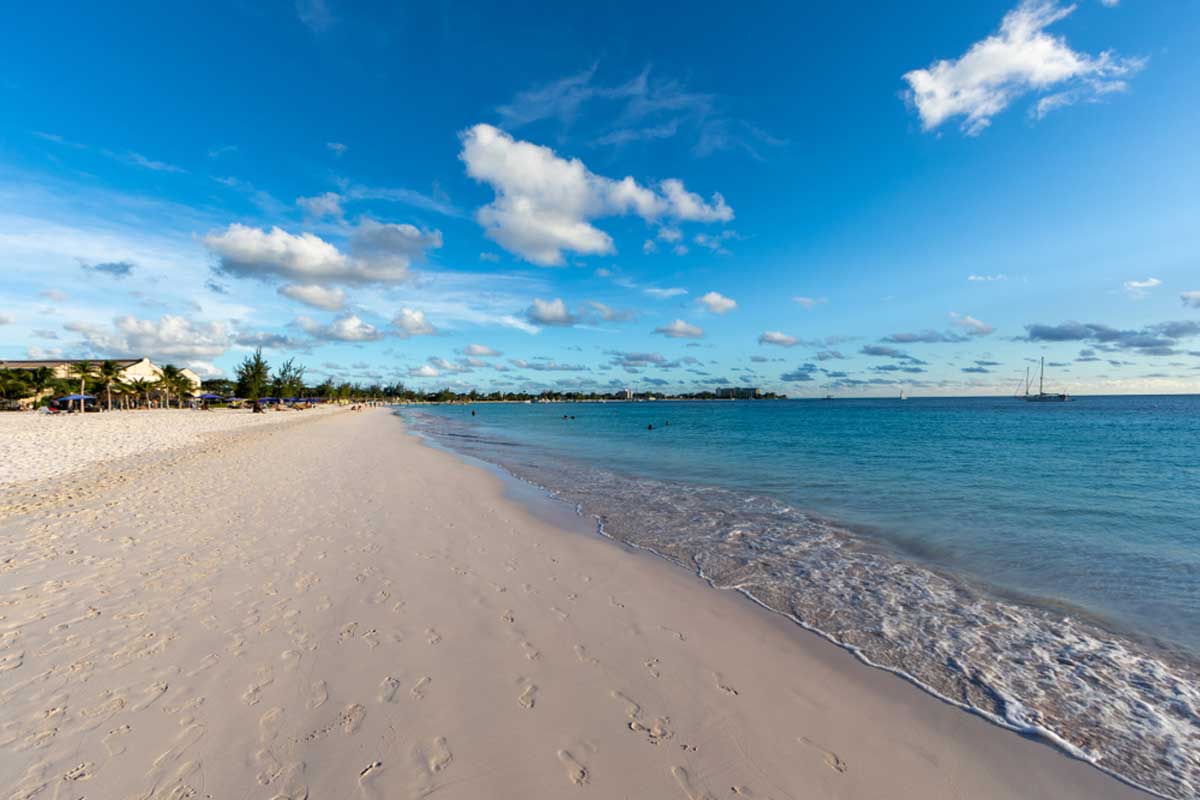 A short 10-minute walk from downtown Bridgetown sits the long, broad Brownes Beach. With powder-soft sand and shallow waters, this beach is far from the resort crowds, so there's always an open spot to claim.
It's mostly popular with the locals and their families, but it's also perfect for tourists seeking a peaceful beach day.
If you're keen to get in the water, bring a mask and snorkel so you can see the remains of several shipwrecks in the shallow waters just offshore. They're easy to explore and make for an epic adventure.
Silver Sands Beach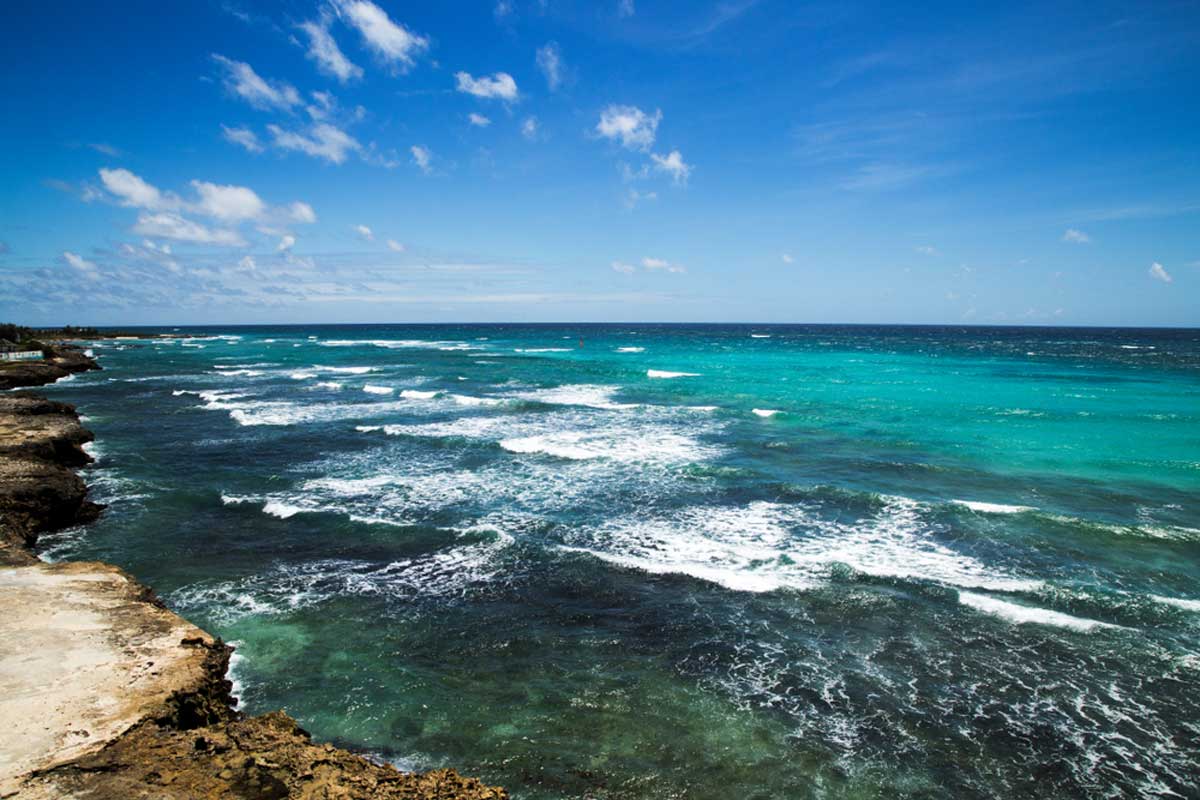 Feeling brave? Silver Sands Beach is where the adrenaline-seekers come for their kicks.
Strong, steady winds make it a haven for kiteboarding and windsurfing, and the large waves welcome surfers. The winter months bring particularly reliable weather.
You can watch the activities from the shaded picnic area or rent some gear and join in the fun. If you're a photography enthusiast, now's the time to grab some epic action photos.
Otherwise, pick a spot on the soft stretch of sand, unroll a beach towel, and start reading that crime thriller book you've been saving.
Dover Beach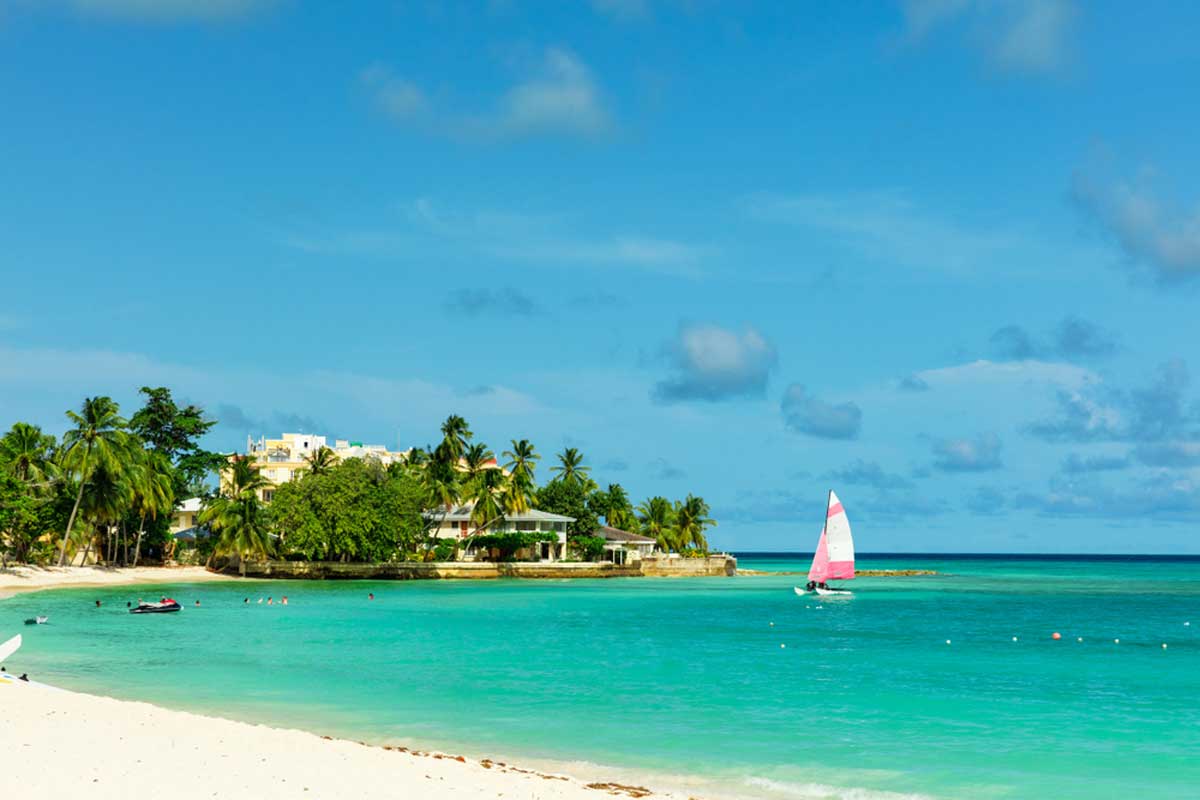 You'll find Dover Beach near Accra Beach. I'll let you in on a secret – I prefer Dover.
It might be a lively stretch of sand with plenty of tourists and locals enjoying the clear, calm waters, but the beach is wide, though, so you won't have trouble finding a spot.
Behind the beach is the popular St. Lawrence Gap area boasting various restaurants, shops, and hotels just a short walk away. Take your pick of the hotel patio restaurants for a delicious beachfront lunch.
Batts Rock Beach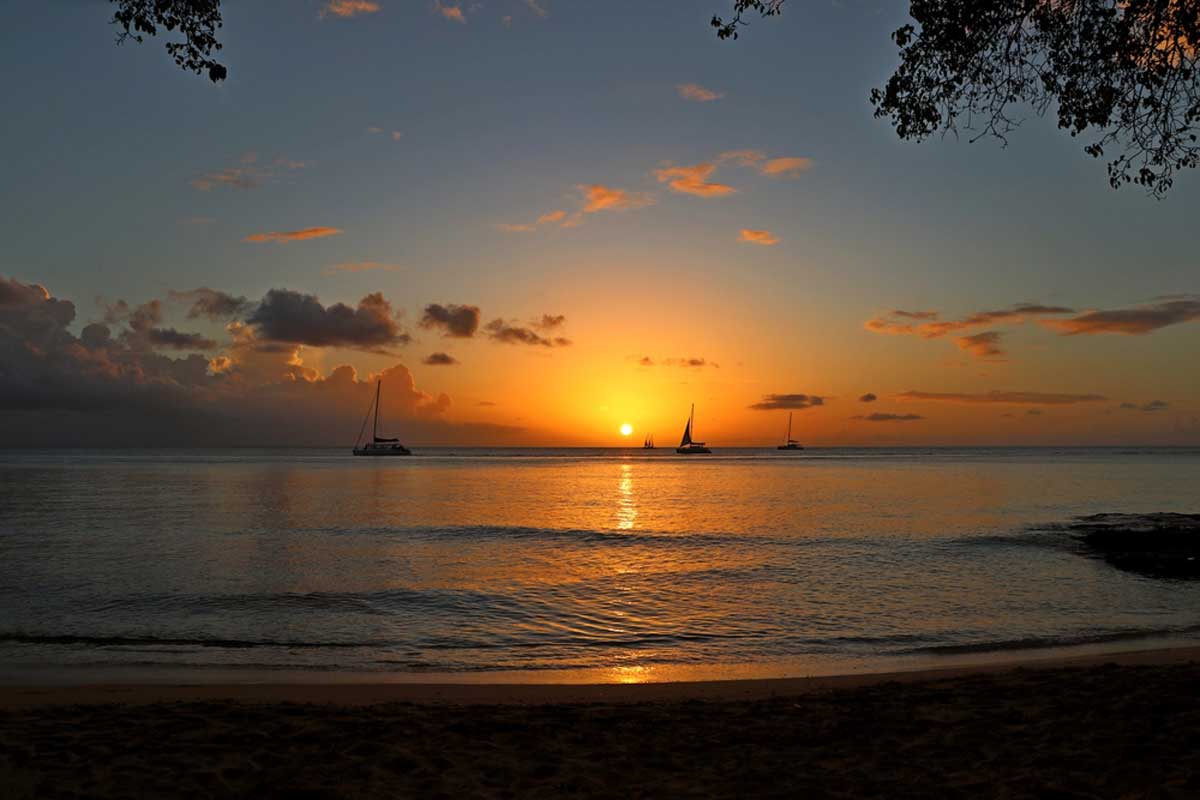 If you're looking for a quieter spot, Batts Rock Beach is the beach to escape the jet skiers, vendors, and sunbathing crowds.
The sea is calm, perfect for swimming, and has many rocky areas that make it ideal for some snorkelling. The beach backs onto a wooded area where wild green monkeys often visit, so hang out there to spot a few (just keep your eyes on your valuables – these monkeys are sneaky).
The paved pathway up the beach-side hill is a prime place to watch the sunset from.
Mullins Bay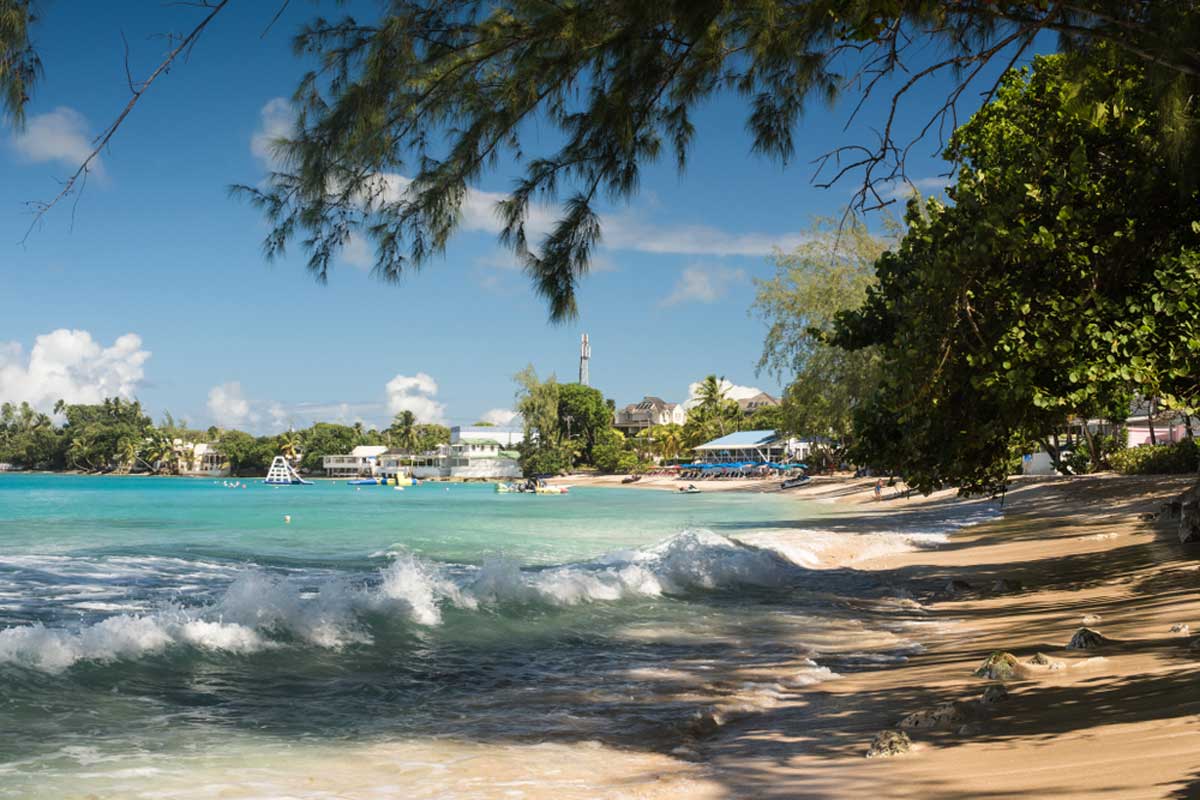 Hours of lazing around under the sun sounds like your thing? Ooh, I've got a treat for you. When it comes to the best Barbados beaches, Mullins Beach is where you want to head for a luxurious beach-bum lifestyle.
This West Coast beach isn't for adrenaline junkies but more for loungers who desire only to nap in the sun and sip from ice-topped cocktails to the sound of gently lapping waves.
Sunbeds are aplenty, and there're restaurants to grab food and drinks if you want to escape the sun for a bit. The Sea Shed Restaurant has some particularly delightful cuisine.
If the need grabs you, you can choose between snorkelling with colourful fish or a languid swim in the roped-off section of the water. Either way, Mullins is one of the ​​Bridgetown Barbados beaches you won't forget in a hurry.
Bathsheba Bay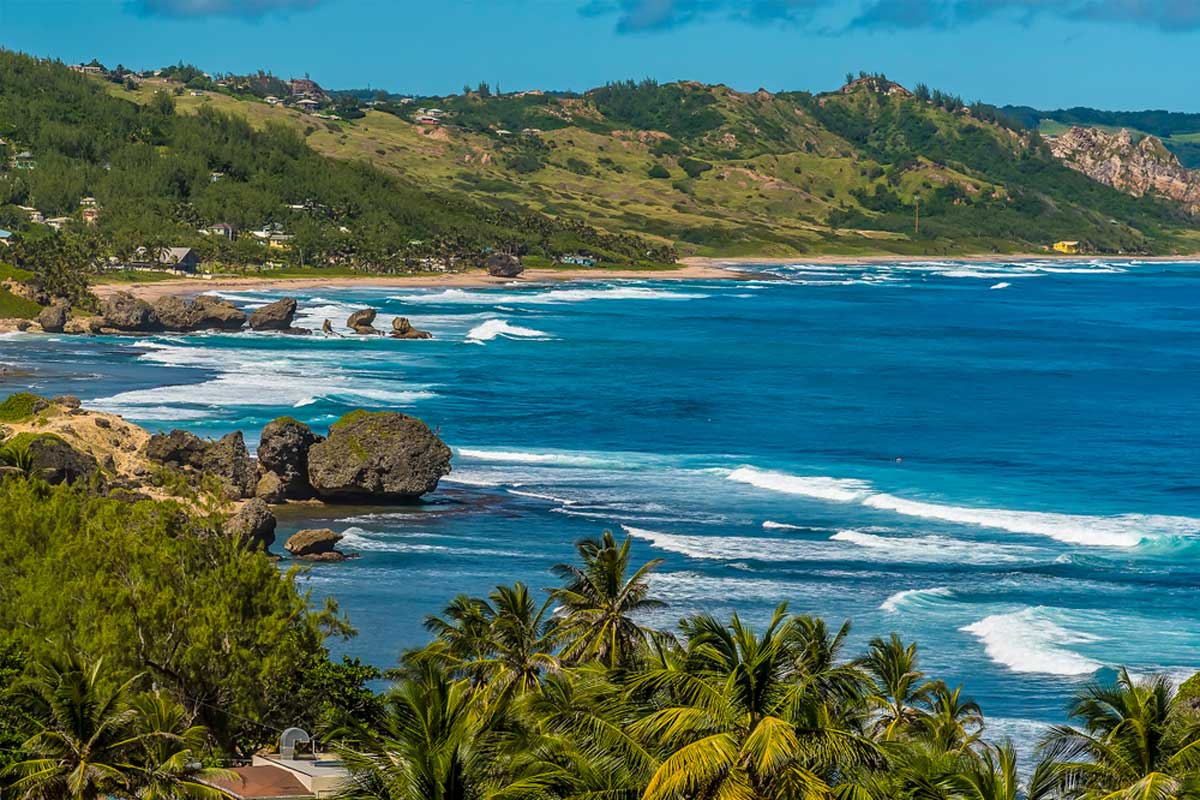 On the wilder Atlantic side of the island, you'll find the rugged coastline of Bathsheba Beach…And it's a surfer's paradise.
Here, massive waves crash on tanned sands quilting the waters with a foamy white lace – so it's no surprise that it's one of the top islands in the Caribbean for surfing.
"The Soup Bowl" offers the best rides, and watching surfers do their tricks on this famous wave (or hitting them yourself) is an entertaining way to spend a beach day.
That is, when you aren't taking some snapshots of the beautiful rock formations just offshore as you take a lengthy stroll along the beach getting flecked with sea spray.
Practical Tips for Visiting Barbados' Beaches
Make sure you bring plenty of food and drink with you. Although some beaches have vendors and restaurants, the more remote ones are less likely to have these amenities.
I don't want to nag you, but sunscreen with a high SPF is imperative (reef-safe, please!) and bring sunglasses to avoid glare from the sun reflecting off the white sands.
Best Beaches in Barbados: Map