On the hunt for the best Airbnbs in London? I've done all the hard work for you and curated this guide to the top rentals in the city.
Ah, London. A city soaked in rich royal history and home to some of the most iconic attractions – I'm talking about the likes of Big Ben, Westminster Abbey and Buckingham Palace.
It goes without saying that finding your little haven amid an ever-growing city can be overwhelming. Which is why I'm here – a local – to steer you in the right direction.
Top Tip: While I love (and use) Airbnb, I prefer Plum Guide. Their expertly vetted listings ensure you're only browsing among the best properties. 
Best Airbnbs in London: At a Glance
Best Airbnbs in London
Here are my top picks for Airbnb rentals in London.
The Green Embrace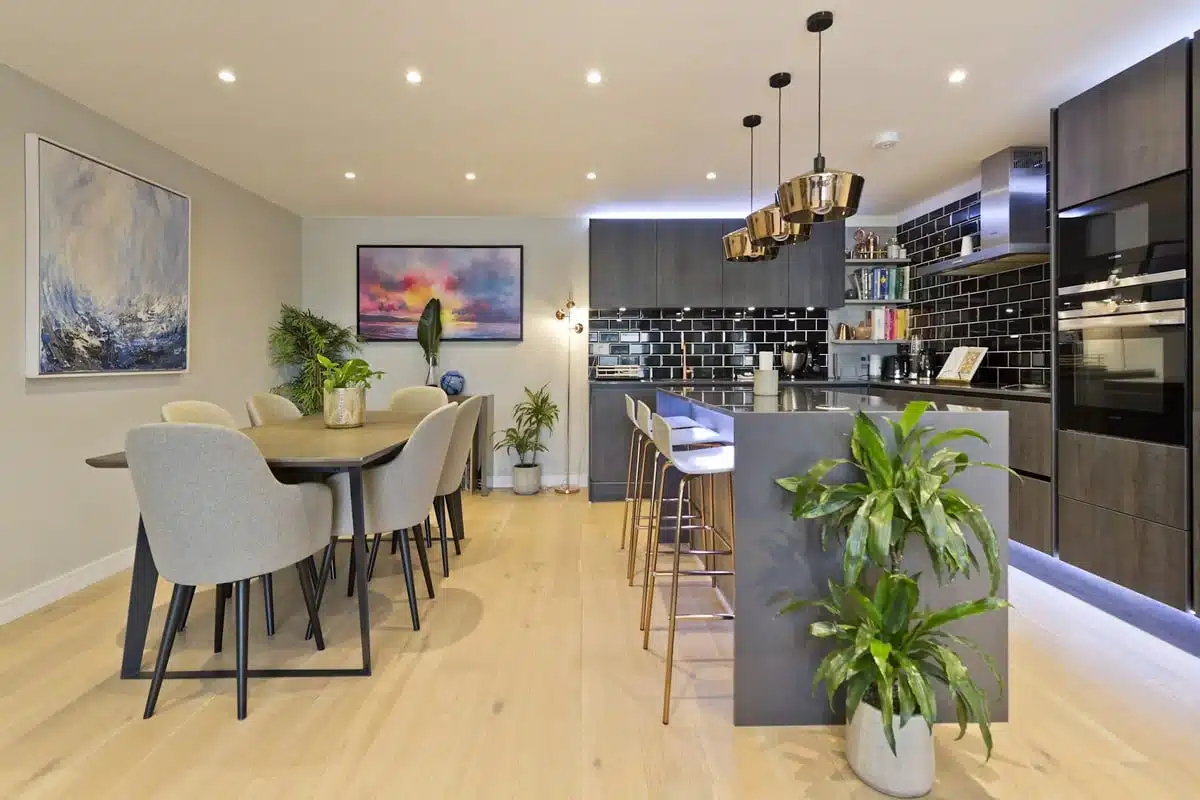 Looking for a botanical oasis in the centre of the city? This space is filled with natural light and verdant plants. Beautiful art and classy furniture adorn the Green Embrace, such as a cosy modular couch for a mid-afternoon snooze-fest.
The rooms boast plush beds, workspace and Wi-Fi courtesy of an attentive host. Wait until you see the luxurious bathrooms with grey, earthy vibes and golden faucets. Whip up some snacks in the ultra-modern kitchen, grab a bottle of wine and indulge in the city skyline from the rooftop terrace.
Location: Southwark
Located along the Thames, Southwark is the gateway to attractions like Borough Market and The Shard.
The Palace Garden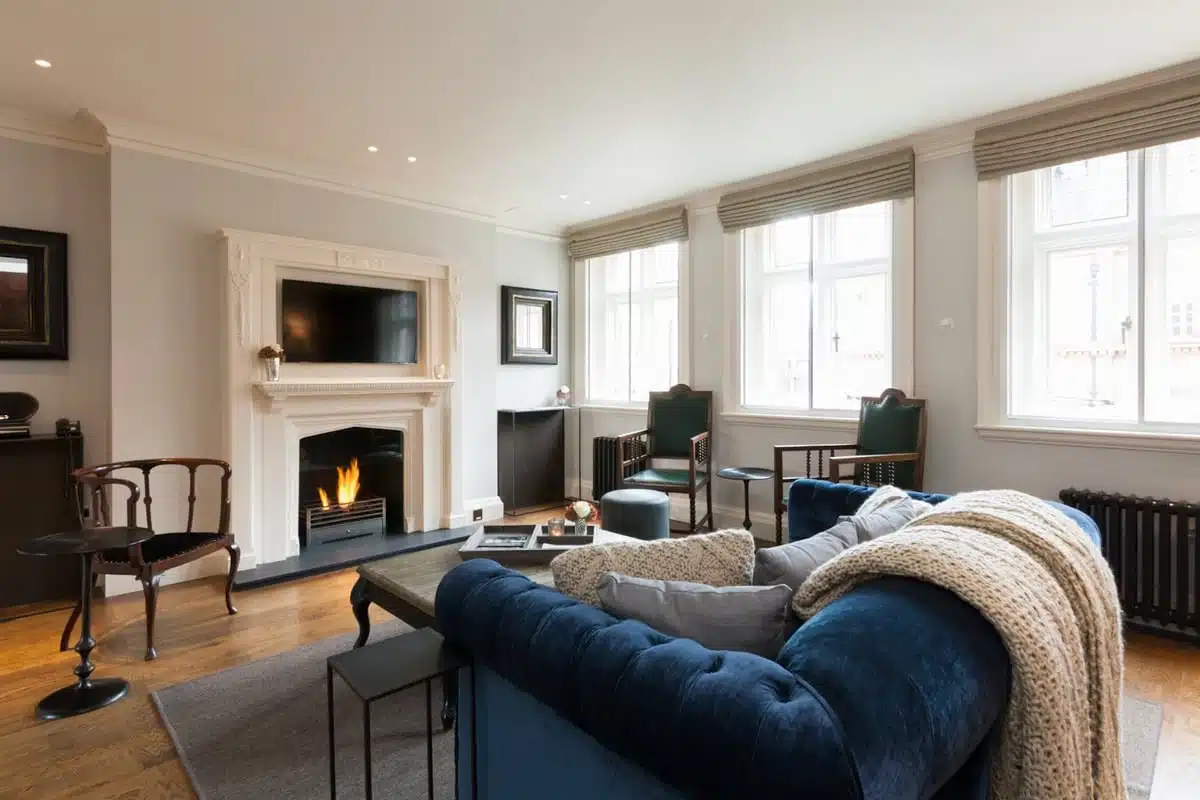 Classic opulence is the best way to describe this penthouse. The Palace Garden is an excellent choice for an Airbnb in Mayfair, London. As luxury as it is, you'll feel right at home with comforts such as a cosy fireplace, air conditioning and a coffee maker.
Prepare your meals in the chic kitchen with glossy cupboards and a lovely oak dining table. You can arrange special services, like airport pick-up or a private chef, with the helpful hosts.
Want to relax? Have a cuppa on the outdoor terrace or unwind before the fireplace — the choice is yours.
Location: Mayfair
Mayfair is an upscale – and central – neighbourhood boasting charming Georgian townhouses, exclusive hotels and bespoke designer boutiques.
A Short Walk From Harrods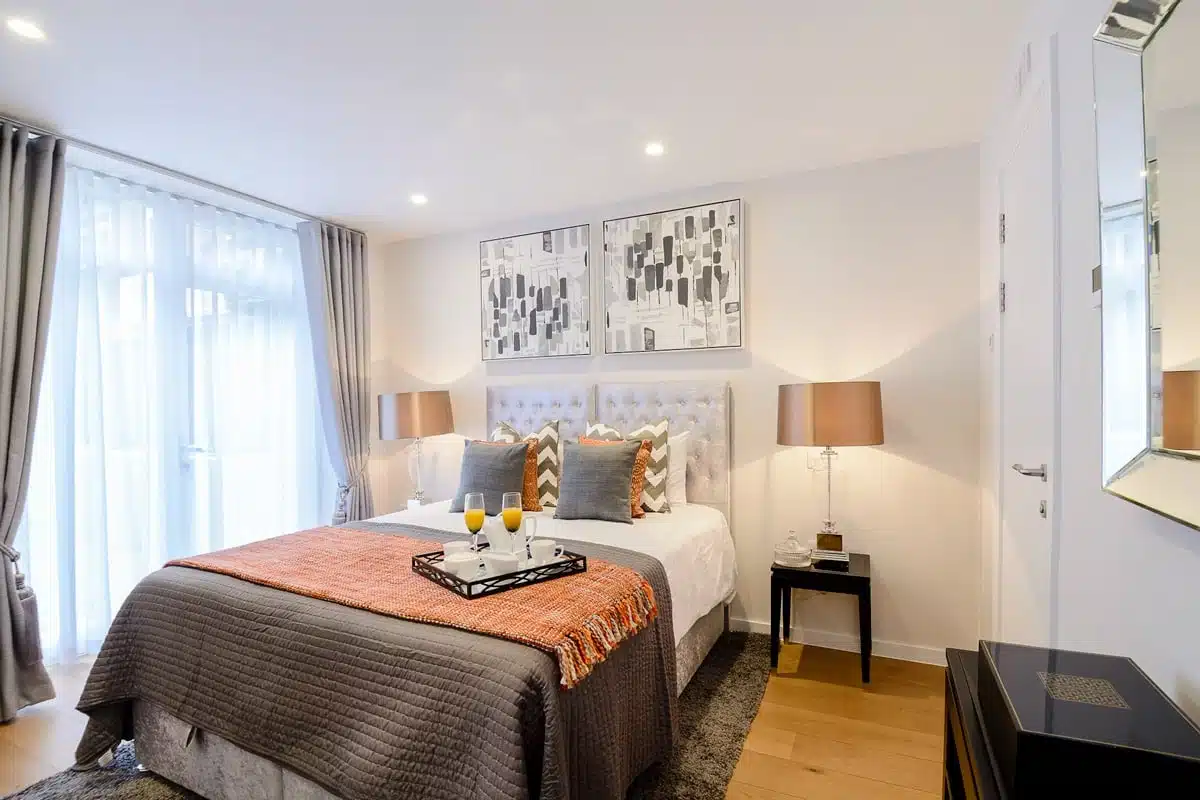 Enjoy a bright, fashionable space in one of the city's most sought-after locations. I'm talking about this fabulous Airbnb in Kensington, London. This apartment doles out superb amenities such as lift access, air conditioning, Wi-Fi and a flat-screen TV.
You can't go wrong with A Short Walk From Harrods, featuring gallery-white walls and enhanced by voguish furniture. You can even arrange daily cleaning and 24/7 concierge service with your host.
And, if you couldn't tell by the name, you're literally around the corner from Harrods (a world-class luxury department store).
Location: Kensington
Shopping and culture lovers will feel right at home in Kensington, chic area with Victorian buildings and famous landmarks like the Natural History Museum and V&A Museum.
Champagne Cocktail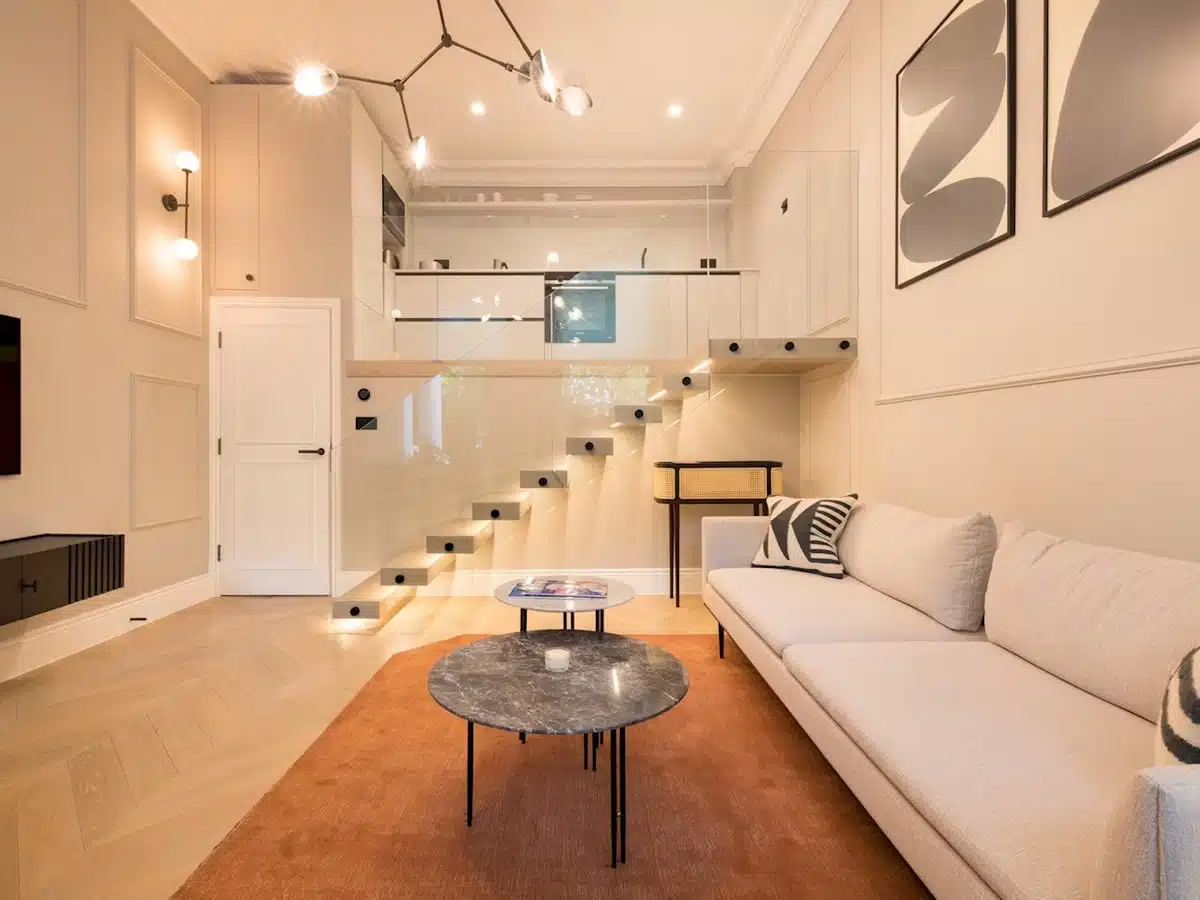 The owners of this stunning spot were bang on when choosing its name. With its soft beige walls and furniture, Champagne Cocktail feels like you're looking at it through rose-coloured glasses. You'll feel tempted to pop open a bottle of bubbly here (wink).
Plop down on the plush couch and admire the eye-catching glass-fronted stairs lit with lights. This apartment is modern and sleek, with parking, a dishwasher, a washing machine, Wi-Fi and other conveniences. Your host offers 24/7 guest support, ensuring a comfortable stay.
Location: Earl's Court
The charming Earl's Court encapsulates Victorian squares, old-school pubs and various restaurants in walking distance.
Full of Chelsea Charm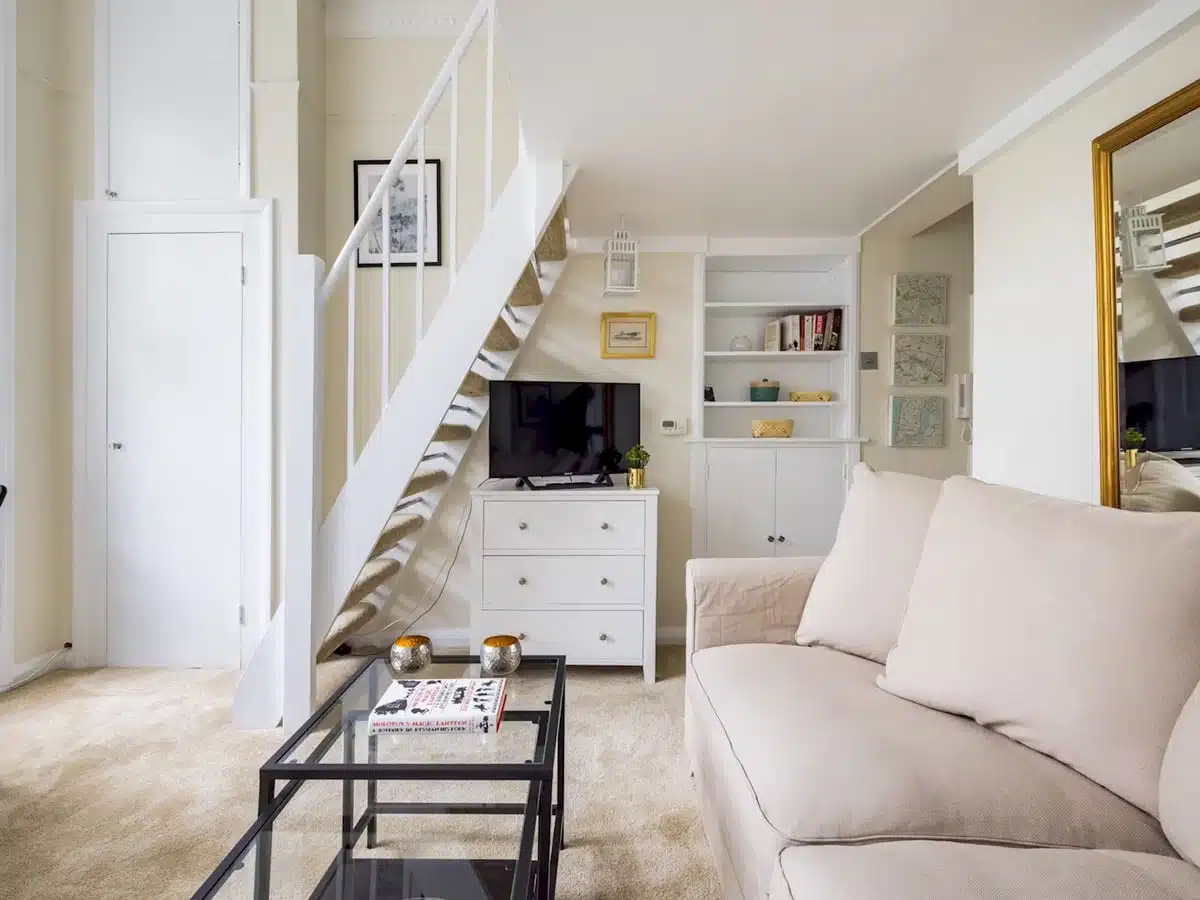 Full of Chelsea Charm genuinely overflows with charm thanks to its light and airy vibe. Its tall ceilings, white canvas and spacious windows with branchy views make this place feel ethereal.
This breezy studio apartment boasts a fully-equipped kitchen, Wi-Fi, workspace and complimentary toiletries.
Hosted by the same expert team as the Champagne Cocktail above, the only drawback is that only paid on-street parking is available here. Also, the mezzanine-level bed might not be everyone's cup of tea, but it's cosy nonetheless.
Location: Chelsea
Chelsea is an affluent neighbourhood buzzing with trendy boutiques and high-end restaurants. It's just west of central London, though it's well connected to the rest of the capital.
Clerkenwell Corner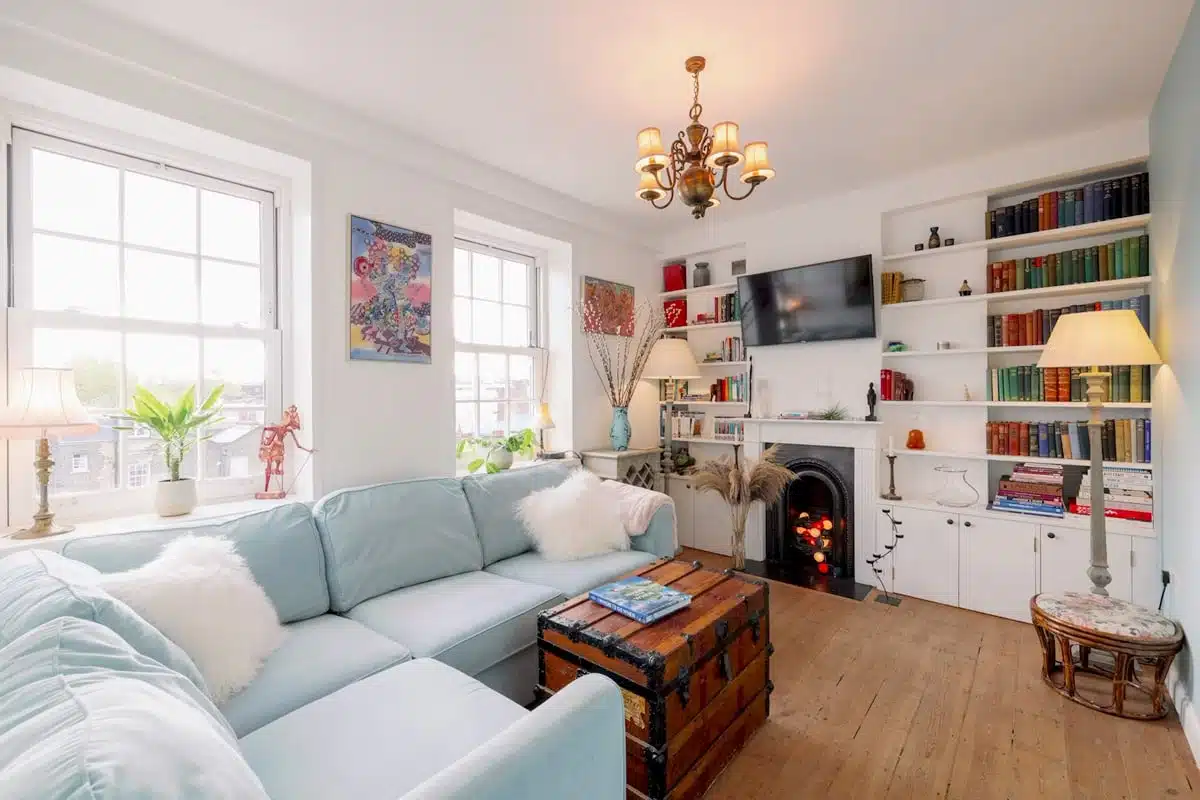 Feel right at home with the cosy and tasteful Clerkenwell Corner. With hints of femininity, the floorboards throughout, quaint furniture and artistic decorations make it feel personal and unique. Gather around the farm-style kitchen for a home-cooked meal before exploring the inner city.
Ideal for couples, the home has one bedroom and one bathroom, adorned with charming wallpaper art. Don't worry though – this country-style abode has plenty of modern comforts, including a TV, Wi-Fi and a coffee machine.
Location: Clerkenwell
Characterised by village-like streets, bustling markets and cutting-edge restaurants, Clerkenwell is ideal for foodies and creatives.
Fresh Flight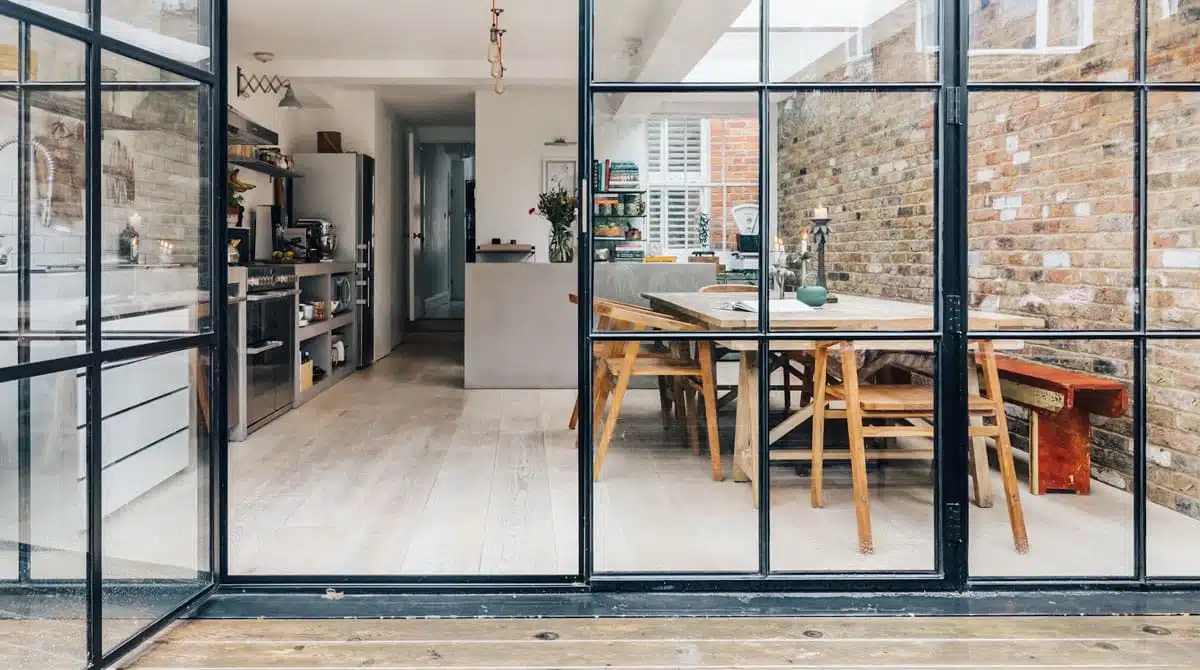 For a stay that offers rustic, down-to-earth luxury, Fresh Flight is perfect. I'm not kidding when I say this is an Airbnb house in London you'll want to book.
Set in a serene environment, the property boasts vintage wooden furniture, stunning French doors, a refreshing outdoor patio and a verdant garden wall.
Among some peculiar traits are: taxidermied butterflies and playful light fixtures. The rooms and bathrooms are pristine, sharing the same effortless, white-canvassed aesthetic. Enjoy a work desk, washing machine and dryer courtesy of globetrotting hosts.
Location: Hammersmith
Hammersmith offers a peaceful stay with River Thames mere minutes away and the rest of London easily accessible.
Amuse-Bouche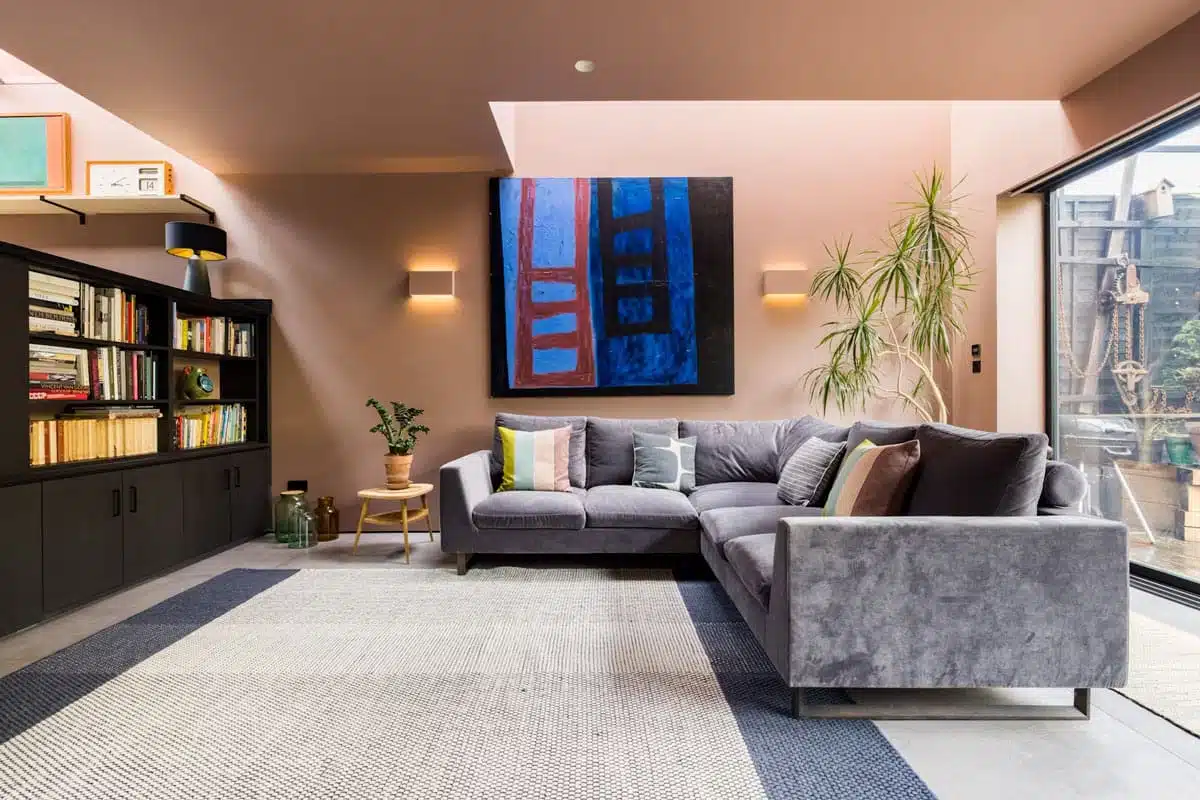 Disguising itself as an industrial home, the sophisticated Amuse-Bouche interior will surprise you. This place blends mid-century and Scandinavian furniture with colourful quirks, boasting a barbeque, Netflix, books and luxury toiletries.
Peppered with original artwork, you'll find yourself graced with natural light as it seeps in through skylights and glass doors. Prepare your snacks in the sleekly designed kitchen fitted with matte black cupboards. And enjoy your cooking efforts on the outdoor terrace filled with verdant plants.
Location: New Cross
Fancy staying off the beaten track? A prime spot in South East London, this edgy neighbourhood bursts with creativity, traditional pubs and global eateries.
Studio 14-Victorian Elegance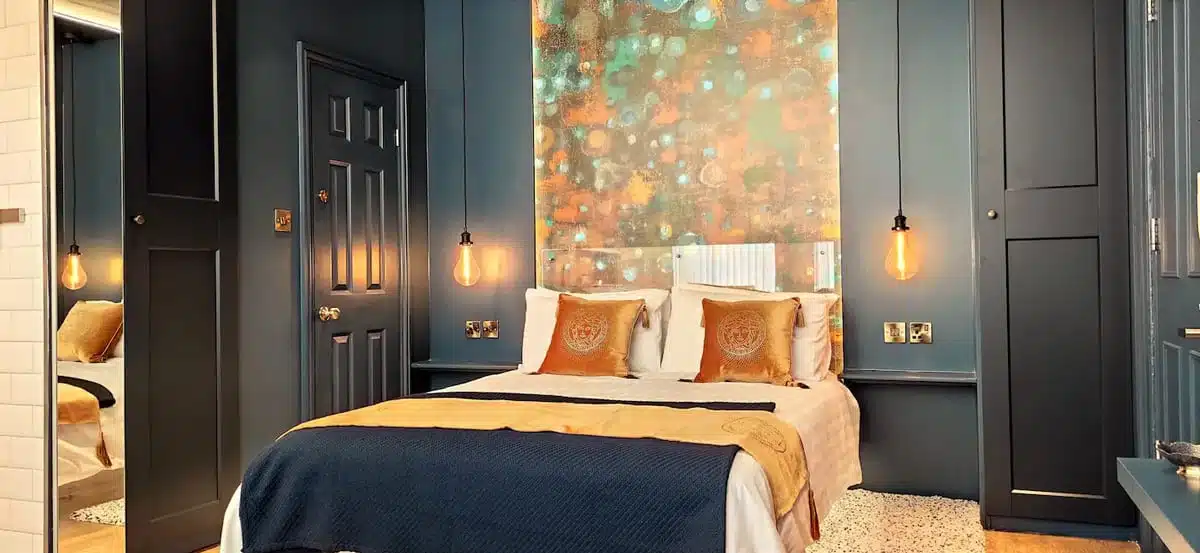 Stay at Studio 14-Victorian Elegance if you seek luxury on a budget. This studio apartment is in a location known for its reasonable prices and superb transportation links.
You'll see that the apartment fuses Victorian-era staples with a contemporary style to create an artistic vision of old meets new.
The hosts are avid travellers on a mission to provide quality and ultimate seclusion. You can see this in the attention to detail, from the innovative light fixtures to the triple-glazed windows that shut out traffic sounds.
Location: Croydon
South of the Thames, Croydon offers a rich history, affordable accommodations, extensive shopping and a vibrant nightlife.
The Art of London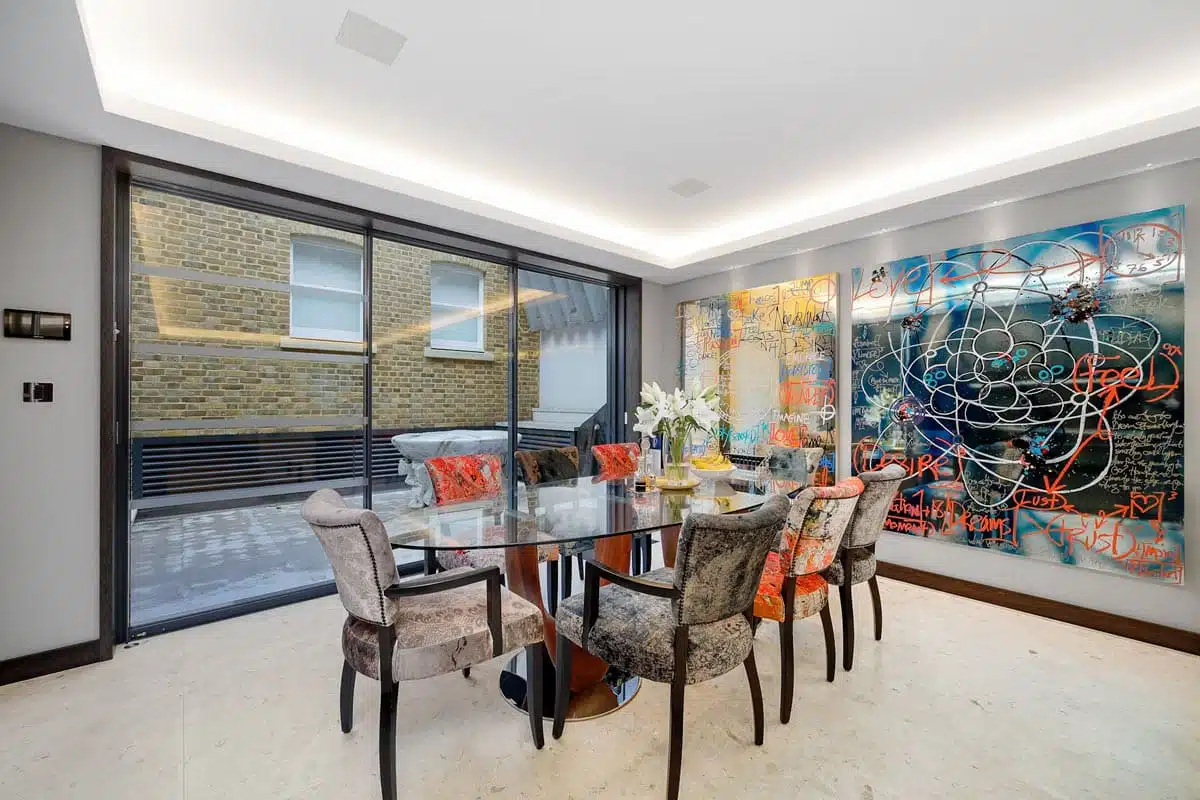 Here's one of the best Airbnbs in Central London, which I couldn't recommend enough for large groups (up to 12 guests). Think of it as a mini hotel covering six floors with a lift.
And boy, this place is oh-so-fabulous! Catch the latest flick in the home cinema setup, sweat off vacation calories in the gym, or relax by the private indoor pool. The Art of London is elegant, dripping in sparkly chandeliers and high-end furniture.
Enjoy ultimate refreshment in the rain shower and complimentary luxury toiletries, air conditioning and Wi-Fi.
Location: Belgravia
Belgravia is central, with elegant townhouses, designer boutiques and trendy galleries all within walking distance.
Vintage & Art
Vintage & Art has a unique feel, overflowing with antiques and art. Interestingly, a museum director and interior designer owns this home, which you'll notice in every corner.
This Georgian townhouse has high ceilings and white-washed walls juxtaposed by rustic and eclectic features, like vintage French and Scandinavian furniture.
Every nook emanates a sense of nostalgia, with the kitchen inducing a craving for Nan's cooking. The property has a garden and a farmhouse-style dining room to enjoy meals. There's a dishwasher, washing machine, TV, and Wi-Fi for your convenience.
Location: Stockwell
Stockwell has old Georgian Townhouses with leafy terraces and an extensive Portuguese community.
Designer Victorian Flat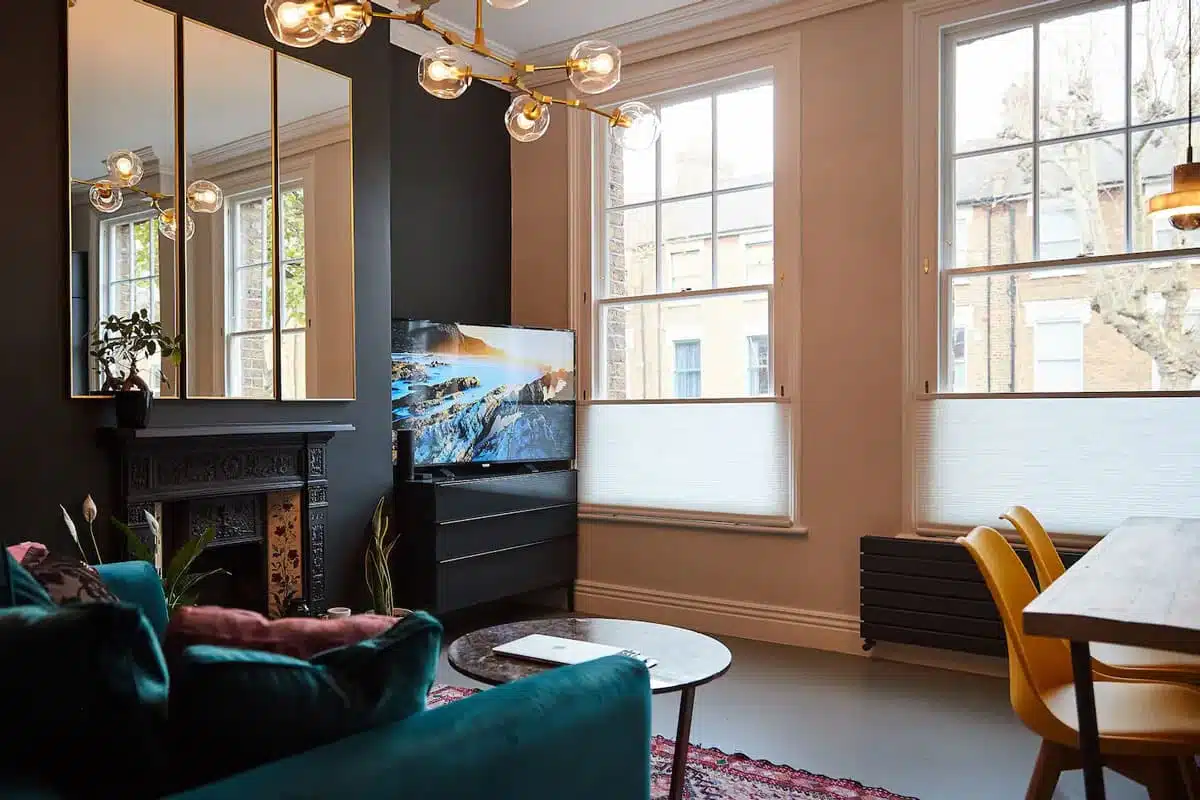 Dark, dramatic, and with vibrant splashes of colours, this magazine-worthy abode has something for every traveller.
The stunning black kitchen cabinets and walls compliment the art-deco furniture. The pops of greenery, and peculiar designs, like a bird-cage mirror, add to the fantasy of this Designer Victorian Flat.
Escape to this dreamy 2-bed home with everything you'll need, including feather duvets and luxury toiletries.
Location: Maida Vale
Maida Vale offers tranquillity characterised by Victorian houses and tree-lined streets. It's a pretty romantic area to stay.
Parisian Elegance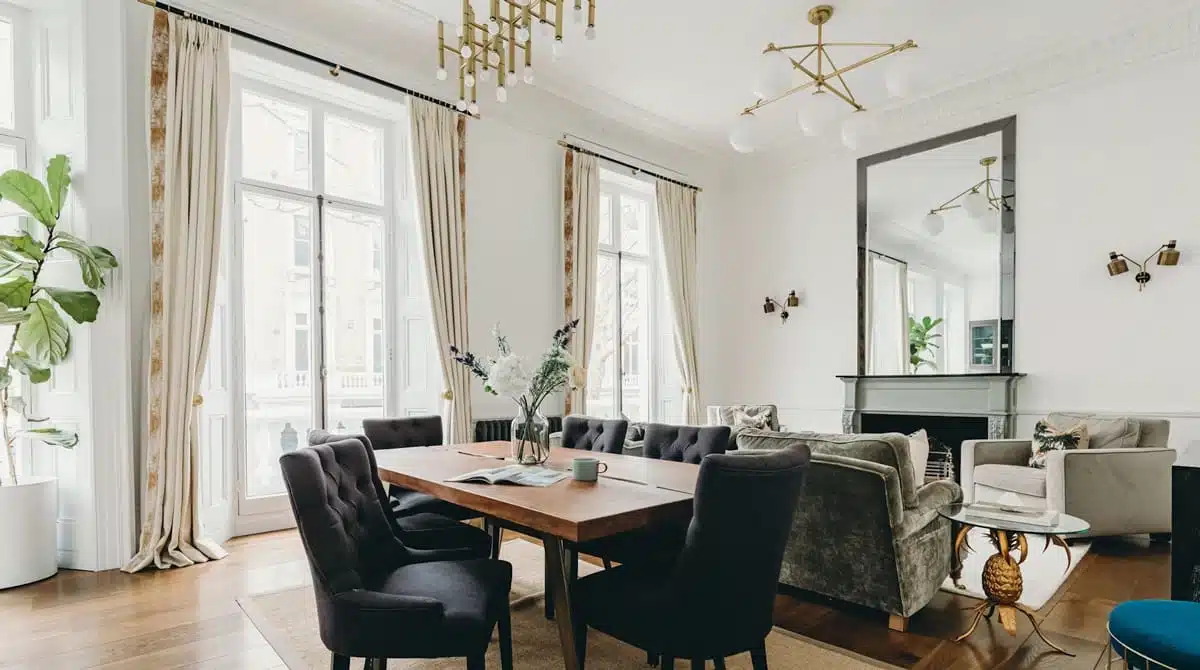 This might be the best Airbnb in London, England, if you're wanting to stay in the famous Notting Hill neighbourhood.
Parisian Elegance dials up the sophistication with its simplistic contemporary style and airy atmosphere. You'll fall in love with its Instagram-ready appearance and excellent amenities.
You'll have a fireplace and underfloor heating for chilly nights and a quaint balcony for enjoying a morning coffee. The chic kitchen features a marble island with high-end finishes. The bedrooms radiate a modish, country-home vibe and lavish bathrooms.
Location: Notting Hill
This trendy cosmopolitan area is home to the famed Portobello Road with a bohemian flair, casual cafes and vintage stores.
Vim & Vigour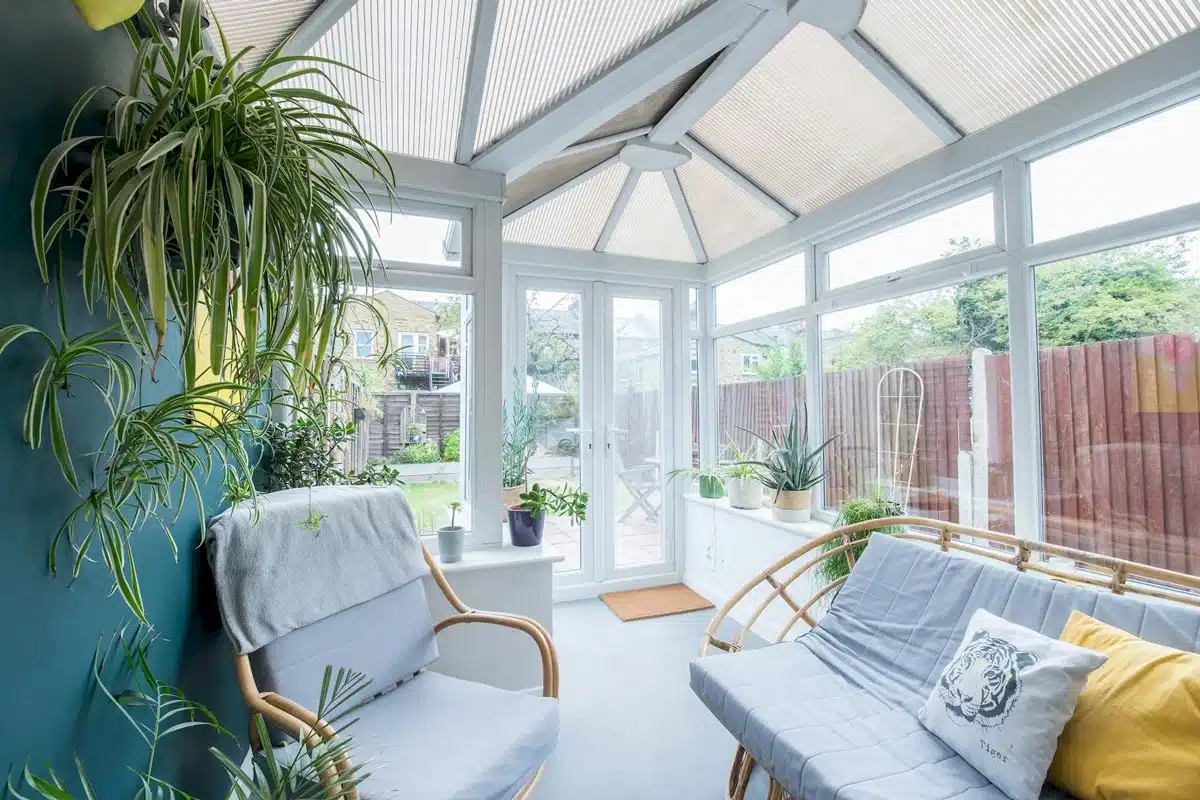 I'm pretty sure Vim & Vigour is the figment of an unconventional artist's imagination. This place has a quirky charm that manages to be delicate on the eyes. The playful furniture and vibrant decoratives draw you in, but the stellar amenities seal the deal.
The fully-equipped kitchen, Wi-Fi, TV, dishwasher and washing machine makes life easy—splendour in open-air dining or some quiet time in the enclosed garden teeming with sunshine and plants.
Location: New Cross
New Cross has an undeniable bohemian atmosphere with a vibrant medley of slush hangouts, pop-up cafes and lively music venues.
Practical Tips to Consider Before Booking Your Best Airbnb in London
Not sure where to base yourself? Read my guide. And, if in doubt, stay near Covent Garden or Westminster.
It goes without saying that you should know the rules, fees and return policies regarding your Airbnb before you stay.