Tri Hotel, Sri Lanka opened at the end of 2015 on the shores of Koggala Lake. A boutique hotel with expansive views, it is fast becoming one of Sri Lanka's luxury hotel hotspots. Here's why.
"There used to be just a mud hut here," Tri Hotel's co-founder Rob Drummond gestured to a spot a few paces away from where we were sitting.
"I bought the land in 2003 and used to come and spend a bit of time staying in the hut, then I built the road and I brought in the electricity…."
And so begins the story of Tri Hotel Koggala, a Sri Lankan boutique hotel.
Looking for more Sri Lanka travel inspiration? Check out these handy guides.
Tri, Sri Lanka Review
One of a Kind Experience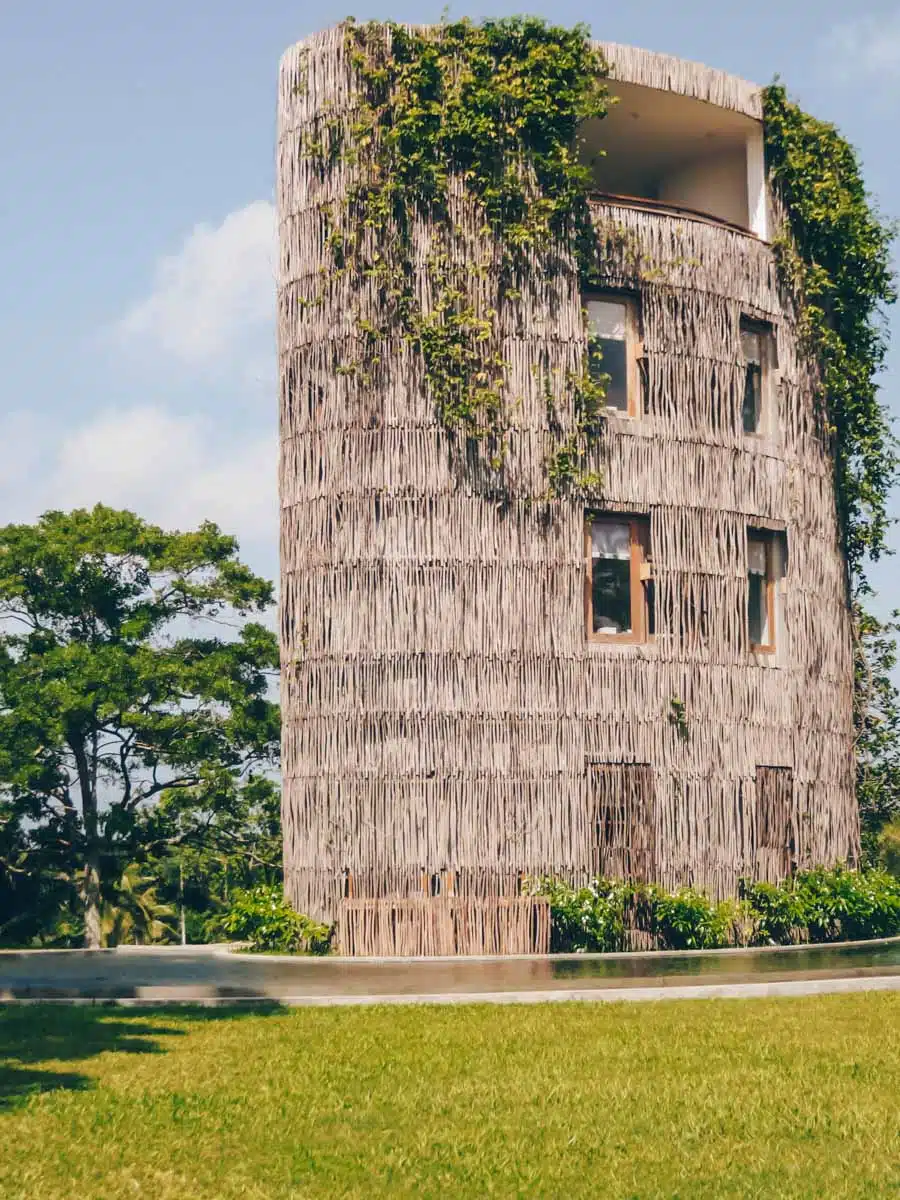 Together with architectural team A00, Tri's co-owner (and Rob's wife) Lara Drummond (neé Baumann), Rob has created something special at Tri over the two-year build. Eight villas, three with private pools and a further three rooms in the striking water tower, are nestled within the seven-acre site.
I'd arrived at Tri Hotel Koggala after a long car journey from Sri Lanka's hill country on part of my two weeks in Sri Lanka travel itinerary, a bit flustered from hours of endless traffic and very little food, yet within moments, I was fully relaxed.
Somehow, without any fuss or drama, my bags had been taken away, I'd freshened up with a cold towel and found myself sipping a sundowner while watching the dusk descend over the infinity pool and seemingly endless Koggala Lake.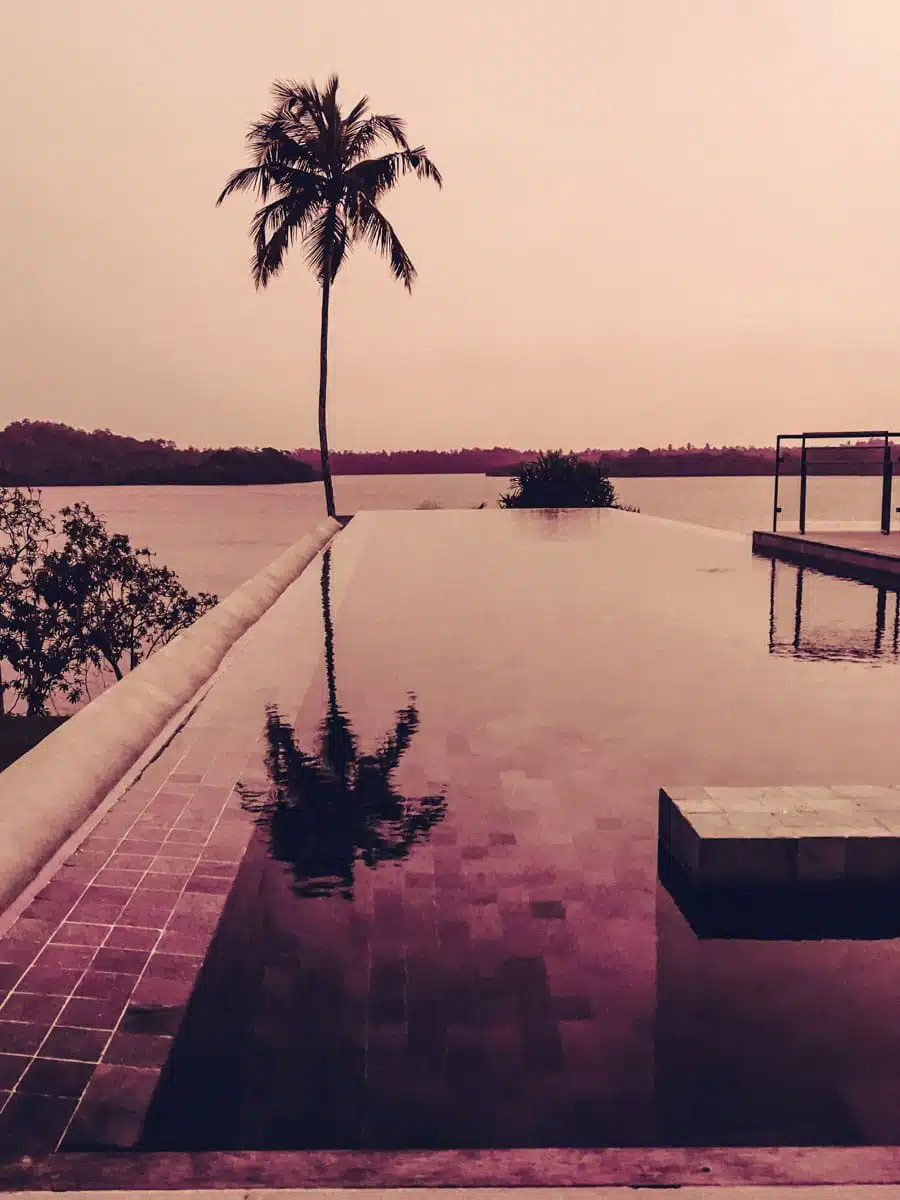 Check prices, reviews and availability at Tri
Beautiful Villas
Over the course of the next few days, I realised those first moments went to the heart of why Tri Hotel is so special. There's no ostentation, seemingly no effort, yet everything runs to perfection.
It seemed fitting after watching the dusk that I wake up to see the dawn rise over the lake. Even as an early riser, the 5.30am start wasn't that easy. Watching the dawn was simply a matter of padding down to the villa's private terrace, sitting down and waiting.
The first few moments of darkness were filled with the sounds of the surrounding forest: the peacocks, crickets and birds playing their part in the herald of the new day. Gradually, the sky lightened, colouring the lake first navy, then mauve through to lilac as the day began to break.
My watch told me that it was over in a matter of minutes, though if you'd asked me how long I'd been sitting there, entranced, I wouldn't have been able to hazard a guess.
I'd planned to go back to bed after the sunrise, but decided to take an early morning dip instead. The villa's terrace led round to a private pool and bathing area overlooking a smaller part of the lake. I'm no swimmer, so after a few desultory laps, I was quite content to settle in and watch the scenery from the edge of the pool.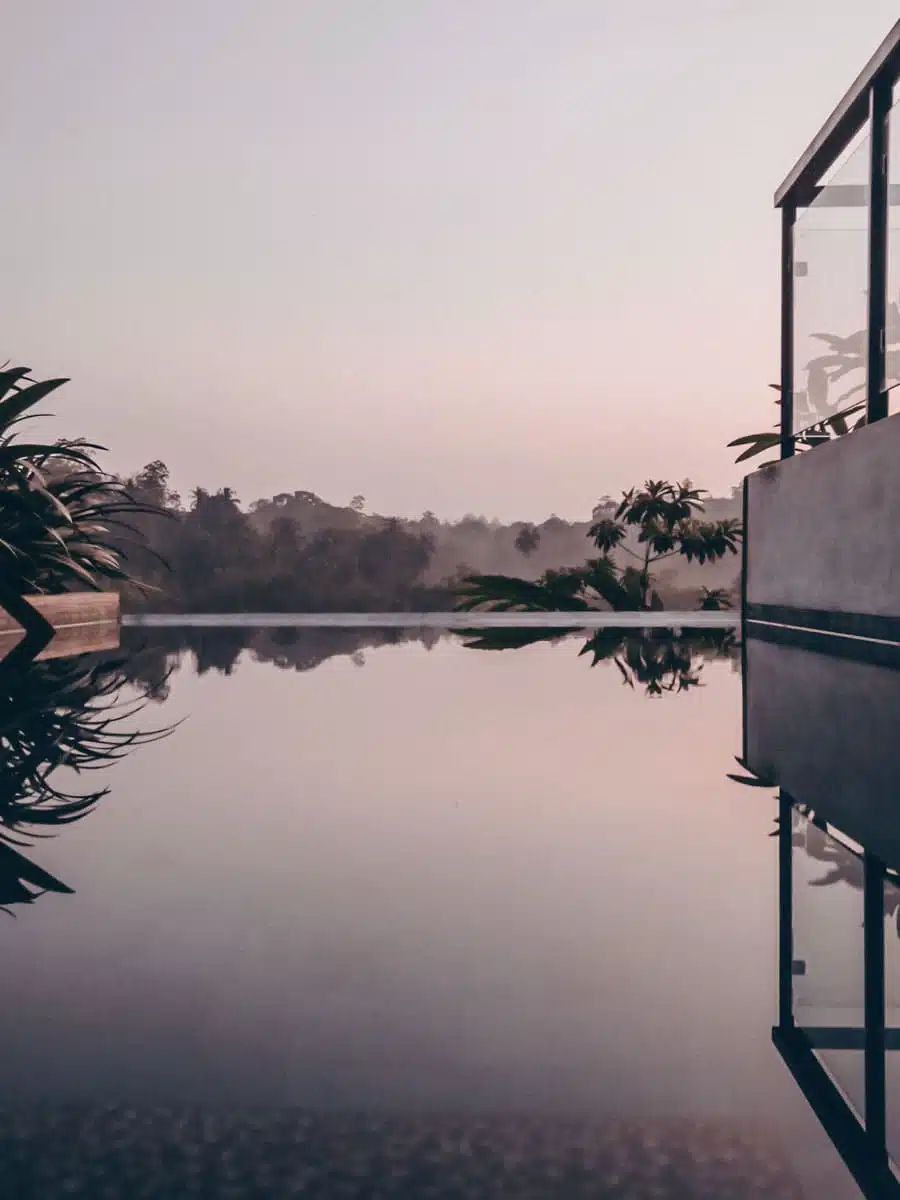 Rooms + Views, Sustainable Design at Tri Hotel
From the outside, the villa's cinnamon wood cladding and growing roof act as a camouflage – it's barely discernible from its lush setting.
"We've used cinnamon wood to cover the villas and help them blend into the surroundings," Rob explained. "The cinnamon wood is essentially a waste product – what we call a cinnamon stick is the skin, where the wood is really not used – so we incorporated it into the design of the hotel."
The clever use of materials helped the site to evolve into the eco-friendly, low-key boutique hotel we find today at Tri. Even the villa's terrace is made from ground-down pebblewash – a waste product from the construction process. You'd never be able to tell from the slightly textured finished material, which feels wonderful underfoot.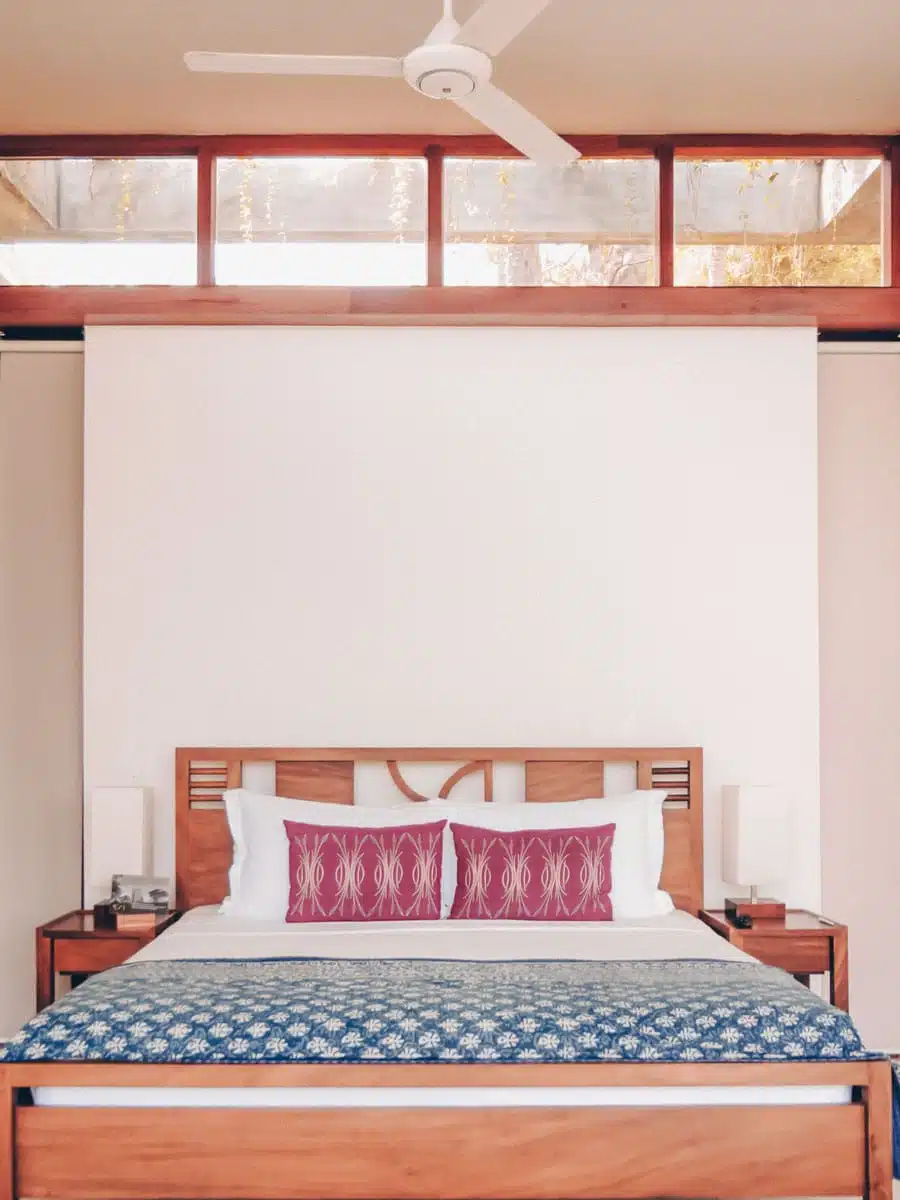 Inside, the villas are spacious and decorated in light, neutral tones and natural materials. The focus for all parties was on quality and sourcing materials locally
"We've tried to use local materials wherever possible. For example, all of the granite in the hotel is Sri Lankan. This means that you've got a smaller colour palate to choose from than if you were using granite sourced anywhere but we thought it was more important to focus on what we have here."
My villa had a main bedroom area on a higher level with a seating area leading to the terrace on the lower level and a spacious bathroom to the side of the room. The villas have different layouts, partially determined by their location and to provide a range of accommodation to suit the guests' needs.
Pampering and Amenities
Along with the villas, there's the striking water tower, which houses three bedrooms and a bar from which you can watch the sunset with a near-360 view of the surrounds. There's also the yogashala, library and of course, the main restaurant flanked by the main pool.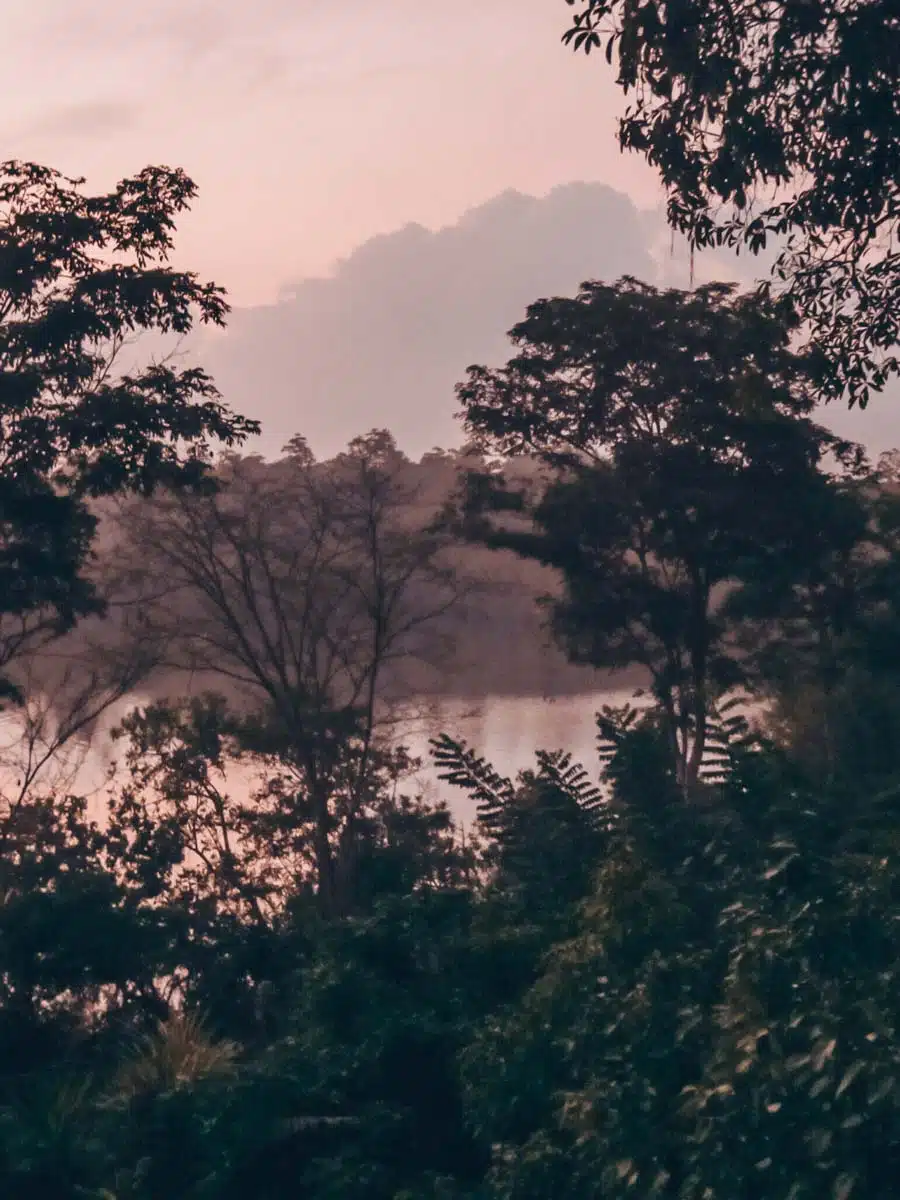 "People want to pigeonhole you – are you a hotel or are you a wellness destination?" Rob mused. The most apt answer is probably the best of both. Lara is the founder of Quantum Yoga and runs daily classes from the yogashala, and there's an increasing roster of guest practitioners set to run retreats at Tri over the coming months. But focusing on the wellness aspect alone doesn't quite do Tri justice.
"I've built a really lovely library, so people can go and read and study in peace. From next year we have a series of interesting speakers, people will come and talk about architecture, sustainability, local flora and fauna…
I like the idea of people coming and using this as a retreat: for this place to become a little bit of a cultural centre with an occasional programme of artists and residents – basically to be able to use it in more creative ways.
I think that more and more people are interested in this kind of thing. Most hotels cater to the body, but I'd like to think that some hotels cater to your soul".
Tri is certainly one of those hotels. By the time I had to leave, I'd fallen into a daily rhythm of dawn reflection, tasty food and yoga – one I wasn't that keen on giving up in all honesty. Still, there's always the next trip.
Fact File: Tri Hotel Sri Lanka
Tri Hotel, Koggala Lake, Sri Lanka.
Rooms start from £250 per night on a half-board basis.
Check prices, reviews and availability at Tri
Looking for more Sri Lanka advice? Read 9 Reasons You Should Visit Sri Lanka
Love this? Save and Share on Pinterest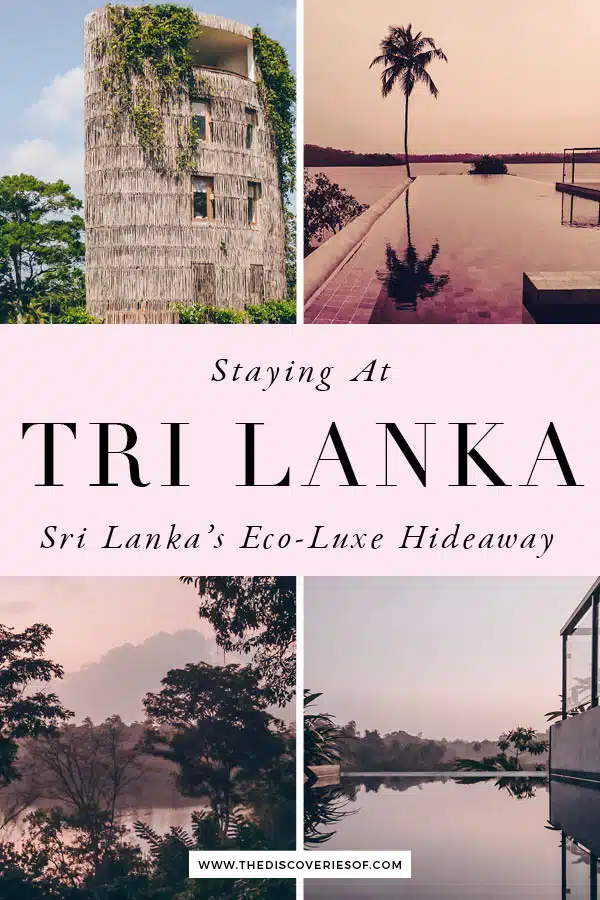 Looking for More Sri Lanka Travel Guides + Tips?
Check these out…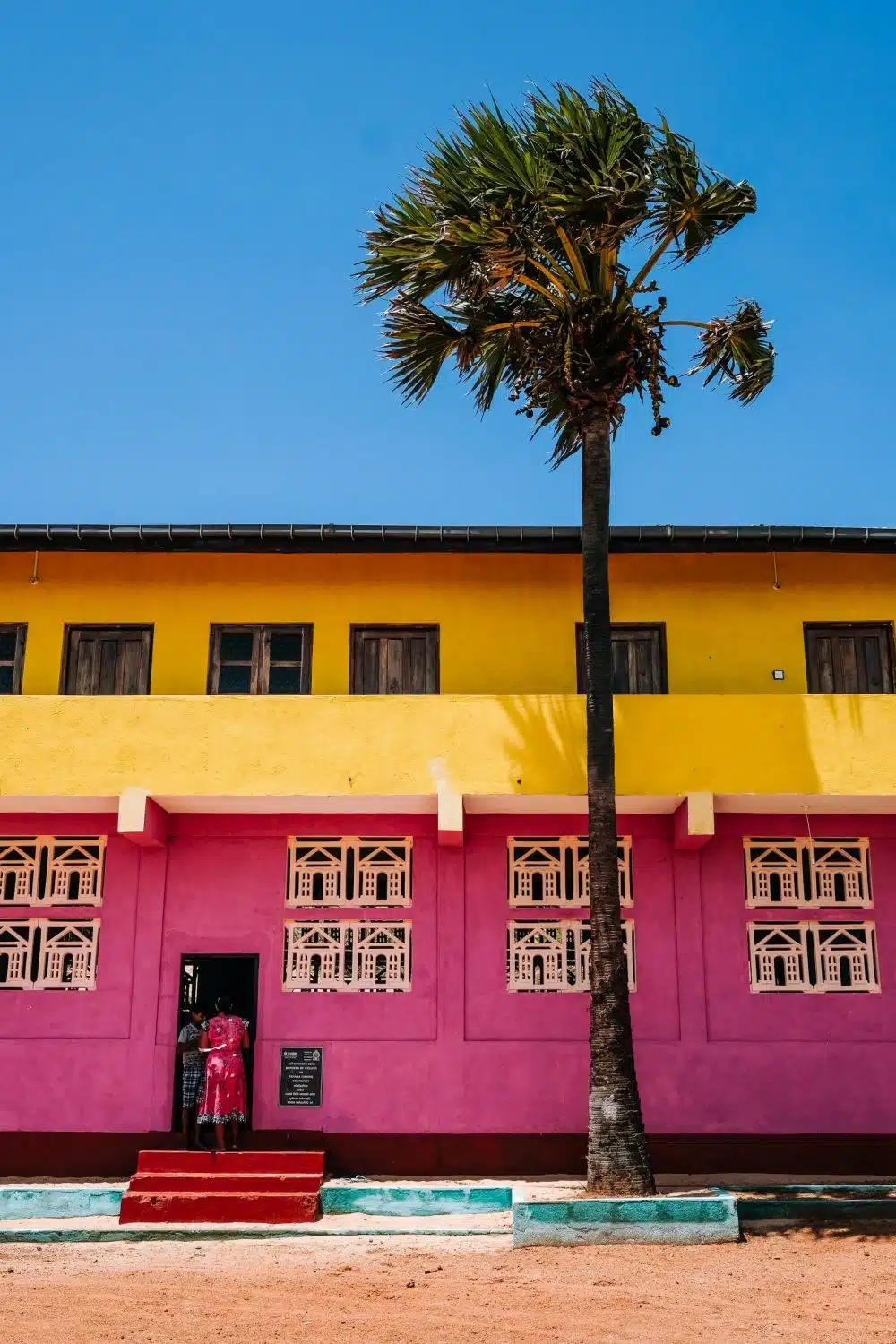 2 Weeks in Sri Lanka Itineraries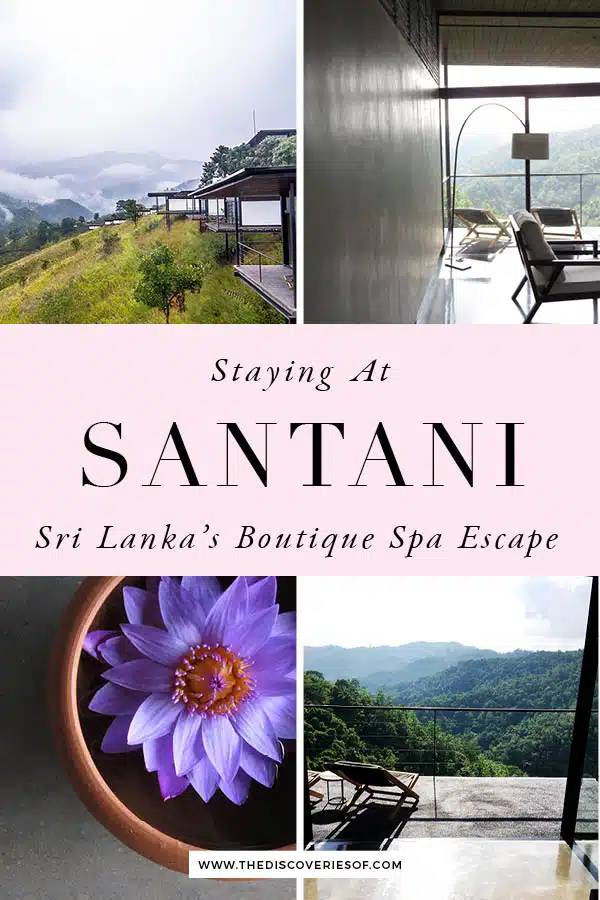 Luxury Escape To: Santani, Sri Lanka