Crispy on the outside, steamy, fragrant and light – if a plate full of Nem Ran or Vietnamese deep fried spring rolls aren't enough to get you salivating, then I don't know what is.
On my first trip to Vietnam, I was lucky enough to spend a day on a private food discovery with one of Hanoi's then leading chefs Nguyen Thanh Van at the distinguished Hotel Metropole.
Throughout the course of the day, I learnt all about the ingredients and flavours at the heart of Hanoi's distinct cuisine and… you guessed it, how to make some of the incredible dishes I'd come to love at home.
Winning.
I still think back to that day, the sensory experience of smelling freshly-plucked herbs at the market, watching women carving vegetables for elaborate dishes, the sounds of the traders at dawn, then carting all the produce we'd bought back to the Metropole's kitchen to make a Vietnamese feast – Hanoi style.
"The first thing we are going to cook today is Nem — deep-fried spring rolls. This is traditionally a North Vietnamese dish, though it has now become popular through­out the whole country," Van ex­plained.
Of all the dishes we made in that kitchen, this is the one that I return to again and again – let me tell you, there are always rice paper wrappers hanging about in the Barnaby household, on hand to indulge any spring roll-making whims (of which there are many).
I could rave about these spring rolls (wait, I am raving about these spring rolls). Made with rice paper, they're light and bursting with flavour and take about 20 minutes from start to finish (if you're dextrous, a bit longer if you're slightly clumsier with the rolling like me).
Enough raving and eulogising. Here's how you do it.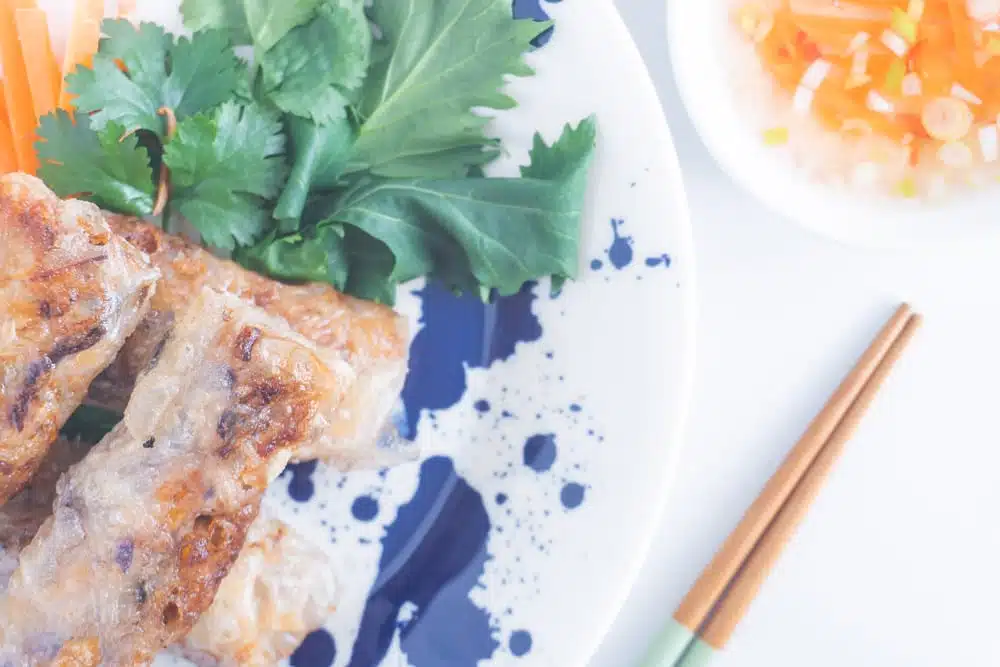 How to Make Vietnamese Pork Spring Rolls: Practical Tips and Q's
Preparing the Filling
Although they're made with pork, the key to their unique flavour is that the pork is only a small part of the filling.
You chop sweet turnip, black mushroom, vermicelli, bean sprouts, spring onions, papaya and carrots and mix them with the pork so you might say that these are maybe the healthiest deep fried things you can find.
Maybe.
How to Roll Spring Rolls That don't Burst when Frying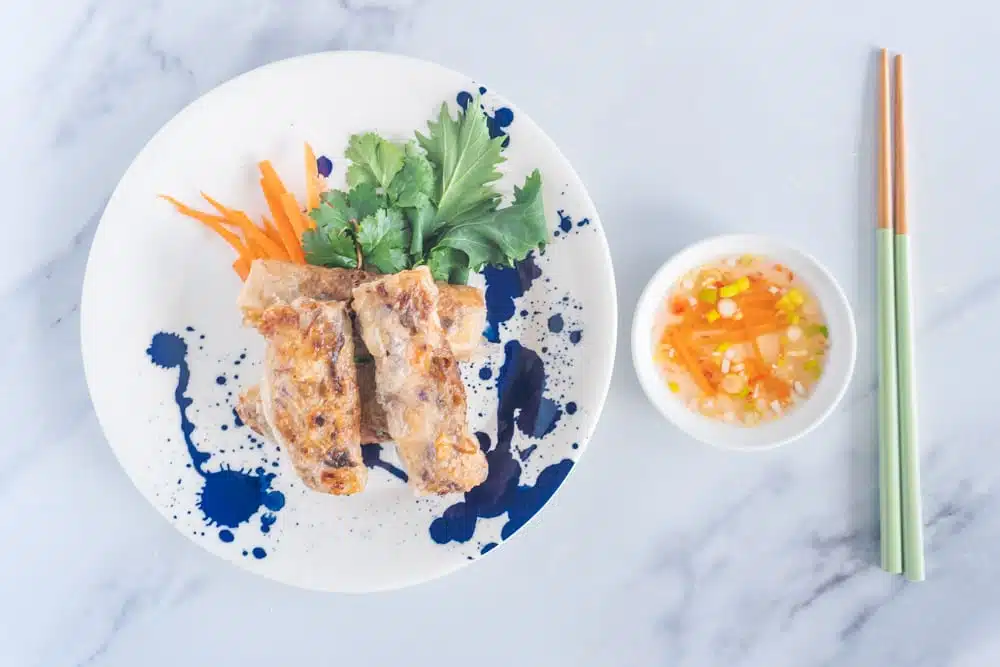 Chances are, you're going to need to practice this a bit to get it right. If you don't roll and seal your spring rolls correctly, they'll just explode in the hot oil, leaving a trail of disappointment in their wake.
There are two key pieces of advice that I'll give you here. One is don't overfill your spring rolls. Tempting as it can be to load them up, rice paper rolls are relatively small and you won't be able to fold them. End result = exploded spring rolls.
The second is a bit of a cheat, but Ngyugen taught me and, if it's good enough for the executive chef at a five-star hotel, well, it's certainly good enough for me.
Mix up a flour and water paste before you start rolling the spring rolls and then dab a little bit on each one as you finish rolling it to seal the end.
It 100% makes a difference and increases your chance of making actual spring rolls rather than a fried mess about a millionfold.
Pay Attention to the Nem Dipping Sauce
The real key to fantastic Nem though is the dipping sauce, Nguy­en elaborated; something I was in­clined to agree with once I'd tasted one of the small rolls dipped in the sauce.
You make the dipping sauce from fish sauce, water, rice vinegar, garlic, carrot and green papaya tossed in salt.
It complements the spring rolls and brings out the flavours of the meat and vegetables. You can make passable Nem with half of the attention to detail, but it's those details that make Vietnamese cuisine what it is.
"In northern Vietnamese food it's traditional to keep our dipping sauce quite plain, whereas the further south you go, the spic­ier the dipping sauce tends to be," Nguyen continued.
Are Vietnamese Fried Spring Rolls Gluten Free?
Yes, these rice paper spring rolls are gluten free, as long as you ensure that you use gluten free fish sauce (some brands are, some brands aren't).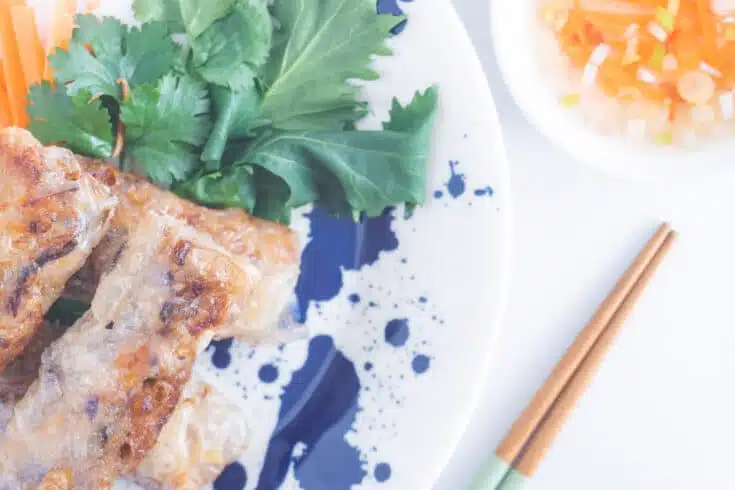 Yield:

Serves 4
Vietnamese Fried Spring Rolls (Nem Rán / Chả Giò) Recipe
Learn how to make tasty Vietnamese fried spring rolls with this easy step-by-step authentic pork spring roll recipe straight from Hanoi.
Ingredients
Oil for deep frying
350g pork shoulder (roughly minced)
200g sweet turnip (can be replaced by water chestnut)
2 eggs
30 pieces rice paper
300g dried black mushrooms, soaked and drained
100g glass vermicelli (mung bean noodles), soaked for 15 minutes and chopped into three.
150g bean sprouts, chopped
50g spring onion, chopped
50g young papaya and carrots, finely chopped
Pinch of salt
½ teaspoon sugar
50ml rice wine vinegar
2 cloves garlic
1 tbsp fish sauce
2 tbsp flour mixed with water
Asian salad and fresh herbs (coriander, Thai basil, mint to serve).
For the Dipping Sauce
3 tbsp fish sauce
120ml tbsp water
1 tbsp rice vinegar
1 tsp sugar,
½ clove crushed garlic (not chopped – add for flavour),
Freshly-ground pepper.
Sliced carrot and green papaya
Instructions
Slice the young papaya and carrot, marinate in salt, sugar and vinegar.

Chop the sweet turnip and bean sprouts.

Mix all the ingredients above, along with the vermicelli, mushrooms, spring onion and eggs.

Dip the rice paper in water, place onto a flat surface and smooth out.

Take one heaped tablespoon of the mixture and put onto the edge of the rice paper. Roll up and seal with flour and water paste.

Heat the oil until hot.

Deep fry the spring rolls for around 5 minutes until golden brown (turn over mid-way through). Remove and place onto kitchen towel to blot excess oil.

Serve immediately with the herbs, salad and dipping sauce.

Nutrition Information:
Yield:
4
Serving Size:
1
Amount Per Serving:
Calories:

828
Total Fat:

27g
Saturated Fat:

8g
Trans Fat:

0g
Unsaturated Fat:

16g
Cholesterol:

172mg
Sodium:

1588mg
Carbohydrates:

109g
Fiber:

9g
Sugar:

12g
Protein:

36g
Love this? Save and Share on Pinterest