Ahhhhh pho. That moment when you hold a bowl of just-made pho in your hands, the scent of the garnishes you've just put into the beefy broth coming together to exude a steam laden with fragrant aroma – you take a deep breath, ready to plunge in and start eating.
Eating Vietnamese beef pho could be one of those things where the anticipation is better than the main event, but it isn't – from the first mouthful to the last, pho is the gift that just keeps on giving.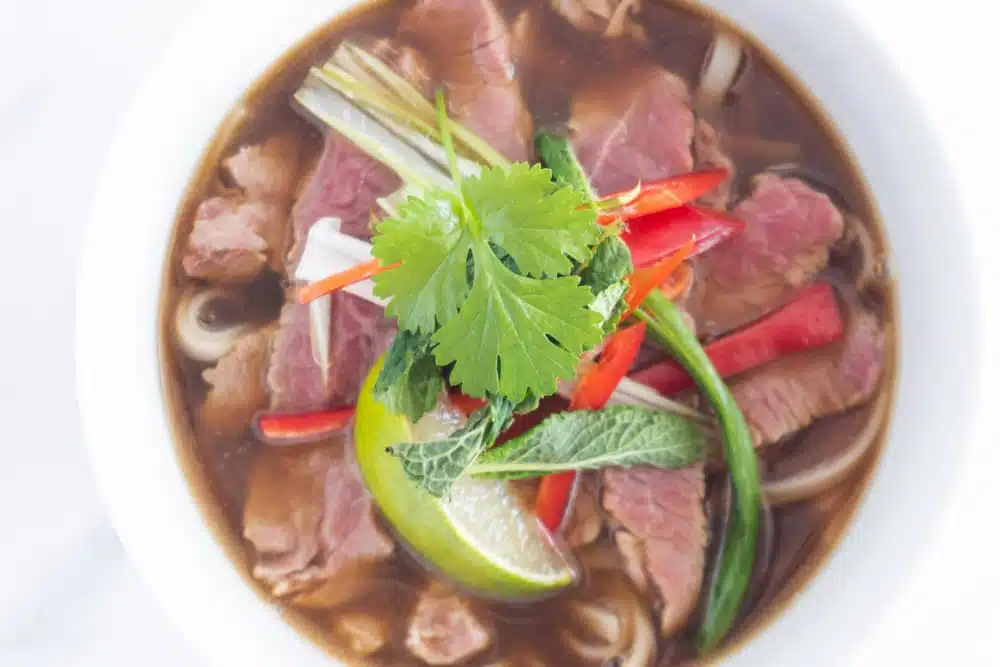 I didn't try pho (pronounced fuh rather than foe) until I was in my early twenties, backpacking through Vietnam on the first leg of a year-long trip around the world. I started in Hanoi, slurping my way through bowls of pho, trying all kinds of variations, chicken, dry pho (it exists) but always coming back to the tangy umami of the beef version.
Finally, I just gave in and took a number of cooking classes as I worked my way down through the country, knowing that one day soon, I wouldn't just be able to stroll out to street stall and order pho at anytime of day, and when that day came, I'd need to know how to make it myself.
Twenty-something Julianna didn't always get everything right but I bow down to her foresight in learning how to make this fully-blown, can't tell the difference from the restaurant, authentic pho recipe.
Now it's my time to share the love – how to make Vietnamese beef soup.
Practical Tips for Making This Vietnamese Beef Pho Recipe
Beef Pho
My biggest tip is that using good quality pho ingredients is really paramount here, but there are a few extra things you can do to make your pho really sing, which is what we all want.
How to Make Beef Broth for Pho
I've given you a couple of options for the broth here, both of which affect the cooking time drastically, but will also affect the final dish.
First up, you can go the traditional way and make the broth from scratch. This is the method you will find in every authentic Vietnamese beef pho recipe, but does take at least five hours (more is better). If you've got the time, do it, this is how you go about it.
To make the pho broth, you'll need to take 2.5 kg of mixed beef bones – preferably knuckle, rib and marrowbones and 3 litres water.
Bring to the boil in a large stockpot and boil rapidly for five minutes before turning off the heat and removing the scum that rises to the surface.
You can then proceed with the rest of the recipe, adding the toasted spices and charred onions and ginger but you will need to simmer the broth for at least four hours. There are recipes that do this for two days, so it just depends on how much time you're willing to allow.
Sounds long right. It is! Which is why I've been testing making pho with good-quality beef stock (I make my own every couple of weeks and freeze it up, but you can also use really good quality shop bought stock) – I really don't think that you can taste the difference and it cuts down the cooking time from 8 hours to 1.5 hours, much of which is hands-off time anyway. I'll take it.
Making Pho Broth with Good Quality Stock
Second option (which is what I do in the recipe) is to use beef stock as the base, which will cut at least 3 hours off the cooking time and can taste just as authentic depending on the stock you use.
I hate to lay down hard rules but stock cubes are just not going to cut it here – if you're going to make a dish where the broth is pretty much the main attraction, you can't half-ass it with a salty, crappy stock cube.
You either need to use homemade beef stock (which is what I did) or really good-quality beef stock. Quality is key.
For reals, I cannot stress how important this is.
Please, if you do one good deed today, let it be to use good stock for your pho. Praise be. Blessed is the fruit (of my delicious bowls of broth).
Char-grilling the Ginger and Onions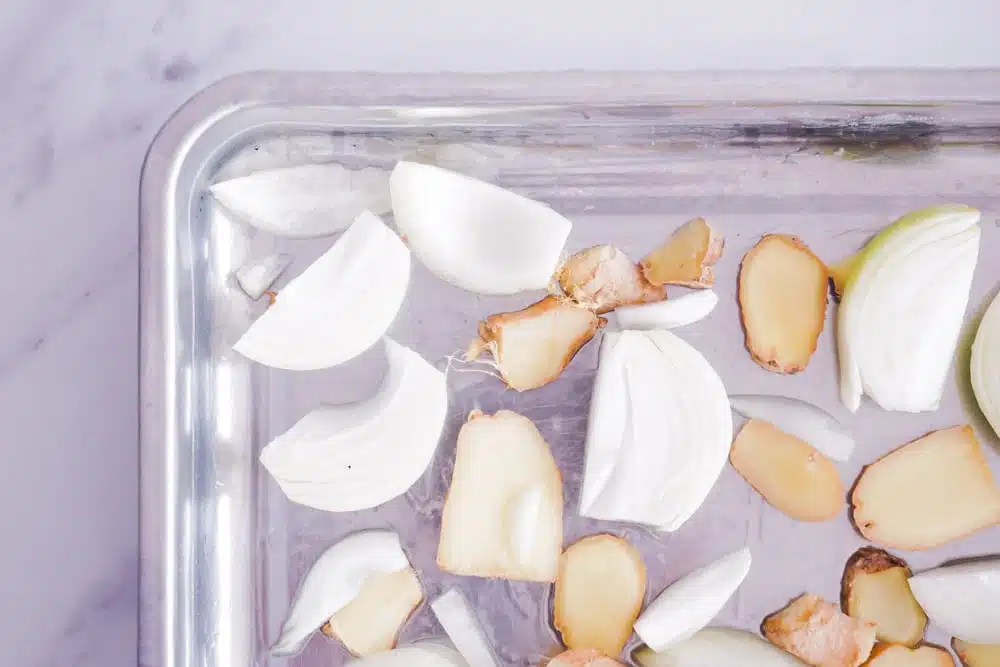 One of the first stages in this recipe is to grill the ginger and onions under a grill until brown and slightly blackened at the edges. You then pick off the worst burnt bits before adding the rest to the pot to flavour the broth.
On the face of it, this might seem like a lot of effort but don't skip it. The more you make pho, the more you understand that it's the complex layer of flavouring that distinguishes a good pho from a blah one and, you guessed it, the grilled onions and ginger provide one of those layers. No blah pho allowed.
Toasting the Spices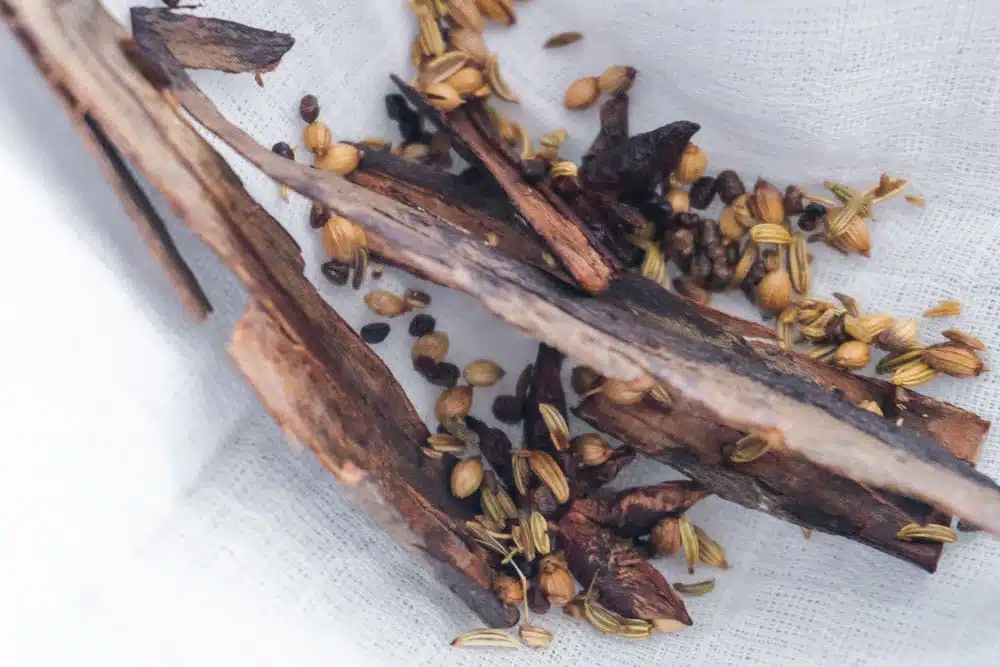 Another injection of flavour comes from toasting the spices (including the cinnamon, star anise and fennel seeds) before you put them into the bouquet garni and into the stock.
Again, another step you might be tempted to skip but you shouldn't- let's face it, you'll only be cheating yourself if you do.

Best Meat for Pho Soup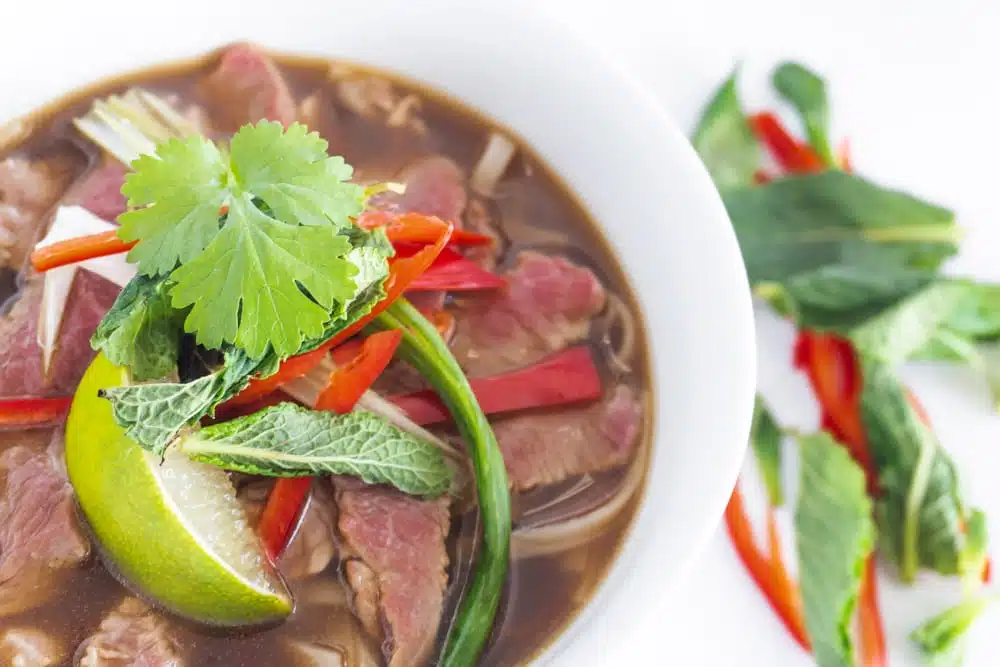 If you are making the broth from scratch, you'll need to consider which beef cut to use for making the broth and which beef cut to use for making the final dish.
If you're using beef stock as the basis for your pho, things are a lot easier and you only need to consider the latter.
For the broth, you'll want some bones – knuckle bones, oxtail and shank are great bones, but most stock bones or broth bones from organic and higher welfare animals will do.
If you use oxtail, you'll end up with a lot of fat in the broth, be sure to skim this off before the end.
You can also use cuts of beef as an alternative – beef shin is a good option here. Some people take the beef they'ved used for flavouring the broth and put it into the pho – personally I'm not a huge fan as by the time you've used the beef to flavour the broth, the beef itself isn't left with a lot of flavour itself.
I'm a big fan of using rump steak as the beef cut for pho – it's got a lot of flavour, slices well into strips (you should freeze it a little to make this process easier, more on that anon) and isn't so expensive that it's impractical to use in a meal like this.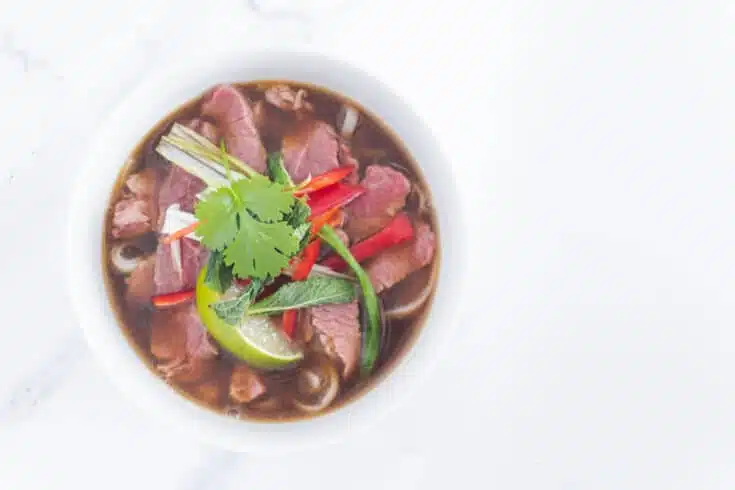 Yield:

Serves 2
Vietnamese Beef Pho Recipe
Total Time:
2 hours
15 minutes
Try this delicious Vietnamese beef pho at home. Rich, aromatic broth is paired with rice noodles and zingy herbs and veg for an authentic meal.
Ingredients
For the Broth
1.5 litres good-quality beef stock
½ onion
60g ginger
5 star anise
½ stick cinnamon
2 cloves
1 pod cardamom, split
1 tbsp fish sauce
½ tsp rock sugar / granulated sugar
Squeeze of lime juice
For the Pho
100g rice noodles
400g rump steak
Small bunch coriander, chopped
3 sprigs mint, leaves picked from stalks
1 lime, cut into eighths
2 hot chillies finely chopped
1 spring onion, cut into thin strips
Optional
Instructions
Chop the onions and ginger, coat in oil and put under the grill and grill on a high heat until coloured and blackned at the edges.

Meanwhile, toast the star anise, cinnamon, cloves and cardamom on a low heat until fragrant. Tie into a bouquet garni and add to the broth pot.

Once the onions and ginger are cooked, remove from the heat. Peel off the worst burnt bits and discard. Add to the broth pot.

Pour in the beef stock to the broth pot. Leave to simmer on a low heat for 45 minutes as it infuses with flavour.

Put the steak in the freezer (partial freezing makes it easier to slice into paper-thin slices).
After 45 minutes, start preparing the other ingredients.

Boil the kettle and put the rice noodles into a bowl. Cover with water and leave for 25 minutes until slightly al-dente.

Remove the steak from the freezer and cut into paper-thin slices.

Prepare the remainder of the ingredients for the pho by chopping and adding to a plate for you to add to the pho as you're eating it.

Strain the pho broth, discarding the solids. Return the broth to the pan and bring to the boil, adding the fish sauce, rock sugar (or granulated sugar) and a squeeze of lime juice.

Once the rice noodles are cooked, drain, rinse in cold water and divide between the serving bowls.

Arrange the sliced steak on top of the rice noodle and pour the boiling hot broth over the steak into the bowl.

Serve with the plate of accompaniments, adding chilli, lime, mint, spring onion to your taste and Thai basil / beansprouts if you're using.

Nutrition Information:
Yield:
2
Serving Size:
1
Amount Per Serving:
Calories:

707
Total Fat:

25g
Saturated Fat:

9g
Trans Fat:

0g
Unsaturated Fat:

12g
Cholesterol:

170mg
Sodium:

2320mg
Carbohydrates:

49g
Fiber:

7g
Sugar:

14g
Protein:

74g
Love this? Save and Share on Pinterest!