Looking for a simple and refreshing dessert? This Thai banana with coconut milk recipe is quick, easy and oh so delicious.
Do you ever come across a recipe that's so simple that you're not sure how you've never thought of it yourself? That's 100% what happened to me when I first tasted this ridiculously simple dessert in Thailand.
I don't remember when I first had it – it must have been within days of arriving in Thailand for my six-week trip as it was a firm fixture on my list of go-to eats during my time there.
There's nothing like shrugging off your backpack, wiping off the beads of sweat on your upper lip (come on, it happens to all of us) and diving headfirst into a cold concoction that traces its way down your throat and into your hungry stomach.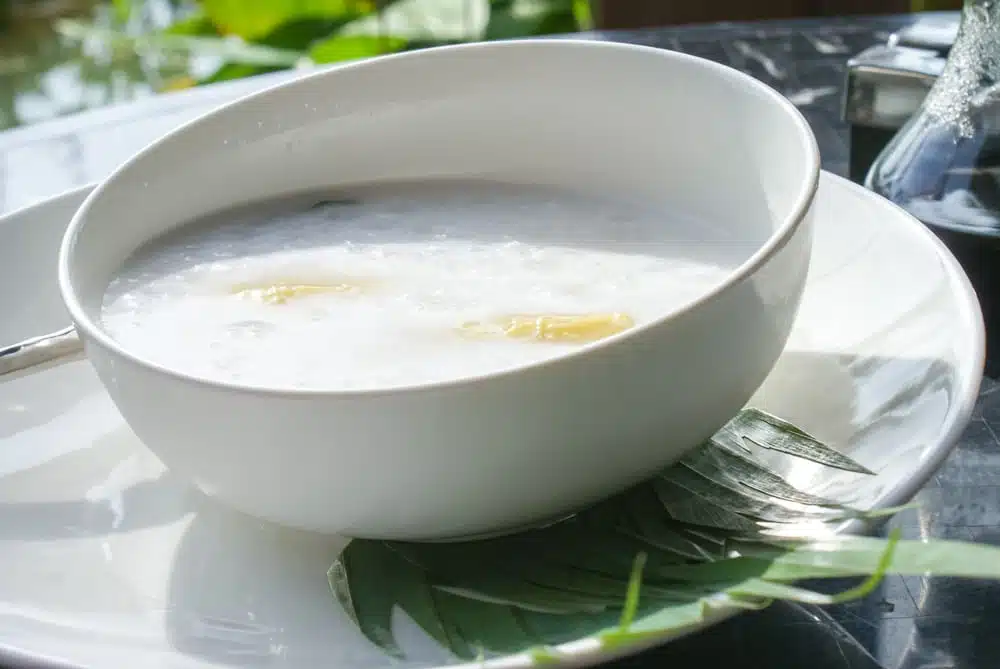 If you haven't got the idea yet, I'm very much of the opinion that this banana in coconut milk dessert or (Kluai Buat Chi to give it its Thai name) is heaven.
A refreshingly cool eat that never fails to soothe you on one of those hot, sweaty days when it feels like you will never be anything other than far hotter than is comfortable ever again.
Top Tips for Making Kluai Buat Chi
Good-Quality Ingredients
Because it's so simple (in its simplest form, the ingredient list is nothing more than bananas, coconut milk and ice), getting your hands on the best-quality ingredients you can is key to making this taste as wonderful as possible.
This is not the place for you to try and use up those brown bananas that have been festering in your cupboard for a week (save that for some banana bread), or to substitute coconut milk with that creamed coconut block you've had hanging in your fridge for goodness knows how long.
We're talking about nice ripe (but not overripe) bananas and good-quality coconut milk.
Try and Find Thai Nam Wah Bananas
Try and buy Thai Nam Wah bananas (the small ladies' fingers bananas that are common all over Thailand but more difficult to get at home.
If not, normal bananas are more than adequate, you might want to add one more as their flavour isn't as intense as the smaller ones, they're also starchier and less sweet, so you may want to add some palm sugar to up the sweetness ante on the recipe.
Don't Overcook the Bananas
Like many deceptively simple Thai desserts, the key to a successful kluai buat chi is in the detail.
One thing that is guaranteed to ruin this dessert is cooking the bananas for so long that they turn into a sickly-sweet, soggy mess. You want the bananas to be cooked and slightly softened but still holding their shape.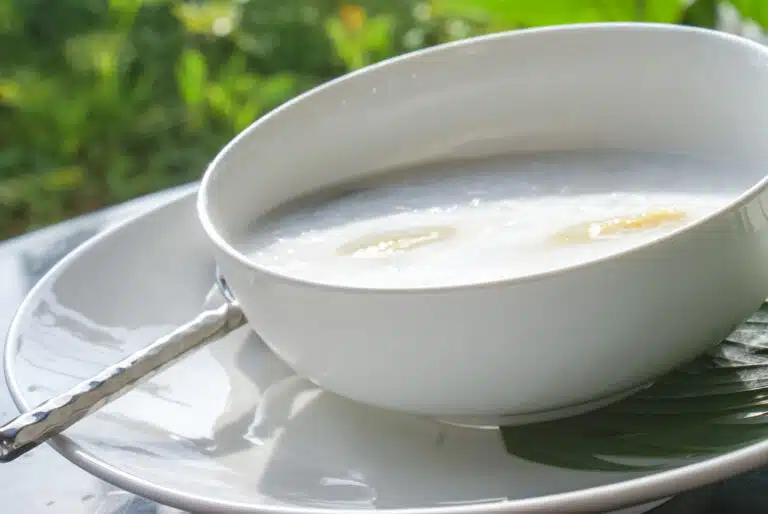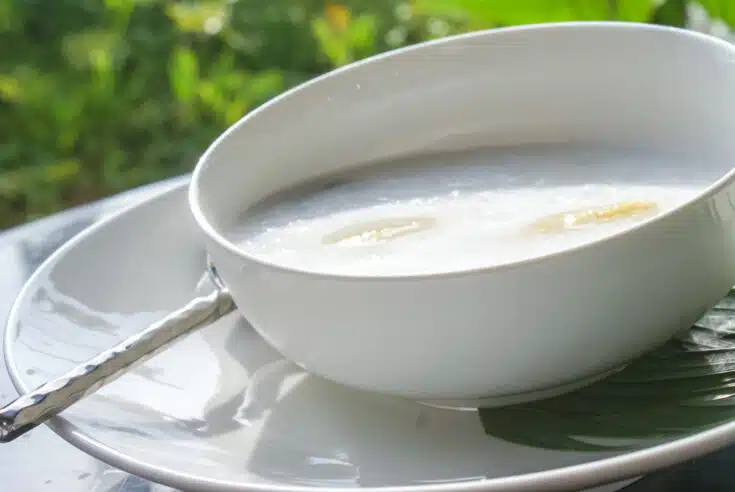 Yield:

Serves 2
Thai Banana With Coconut Milk (Kluai Buat Chi) Dessert Recipe
Refreshingly simple, this Thai banana with coconut milk (Kluai Buat Chi) recipe is a perfect quick and easy dessert - you can even have it for breakfast or as a snack.
Ingredients
4 small ripe or slightly under-ripe bananas
2 cups of coconut milk
A small pinch of salt
Palm sugar (optional)
2 cups of crushed ice
Instructions
Pour the coconut milk into a pot, heat until hot (but not boiling) on a medium heat.
As the coconut milk is heating up, prepare the bananas. Peel the bananas, halve them lengthwise and then halve them again.
Add the chopped banana to the heated coconut milk and cook for 3-4 minutes until the banana is soft but not mushy. Turn off the heat. Add the salt and the sugar.
Divide the crushed ice between the serving bowls.
Pour the banana and coconut milk onto the crushed ice.
Leave to cool to room temperature for two-three minutes before eating (optional).
Nutrition Information:
Yield:
2
Serving Size:
1
Amount Per Serving:
Calories:

499
Total Fat:

48g
Saturated Fat:

43g
Trans Fat:

0g
Unsaturated Fat:

3g
Cholesterol:

0mg
Sodium:

98mg
Carbohydrates:

20g
Fiber:

1g
Sugar:

8g
Protein:

5g
Love This? Save and Share on Pinterest!