Spicy and packed with flavour – this fried fish Thai style will bring some zing to your plate.
Hands up if you come across the same Thai recipes all the time. Green curry, pad Thai, hot and sour soup. Look, I'm not throwing shade – they're tried and tested Thai recipes that are deservedly popular because they taste so good.
But, BUT. It's time to venture beyond the same old dishes – there are so many Thai recipes that are easy to cook at home that it would be a real shame not to give them a try.
Case in point? This delicious Thai deep fried fish recipe that will 100% blow your tastebuds into the next century (in a good way).
This Thai fried fish recipe is all about the deep fry. Heaped atop fried crispy rice noodles and smothered in a suitable amount of garlic and chilli sauce, it's a delight. The crunch of the noodles giving way to the moist, delicate fish closely followed by the punch of the sauce. Oh yes.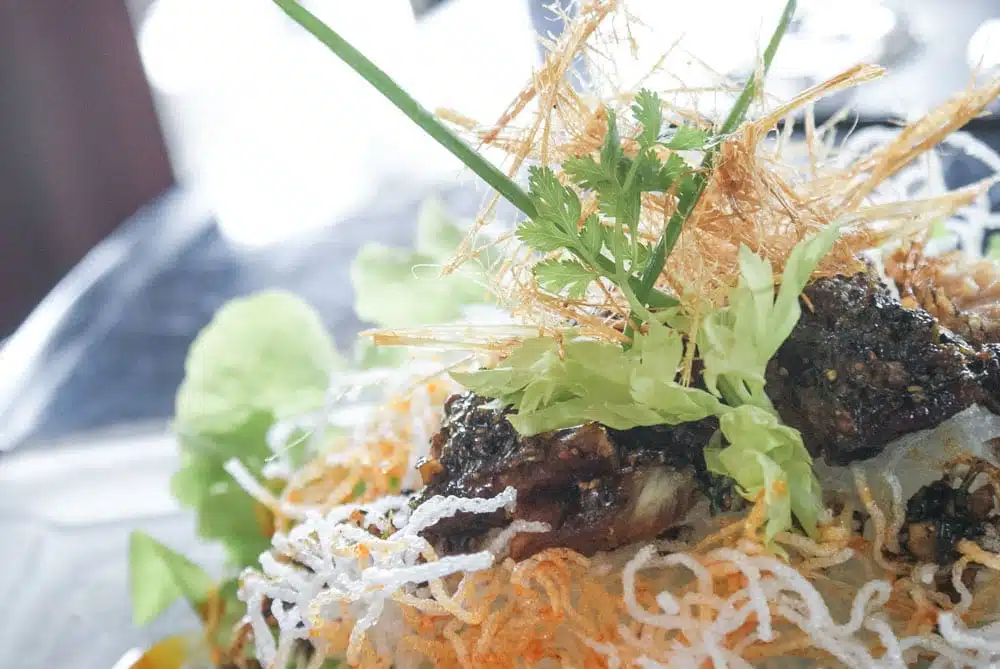 I first came across this dish on my first trip to Thailand – I'd order blindly off the menu and wait with baited breath and hungry stomach to see what turned up. Can't say it always went completely my way, but this dish was a winner.
Top Tips for Cooking the Thai Fried Fish
Word of warning – this dish is perfect when it is cooked well but it can go a bit wrong if you don't pay close attention.
This dish works well with a number of different white firm-fleshed fish, but I tend to use snapper or tilapia as they can stand up to the flavour in the sauce.
First of all, you need to be careful with the fish – too short a time and it will feel like warm and unpleasant sushi, too long and it will look like one of your barbecue coals. It should be crispy on the outside but succulent and firm on the inside. Watch for when the skin goes a golden brown and remove from the oil immediately.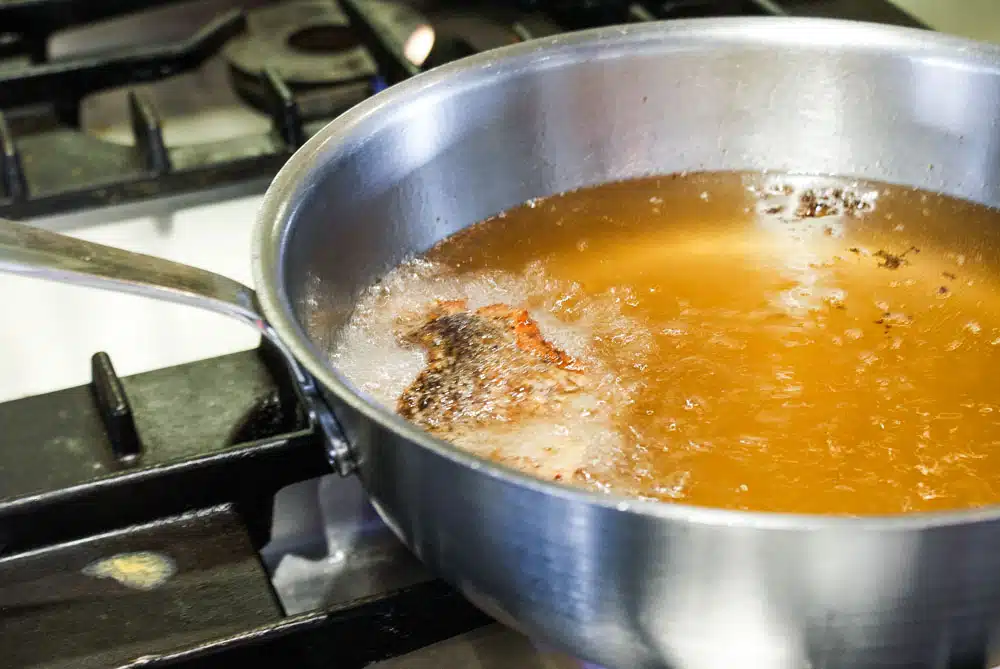 Plus, if it's your first time deep-frying rice noodles, there's something so mesmerising about the way the noodles instantly puff up, sizzling in the hot oil – think prawn crackers without the prawn flavouring and you'll get the picture. No, it's not good for you but then again, what's life without a little adventure?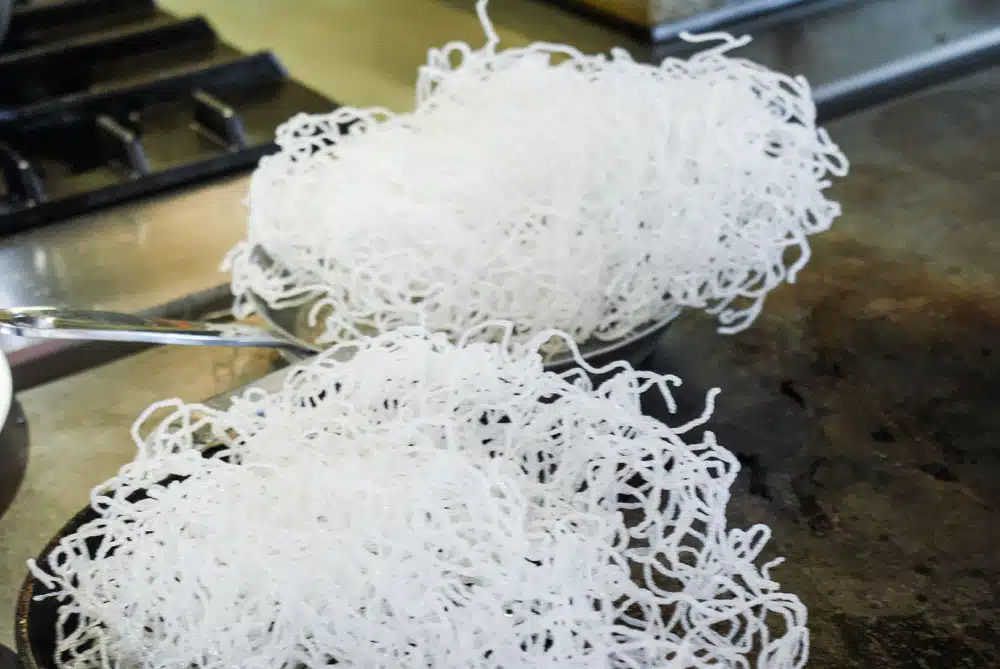 Again, don't leave them in too long or they'll burn. It's literally an in and out job with the noodles 10-15 seconds max.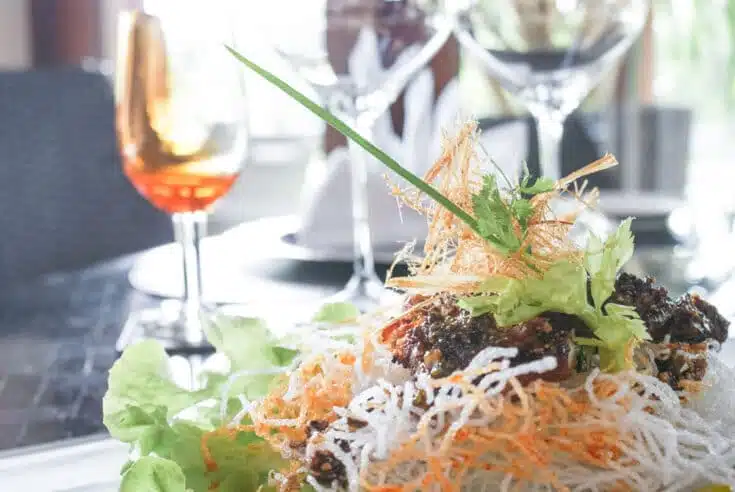 Yield:

Serves 2
Thai Style Fried Fish with Garlic and Chilli Sauce (Pla Thod Kra Tiem Prick Thai) Recipe
Thai style deep fried whole fish is juicy and packed with flavour. Serve with crispy vermicelli rice noodles and a delicious garlic and chilli sauce for a quick meal.
Ingredients
600g whole fish
10g chopped garlic
10g chopped coriander root
1 tsp ground pepper
2 tbsp tamarind water
10g pickled garlic
3 tbsp fish sauce
1tbsp oyster sauce
2 tbsp sugar
5g coriander leaves
1 red chilli julienned
10g chopped chilli
½ pack of vermicelli rice noodles
Instructions
Mix the coriander root, ground pepper, garlic and chilli in the mortar and pestle. Pound, pound, pound.

Heat the oil in a pan and add the garlic and chilli pastes, stir fry until brown, add the oyster sauce, fish sauce and sugar. Turn off the heat.

Coat fish in a thin layer of flour, add to a pan filled with oil (180℃) and fry until cooked (10-15 mins) – the aim is crispy outside, tender inside. Repeat with me crispy outside, tender inside. Remove from heat.

Heat oil to very high heat and add vermicelli. Remove after 10 seconds and leave on a paper towel to drain.

Fillet the fish before placing on the fried vermicelli rice noodles.

Heat up the garlic and chilli paste, add oil and stir until mixed in. Serve on top of the fish.

Nutrition Information:
Yield:
2
Serving Size:
1
Amount Per Serving:
Calories:

932
Total Fat:

27g
Saturated Fat:

9g
Trans Fat:

0g
Unsaturated Fat:

13g
Cholesterol:

222mg
Sodium:

3569mg
Carbohydrates:

72g
Fiber:

6g
Sugar:

19g
Protein:

103g
Love this? Save and Share on Pinterest!