A quick and easy Thai chicken soup with coconut milk that's warming and delicious.
I'll confess. I used to hate most soups when I was a kid.
Who could blame me? The stuff that passed for soup in the eighties was a true crime – packets of dried fluff that tasted, at best, like a watered down stock cube, at worst, like the stuff of your nightmares.
I hope to god you've never had the horror of a packet minestrone soup inflicted on you, but I guarantee that if you have, you'll know exactly where I'm coming from.
You'll be thankful to hear that nothing could be a starker contrast to this Thai Chicken and Coconut Soup.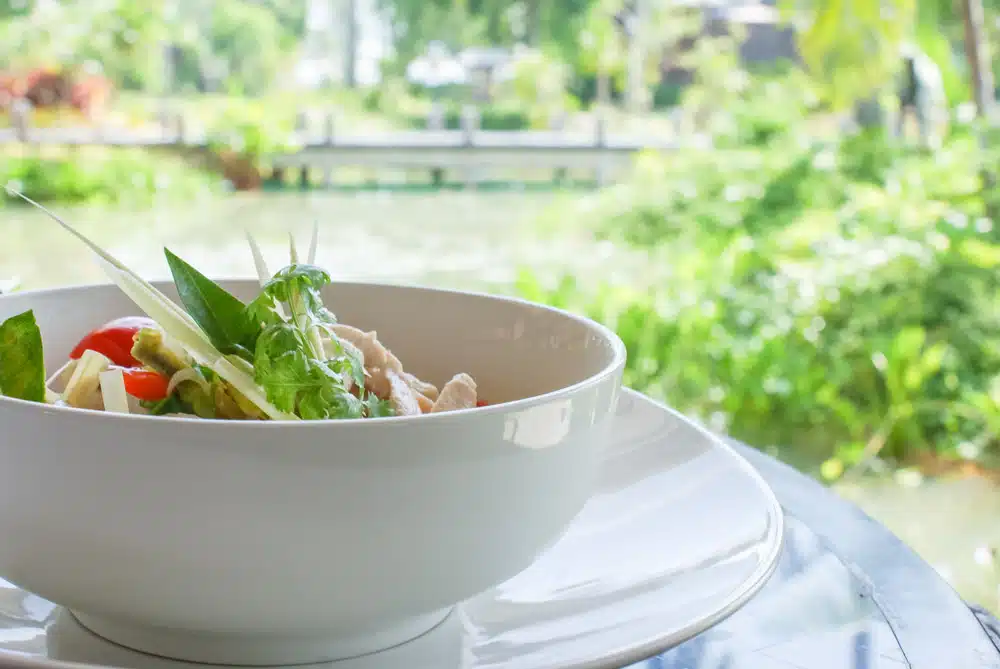 A gentle marriage of creamy coconut milk, tender chicken and aromatics like lemongrass and kaffir lime leaves, it's the perfect hug in a bowl.
I first picked up this tom kha gai recipe in (wait for the big reveal) Thailand, during a very memorable cooking class where a chef and I spent all day sweating over the stove, creating a feast of gargantuan proportions (including this yummy green papaya salad) that I ate sat overlooking the Andaman Sea.
I've faithfully made it again and again over the years, making a small tweak here and there until I can pretty much make tom kha gai with my eyes closed.
Thai coconut chicken soup is a great recipe to have in your arsenal of quick, go-to lunches and dinners as it only has a limited number of ingredients and can be whipped up in less than half an hour.
Top Tips for Making Thai Coconut Soup
Strip the Kaffir Lime Leaves
If you're lucky enough to get your hands on fresh kaffir lime leaves to make this coconut chicken soup, I'm going to pass on a sage piece of advice that makes all the difference to the final tom kha gai…
Strip the stems from the leaves before cooking.
Like most stems, the stem of the kaffir lime leaf is pretty bitter – remove it and you're really going to notice the difference in the end your coconut milk soup.
Plus, there's the added bonus of pursuing that childlike pastime of stripping leaves from their stalks – this time though, you keep the leaves and throw away the stalks.
Now, it's completely up to you whether you bother to do this. TBH, sometimes I'm too tired and just want something tasty to eat quickly but you can taste the difference and I want to pass on the pro tips wherever I can.
If you're using dried kaffir lime leaves, stripping the leaves is out of the question – unless you have the patience of an actual saint and the fingers of a Christmas elf.
Include the Coriander Root for Extra Flavour
Tom Kha Gai is all about a balance of flavour.
To be blunt, if there's too little going on in the flavour department, it's just going to taste like a coconut smoothie with a few pieces of chicken thrown in for good measure.
If you can get your hands on coriander that still has the root attached, include it.
Use a stalk to tie the coriander root together (this makes it easy to fish out the whole bundle at the end), smack to release the flavours then add to the soup while it's cooking.
Word of warning though: don't forget to take the coriander root out before you serve the soup….
Well, unless there's someone you're not such a big fan of at the table and then maybe you could accidentally on purpose put it into their bowl.
Not that any of us would ever be that petty 🙂
Yield:

(serves 1 as a main or 2 as a starter)
Thai Chicken and Coconut Soup (Tom Kha Gai) Recipe
Try this creamy and aromatic Thai Chicken and Coconut Soup (Tom Kha Gai) for a rich meal that's quick and easy to prepare.
Ingredients
1 cup chicken breast, cut into strips
1 cup coconut milk
Thumb-sized piece of galangal, cut into strips
1 stalk lemongrass, cut and crushed
½ cup straw mushrooms quartered
3 kaffir lime leaves torn in half (stripping optional)
¼ cup spring onions sliced into 1 inch portions
½ tablespoon fish sauce
¼ tablespoon lime juice
2 tbsp coriander chopped
coriander root for extra flavour.
1-2 birds eye chilli peppers crushed. Some like it hot. So add more.
Instructions
Lightly bruise the chillies using the side of your knife.

Put the coconut milk, chicken, galangal, straw mushrooms, chilli, lemongrass and kaffir lime leaves into a pan on a medium-high heat.

Bring to a low simmer and simmer (do not boil) for 4-5 minutes until the chicken is cooked.

Remove from the heat and add the fish sauce and lime juice.

Taste. Add more flavouring to suit.

Serve. Garnish with coriander leaves and spring onions. Munch.

Nutrition Information:
Yield:
2
Serving Size:
1
Amount Per Serving:
Calories:

444
Total Fat:

29g
Saturated Fat:

22g
Trans Fat:

0g
Unsaturated Fat:

4g
Cholesterol:

60mg
Sodium:

607mg
Carbohydrates:

26g
Fiber:

5g
Sugar:

3g
Protein:

29g
Love this? Save and Share on Pinterest!