Planning a short visit to London and not sure what to see? I've created the perfect itinerary for 2 days in London: everything you need to know to plan the perfect trip.
As a born and bred Londoner, it can be too easy to take my hometown for granted. Buckingham Palace – been there, done that. London Eye? Literally used to work there. For someone who pretty much loves my city, and the UK, I was close to becoming a little bit (dare I say it?)… jaded.
Utterly ridiculous right? I agree. So I decided to fix the situation and spend 2 days in London like a tourist. The result?
IMHO the best London itinerary that you can get your hands on. Put your comfortable walking shoes on and prepare yourself for this perfectly storming tour of gritty, grimy, beautiful London,
Here's a sneak preview of what to expect…
The Perfect Two Days in London – Day One
9.30am – Hyde Park
Start your day in Hyde Park, one of London's Royal Parks and my second favourite London park (the first is St James's Park – don't worry, we'll pop in there later).
I love visiting Hyde Park in the morning – it somehow feels so utterly quaint. Low-key celebrity joggers, dog walkers with some of London's most pampered pooches in well-ordered clusters at heel, a few ambitious souls swimming in the Serpentine (the lake in the middle of the park).
It's a nice way to introduce you to London – enjoy some peace and quiet while you can, you're about to enter the fray.
11am – Changing of the Guard at Buckingham Palace
I mean, you can't take a trip to London and not visit old Queenie at Buckingham Palace. Buckingham Palace is every bit as large and ostentatious as you'd expect for the official residence of the monarch. I mean, it's all a bit embarrassing really, 775 rooms (no, that's not a typo) including 188 bedrooms for the staff alone and 78 bathrooms in case you were wondering.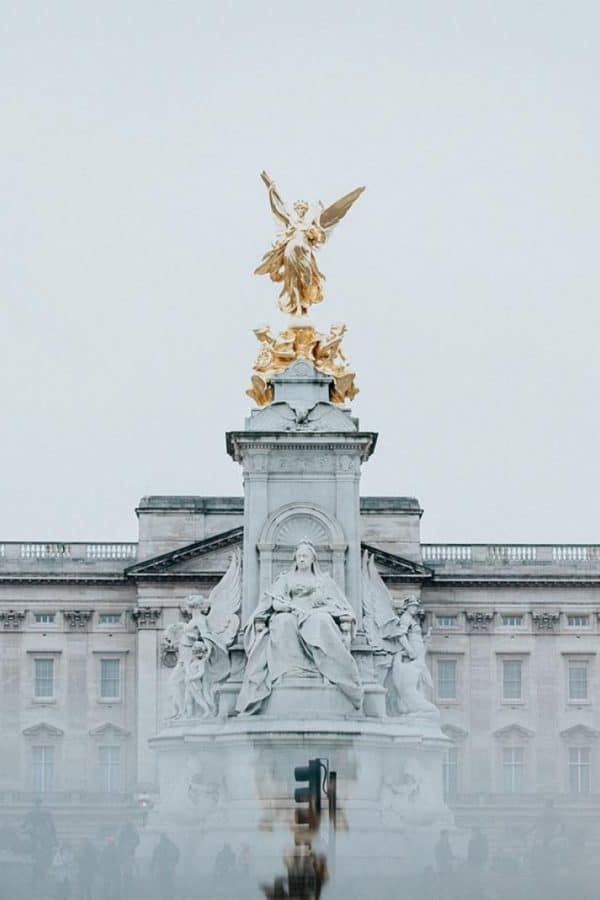 You can visit the State Rooms during the summer months (I think they're a bit overrated, to be honest. Liz isn't letting the general public anywhere near the good stuff for love nor money) or satisfy yourself by taking a million pictures of the palace's exterior.
Anyway, we're not actually here to visit Buckingham Palace. We're here to see something much more exciting (maybe). The Changing of the Guard.
The Changing of the Guard is officially when The Queen's Guard hands over responsibility for protecting Buckingham Palace and St. James's Palace to the New Guard. Whatever that means…
In reality, it's a glorious display of slightly ridiculous but iconic tradition as the guards strut (sorry, march) around in their bright scarlet tunics and skyscraper bearskin hats, accompanied by music.
Unfortunately, the powers that be don't think we could deal with the excitement of the Changing of the Guard every day, so it only takes place on Mondays, Wednesdays, Fridays and Sundays in the winter months – this can change or be cancelled. Check before you go.
We've just about got time to pop into St James's Park for a little stroll. Sandwiched between Buckingham Palace, Downing Street and Horse Guards Parade, St James's Park is a little bit of bliss in central London.
If you had more time, I'd suggest you plop yourself down on one of the benches with an ice cream and soak up the idyllic setting. But you don't. So onwards we go.
12pm – Westminster Abbey, Houses of Parliament and Big Ben
Can I make a confession? I hadn't actually visited Westminster Abbey until recently. Walked past it? A million times. Actually made the effort to go inside? Nope. Turns out I was missing a lot.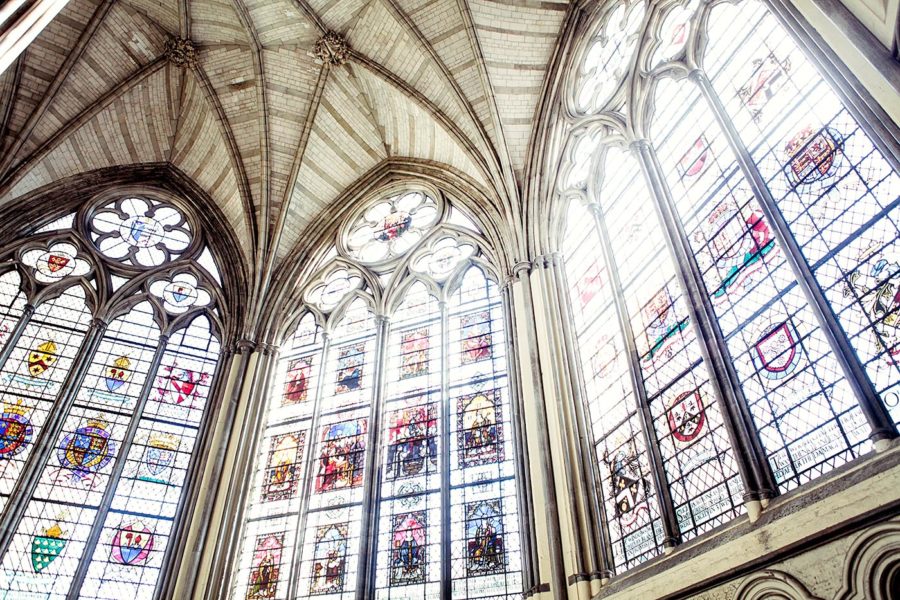 Westminster Abbey dates back to 1245 in its present form and the site has been the country's coronation church (when the monarch is officially crowned) since 1066. It's also one of the most spectacular gothic buildings in the UK – make sure you have plenty of space on your memory card.
I'm not that bothered about seeing the graves of past monarchs, but you shouldn't miss Poet's Corner, where some of the nation's leading literary figures are buried or commemorated.
On a slightly less macabre note, pop out of Westminster Abbey and cross the road to see the Houses of Parliament in the Palace of Westminster.
The Houses of Parliament is the seat of British government, and another pretty impressive Gothic building as well. It's not hard to imagine the cogs of politics running their course in the depths of this grand old building.
The Houses of Parliament are also famous for their role in the notorious gunpowder plot, when Guy Fawkes, Robert Catesby and a band of Catholic dissenters tried to blow up the Houses of Parliament and the then king, James I.
Didn't work out so well for them, but it was the inspiration for our much-loved Fireworks Night, so they've made their mark in the history books in one way.
Big Ben is perched next to the Houses of Parliament (well, actually it's a part of the Palace of Westminster too). One of London's iconic landmarks, Big Ben should be top of your London bucket list.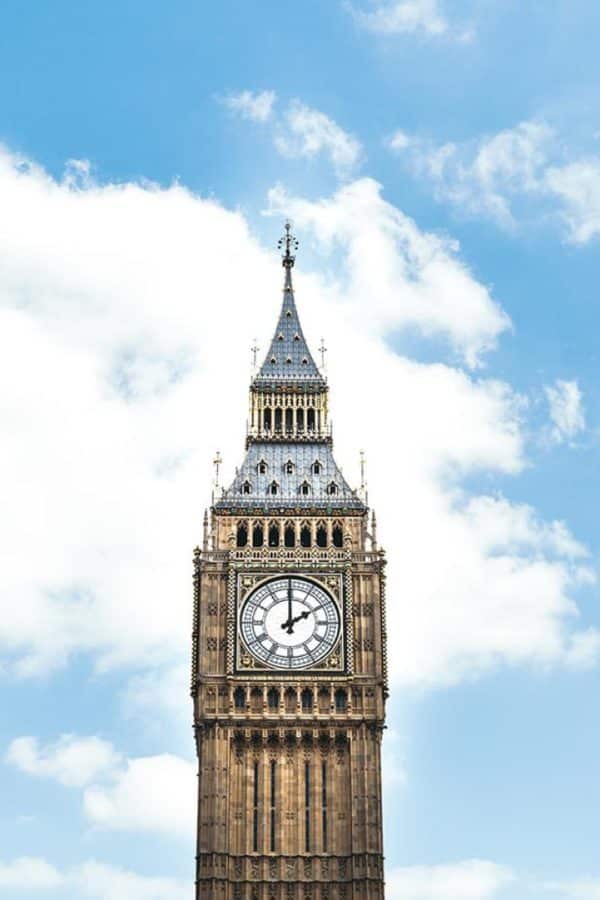 I should warn you that Big Ben is currently undergoing some serious renovations for the next couple of years… you can still see one of the clock faces, but it's not quite the 'gram opportunity you'd hope for. Nevermind, it gives you a great excuse to come back in a couple of years right?
2pm – Lunch at The Cinnamon Club
You've been working hard. All that walking, paying attention, dodging the angry Londoners stalking the pavement. It's really hard work – I get it. Time to treat yourself to lunch at The Cinnamon Club.
The Cinnamon Club is one of my favourite restaurants in London for one reason. Because it serves fabulous food. You have not TASTED a curry until you've had it there. This isn't one of your greasy spoon, slop it on a plate kind of curry. This is high-end Indian dining in a pretty swanky setting.
Its close proximity to the Houses of Parliament means it's not unusual to spot a politician or two either. You'll be too busy savouring your food to care.
4pm – Trafalgar Square and the National Gallery
Now that you're rested and refreshed, it's time to take on another one of London's iconic landmarks: Trafalgar Square. This large public square sits at the end of Whitehall, the proud home of Nelson's Column and the National Gallery.
Trafalgar Square is at the heart of the London community – for me, it's filled with the memories of Christmases past – bright lights and a dazzling tree, and of so many events it's hard to keep track.
There's pretty much always something going on at Trafalgar Square: Ashes victory celebrations, live screenings from the nearby Royal Opera House in Covent Garden, live performances from West End productions – check the calendar to see what's on.
Read More: The Insider's Guide to Visiting Trafalgar Square
The National Gallery couldn't be more of a contrast to the busy square – there's something so peaceful about leaving the crowds and the noise to step into the home of our national art collection. It's busy, of course, but in that shuffling and muted manner typical of most galleries.
I've always loved the National Gallery, even when I was knee-high and most other galleries bored me to tears. Masterpiece after masterpiece, you can walk through the history of art in the course of a few hours. And all for free (good time to note that most of London's museums and galleries are free – though you need to pay to enter any special exhibitions).
7pm – The London Eye
For full disclosure, I used to work at the London Eye. I gorged myself silly at the age of 17 on all the free rides, my face pressed against the glass while I soaked up the far-reaching views down the river Thames.
It felt like adequate payback for a period in life in which my most used words were "How many tickets" and "Toilets are to the left and down the stairs". Turns out there really is too much of a good thing though. I've never been able to face going on the damned thing again.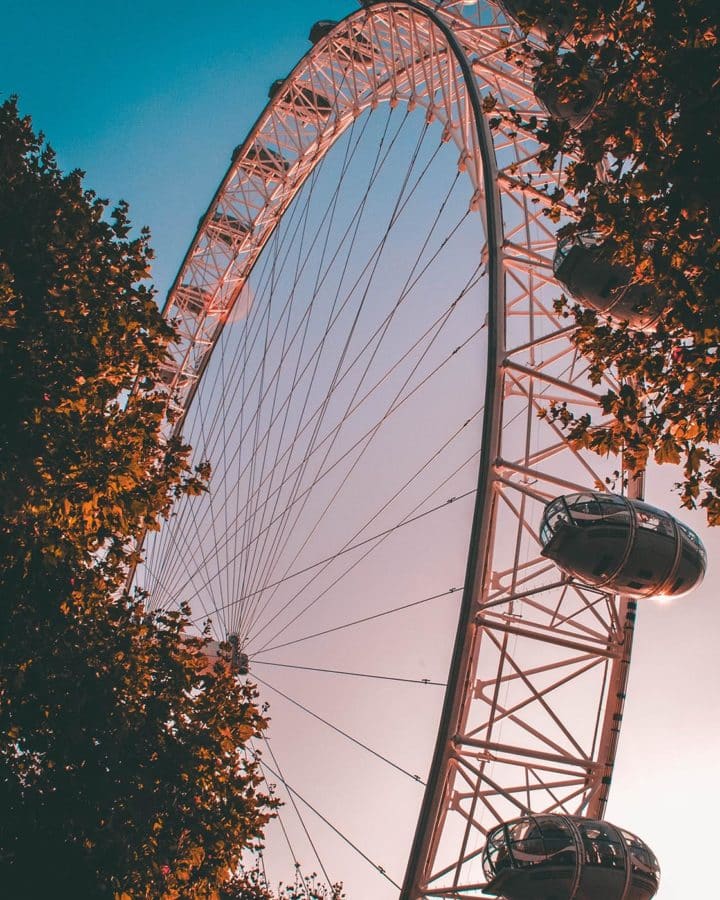 Still. Unless you have been on there umpteenth times, I'd be remiss if I didn't add it to your London 2 day trip planner. If you can time your visit for sunset, the sight of dusk falling over the city from up high, bathing the river and the buildings in its rosy hues is something of a heart-warming spectacle.
In addition to the verging on rip-off normal priced tickets, you can also book all kinds of VIP tickets and even hire a private capsule to yourself. If I'm frank, I'd save my money for something better (like cocktails!) – paying nearly £25 ($35) for a 30 minute spin seems steep enough.
Time to hop on the Tube. Walk to Waterloo and take the Bakerloo Line (the brown line) to Oxford Circus station.
8pm – Oxford Street, Piccadilly Circus and Leicester Square
Don't bother going shopping on Oxford Street. If you've ever been to a high street I can guarantee you that you've seen what it's got to offer. In fact, I would say don't bother with Oxford Street at all.
Still, I know that you won't believe me until you've seen it for yourself. Just don't blame me when you get trampled by a hoard of camera-touting cowboys who flatten you to the pavement without any sign of realising you even exist.
Once you're done with that funfair/ circus/ inner circle of hell, take yourself down Regent's Street to another one of London's big landmarks Piccadilly Circus. Us Londoners have got a little bit of a chip on our shoulder because it's not quite as cool as Times Square. But you can't miss it off your London itinerary, chip or no chip.
Next up is Leicester Square. DON'T eat anything, buy anything or drink anything in Leicester Square – it's almost certainly going to be shit and overpriced.
I could extend this to saying don't go to Leicester Square, but that seems churlish. It's home to a ridiculous number of cinemas, so it's definitely a winner if you want to go to a London cinema. But we've got bigger and better plans so we will wave farewell.
9pm – Cocktails and Dinner at Bob Bob Ricard in Soho
I hope you've been saving your pennies because it's time to splurge them on the most ridiculously good meal you can eat in London. Welcome, my friends, to Bob Bob Ricard.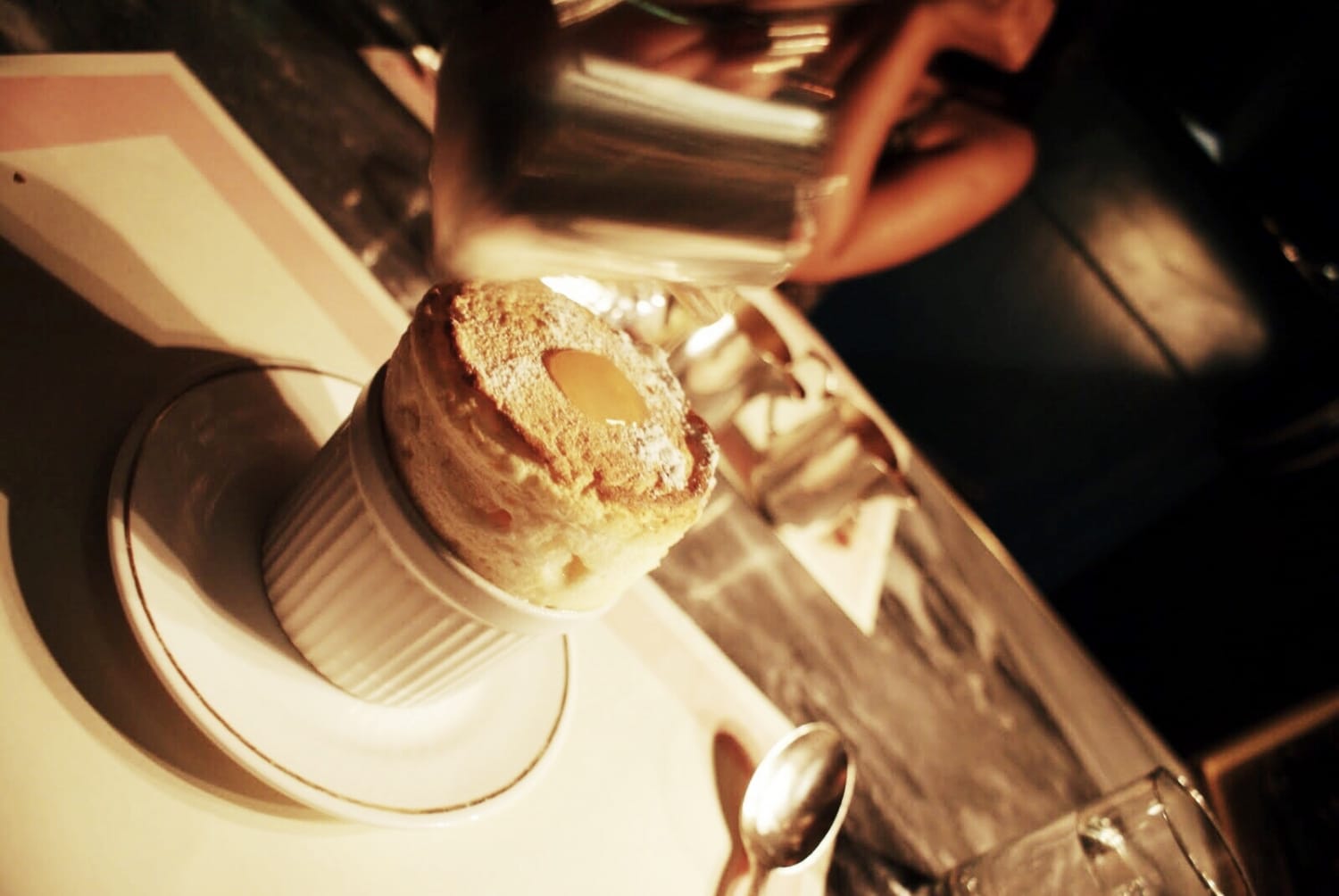 This Russian-European restaurant combines Belle-Epoque style, high-end food (my god, the Lobster is so delicious. You'll dream about it for weeks), great cocktails and some natty dining booths with actual buttons you can press for champagne. It's exactly what you want and deserve to recuperate after your busy day.
Want to know more? Read my full review of Bob Bob Ricard now.
11pm – Late night cocktails at the Hix Bar, Soho
OK, so I will confess. I love a cocktail. Oh, you do too? I knew we were meant to be friends.
Soho is not short of a cocktail bar or two and most of them are actually pretty good too. But if you only want the best, Mark's Bar is the place to go.
I'm a big fan of Mark Hix's restaurants and, if you had more time, I'd definitely recommend eating in one of them during your London stay….
But you don't so you will have to make do with perfectly-executed, devilishly sippable cocktails instead. Life is hard. Suck it up. Just not too many cocktails though, there's still another day to go.
---
The Perfect Two Days in London – Day Two
9am – The Tower of London and Tower Bridge
It's an early start today guys and I'm sorry. Kind of. Turns out the list of things you must see in London in 2 days is pretty long.
I'm a big believer in early starts (blame it on my father who would always get everywhere about five hours early to beat the crowds), so here we are at the Tower of London at 9am, coffee in hand.
The Tower of London is intrinsically linked with London's history. The capital's castle, many of the country's high and mighty have been imprisoned within its walls – perhaps most famously Elizabeth I during her half sister Mary I's reign.
The Tower has a pretty gruesome past, as the list of people executed there attests, but it's also the site of more pleasant relics and traditions, including the Crown Jewels and the strangely attired Beefeaters.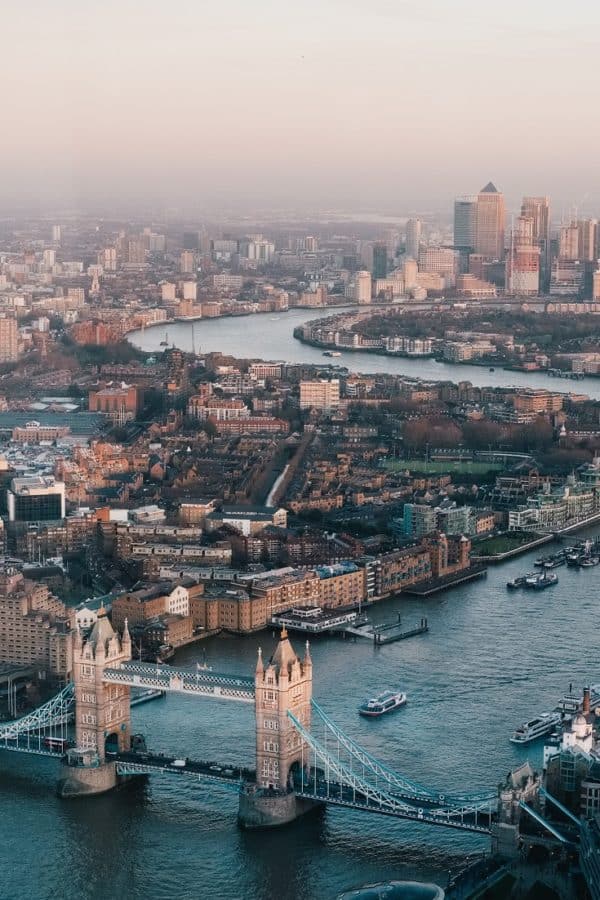 Just a few paces away from The Tower of London, you'll come to another of London's icons: Tower Bridge. The neo-Gothic Bridge has been raising its ramparts to allow tall ships to pass since 1894.
The bridge is also rumoured to be the subject of a rather amusing cock-up: it's said that an American tycoon Robert McCulloch accidentally purchased the much less impressive London Bridge rather than the intended Tower Bridge and had it shipped all the way to Arizona in the 1960s.
Unfortunately, it looks like this is a vicious rumour and that McCulloch had always intended to buy London Bridge, but it's a fun story nonetheless.
Read more: Cool but Crazy Facts About London
10am – The Shard
From the old to the new, if you haven't heard the hype, The Shard is the tallest building in London, so it should come as no surprise that it's one of the best places to see London in its full glory.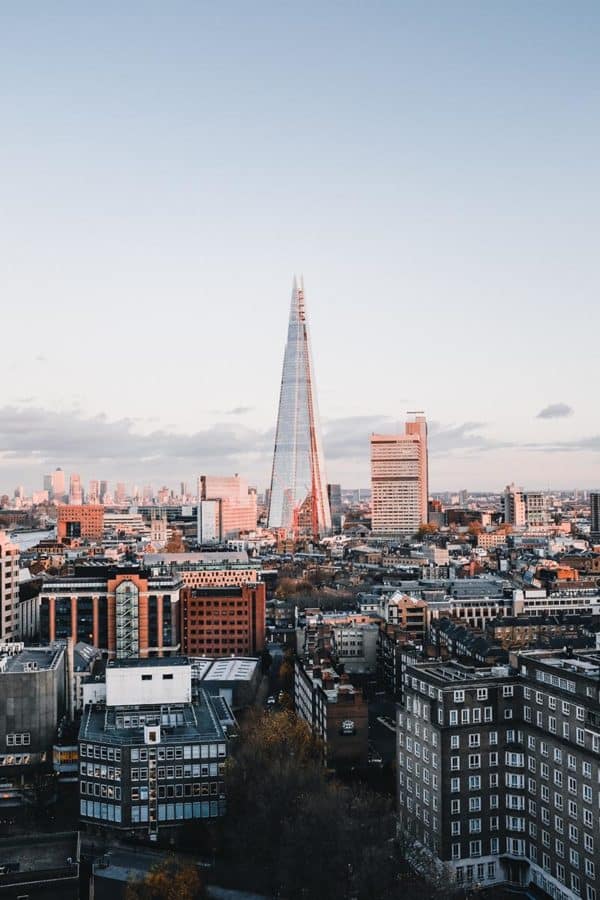 The rather unimaginatively named The View From The Shard experience boasts views of up to 40 miles from levels 69 and 72 of the building.
The Shard was relatively controversial when it was built, with many claiming it would ruin London's skyline. Now that you've seen it you can weigh in on the still smouldering debate.
Read More: Cool Things to do in and around London Bridge
11am – Borough Market for Brunch
Borough Market is the city's best-known food market and handily located just down the road from The Shard.
I sincerely hope that you are hungry: the market's been feeding the capital in some shape or form since the 12th century and they're pretty damned good at it now. It's an unmissable stop, even if you are only whizzing around London in 2 days.
I'll let you make your mind up about how you feel about eating the gloriously cheesy concoction that is raclette at 11am in the morning – let's face it, you only live once and it's so good that it would be rude not to. Won you over?
Make a beeline for Kappacasein to indulge in a meal so good that you wonder why you don't eat cheese for breakfast everyday.
PS. We can still be friends if you opt for something else.
Read More: Visiting Borough Market – What You Need to Know Before You Go
12pm – The Tate Modern
The second day of your London itinerary takes you to not one but two museums. The Tate Modern is the first.
As the name suggests, this is Tate's museum of modern art (there's also the Tate Britain further down the river with a more traditional offering).
The collection ranges from the thought-provoking to the downright strange – and features artists such as Andy Warhol, Pablo Picasso and Mark Rothko. There's also an ever-changing roster of temporary exhibitions (you'll have to pay for these).
Read More: 30 Awesome Museums in London that are Absolutely Free
2pm – St Paul's Cathedral
Walk across the Millenium Bridge to St Paul's Cathedral. Possibly the most striking building in London, St Paul's Cathedral has been built and rebuilt five times, most famously after the Great Fire of London that razed much of the city to the ground.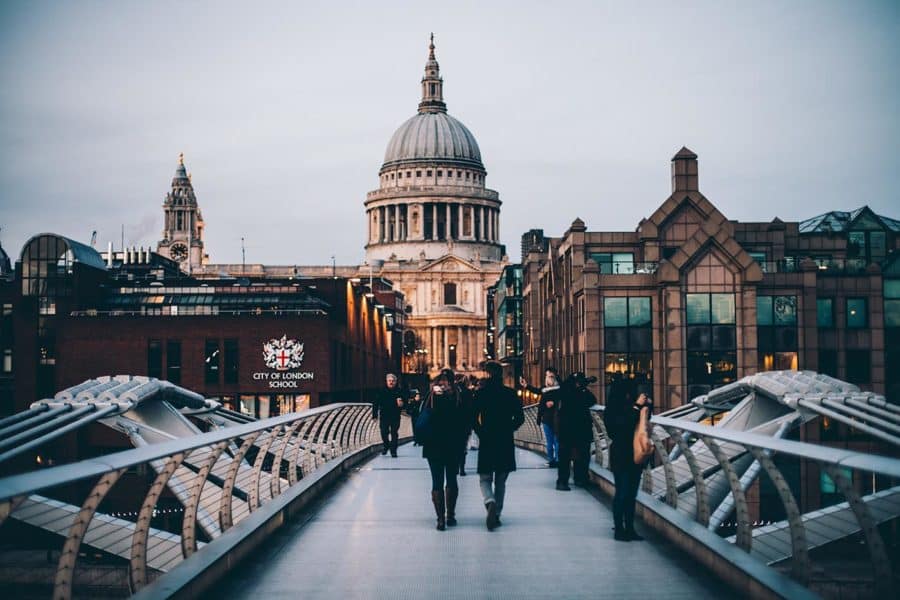 The current cathedral was designed by one of England's most-lauded architects, Sir Christopher Wren in the 17th and 18th century – even now its huge dome is an architectural marvel.
Impressive as the building is, it's even more striking inside and very much worth the entry fee.
3pm – Natural History Museum/ Science Museum or V&A Museum
Time to hop on the underground again for the next stage of our 2 day London itinerary – walk to Bank station and take the Circle or District line (yellow or green line) to South Kensington. Our destination? Museum Mile.
You've got a tough decision to make people. Which museum? Sorry to make you choose but as you only have two days in London, you can't see all three.
The Natural History Museum gives you a glimpse into the earth's history – a story covering dinosaur fossils, human biology, creepy crawlies and human evolution, spread out over 36 galleries.
Dippy, the Natural History Museum's iconic Diplodocus cast, is currently on tour, and will be until mid-2020, but there's plenty else to see on your visit.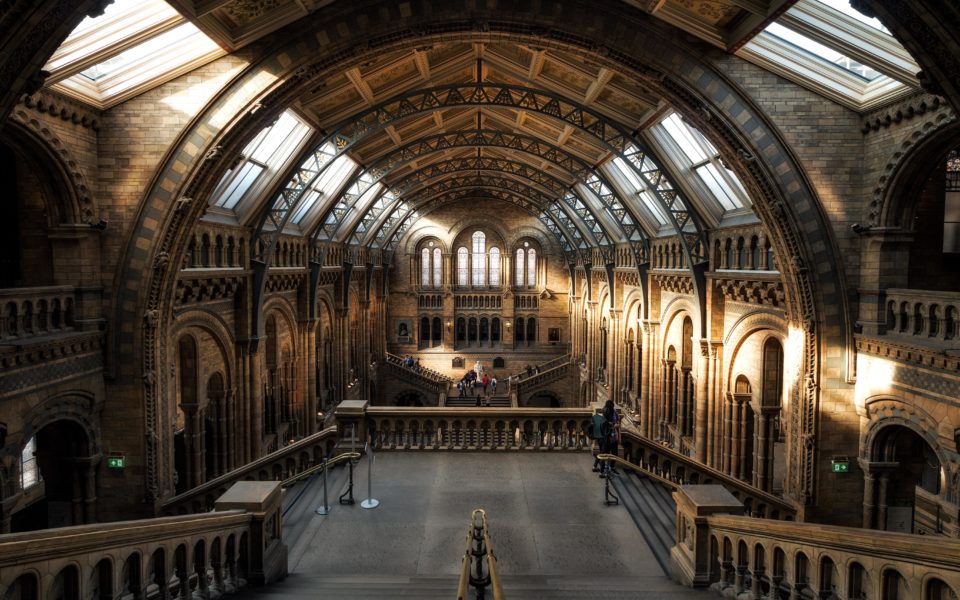 The Science Museum should start marketing itself as the most fun you can have in London with your clothes on – it's a bold claim but it can back it up.
Immersive exhibitions, sensory experiences and little-known facts combine to provide a peek into the fascinating world of science.
There's a reason it was always the school trip we'd get most excited about back in the day, and if I'm honest, I still get the tiniest bit excited about visiting now.
On the other hand, the V&A was not a museum that kids get excited about – well not this kid anyway. Full-grown adults will appreciate the vast collection in one of the best museums of art and design in the world.
It's a museum of superlatives: the finest collection of Italian sculptures outside of Italy, the most Indian art you'll find outside of India and overall an enchantingly haphazard but impressive collection of arts from the Masters, Islamic art, sculptures, fashion and design clustered under its rather large and impressive roof.
5pm – Kensington Palace & Kensington Gardens
Our two days in London are almost over, but not quite. There's still just about time to fit in one more royal palace and park – Kensington Palace and Gardens to be precise. Kensington Gardens is often referred to as the other half of Hyde Park but technically it is separate.
Swing by the Albert Memorial, built in memory of Queen Victoria's much-beloved husband before popping into Kensington Palace, the official residence of Prince William and Kate Middleton.
You'll need to be quick, Kensington Palace closes at 6pm. Still, there's just enough time to see the rather ostentatious King's State Apartments and their modest counterparts the Queen's State Apartments (it figures).
7pm – The Churchill Arms
You've been haring around London in two days and you haven't been in a pub yet? This is a serious wrong that needs to be fixed pronto. Luckily, one of the capital's most charming pubs, The Churchill Arms is a quick walk away (15 mins).
Bedecked in a bustle of blooming flowers (try saying that in a hurry), the pub serves an excellent range of ales (so Jon tells me, I'll stick to the wine thanks) and surprisingly good Thai food.
Settle in with a pint or a large glass of vino and give yourself a big pat on the back. You've conquered two days in London and the best London itinerary like a pro.
Now it's time for a rest.
Time for One More? The British Museum
Try as I might, I just couldn't fit a trip to The British Museum into the itinerary.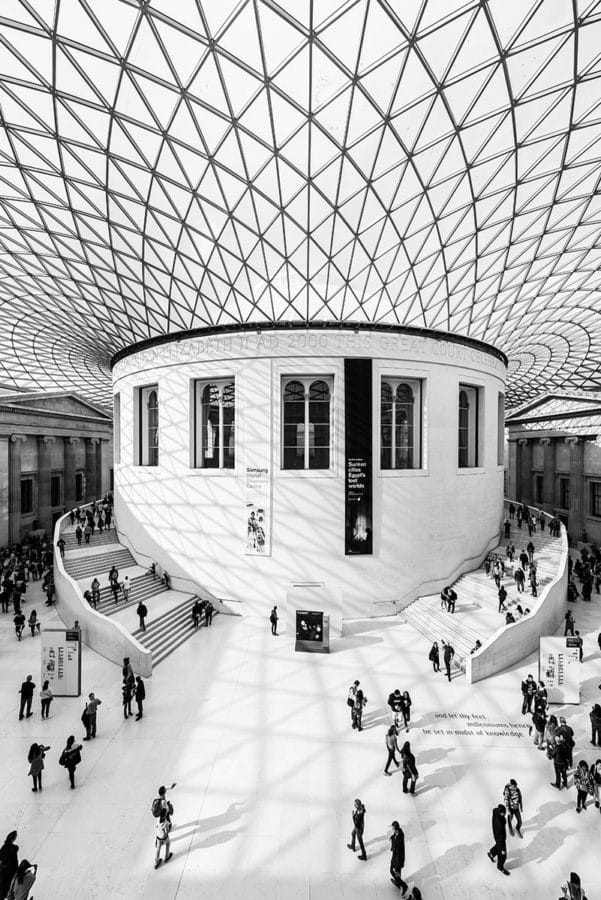 I'm sorry guys, I've failed you. On the plus side, if you have a bit more time, you can schedule a visit in. The galleries stretch over several miles, so wear a comfortable pair of walking shoes and don't forget your map.
How to Plan 2 Days in London
Book your accommodation
Work out your budget
Buy a Visit London card (see below)
Work out your London itinerary
Go and have fun
Tips for Two Days in London on a Budget
Now you know what to see in London in two days, here are a few tips to help you to keep the costs down in a notoriously pricey city.
Visit lots of museums – most of London's museums and large galleries are free to enter. There are so many to choose from that you could easily spend your two days in London only visiting museums and only scratch the surface.
Eat street food or from markets – London has a buzzing street food scene full of delicious treats at a fraction of a cost of a sit-down meal. Borough Market is the city's best-known – but there's something to suit every taste. Other street food hotspots include Boxpark in Shoreditch, Leather Lane (daytimes only) and the Southbank Centre.
Walk – despite its big reputation, the centre of London is quite small and very walkable. I think there's no better way to discover a city than on foot, and it will save on London's relatively expensive public transport costs.
Book in advance – lots of attractions, such as the London Eye offer a discount if you book in advance. It's an easy way to save some money and skip the lines at the same time.
Buy a London Pass. The London Pass is a pretty expensive outlay: £69 for one day, £94 for two. But it will save you a lot of money if you plan on following this itinerary. Once you pay for the pass, you get free entry to lots of attractions, including the Tower of London, The View from the Shard, St Paul's Cathedral and Kensington Palace.
Don't bother with the London pass with the transport option added in: you can either buy an Oyster Card or use a contactless card to pay for transport as you go – it's capped at £12.50/ £10.70 per day depending on whether you travel peak or off-peak times. So cheaper than the £15 the London Pass whacks on for the transport-inclusive option.
Check listings to see if there are any free events happening in the evenings. This two day London itinerary leaves you free for the late night – there's always time to see something else, right?
Should I take the Hop On Hop Off Bus in London?
I don't think you need to use the hop-on-hop-off for this London itinerary as we're mostly walking but whizzing around the city on an open-top double decker with Big Bus Tours can be pretty fun. Book tickets in advance.
London in Two Days: Don't Forget to Pack
Much as we like to deny it, it really does rain a fair bit in London. You can step out into the pure and brilliant sunshine and then five minutes later you're soaked to the skin after the heavens have opened. This is a very long-winded way of saying don't forget your
umbrella.
Comfortable walking shoes. You're going to be doing a lot of walking. In the winter, nothing says London style like a
chic pair of ankle boots. In the summer months, I swear by my
Birkenstocks – they're so comfortable you can walk for miles in them and they're pretty cool at the same time.
London Travel Guide. Take your pick from
Lonely Planet,
Rough Guides or
DK Travel. The Rough Guide is my favourite. Shop the full range of London travel guides now.
2 Days in London: Where to Stay
Budget – Safestay, Holland Park
It might not have the most imaginative name, but this hotel-come-hostel in the leafy area of Holland Park offers excellent value and good transportation links to whizz you into the centre, at a fraction of the cost of most other London hotels. Check prices at Safestay now.
Mid-Range – K-West Hotel & Spa, Shepherd's Bush
Ultra-modern rooms and a spa to pamper yourself in at the end of a long day. K-West might be an underground ride away from central London but it offers a high-end stay at mid-range prices, a rarity in a city known for its expensive accommodation. Check prices at K-West now.
Luxury – The Henrietta Hotel, Covent Garden
I am a sucker for a gorgeously-decorated boutique hotel, so it was inevitable that I'd love The Henrietta. What's not to love? Its contemporary-luxe decor is eccentric enough to be interesting, comfortable enough to out you at ease. Add to that a central location and you're onto a winner. Check prices at The Henrietta now.
Want to know more? Read all of my recommendations and reviews of the best hotels in London.
Two Days in London – Itinerary Map
Click here for a step-by-step Google Map of this 2 Day London itinerary.
Love this? Save and Share on Pinterest!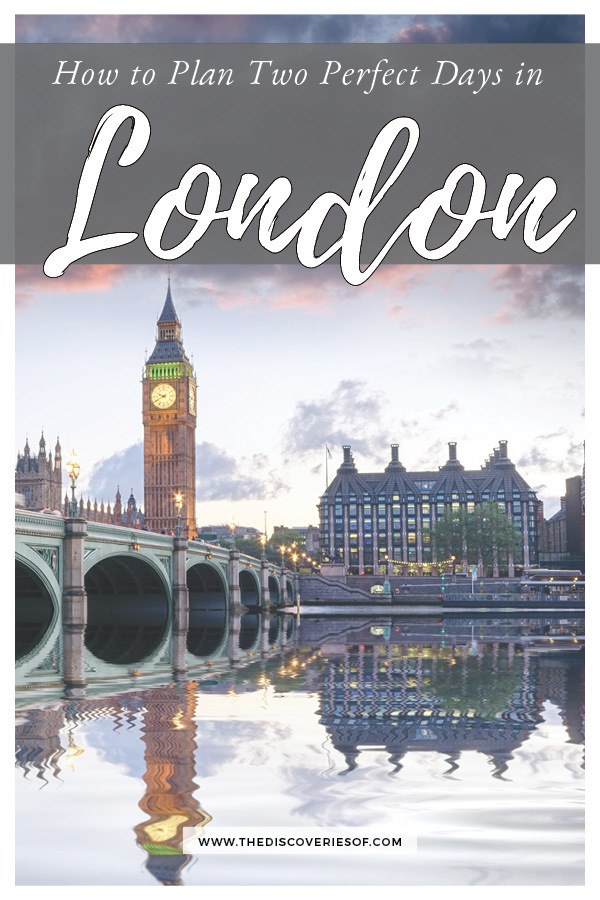 Looking for More London Travel Guides? You Should Also Read