Look, everyone needs a good arsenal of cocktails in their lives – from spiced winter warmers to bright, refreshing tipples like this watermelon and chilli martini – there's a cocktail for every situation, you just have to know where to find them.
I have to admit, I really love a good cocktail.
So much so that when I moved from central London into the countryside to live with my partner a few years ago, one of my biggest concerns was how the heck would I find a good tipple in a village where there was only two pubs and they thought you were being fancy if you ordered any beer other than Stella, Guinness or Carlsberg. I shit you not.
Which is how we came up with Shaken Not Stirred Saturdays (goofy name but let's roll with it and not pass judgment).
On Saturdays when we couldn't be bothered with the long trek into London, we'd open the cocktail cabinet and come up with some delicious concoction to ease us through the afternoon.
Well, we moved from the countryside years ago, but somehow the spirit of Shaken not Stirred Saturdays has lived on – mainly in the guise of my tinkering about to create cocktails that I love to drink (and I think you will too).
This watermelon and chilli cocktail is quick, easy to prepare and as refreshing as it is delicious. Bottoms up!

Top Tips for Making a Watermelon & Chilli Cocktail
Make a Chilli Simple Syrup
Before you get started, you'll need to make a chilli simple syrup using one part sugar, one part water and an appropriate number of chillies.
I used ⅓ cup sugar and ⅓ cup water and two hot birds eye chillies, sliced lengthways to make enough simple syrup for six cocktails.
Simply put the ingredients in a pan, bring to a boil, reduce heat and leave to simmer for 3 minutes. Don't leave it too long – we're not trying to make caramel here peeps.
You can make more and store it in a sterilised bottle / jar where it will last for a month in the fridge.
Strain the Blended Watermelon
The first iteration of this recipe involved just blending the (de-pipped) watermelon and chucking it straight into the shaker because I'm lazy and I want to make life as simple as possible.
99% of the time, laziness wins, but, I'll be completely honest, straining the watermelon through muslin after you've blended it makes for a much nicer end result so this is the 1% of the time it makes sense to go the extra mile.
I know, I know, it's extra effort and you're supes busy and important, but it's all for a good cause.

Which Gin to Use?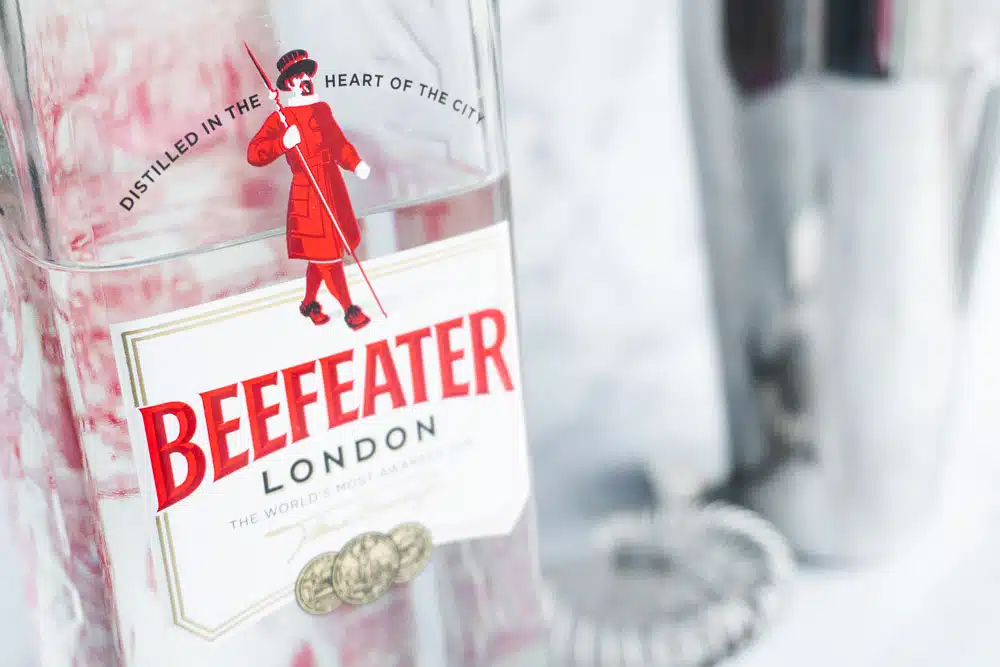 Whichever gin you've got – this cocktail has got enough flavour to carry a *cough* not so nice tasting gin *cough* BUT it will be a million times better if your gin doesn't taste like a rats ass to begin with.
I've made it using Beefeater and also my own gin The Ginfluencer which I made at the City of London Distillery (yes, that's right, I created my own gin and now life is complete) – The Ginfluencer has lots of citrus and a few spicy notes so it was perfect for this watermelon gin cocktail.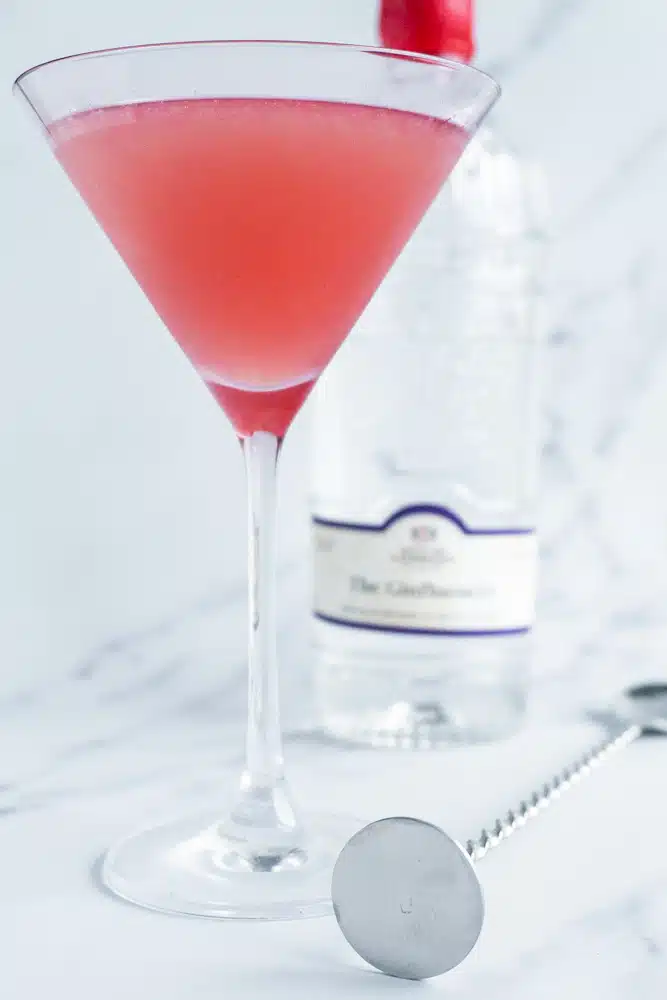 Do I sound smug? I mean, I did make my own gin so I think I'm allowed to be just the tiniest bit smug right?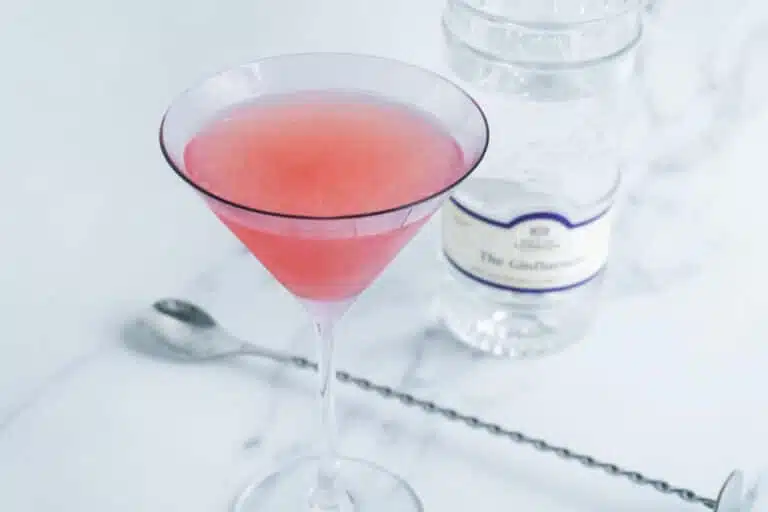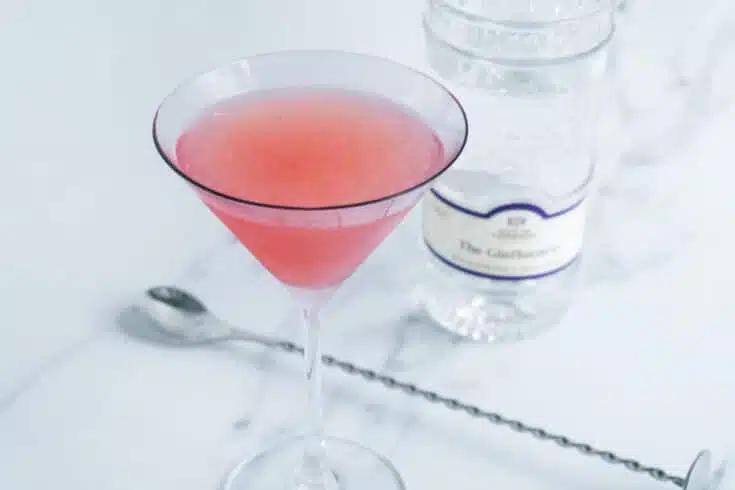 Yield:

Serves 1
Easy Watermelon & Chilli Martini Cocktail Recipe
Create a mouthwatering watermelon and chilli martini - a deliciously refreshing gin cocktail with a little kick.
Ingredients
For the Chilli simple syrup
1 part water
1 part sugar
Chillies
For the cocktail
50ml gin
50g watermelon
Juice of ½ lime
10ml chilli simple syrup
Instructions
Blend the watermelon and lime juice for 5-10 seconds, strain through muslin into the shaker (this should give you around 100ml of watermelon & lime juice)

Add the gin, lime, simple syrup and a handful of ice.

Shake for 20-30 seconds, strain into a martini glass. Garnish with a chilli for an extra kick.

Nutrition Information:
Yield:
1
Serving Size:
1
Amount Per Serving:
Calories:

360
Total Fat:

1g
Saturated Fat:

0g
Trans Fat:

0g
Unsaturated Fat:

0g
Cholesterol:

2mg
Sodium:

204mg
Carbohydrates:

198g
Fiber:

2g
Sugar:

189g
Protein:

3g
Love this? Save and Share on Pinterest!