Ready to discover the best things to do in Austin, Texas? Explore cool places to visit and unmissable Austin attractions with this insider's guide.
When it comes to USA trips, Texas is often overlooked. But with so many things to do in Austin alone, it needs to be right at the top of your bucket list.
Not convinced? From where to find the most poppin' cowboy boots to mouth-watering brisket and natural landmarks you NEED to visit, these are the best things to do in Austin, Texas…
Looking for a hotel in Austin? I love Sonder Bouldin Creek – check rates and availability here.
Top 5 Things to do in Austin, Texas
Texas State Capitol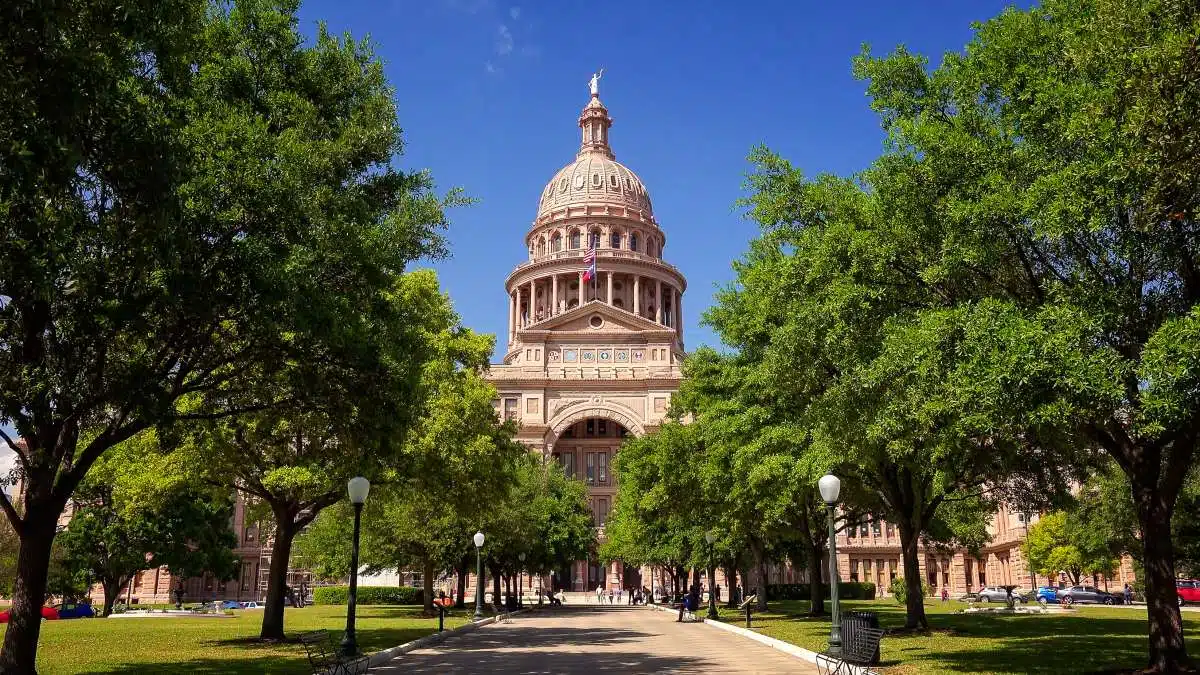 Checking out the Texas State Capitol is one of the top things to do in downtown Austin.
Not only is the building hella impressive – and even more so in autumn when the trees are adorned with pretty fall-toned leaves – but it's the sixth tallest state capitol in the US.
That's right, it's even taller than the one found in Washington D.C.
Book Your Austin Tour (Includes the Capitol Building) Here
Franklin BBQ
No guide to what to do in Austin would be complete without recommending you chow down at Franklin BBQ.
The iconic location on 11th Street gets very busy, so prepare to wait in long lines for the famous BBQ brisket, but let me tell you it's worth it even for a sniff.
They boast that they serve the best BBQ in the world… and I have to say I agree.
What to order? Load up on pulled pork and brisket by the pound, and share with friends. Or don't. Get the potato salad on the side and round off with the sticky pecan pie. No regrets.
Mount Bonnell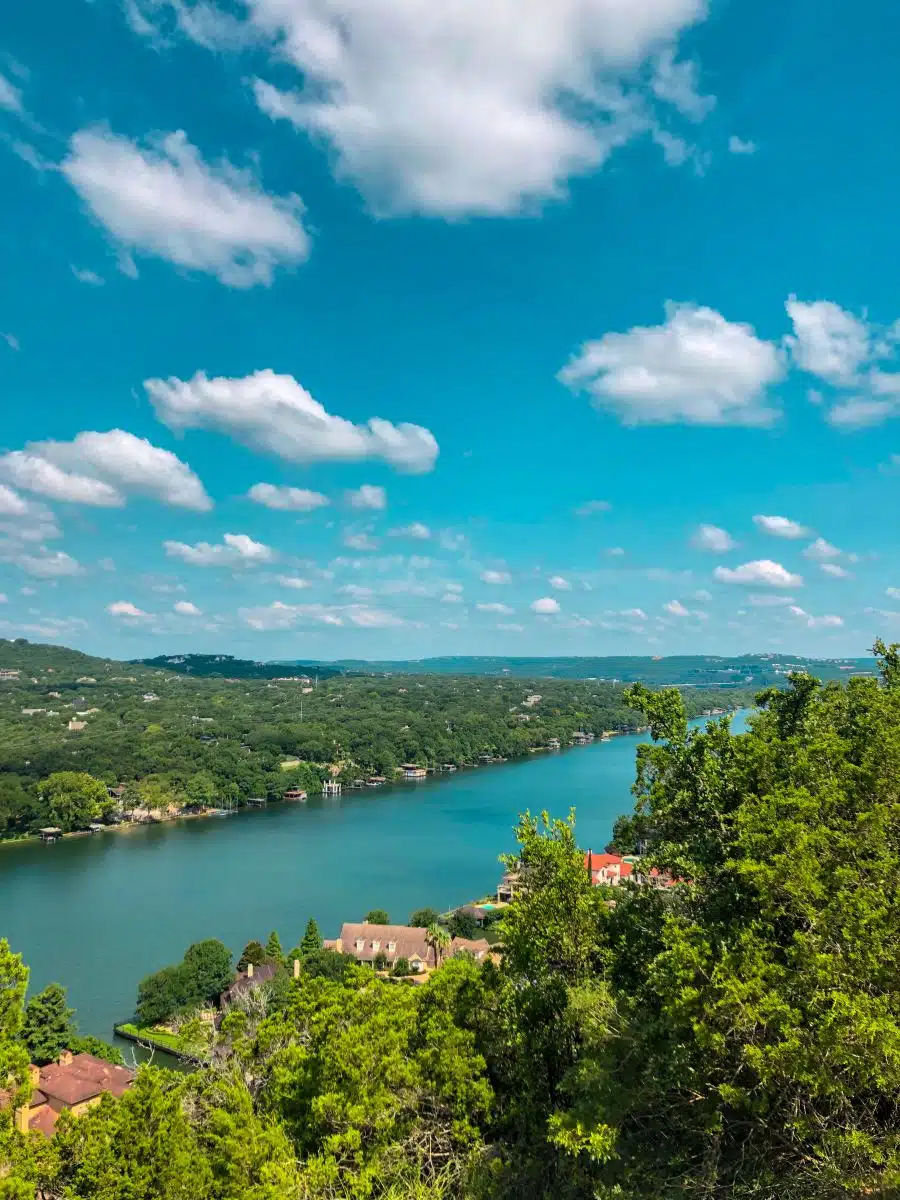 Without a doubt, one of the best Austin Texas activities involves hiking up Mount Bonnell. Named after George Bonnell, who served as Commissioner of Indian Affairs for the Texas Republic, this mountain spot offers unparalleled views of the city.
Not to mention, it's a fairly easy climb to the 360 bridge and, if you time it just right, you can catch sunrise and sunset from above.
Although, if you would rather appreciate Texas' rugged beauty from afar (and the comfort of a car), check out this guided tour of the panoramic spots of Austin, which includes dreamy views of Mount Bonnell.
Book Your Guided Tour of Mount Bonnell Here
Hamilton Pool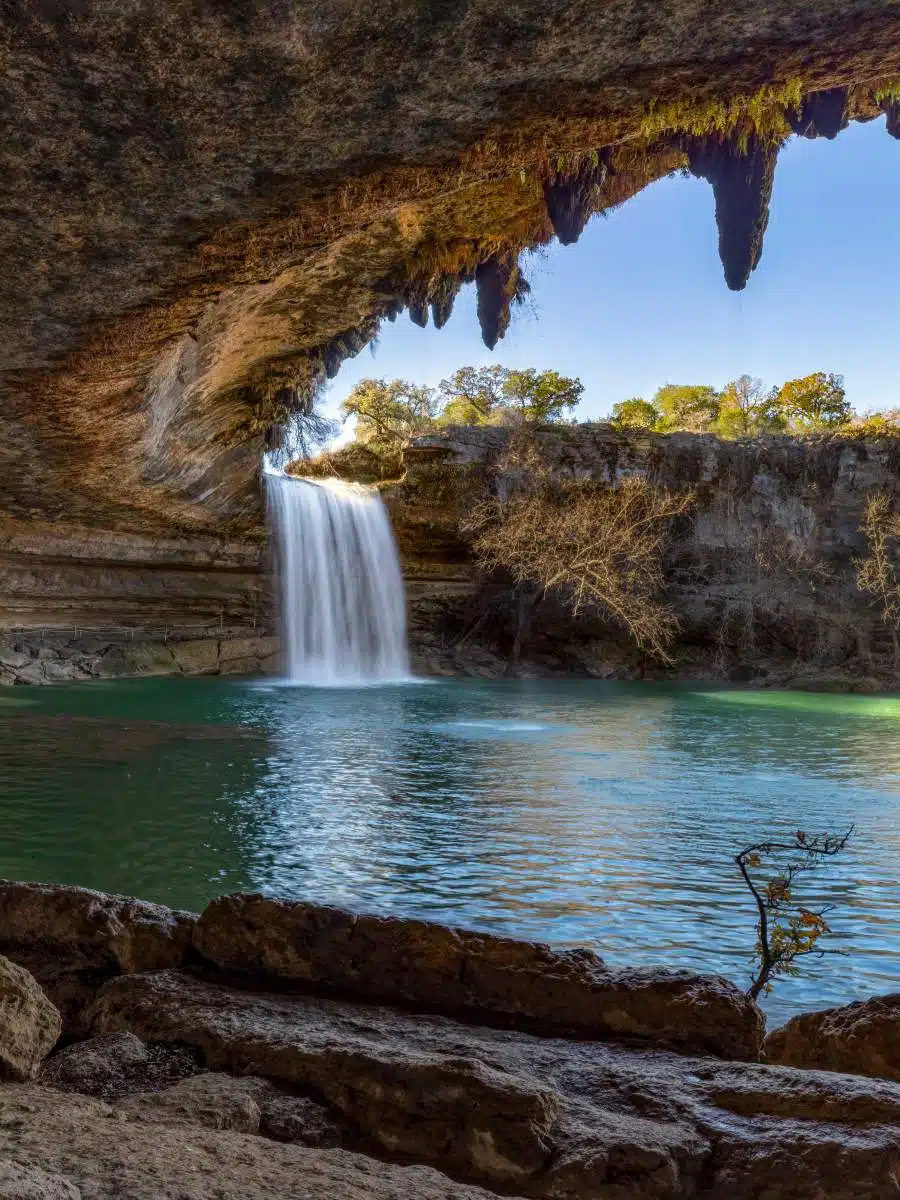 For those looking to escape the busy city and instead reconnect with nature, visiting Hamilton Pool is the best thing to do in Austin.
Created as a result of Hamilton Creek spilling out over the limestone outcroppings, a picturesque natural pool sits at the bottom of the waterfall.
Here you can go hiking and swimming – though, you'll need to check in advance if you're permitted to swim, as pesky fallen rocks often put the kibosh on things. It's also a great place to go wildlife spotting, so keep your ears open for the dulcet tones of the golden warbler.
The Driskill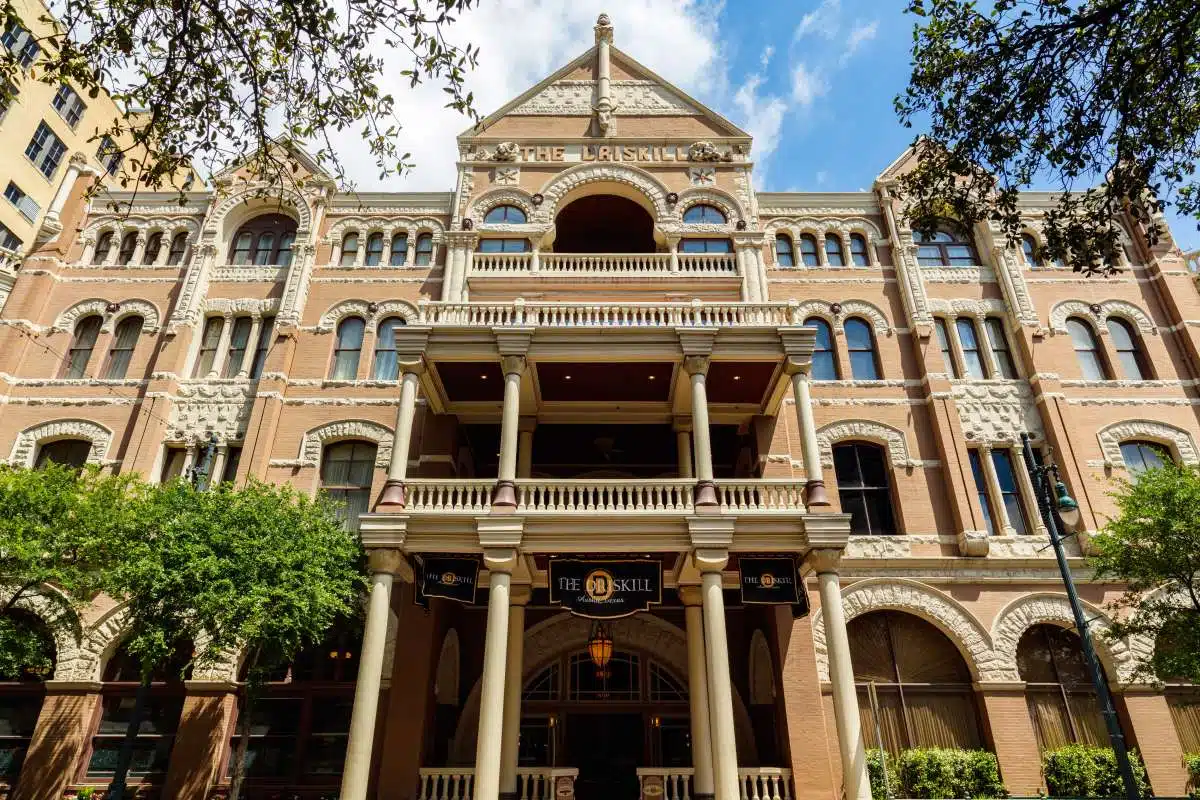 Even if you don't quite have the budget for a room inside, one of the best things to do in Austin is to pay a visit to the infamous Driskill Hotel.
This Romanesque building completely contrasts every other architectural style you will find in Austin and, since being completed in 1886, it has been the oldest operating hotel in the city. Not to mention it's one of the most famous hotels in all of Texas.
Brilliant Things to See & Do in Austin During the Day
Hike and Bike around Lady Bird Lake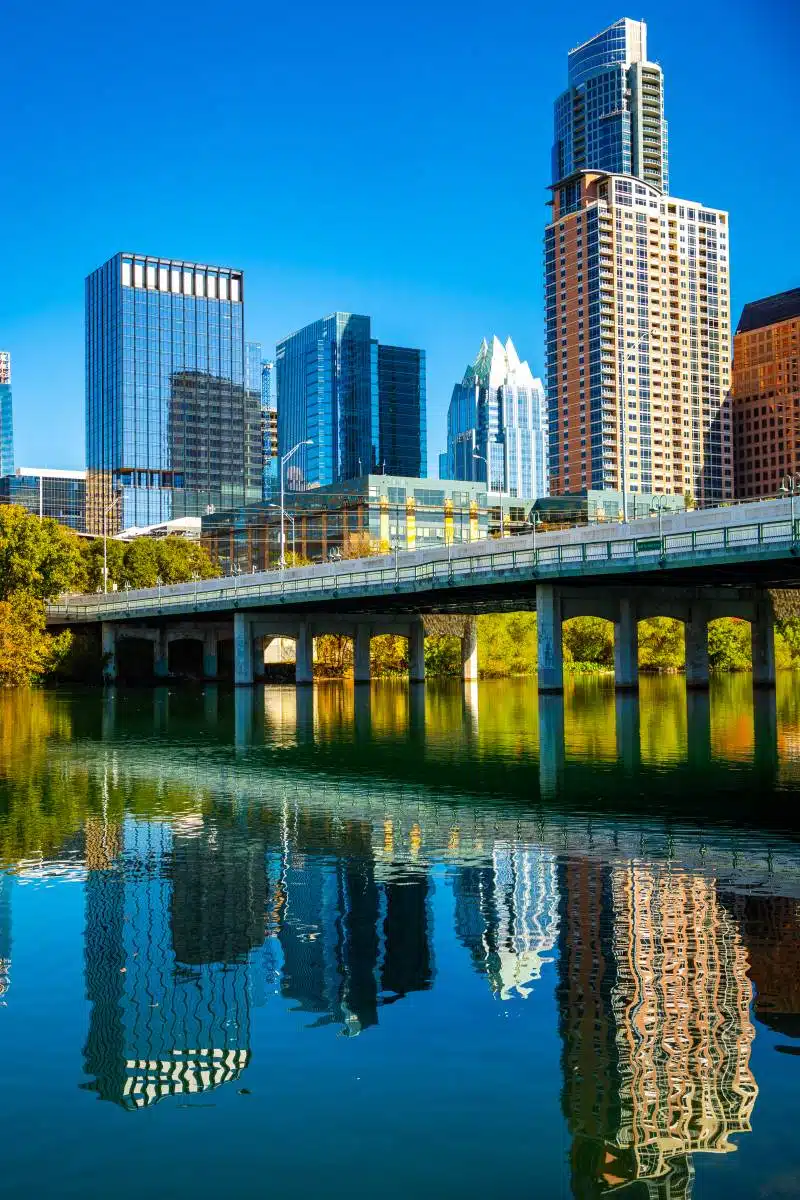 Topping the list of things to do in Austin is the famous hike and bike around Lady Bird Lake – the route is filled with historic bridges, romantic sights, as well as some of the city's most popular tourist attractions.
Feel free to embark on this journey solo, though taking this guided tour is an excellent (and easy) way to get the most out of your time at the lake.
The trail is incredibly scenic, and takes less than a couple of hours to complete.
Book Your Lady Bird Lake Tour Here
Zilker Park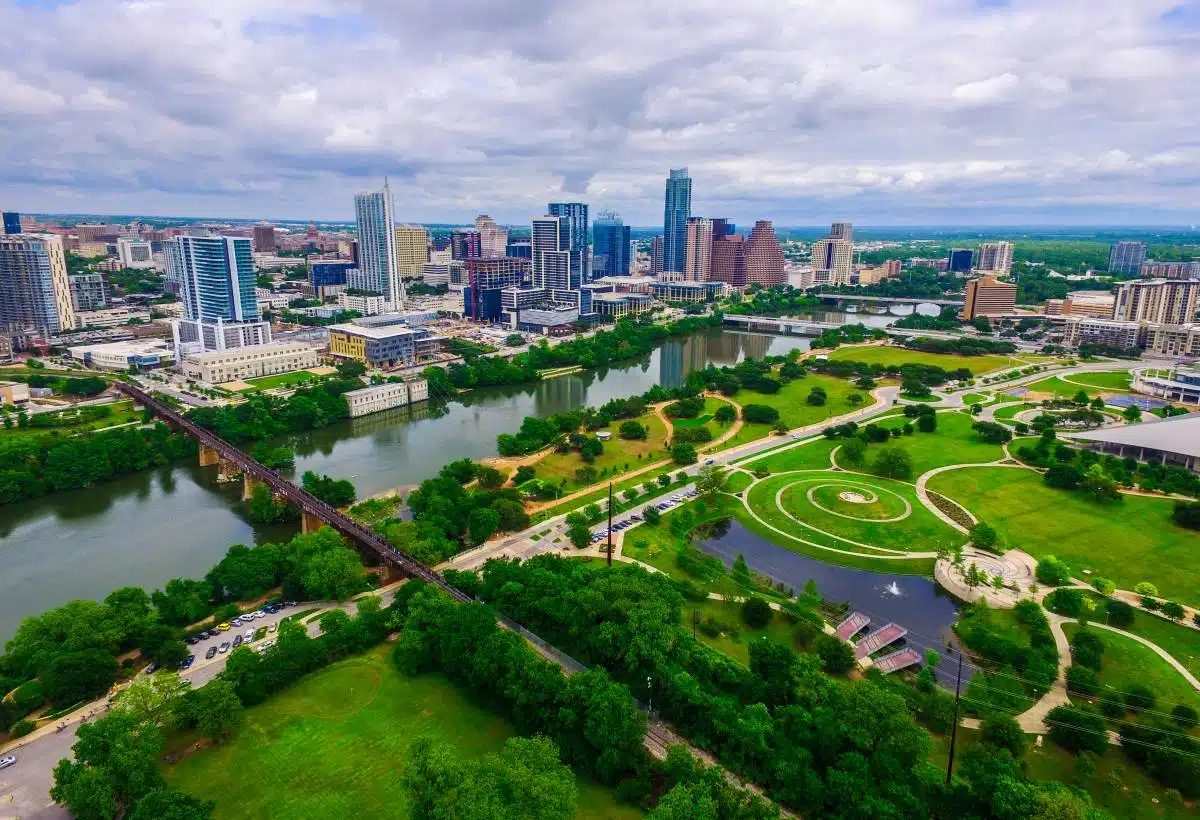 Sitting near the centre of the city, spending an hour or two wandering around Zilker Park is one of my favourite free things to do in Austin.
Stretching across 301 acres, the vast green space is filled with an abundance of natural wonders, including a spring-fed pool, as well as a theatre. The park acts as the heart (and the lungs) of the city, so expect to find plenty of locals and tourists alike sprawled out across the grass.
LBJ Presidential Library and Museum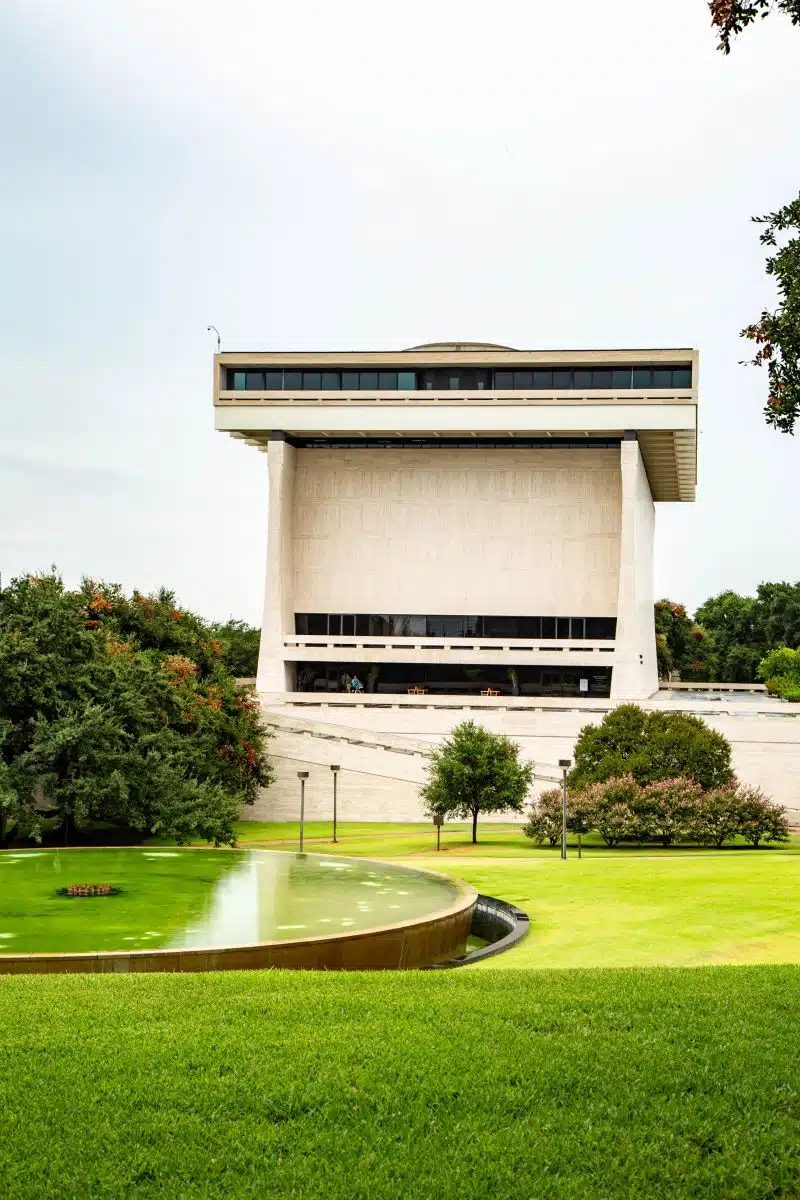 The LBJ Library and Museum is an important establishment in Austin, dedicated to the life and work of Lyndon B. Johnson.
Housing more than 45 million pages of historical documents, this is a fascinating activity in Austin for history buffs looking to catch a glimpse into the life of the former President. The museum also boasts plenty of permanent and rotating exhibits, including the likes of Lady Bird Johnson's Office and LBJ's Presidential Limousine.
Allens Boots
In my opinion, it should be illegal to visit Texas and not scope out cowboy boots.
When it comes to fun things to do in Austin, the folk over at Allens Boots have been suiting and, quite literally, booting locals and tourists alike for decades.
Whether you want to go all out and grab yourself a pair of toe-tapping stompers, or maybe settle for an authentic cowboy hat, Allens has got you covered.
University of Texas Tower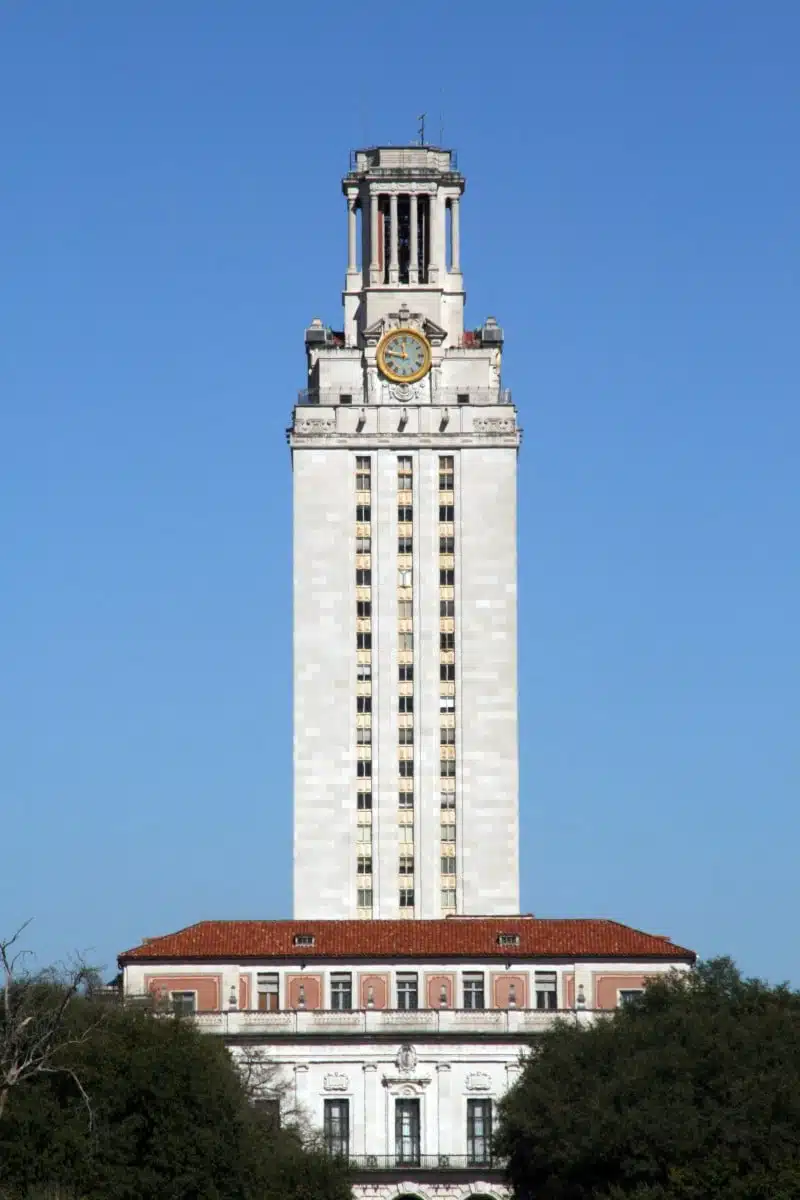 On the Austin Campus, the University of Texas Tower stands at 307 feet and boasts 27 floors – it's one of the most iconic buildings in Texas, period.
Head there in the evening to see the tower illuminated in white – and if you're lucky you might just catch it in a rainbow of colours, marking a special occasion.
Austin City Limits
If you're a music lover, you'll definitely want to time your visit to Texas to coincide with Austin City Limits, the largest music festival in the area, taking place in October each year.
Zilker Park is totally transformed from a green haven to a grungy festival space, with previous big names including Billie Eilish, Doja Cat, and Radiohead. Quite a random selection, I know.
Alongside musical acts, you'll find plenty of tasty street food to chow down on as the warm Austin sun beats down. Heaven.
Explore on an E-Bike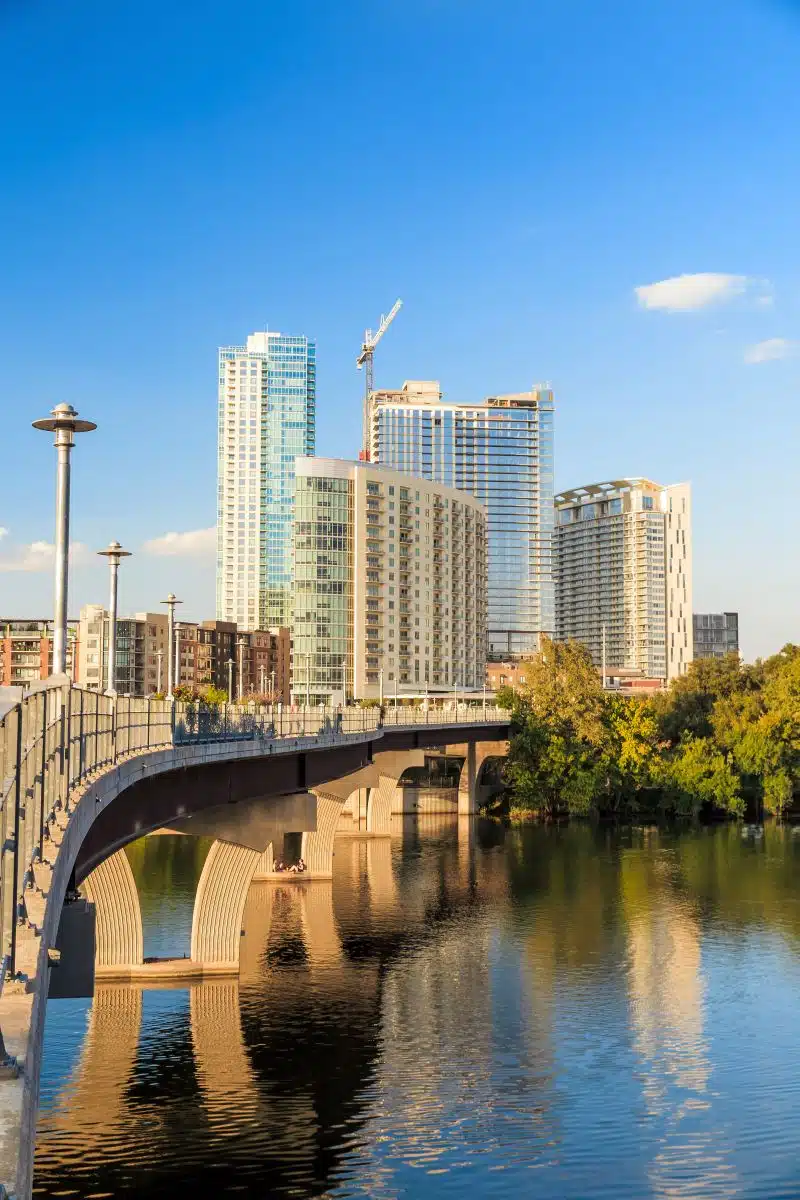 Looking for cool stuff to do in Austin? Look no further.
There's no better way to explore the city than on bike. Which is exactly why you need to check out this E-bike tour of the city, which takes you past all the top landmarks, murals, and statues – with a friendly guide who will tell you about them all.
Included are the likes of the Capitol Building and Barton Springs, as well as the coolest nightlife spots.
Book Your Bike Tour of Austin Here
Laguna Gloria
Part garden, part contemporary art gallery, Laguna Gloria is a haven of creativity less than ten minutes away from downtown Austin.
The outdoor sculpture park features work by the likes of Wangechi Mutu, Terry Allen, and Ryan Gander, spanning from abandoned cars-turned art and fascinating sculptures peering over the water's edge.
Laguna Gloria also boasts the Driscoll Villa, an iconic venue often used for local weddings and exciting events. Make sure you snap a few pictures while you pass by.
Pssst… Head there on Thursdays when admissions are free all day. You're welcome.
Desert Door Distillery
Looking for unique things to do in Austin? It wouldn't be a well-rounded guide to the Texan capital without adding in a dash of booze.
In fact, the mystical Desert Door Texas utilises Sotol in their spirits – which was the main ingredient used in the first-ever alcoholic drink in Texas. Do it for the culture!
Head to their tasting room – which resembles the coolest ranch you'll ever see, complete with a cosy fireplace – and settle down for an afternoon of cocktail tasting. Order yourself some food from the Eden Food Truck outside and you're golden.
Bullock Texas State History Museum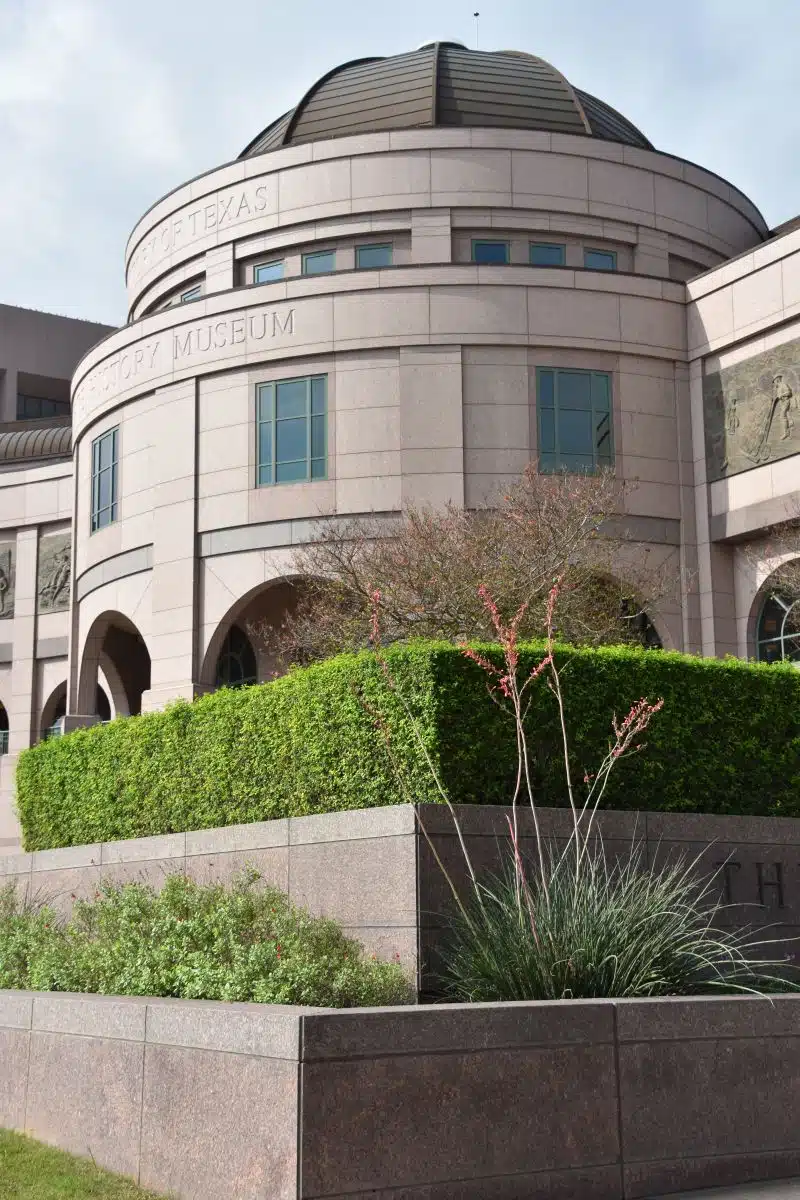 Located just a few blocks north of the Capitol building, Bullock Texas State History Museum is a must do in Austin, offering a fascinating glimpse into Texas' colourful history.
The museum was named after the 38th Lieutenant Governor, Bob Bullock, who was influential in the opening of the museum and passionate about preserving the state's history.
Lady Bird Johnson Wildflower Centre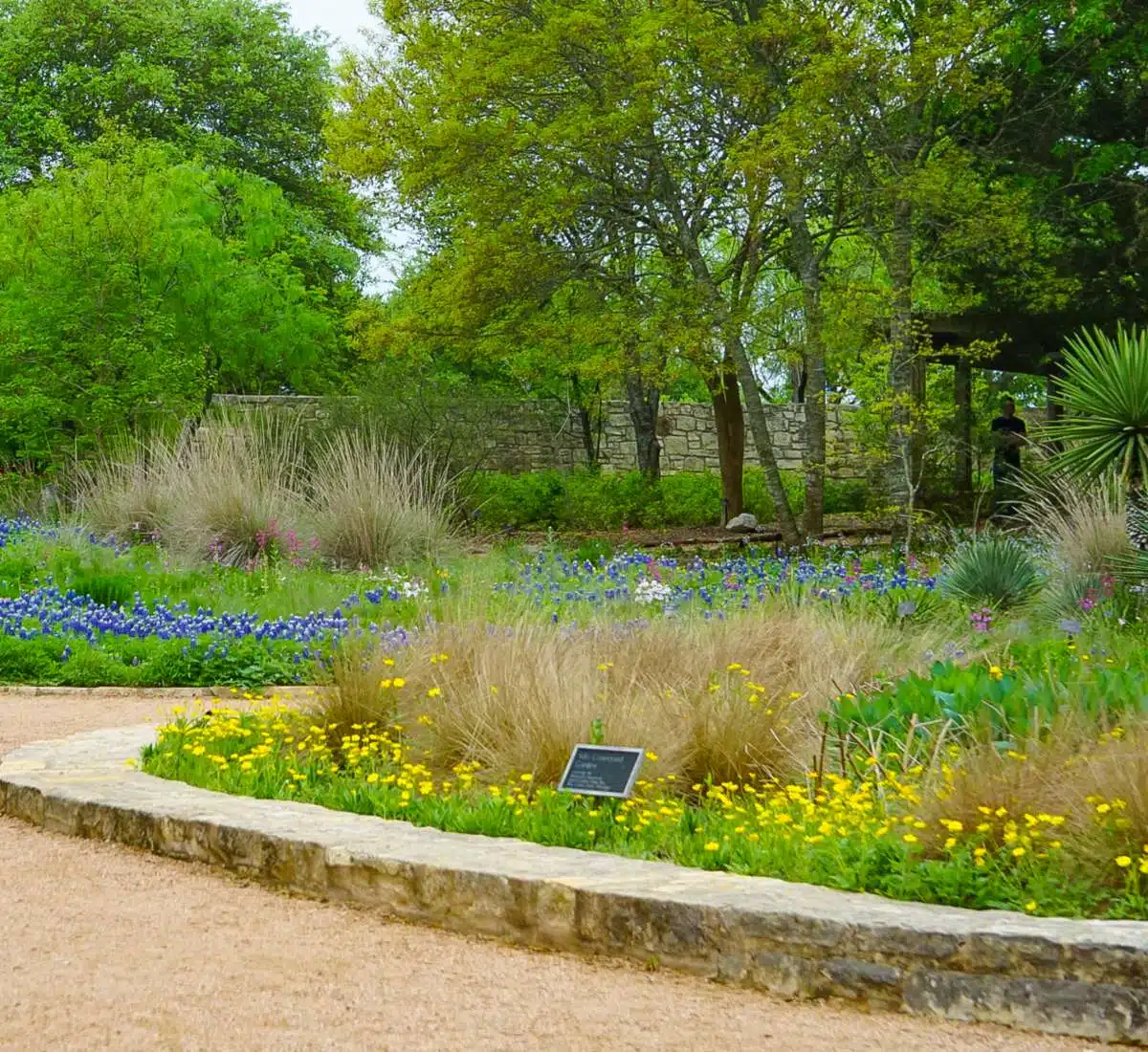 Keen botanist? One of the coolest things to do in Austin Texas is spend an afternoon at the Lady Bird Johnson Wildflower Centre. Recently given the title of the Botanic Garden of Texas, you'll be able to peruse an extensive collection of native plants in full bloom.
They also have a plant database online, so you can check in advance if your favourite Texas flower will be in season at the time of your visit.
HOPE Outdoor Gallery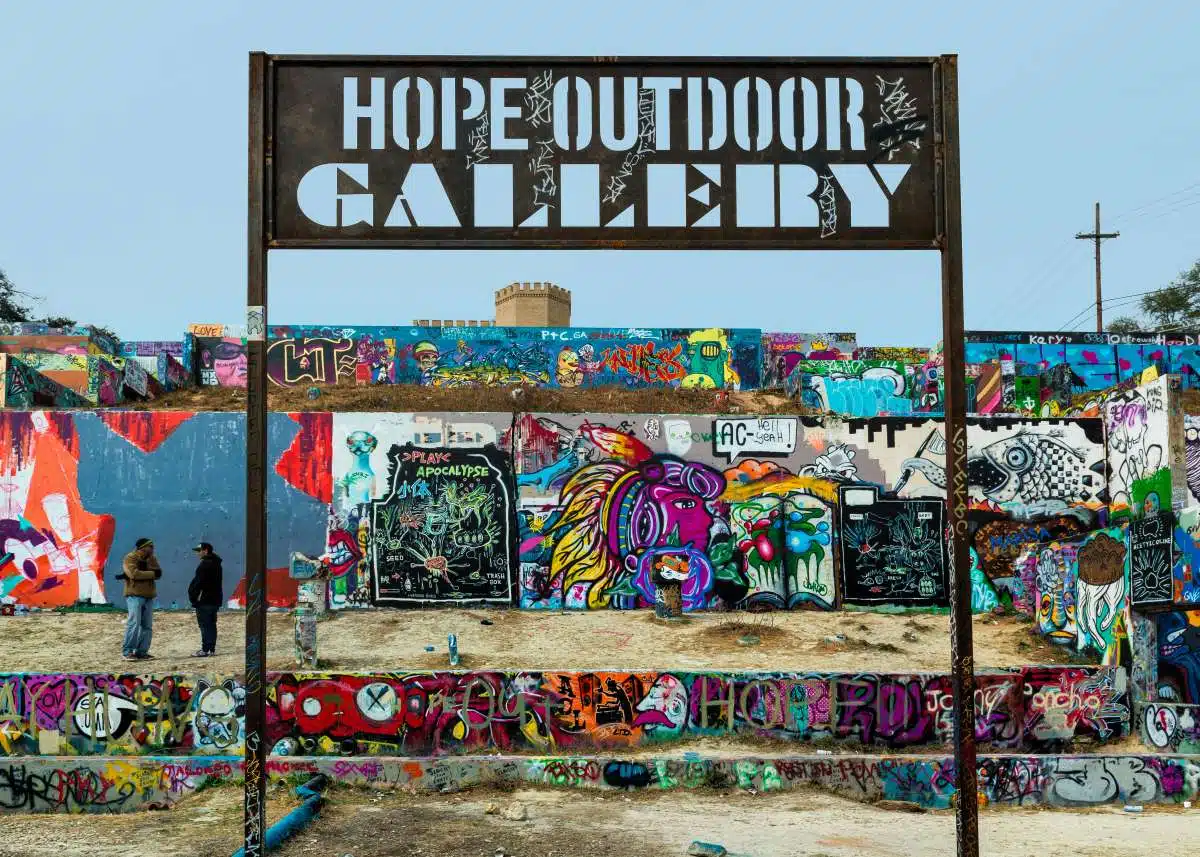 Austin's street art scene is seriously cool. Alright, it might not quite rival that of Denver's, but it gives it a good go, for sure.
And if you're looking for fun outdoor things to do in Austin, nothing quite beats the HOPE Outdoor Gallery. What was a once abandoned construction site has been transformed into a community park.
In fact, it's the largest outdoor graffiti wall in Texas – mosey on down for a nosey around some of the most talented Austinian street artists' work.
Note: The outdoor gallery is currently closed but is set to reopen towards the end of 2022 – make sure you add it to your Austin bucket list!
Cool Things to See & Do in Austin at Night
Take a Haunted Austin Tour
Ready to get spooked? For an alternative take on Austin's history, head on a guided ghost tour to discover the city's haunted past.
From violent serial killers to ghosts who refuse to leave, the tour guide will transport you to a Victorian-era Austin through spots like the Driskill Hotel, the Old Courthouse, and Moonlight Tower.
Book Your Haunted Austin Tour Here
Paramount Theatre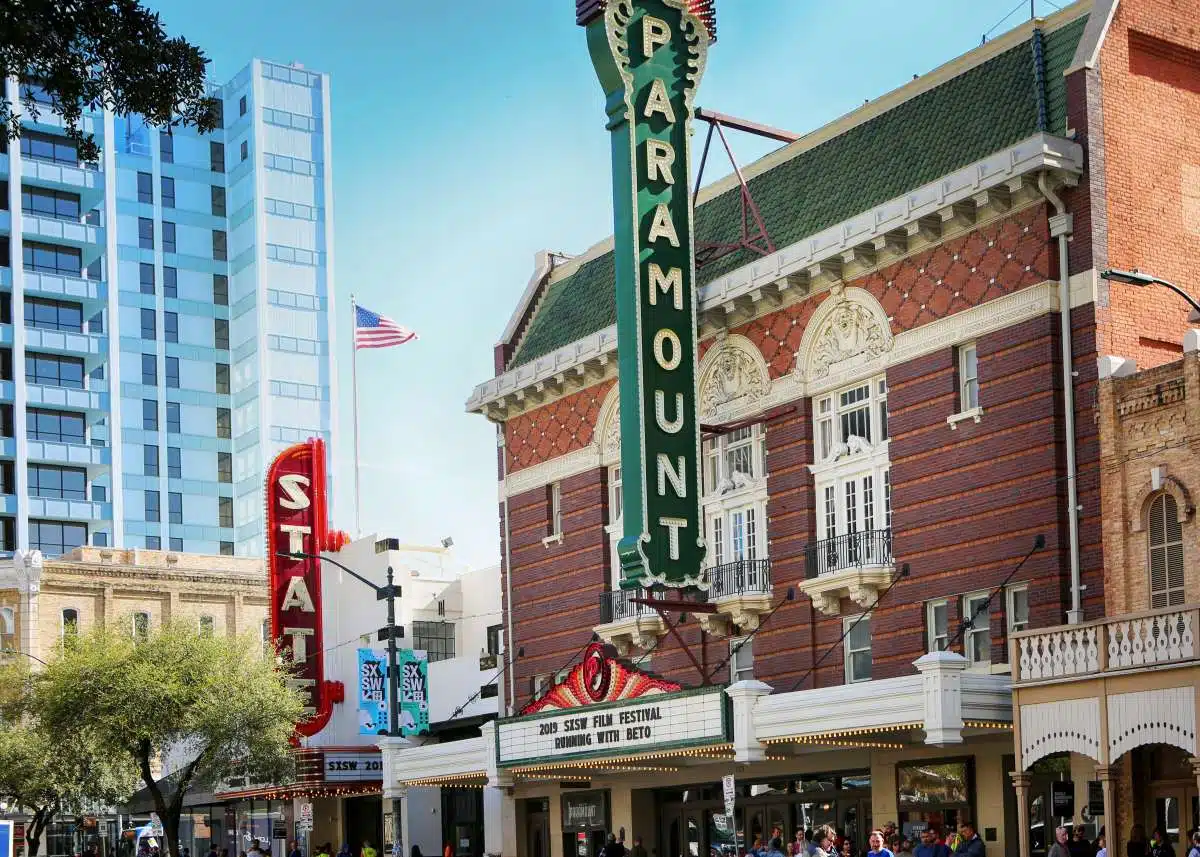 When it comes to the best things to see in Austin, the Paramount Theatre should be right at the very top of your list.
This historic theatre was first established in 1915 and has since been graced by the likes of Harry Houdini, Katherine Hepburn, and Miles Davis, to name just a few.
I highly recommend catching a show to get a glimpse of the retro auditorium, though the outside is equally as impressive, and steeped in over 100 years of history.
Torchy's Tacos
Ask the locals where to dine and they'll all give you the same answer: Torchy's Tacos.
Not only did this small chain start its life on the back of a red Vespa in Austin, but it packs some serious heat in its menu – take, for example, the fried chicken and waffles blanketed in a tortilla.
If you're hungry, get a classic AND a wild option… Thank me later.
Congress Avenue Bridge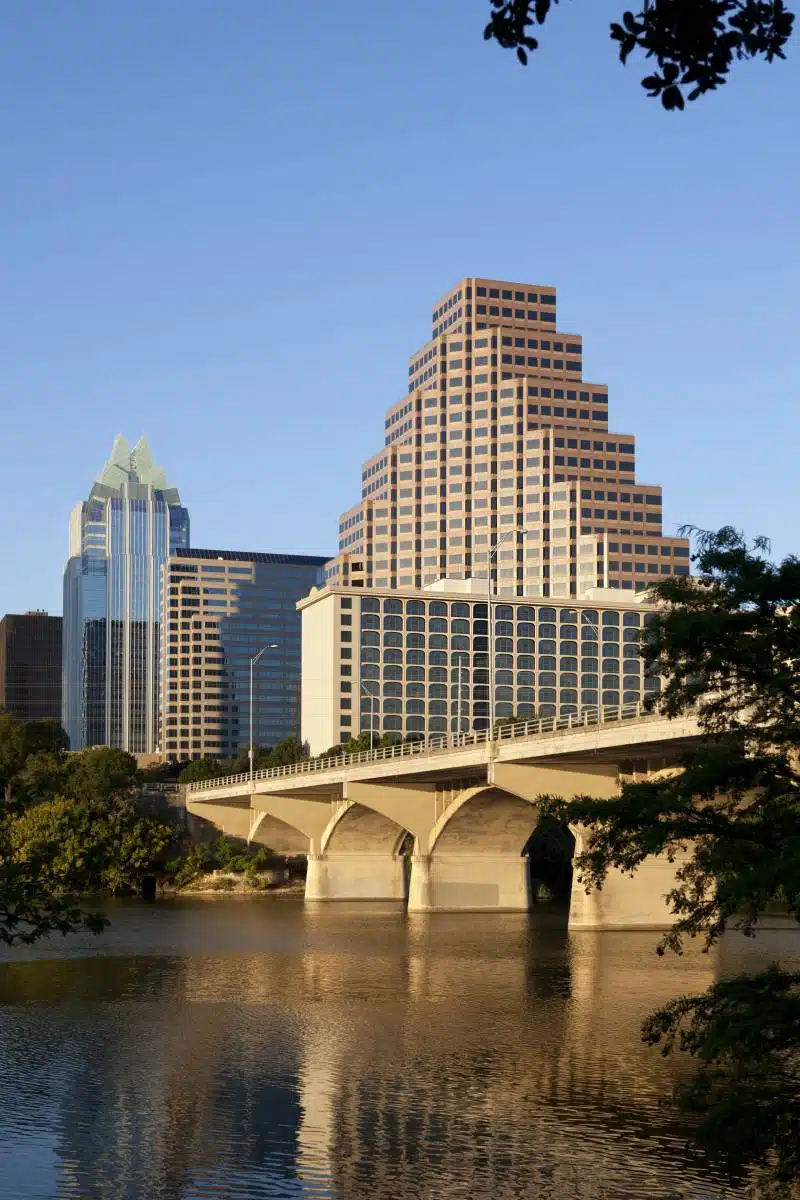 When it comes to cool things to do in Austin at night, you'll struggle to find anything that beats bat-watching at Congress Avenue Bridge.
The Austin bats have gathered somewhat of a cult following around the world, with the colony estimated to host 1.5 million creatures.
Every night between mid-March and November, these cute animals appear from underneath the bridge and head out into the sky to forage for food – it's a breathtaking, albeit bizarre, sight.
Top tip: Head to the bridge around an hour before sunset for the best chance of catching the bats.
Book Your Sunset Kayaking Bat Tour Here
Things to do in Austin, Texas : Practical Tips for Your Trip
How Long to Visit in Austin?
There are so many wonderful things to see and do in Austin Texas, so I would say that you need three days minimum to explore the sights.
If you can, giving yourself up to a week in the Texan capital will allow you to get off the beaten path and explore outside of downtown – especially if you're looking to hike or explore the countryside.
Best Time to Visit Austin
Texas gets extremely hot during the summer, so September to November or March to May are the ideal times to visit.
Where Should I Stay in Austin?
Sonder Bouldin Creek (Mid-Range)
This mid-range hotel offers the best of Austin's rustic chic charm through its dreamy decor, and each suite comes with a private balcony, so you can spend warmer evenings admiring the city.
Check Rates and Availability for Sonder Bouldin Creek on Booking.com
The Otis (Luxury)
Part of the Autograph Collection, The Otis delivers all-out luxury. Not only are you just around the corner from the Capitol building, but each room is fully equipped with a (huge) fluffy bed and regal marbled bathroom.
Check Rates and Availability for The Otis on Booking.com
Recommended Tours in Austin
Things to do in Austin: Map
Read More USA Travel Guides & Tips