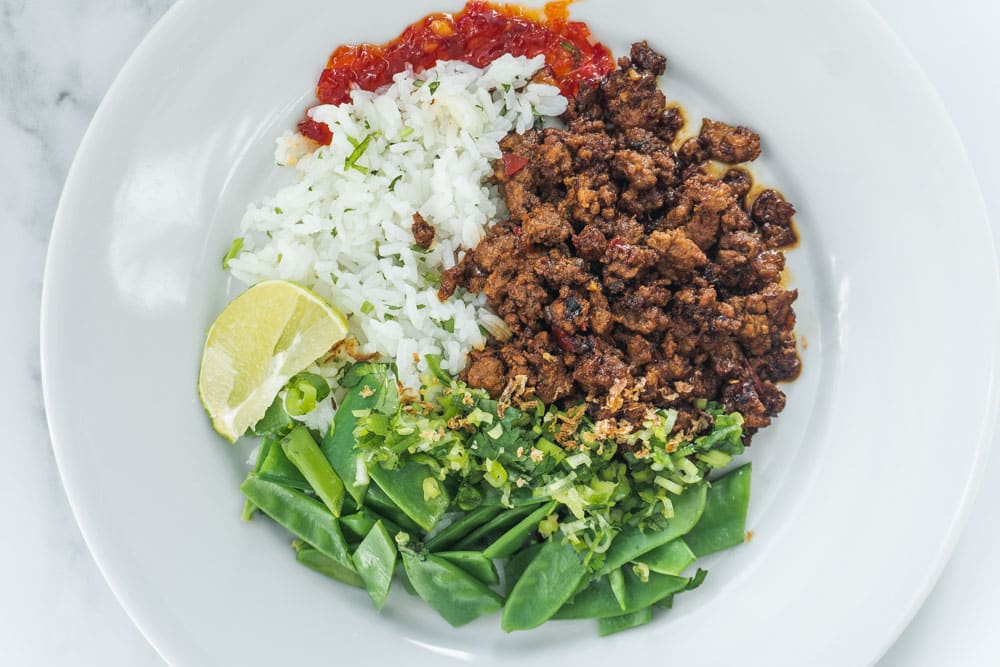 Looking for a quick and easy meal with a bit of a kick? This sweet chilli pork with lime and coriander rice will add a bit of pep to your plate.
Everyone is going through a torrid time at the moment – whether it's cancelled travel plans, decisions about whether to self-isolate or undergoing the rigmarole of full-blown quarantine, March 2020 is not shaping up the way that anyone planned it.
What are you doing to keep yourself busy during these difficult times?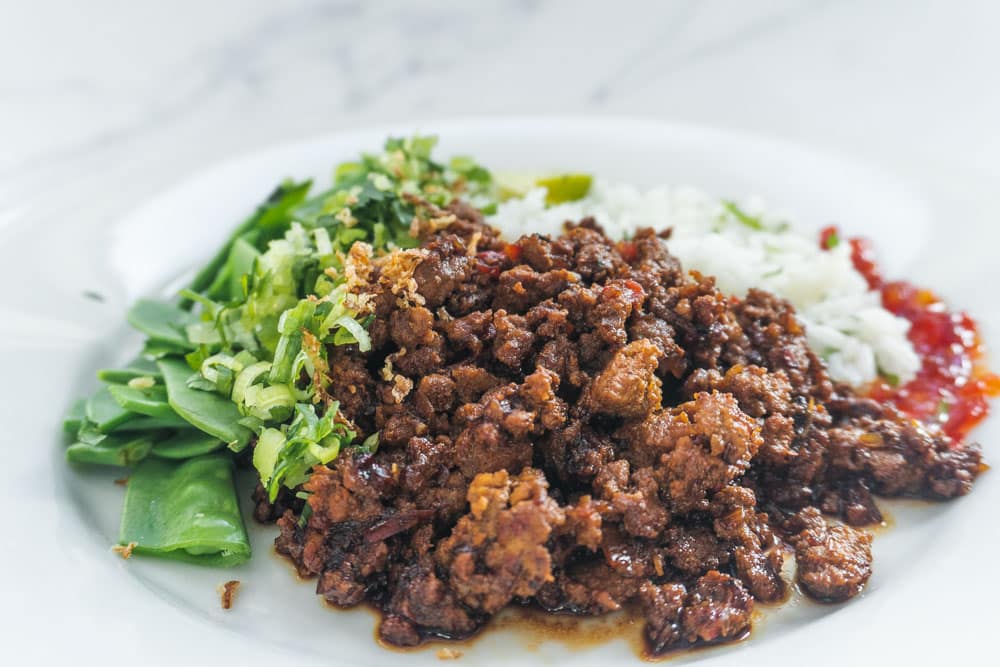 Today I should be in Lisbon, researching a series of pieces – baking in the early-spring sunshine and feasting on delicious Portuguese dishes.
Well, I'm pretty sure we can all agree right now that things don't always go to plan, which is how I find myself (mostly) self-isolating with my partner Jon in our flat in Croydon.
You'd think I'd be distraught right?
Hell, I thought I'd be distraught – the wave of virus that has swept around the world, leaving a trail of uncertainty and ruined plans in its wake has savaged my travel site because… well, no-one actually wants to travel right now and quite rightly so.
Who wants to get on a plane when they're not sure if they'll have to spend the whole trip hiding in their hotel room like a vampire desperately avoiding sunlight?
But turns out, things aren't that bad. Well not personally anyway.
In the past few days I've made some delicious Moroccan pan-fried mackerel, a hearty beef and stout stew, watermelon and chilli margaritas and now this steaming plate of sweet chilli pork – redolent with lingering heat – an irresistible combination of sharp, sweet, rich, fat and salt that makes for the perfect lunch or supper.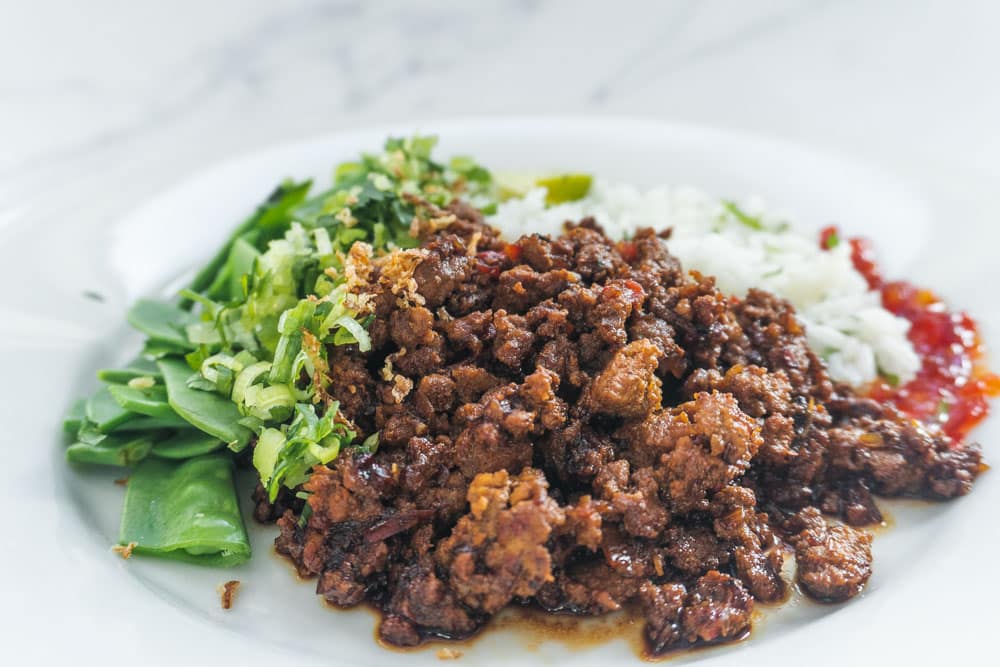 It has all the richness of a takeaway without any of the guilt (if you were inclined to feel guilty anyway, I generally don't), all the appearance of a slaved-over meal when in fact, it only takes half an hour to prepare. From scratch.
I wanted to create a dish that wasn't too heavy – so to contrast with the pork's deep flavours, I've balanced it out with crunchy super-fresh mangetout and rice given an extra touch of zing by some lime zest and freshly chopped coriander.
Tips for Making the Sweet Chilli Pork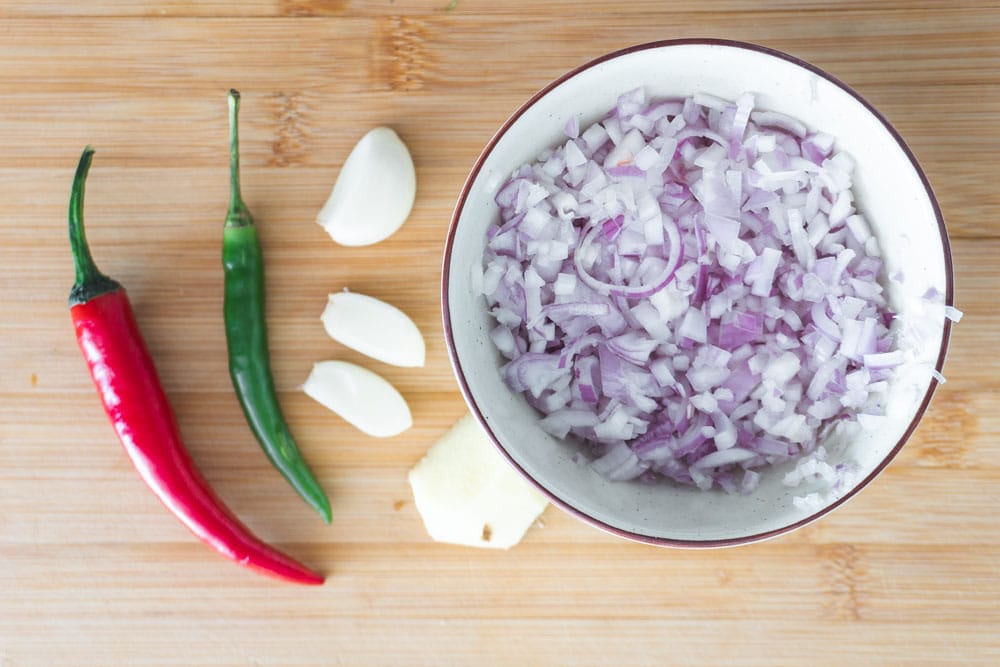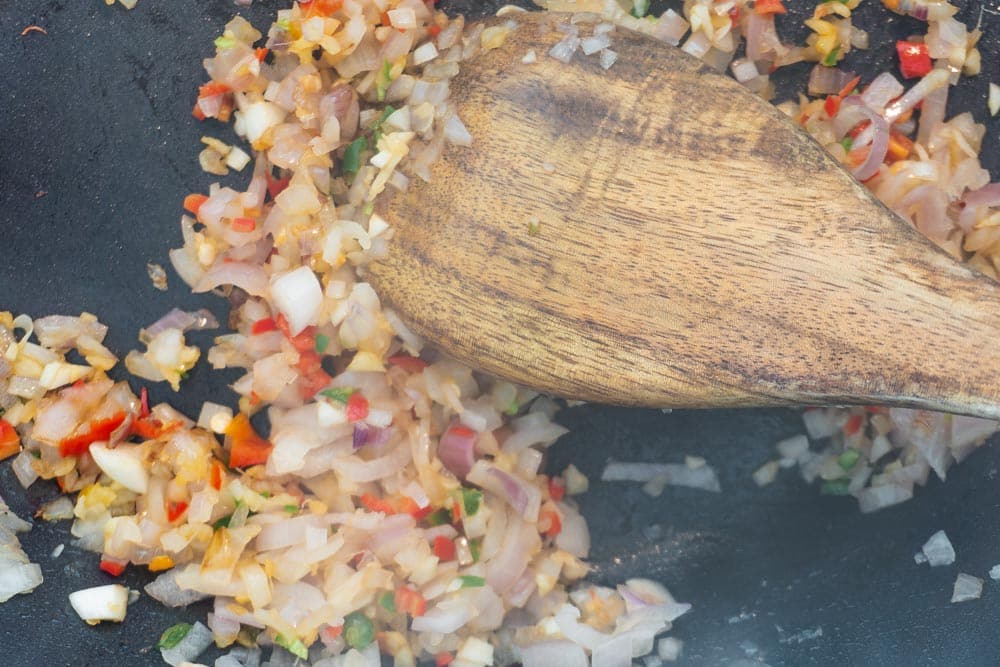 Ensure you Brown the Pork Thoroughly Before Adding the Liquids
The goal here is to get a nice dark browning on the crispy chilli pork without drying it out as you fry it. That means ensuring you're frying it in a pan that's large enough and keeping an eye on the heat as you cook it.
Use Dark Soy Sauce
Dark soy sauce is a handy trick to have up your sleeve if you want that uber-umami flavour and thickness to your sauce without having to spend ages reducing normal soy sauce down. You can make this recipe with normal soy sauce but it won't have quite the same flavour.
Use Homemade Sweet Chilli Sauce
The first time I was taught how to make sweet chilli sauce in Thailand was A REVELATION. There I'd been dropping money on the super-sweet and not so hot chilli sauce in my local supermarket, when it turns out that making chilli sauce is easy as pie. Easier than pie in fact.
I'll be putting up my recipe for sweet chilli sauce soon but I'd encourage you to play around with the chillies you use to find a heat level and sweetness that's right for you.
At the moment, I'm loving making mine with a combination of sweet but blow your head of hot scotch bonnets and much milder, larger red chillies to tamp the heat down a bit.
The result is a sticky, fruity but not too sweet chilli sauce that I would literally ladle all over my cereal if I could (OK, maybe that's taking it a bit too far).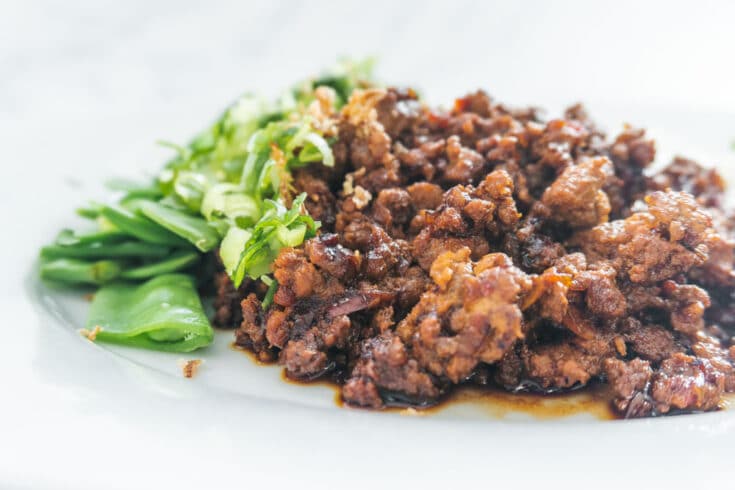 Yield:

Serves 4
Sweet Chilli Pork with Lime & Coriander Rice Recipe
This quick and easy sweet chilli pork recipe brings together sweet, sour and spicy in a dish you can't help but love. Perfect for lunch or an easy dinner.
Ingredients
500g pork mince
2 shallots
1 birds eye chilli
1 red chilli
Thumb-sized piece of ginger
3 garlic cloves
2 tablespoons dark soy sauce
2 tablespoons sesame oil
1 tablespoon rice vinegar
2 tablespoons sweet chilli sauce
1 spring onion
Crispy fried shallots
For the Rice
2 cups basmati rice
4 cups water
Zest of 1 lime,
2 tablespoons chopped fresh coriander
Pinch of salt
To Serve
150g mangetout
1 lime, quartered
Instructions
Chop the shallots, chillies, ginger and garlic to a fine dice.

Heat 1 tbsp of the sesame oil on a medium heat in a large frying pan - add the shallots and fry for 2 minutes, stirring to ensure they don't stick.

Add the chilli, garlic and ginger to the pan, stirring continually for another 2 minutes.

Turn up the heat to medium high before adding the remainder of the sesame oil and, when that's hot, the pork mince. Ensure you break up the pork using the back of a wooden spoon so it's not clumpy.

Turn the heat down to medium and slowly stir the pork until it's lightly browned all over.

Add the dark soy sauce, rice vinegar, sweet chilli sauce and reduce heat to low. Leave to cook for 10 minutes.

In the meantime, cook the rice - adding the rice, water and pinch of salt to a pot. Bring to the boil, turn down the heat to medium-low, put on the lid and leave for 10 minutes.

Chop the mangetout and microwave for ½ minute with a little water.

Chop the spring onion and coriander (separately).

Once the rice is cooked, stir through the lime zest and the fresh coriander.

Serve the sweet chilli pork, rice and the mangetout with a slice of lime on the side. Top with spring onions, crispy fried shallots and freshly chopped coriander.

Nutrition Information:
Yield:
4
Serving Size:
1
Amount Per Serving:
Calories:

890
Total Fat:

50g
Saturated Fat:

16g
Trans Fat:

0g
Unsaturated Fat:

27g
Cholesterol:

168mg
Sodium:

1568mg
Carbohydrates:

53g
Fiber:

5g
Sugar:

10g
Protein:

55g
Love this? Save and Share on Pinterest!