Do you ever have one of those moments where you realise you are smashing it at this crazy rollercoaster called life?
It can be hard to give yourself credit when it's due, and I'm no exception to this rule but, you know what?
The moment I took a bite into these doughnuts, I gave myself a firm pat on the back. Not for real, obvs, that would be weird, but I took a moment out to recognise myself as the doughnut queen I was always born to be.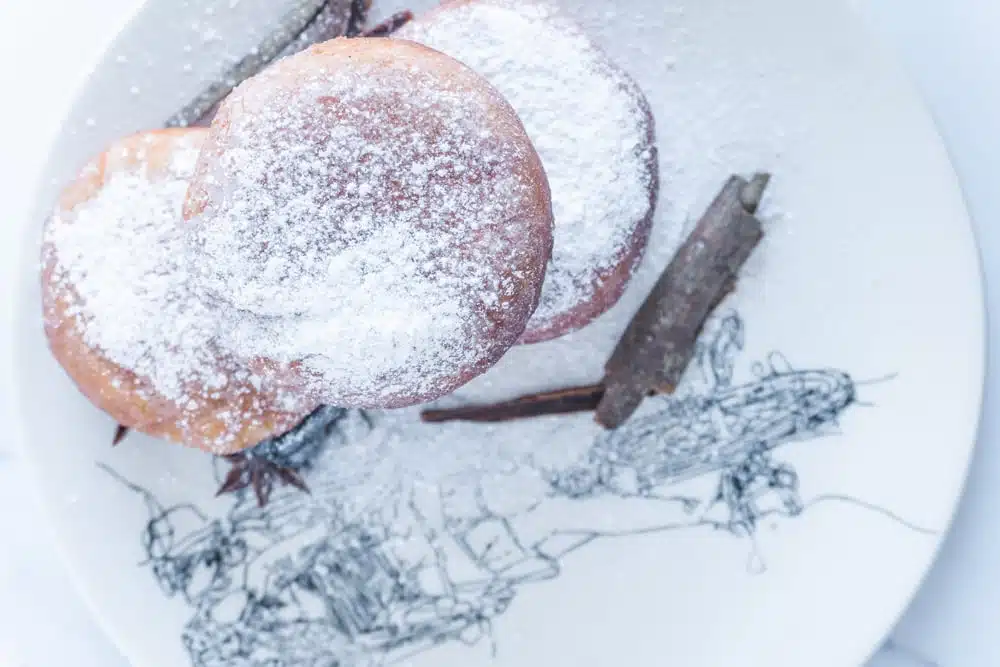 The spiced dough, pleasantly springy, smelling vaguely of Christmas, comfort and happy thoughts, gave way to the deep jam, slightly tart, slightly sweet, shiny, sticky and glorious.
I chewed, I got my fingers dirty, I ate with such abandon that I ended up with jam on my face like I was 3, rather than a *cough* thirty-something year old woman who's mother certainly wasn't running after her to rub spit on her face with a napkin to make her look more presentable.
These are good-old fashioned yeast doughnuts, the kind of jam doughnuts you used to be able to buy in bakeries before the British high street died a drawn-out and painful to watch death.
They are a million times better than that shit you buy at Krispy Kreme (note: never trust anyone who uses a K instead of the correct letter – generally they're insane fantasists who like to think they're kwirky and kool… i.e. horrifyingly embarrassing).
I won't even do them the disservice of comparing them to the little piles of sadness you buy by the bag in the supermarket. There is no comparison.
Enough with the bigging up already, this is starting to get awkward and I'm sure you just wanna make the damned doughnuts already. OK, OK. Let me show you the way.
Practical Tips for Making the Blackcurrant Jam Doughnuts
Be Patient
The list of ingredients for doughnuts, even pimped up ones like these is deceptively simple. Don't get me wrong, these doughnuts aren't difficult to make but they do require one special ingredient… time.
You need to dedicate a reasonable amount of time to these doughnuts (albeit much of it hands-off) to get the desired light and fluffy doughnut.
First, there's the time waiting for the yeast to come alive and foam the milk, then there's the time it takes to knead the dough.
After that, there's a matter of not one but two proving (rising) stages – the first with the whole ball of dough, the second, after you've split the doughnuts into their individual little doughballs.
Is it worth it? Ummm. Yes.

Have a Food Thermometer to Hand
Normally I dismiss this concept of needing to have tonnes of special gizmos and equipments in order to create something delicious. After all, my grandma was a brilliant cook and her kitchen was basic AF. That said, your life will be one hell of a lot easier for this recipe if you have a food thermometer.
You'll use the thermometer to check that the oil for the doughnuts (which should be 180℃) and the boiling jam (this should come to 105℃) are at the right temperatures for them to work their magic.
Making Your Own Jam Doughnuts: Process Pictures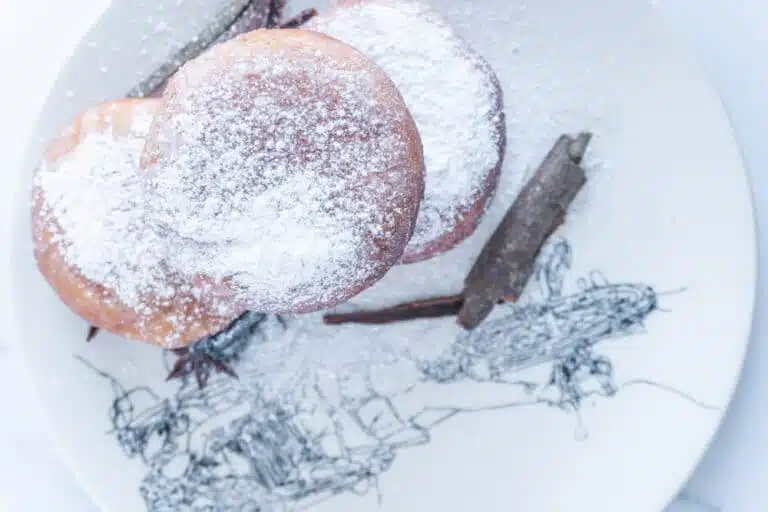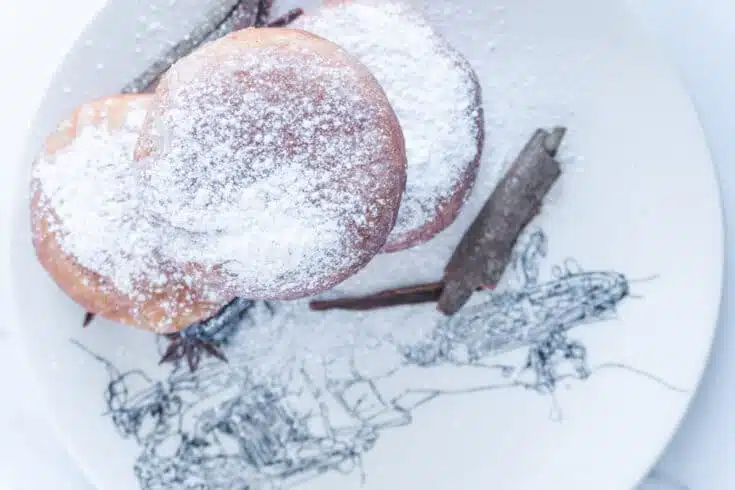 Yield:

8 Doughnuts
Irresistible Spiced Blackcurrant Jam Doughnuts
Total Time:
4 hours
5 minutes
Make your own batch of these delicious spiced blackcurrant jam doughnuts. This step-by-step recipe will have you feasting on fresh, fluffy doughnuts in no time.
Ingredients
3g dried yeast
35g caster sugar
165ml whole milk
Seeds of ½ vanilla pod
40g unsalted butter (at room temperature)
½ tsp ground cinnamon
Zest of ½ lemon
For the blackcurrant jam
350g frozen blackcurrants
350g granulated sugar
Juice of ½ lemon
1 star anise
½ vanilla pod
½ stick cinnamon
Other
500ml veg oil (for frying)
Icing sugar or caster sugar for dusting
Recommended gear
Piping bag
Food thermometer
Instructions
Warm the milk to slightly cooler than body temperature. Pour into a bowl with half a teaspoon of the caster sugar and the yeast. Mix well and leave in a warm spot for 20 minutes until it becomes bubbly and frothy.
Take the rest of the sugar, the butter, cinnamon, lemon zest and the seeds from the vanilla pod and add to a mixing bowl (you can use a stand mixer if you have one). Make a well in the middle and pour the yeasted milk. Bring the mix together and knead for 5-7 minutes until it's smooth and bouncy.
Put the dough into a bowl (with plenty of space for the dough to grow), cover with a damp cloth and put into a warm place and leave it to rise for an hour.
After an hour, knock the dough back (smash it with your fist to push out some of the air) and put it onto a floured surface. Roll until it's about 1inch thick, then cut out 8 circles using a cutter.
Put the dough discs onto a tray, cover with a damp cloth and leave to prove for another 45 minutes.
In the meantime, it's time to make the jam filling. Heat the frozen blackcurrants in the microwave on a defrost setting until defrosted.
Add the blackcurrants, sugar and lemon juice into a medium pot on a low heat (you will need a lot of space for the jam to boil without coming over the edges, so err on the side of caution). Tie the vanilla pod, star anise and cinnamon into a bouquet garni and put into the pot.
Stir with a wooden spoon, taking care to mash the blackcurrants as much as possible as the mixture heats up - you want some texture but no whole blackcurrants. Bring the pan to the boil and boil for around 15 minutes or until the jam reaches 105℃. Be sure to stir the jam to stop it from burning.
While the jam is boiling, prepare an ice bath, placing a bowl inside another bowl with ice and water. Once the jam is ready, remove the bouquet garni, pour the jam into the ice bath and stir to help it cool quickly - but add it to a piping bag before it fully sets.
Once the 45 minutes for the proving doughnuts has elapsed, heat the oil up to 180℃. Add the doughnuts a couple at a time. They'll bob up to the surface, so cook them for around a minute on each side, or until they're a rich golden brown. Remove the doughnuts and place them on kitchen towel to drain the excess oil.
When you've finished all the doughnuts, insert a clean knife into the side of each doughnut to create space for the jam. Insert the piping bag into the slit and pipe in the jam until it starts to ooze out. Repeat for the remaining doughnuts.
Once you've finished piping, sprinkle your chosen topping onto the doughnut - I'd recommend a dusting of icing sugar.
These doughnuts are all kinds of ridiculously good when they're warm but they will keep for a day or so if put into an airtight container as soon as they've cooled.

Nutrition Information:
Yield:
8
Serving Size:
1
Amount Per Serving:
Calories:

453
Total Fat:

62g
Saturated Fat:

7g
Trans Fat:

1g
Unsaturated Fat:

52g
Cholesterol:

13mg
Sodium:

30mg
Carbohydrates:

77g
Fiber:

1g
Sugar:

68g
Protein:

2g
Love this? Save and Share on Pinterest