Sambal is the backbone of Indonesian cuisine – accompanying pretty much every meal in one guise or another. Some forms of sambal, like sambal oelek are becoming better known internationally, but that's just the beginning.
I came across Sambal Matah during my last stint in Bali and once I tasted it, you better believe that I made it my business to learn the recipe.
Unlike many other sambals, Sambal Matah is a raw sambal. This not only gives it a very distinctive taste, but it also means it is super-easy to prepare. Amen to that.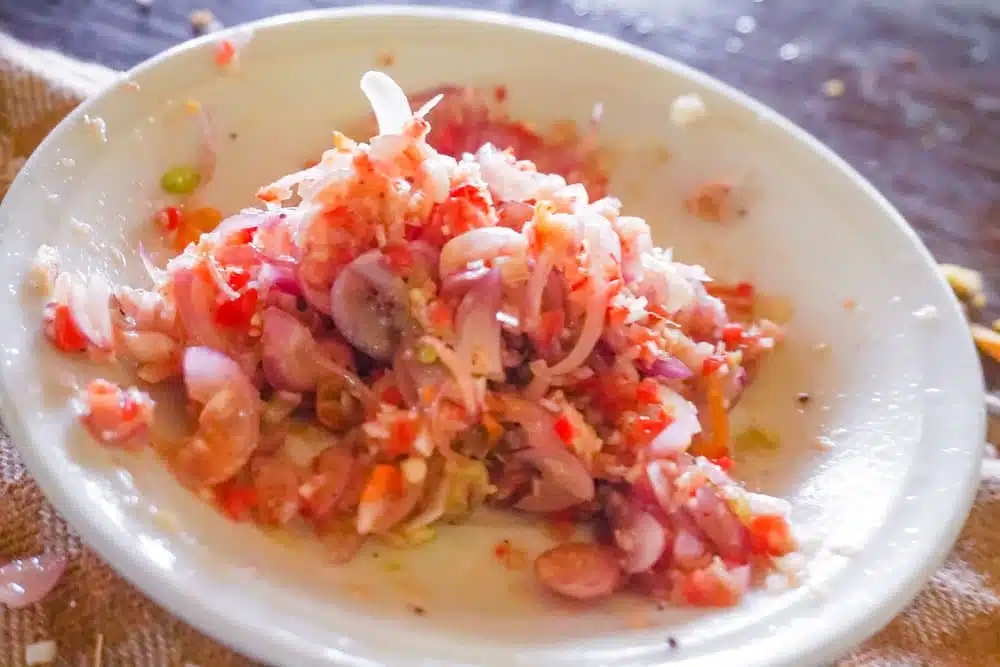 Sambal Matah originates in Bali and this is still where it's most popular today. It's traditional to serve it alongside grilled fish or seafood, but you can dollop it onto pretty much anything for an extra little kick of deliciousness.
I first tried it eating at one of the famous seafood beach grills in Seminyak and it provided the perfect accompaniment to the vast pile of meaty grilled prawns I'd ordered – packing a welcome umami punch with each bite, bringing the juicy white meat of the prawns to life.
Practical Tips for Making Sambal Matah
Find the Right Ingredients
At its essence, Sambal Matah only has a few, uncooked ingredients, so it's important to try and get the right ones for an authentic end result.
If I'm honest, even if you don't get the perfect ingredients, this is still going to be hella tasty, so don't let it put you off if you can't.
Chillies
Ideally you want long red chillies for this sambal – ones that are fairly spicy but not so hot they blow your head off.
It's not a sambal if there aren't chillies in it, but you also want to toe the line and not chuck in so many that the end result is impossible to eat.
I wouldn't recommend bird's eye chillies for this recipe as they're so hot, instead, you want a bigger and slightly milder chilli. If you really like a spicy sambal, you can use a mix of both or just go with bird's eye chillies to suit.
Shrimp Paste
Shrimp paste is pungent and packed with umami flavours – don't eat it on it's own, it's disgusting but, when combined with the other ingredients in the sambal matah, it's the shrimp paste that really brings it to life.
Lemongrass
Lemongrass is another key part of Balinese Sambal Matah and the ingredient that lends this sauce its citrussy and sharp taste. You only want to use the white part of the lemongrass, not the green which can be stringy and tough to break up.
Shallots
Balinese cooking traditionally tends to use shallots rather than onions and this is important in sambal matah where the sweeter, slightly less pungent shallots work in the sambal without overpowering it. Ideally you should use banana or echalion shallots, but you can use round shallots as a replacement.

Kaffir Lime
Kaffir Lime is a knobbly (rather ugly) lime with a distinct flavour that is used a lot in Asian cooking. While they can be harder to get hold of outside of Asian grocers, they are really important for a good sambal matah.
Different Sambal Matah recipes veer between using the leaves or the juice – I prefer to use both. The juice brings all the other ingredients together but a lot of the flavour is in the leaves.
You can replace kaffir limes with normal lime juice and zest but it will be more tart and have a different flavour.
Coconut Oil
Coconut oil is one of my favourite oils thanks to the sweet and fragrant notes it lends to dishes and it's the best (and traditional) oil you should use for Sambal Matah. You can use other oils to replace but you should really use coconut oil as it balances out the umami, heat and sour of the other ingredients.

Chop Ingredients Finely
This is really important in sambal matah because you want a blend of all the ingredients and their flavours in every mouthful. You don't want massive bits of shallot or chilli, or anything else for that matter, make sure you chop everything finely before you combine.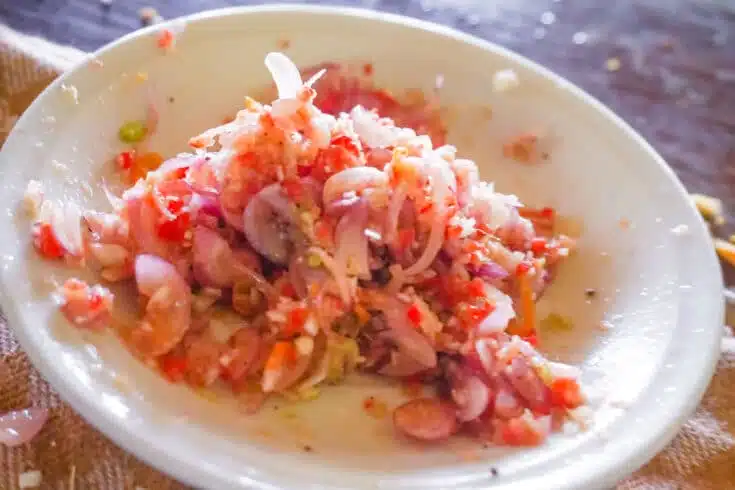 Yield:

Serves 2
Balinese Sambal Matah Recipe
A quick Balinese sambal bursting with aromatic ingredients, Sambal Matah adds welcome zest to fish and seafood dishes.
Ingredients
7 shallots, sliced finely but not diced
1 long red chilli, sliced finely but not diced
3 pieces of lemongrass (the white part only), finely chopped
1 thin slice of ginger, finely chopped
1 tbsp shrimp paste
¼ teaspoon of salt
⅕ teaspoon of white pepper
2 tablespoons of coconut oil
Juice of ½ a kaffir lime.
1 kaffir lime leaf, stripped from stalks and finely chopped
Instructions
Crush the salt and the shrimp paste together, before mixing with the remaining spices.
Add the coconut oil, lime juice, salt and pepper and mix well, breaking up the shallots into individual pieces before serving.

Nutrition Information:
Yield:
2
Serving Size:
1
Amount Per Serving:
Calories:

254
Total Fat:

32g
Saturated Fat:

17g
Trans Fat:

0g
Unsaturated Fat:

9g
Cholesterol:

70mg
Sodium:

2220mg
Carbohydrates:

88g
Fiber:

7g
Sugar:

32g
Protein:

29g