Qatar Airways has launched the world's longest commercial flight from Doha, Qatar to Auckland, New Zealand, just in time for New Zealand's national holiday Waitangi Day.
Qatar to New Zealand Touch Down
Crossing over ten time zones, the Qatar Airways Boeing 777, carried passengers from Qatar to New Zealand for a flight time of 17 hour and 30 minutes.  What is now the longest flight in the world covered a distance of 9,031.6 miles (14,535 kilometres) to land in Auckland at 7.25am local time (18.25 GMT) on 5 February.
The inaugural flight consisted of four pilots and 15 cabin crew.  Those cabin crew served an impressive 1,100 cups of tea and coffee, 2,000 cold drinks and 1,036 meals during the record-breaking flight.
There's a long-standing tradition to welcome inaugural flights. Auckland met this one with celebrations including the Auckland airport rescue service letting off water cannons to shower the plane on arrival.
The New Zealand minister of trade and state owned enterprises, Todd McClay and Auckland Airport Chief Executive, Adrian Littlewood welcomed the group Chief Executive of Qatar Airways, Akbar Al Baker.
Al Baker said: "The launch of our new service to Auckland is an important milestone for Qatar Airways as we expand both in the region and globally across our network providing more options and better connections to existing business and leisure destinations in Europe and the Middle East.
"Arriving in Auckland on Waitangi Day, and achieving the title of world's longest flight for the return record-breaking service, which covers a distance of 14,535 kilometres and lasts 17 hours and 30 minutes, makes this an even more momentous occasion for Qatar Airways and provides another accomplishment to celebrate in this our 20th year flying the flag internationally for Qatar."
What are the benefits?
This is the first occasion that Qatar Airways has served New Zealand.  A new gateway has opened for travellers to visit the country's scenic beauty. It is thought that this will increase tourism in Auckland and New Zealand itself, as it has opened itself up to whole new market of visitors.
The New Zealand ambassador to the State of Qatar, Jeremy Clarke-Watson states
"Welcoming Qatar Airways to New Zealand, through this direct service, is a significant event in the New Zealand Qatar relationship – opening up greater people to people and business to business connections between our two countries.
We look forward to welcoming more Qatari and GCC nationals to New Zealand, taking advantage of New Zealand's 90-day tourist visitor visa on arrival for GCC citizens.
We also look forward to working with Qatar Airways and New Zealand exporters to maximise the potential of the direct service's freight capacity, which opens up a whole new market for our exporters particularly in fresh food and beverage."
New Zealand's trade minister, Todd McClay, estimates that the economic impact will be in excess of NZ$50m (£29.3m), a fruitful partnership indeed.
What can passengers expect on the world's longest flight?
The Boeing 777 will be taking travellers on a daily flight to Auckland, on a Boeing 777 with a two-class configuration. The plane will have 42 seats in Business Class and 217 seats in Economy Class. On board, Business Class passengers can enjoy fully-flat beds with 78 inches of seat pitch.
The Auckland flight will offer 1116 tonnes of belly-hold capacity every week. This will carry the increasing imports of industrial, raw and consumer materials into New Zealand.
There are some interesting developments happening in aviation at the moment. Qatar's announcement makes for an thought-provoking contrast to Qantas' recent announcement that it will be flying direct from London to Australia next year. Are the hub airports fighting back against the potential erosion of their passenger base with the expansion of their routes?  
Quick Facts
Fares will start at 4,825 QAR (£1,050) for a return economy flight, and will go up to first class rates of 33,285 QAR (7,250)
Doha to Auckland Distance
9,031.6 miles (14,535 kilometres)
Qatar to New Zealand Flight Time
17hrs 30 minutes
Doha (DOH) to Auckland (AKL) QR0920 departs: 02:50 arrives 05:00 +1
Auckland (AKL) to Doha (DOH) QR0921 departs: 14:40 arrives 22:10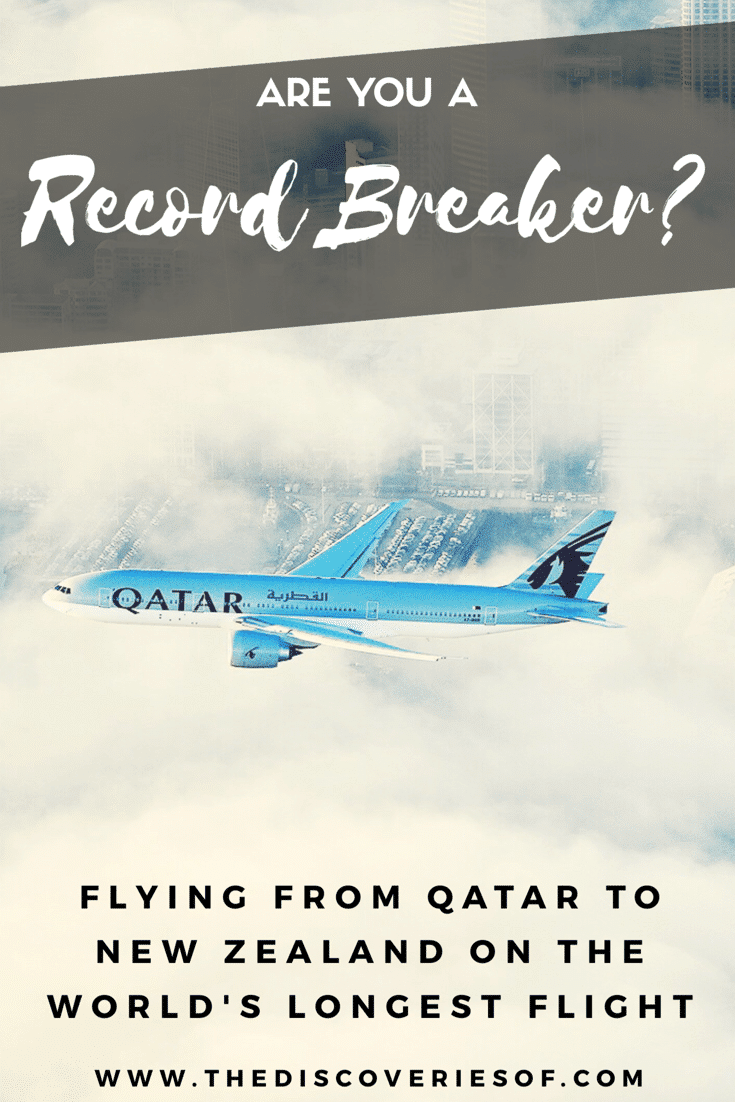 GET THE DISCOVERIES OF MAGAZINE
Get your free copy of The Discoveries Of's digital magazine. Unmissable travel destinations and inspiration to fuel your wanderlust. Straight to your inbox.