Looking for a low-key but enjoyable Thursday night in London? We have just the thing.
As a London-based travel publication, it can sometimes be easy to overlook the treasures of our hometown. New York might be the city that never sleeps but London is the city that never stops – there's always something to see or a new event in a different part of town. So when I was invited to Pizza Express Live in Greenwich, I was keen to go.
Greenwich has long been one of our favourite areas in the city (so much so that we even wrote a piece of our picks of the top things to do in Greenwich). It's filled with history, there are so many things to do and places to explore that it is impossible not to see the appeal.
We'll be the first to admit that we're not always so good at keeping our finger on the pulse when it comes to what's happening in London, so it came as a pleasant surprise that Pizza Express Live happens in quite a few branches on different days of the week.
The Greenwich branch holds their Pizza Express Live evening every Thursday. If you're in town on a Thursday evening and want to do something a little different and without breaking the bank, it's something we'd recommend.
Rather than being held in the main restaurant upstairs, the live music evenings are held in the much cosier downstairs dining area.
We settled down to order our food and waited for the music to start, we didn't have to wait long – within a few minutes, the musician of the evening, Darren Campbell had stepped up onto the stage and started playing covers of old songs known and loved by the group at our table.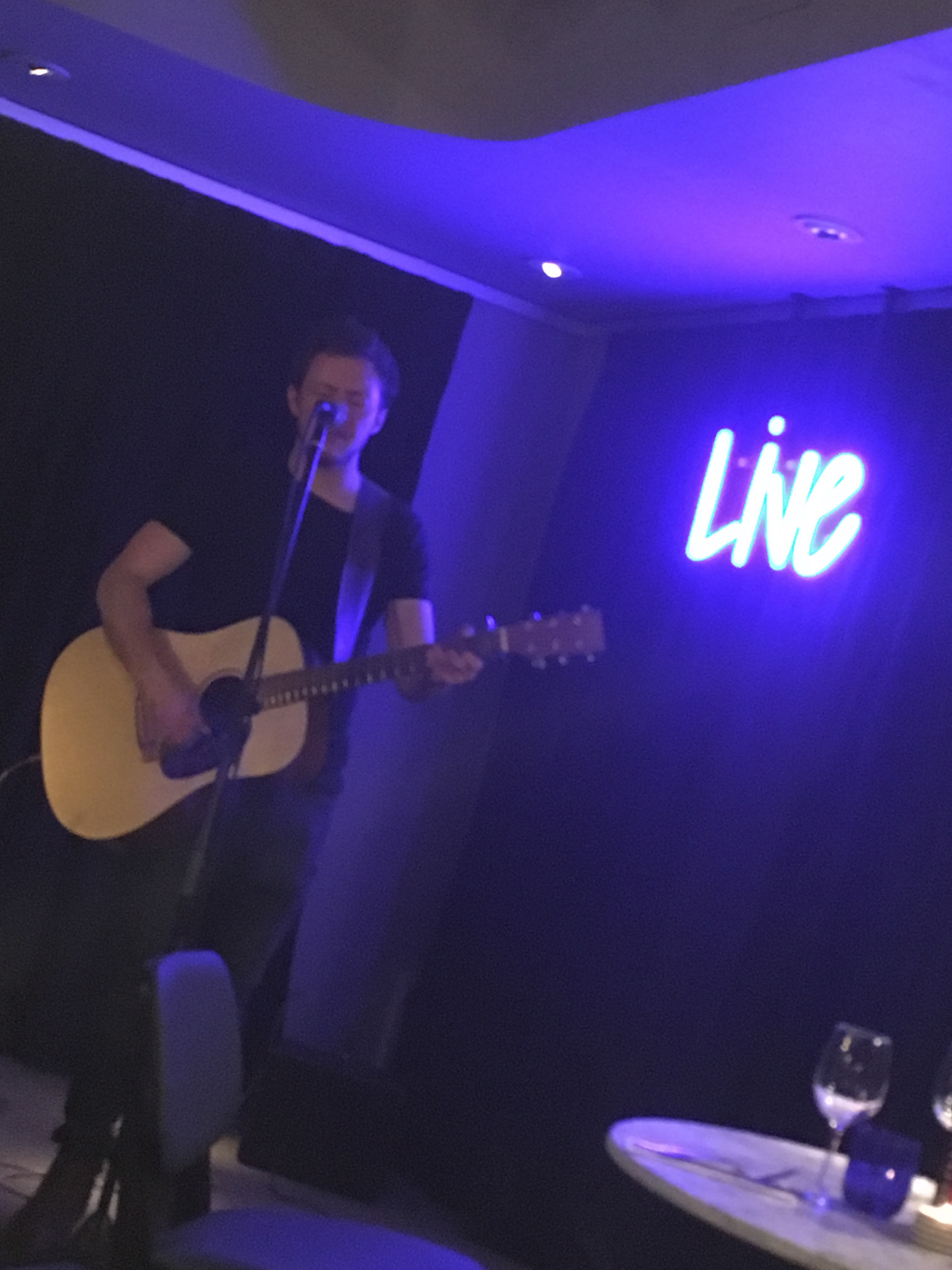 The starters arrived: featuring the restaurant's signature dough balls, and a delicious platter of Italian antipasto. The antipasto was wonderful, a large plate brimming with Finnochiona, Coppa, Milano salami and Calabrese sausage D.O.P, olives, artichoke, roasted tomatoes, buffalo mozzarella, sweet Peppadew peppers and dough baked with Gran Milano cheese, accompanied by garlic butter and pestorissa, a harissa spiced tomato dip.
Grazing through the antipasto, sipping on a glass of prosecco and listening to Darren singing, I realised that while this wasn't my usual Thursday night, it certainly was going down as an incredibly pleasant one.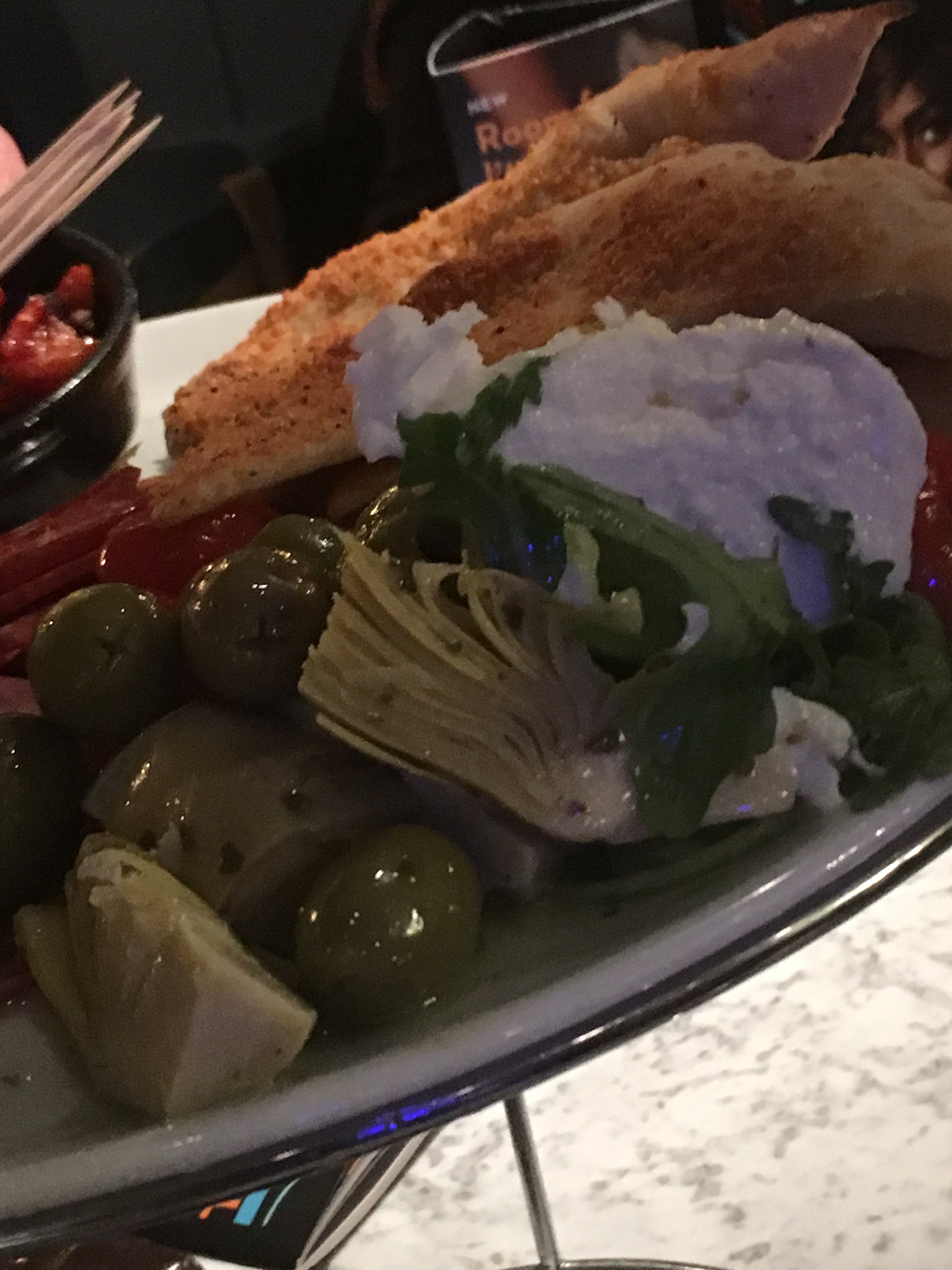 Just as the cocktail bars of times past traditionally had a piano player tinkling jazz in the background, Pizza Express clearly understand the value of live music for adding atmosphere and an extra dimension to a social situation. Darren was singing and playing in the background, while we all chatted – pausing to listen to particular favourites and applauding at the end of each song.
I'd opted for a Campagna pizza for the main course – one of the new pizzas from the Autumn menu. Crumbled pork and fennel sausage, friarielli, tomato, garlic oil on mozzarella. It sounded perfect on paper and would have been were it not a little cold by the time it reached the table.
Overall, I enjoyed my evening at Pizza Express Live – Darren Campbell was an excellent musician and it was the perfect way to spend a quieter Thursday evening in the city. If you're in Greenwich on a Thursday, you should have it at the top of your list.
Pizza Express Greenwich
4 Church Street,
Greenwich, SE10 9BG
0208 853 2770