Moving abroad can be a daunting process. Yes, it's exciting but just the very idea of having to pack your stuff up and moving it all to another country can be a tough concept to get your head around. Here are 11 tips to help you pack for your move abroad. 
When I moved to Dubai at the bright, fresh and young age of 21 moving was easy. I rocked up with two suitcases and a slightly smug "what's the fuss about" attitude. I'd handily forgotten that I had a room and a loft's worth of stuff sitting handily at my mother's house.
Fast-forward a decade and I've moved abroad a few times, without the luxury of leaving most of my stuff where I'd be able to come back for it and let's just say that I now understand the true nature of what moving abroad really means.
Moving abroad is always going to be a little bit of a pain (although exciting right, you're moving to a different country – tick that one off your bucket list!) but here are 11 packing tips to make your life a little bit easier.
1. Get rid of anything that you don't really need and never really use (with very few exceptions).
You'll be amazed at how much stuff there is lying around your current place that you haven't touched for too long to justify hefting it to the other side of the world. Anything that doesn't make the cut can be given to charity or sold.
2. Boot fairs are your friend.
Yes, you can spend an age listing (and relisting) everything on eBay or similar platforms but who has time for that? By contrast, with a boot fair, all you need to do is book your space, rock up on the day with your stuff and sell like a demon before walking away with a wad of cash. Plus you will not believe the characters you meet at a boot fair – I wouldn't judge you if you did it for the entertainment value alone (well, actually I would).
3. Pack everything that's breakable as if someone is going to take the box, sit on it, use it like a trampoline then play a game of cricket using it as the ball and you should be OK.
The number of times I've regretted my lazy packing when something treasured comes out the other side smashed to pieces isn't even worth counting.
4. Roll, don't fold.
This should be a general rule when it comes to packing anyway, it makes life so much easier.
5. Get someone brutal to help you decide what you do and don't need.
It's amazing how pathetic "But I NEED my collection of 50 collected works of Dickens in hardback even though I have it on Kindle" sounds when you say it out loud. You need a person who is going to tell you when you are being ridiculous.
6. Get some luggage scales.
The scales don't lie. The scales are your friends. The scales will save you a lot of money.
7. Vacuum pack your clothing.
But not anything that it will be difficult to uncrease afterwards. Hell knows nothing like something delicate that has been vacuum bagged.
8. Bring at least a few changes of clothes in your carry on.
Hold luggage does get lost and delayed and it's always good to know that you can get through a few days if that happens.
9. If you're planning on moving your furniture, pack it carefully and protect anything that requires protection.
This reusable mattress bag with handles for moving will stop your mattress from coming into contact with dirty surfaces and keep it clean.
10. Bring small valuables in your carry on.
It's the easiest way, but while we're on the topic…
11. Make sure you're insured (as is any removal company that you're using for larger items).
While we hope you won't need to claim, this is certainly one of those situations where it's better safe than sorry.
So there we are – packing tips for moving abroad. Bon voyage and wishing you the best for your new adventure.
Love this? Save and share on Pinterest.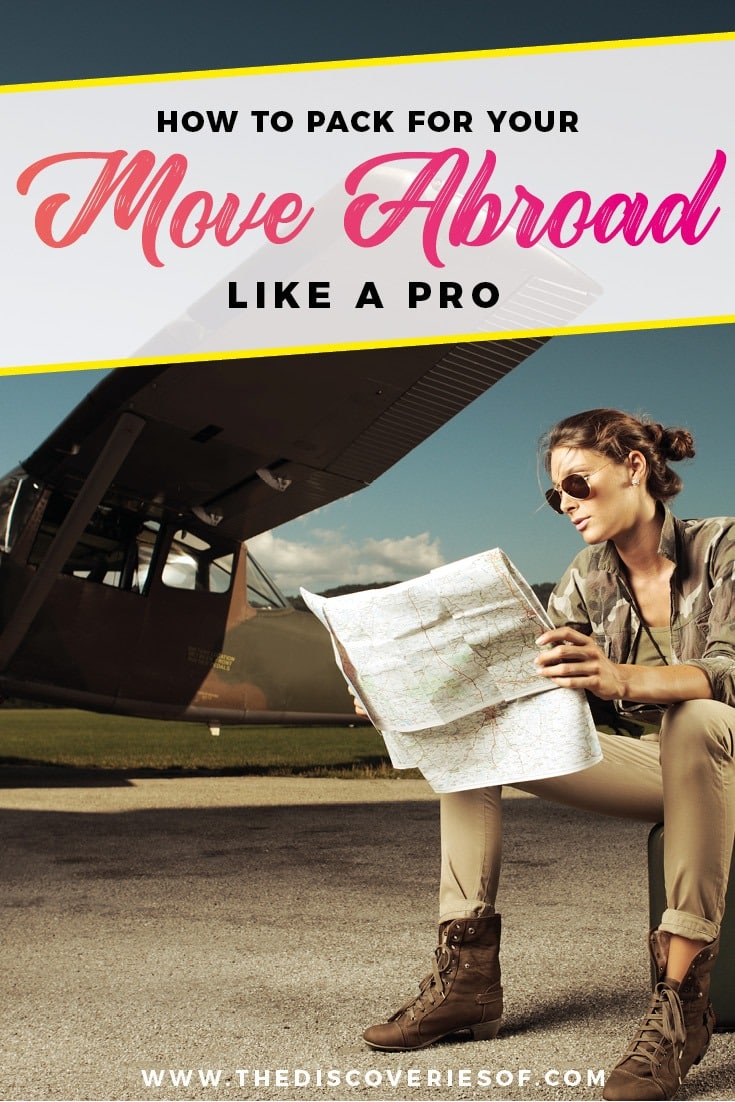 GET THE DISCOVERIES OF MAGAZINE
Get your free copy of The Discoveries Of's digital magazine. Unmissable travel destinations and inspiration to fuel your wanderlust. Straight to your inbox.