Do you ever have a dish that instantly transports you back to a certain place and time? Hippy Essaouira was one of my favourite places in Morocco – we ate sun-drenched meals of freshly-caught fish right next to the harbour, gulls flapping as lazily as the course of our days. My love affair with fish was something of a slow one though. I remember hating eating fish as a kid because of the uncertainty of what it actually meant.
Don't get me wrong, my mother's a great cook but school dinners were a whole different matter – particularly as I grew up in an age of boil in the bag fish.
Wait, say weeeeeert?
You know, fish that comes in a plastic pouch you just chuck into boiling water and cook until it gives up all hope of flavour and takes on an alarmingly texture, with fibres that stick to the roof of your mouth, pugilist to the end.
I don't wanna play a one woman pity party here but boil in the bag fish is surely one of the biggest crimes ever committed against a palate. Fact.
Moving decisively on.
This is my take on those Essaouiran plates of steaming hot fish, dripping with oily juices, coloured and flavoured by the spices rubbed onto the fillets – it's a wonderful spring / summer lunch for two that's quick and easy to prepare.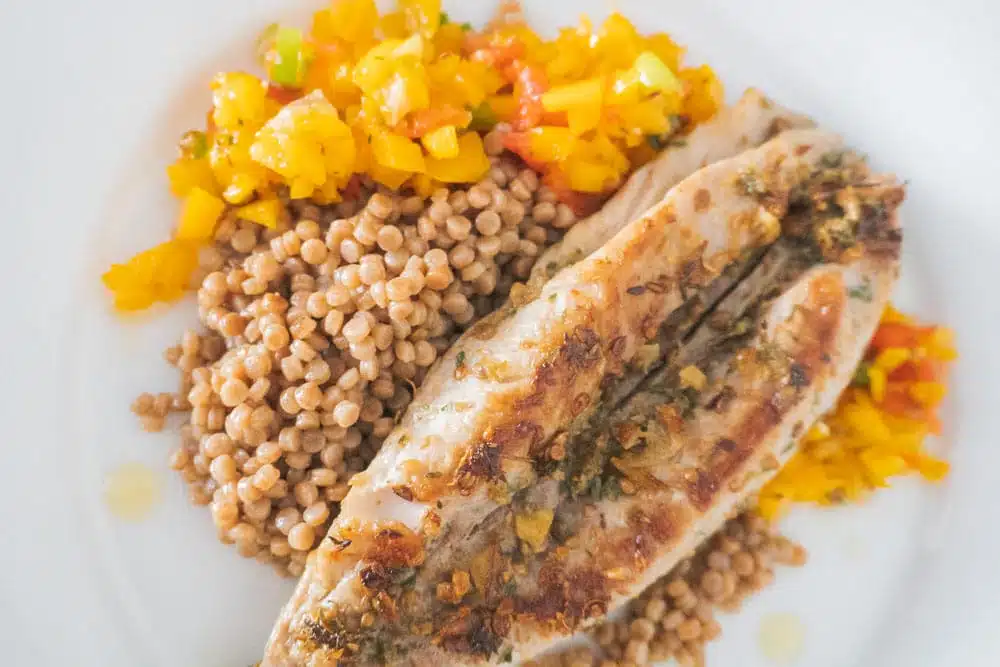 The indulgently rich fish is offset by the tartness of the preserved lemons and aromatic thyme.
This dish also pairs incredibly well with a chilled glass of aromatic Torrontes. Just saying.
Top Tips for Making the Pan Fried Marinated Mackerel
Use Preserved Lemons (Or Make a Quick Substitute)
The acidic tang of preserved lemons is an absolute must in this dish – I'd always recommend having a jar in the cupboard as they brighten up any salad and the preserving brine can be used in salad dressings.
If you can't get your hands on preserved lemons, Nigella has a great recipe for creating quick preserved lemons in Forever Summer, where you basically boil the lemons then add them to a pan with salt, sugar and water and simmer them until tender. The result is a bit salty but is a great substitute for the real thing.
Substituting the Mackerel with Other Fish
You can use other fish for this recipe – particularly firm, white fish but I love the way that mackerel's bold flavour stands up well to the pungent marinade.
How to Make the Pan-Fried Mackerel: In Pictures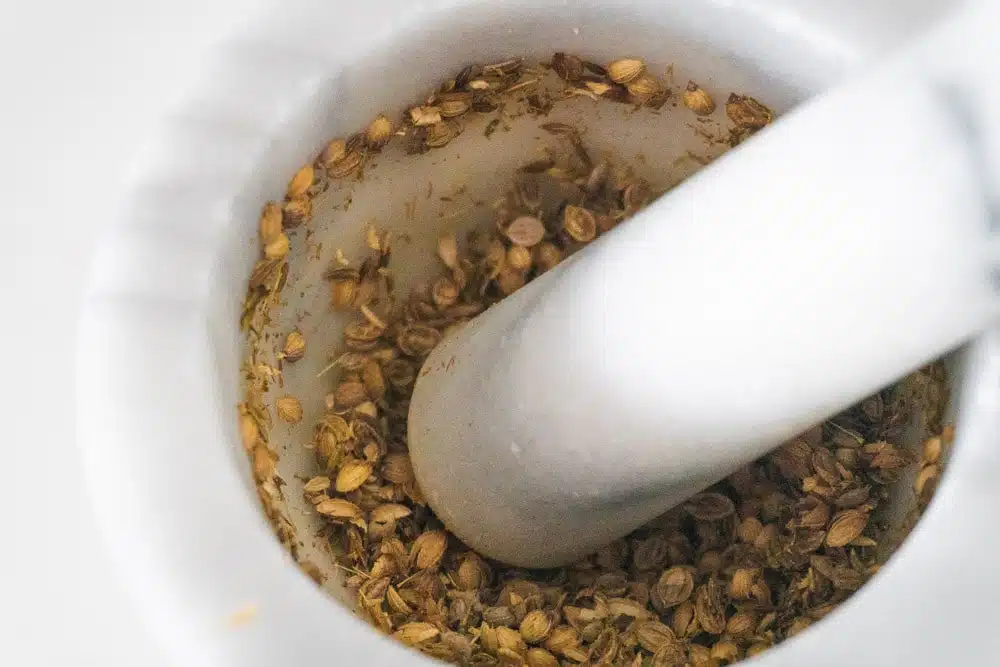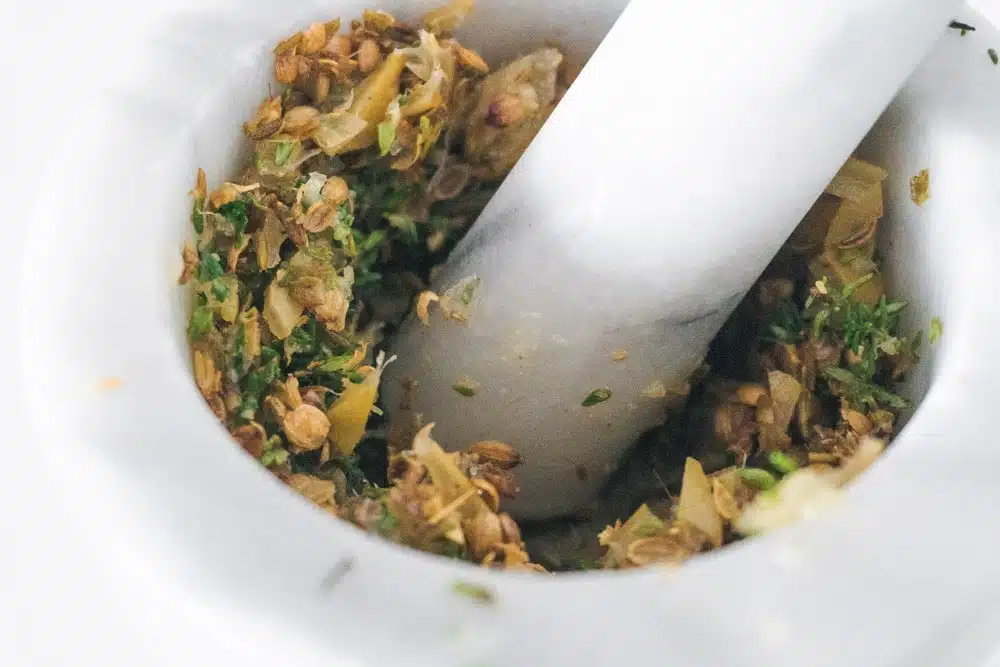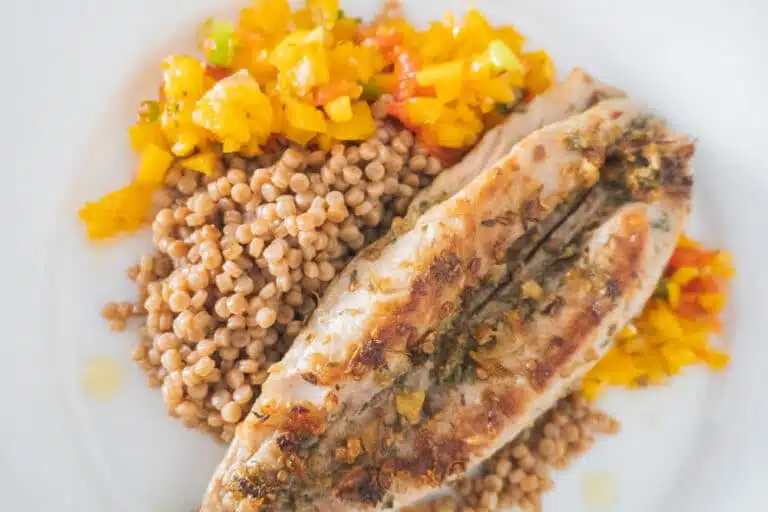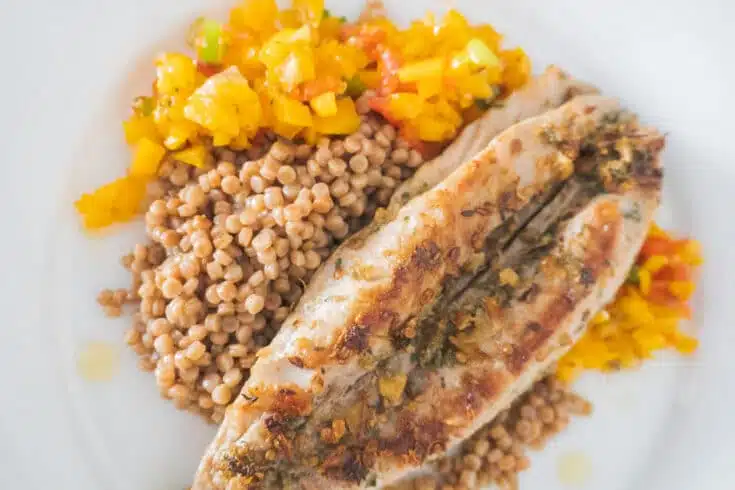 Yield:

Serves 2
Moroccan Pan Fried Mackerel Fillets with a Tomato & Pepper Salsa Recipe
Flavourful pan fried mackerel fillets are rubbed in Moroccan spices and served with a zingy salsa in this quick and easy dinner.
Ingredients
2 mackerel fillets, skin on
1.5 preserved lemons, chopped
1 tbsp coriander seeds
1 tbsp cumin seeds
1 small bunch of thyme, picked
6 cherry tomatoes, chopped
1 yellow, red or orange pepper, chopped
1 tbsp brine from the preserved lemons
125g giant couscous
Hot vegetable stock
1 tbsp Olive oil
Instructions
Toast the cumin and coriander in a pan on a medium heat, constantly stirring until they release their aromas.

Crush the cumin and coriander in a pestle and mortar to a rough grind.

Add the ⅔ of the chopped preserved lemons and ¾ thyme, grind quickly to combine.

Add olive oil and the brine to the marinade. Rub into the mackerel and leave to sit for 15 minutes.

Prepare the giant couscous with the vegetable stock as per the instructions on the packet.

Pound the tomatoes, pepper, the remaining thyme and preserved lemon with a glug of olive oil and some lemon brine in a pestle and mortar to create a slightly runny sauce. Set aside.

Heat a dash of olive oil until smoking hot. Turn down to medium.

Pan-fry the mackerel, skin side down first for 2-4 minutes - depending on the thickness of your fillets.

Once the skin has turned golden and the marinade has formed a slightly crunchy crust, turn over, frying quickly for another minute or two before removing from the heat.

Serve the mackerel with the couscous and covered in the tomato and pepper salsa.

Nutrition Information:
Yield:
2
Serving Size:
1
Amount Per Serving:
Calories:

421
Total Fat:

24g
Saturated Fat:

5g
Trans Fat:

0g
Unsaturated Fat:

17g
Cholesterol:

66mg
Sodium:

752mg
Carbohydrates:

27g
Fiber:

5g
Sugar:

6g
Protein:

26g