It's not often that I make bold and sweeping statements in life but I know that these tacos will bring you joy.
How could you resist a little sigh of pleasure as you bite into a warm, pillowy taco filled with spicy sausage offset by slices of creamy, cooling avocado and crisp and fresh radish? The answer is… you can't.
I spent six weeks in Mexico at the tail end of 2019 and it really felt like it was a culinary adventure.
Normally I struggle with eating one cuisine for weeks and weeks at a time (I'm from the UK yo, it's unusual for us to eat the same cuisine two meals in a row nevermind for six weeks) – safe to say, I had no such issues with Mexico.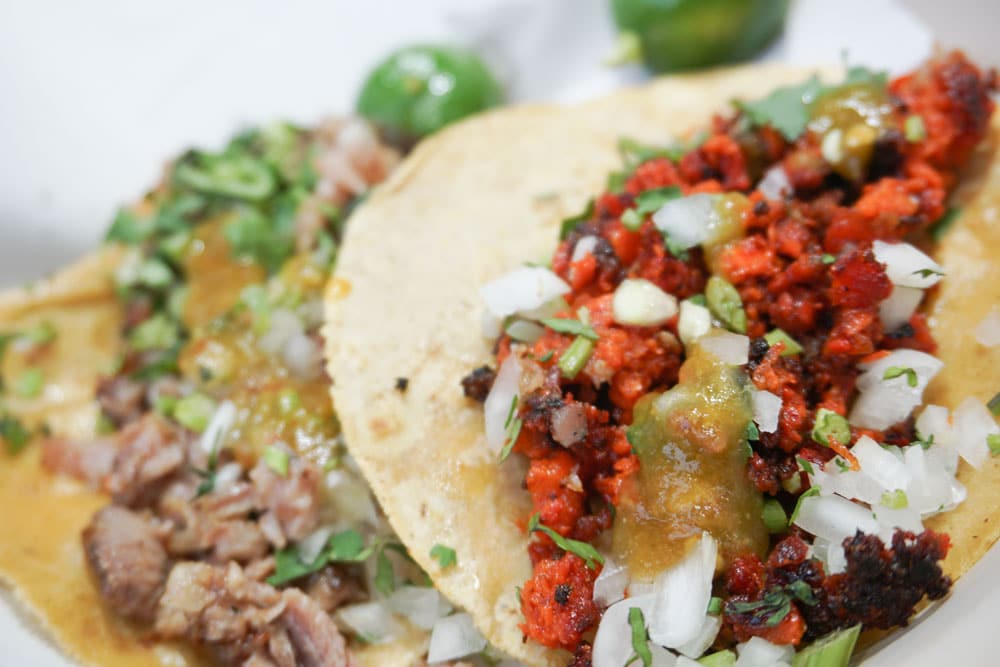 Sometimes I cooked, a lot of the time I ate out but I didn't have one disappointing meal in the whole time I was there, which, now I look back on it, feels like some kind of a miracle.
Anyway. One of my absolute favourite discoveries during my time there was this tiny hole-in-the-wall taqueria called Taqueria Los Cocuyos in Mexico City.
Jon normally has a good nose for sniffing out the kind of joints that might not look like anything special but turn out to be some kind of culinary gift sent from the heavens above… and that's EXACTLY what that place turned out to be. 
We queued up, drenched in the fierce sun, tantalised by the wafts of cooking meat floating out from the improbably small shop in which two guys worked with machine-like efficiency dishing out plate after plate of tacos to eager punters relieved to make it to the front of the queue.
By the time it was our turn to get to the front, we'd made our mind up to try three tacos each – I plumped for the longaniza, brisket and tongue tacos. They'd put the longaniza sausages into a pot filled with other meats and stock to cook, then finish it off by cutting it open and dry frying it to make it nice and crispy before socking it into a tortilla and serving it piping hot.
Is there such a thing as love at first taste? The moment we finished our tacos, we wordlessly moved to the back of the queue to pick up round number two.
It's pretty much impossible to get these tacos, or the longaniza sausages on which they're based, here in the UK, so I rolled up my sleeves and got inventive. The result? These melt-in-your-mouth tacos that are the closest thing you can get to flying back to CDMX just for a plateful of tacos and a stomachful of happiness.

How to Make Longaniza Sausage Tacos
You have two big challenges when it comes to making these Mexican Sausage Tacos:
1) It's really hard to find Mexican-style longaniza sausages unless you live in Mexico and
2) it can also be difficult to get your hands on good tortillas, which is ultimately the prop upon which every tasty-ass taco relies.
No sweat – this recipe walks you through how to get that authentic longaniza sausage taste for your tacos, so that's problem one out of the way.
Special Ingredients for the Mexican Sausage Tacos
You'll need to shop ahead to get Mexican oregano – but you could substitute this with normal dried oregano.
It is necessary to get your hands on some achiote paste though – which gives the sausagemeat its distinct colouring and the sharp tang that makes these tacos so delicious.
The Tortillas
I've also recently discovered that you can easily buy masa harina from several retailers in the UK (and I'm sure around the world), which, along with a tortilla press, is all you need to start pumping out your own authentic tacos. Simply mix with water, leave to rest for 20 minutes, press and cook. Boom.
Making Mexican Sausage Tacos – In Pictures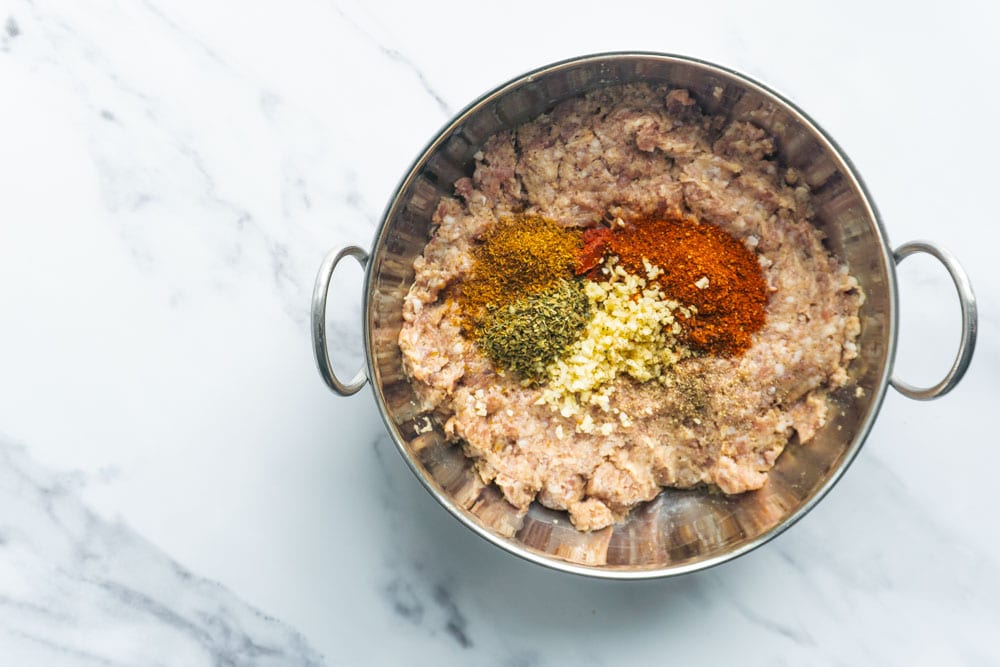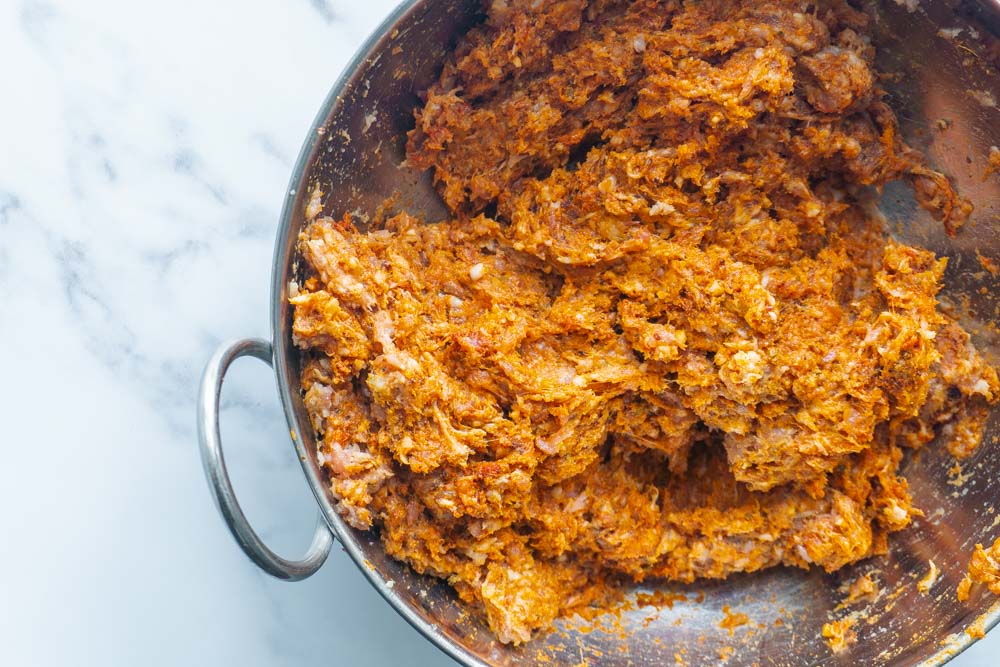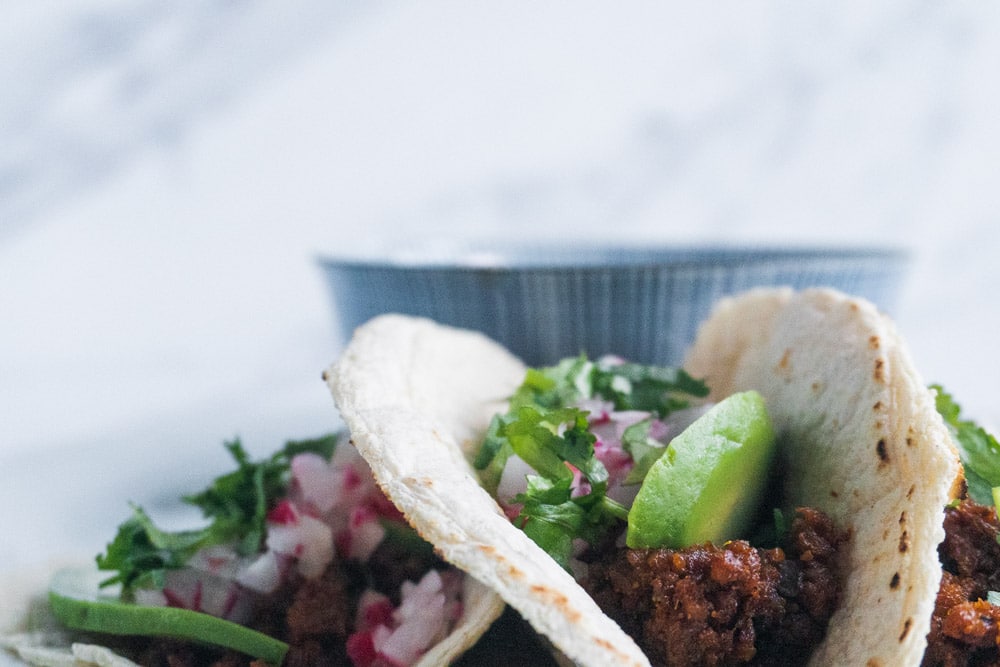 What to Serve the Mexican Sausage Tacos With?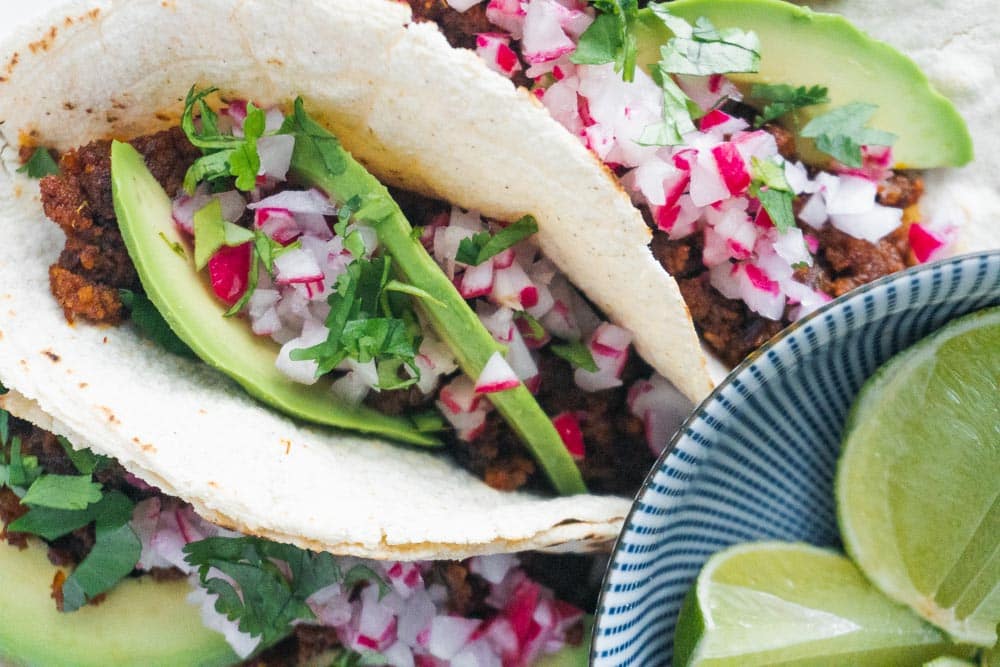 Los Cucuyos simply served their tacos with finely diced white onion, chilli, coriander, a dollop of hot habanero sauce and a slice of lime.
I opted to throw some chopped radishes and some slices of avocado in the mix with mine, but ultimately… you do you boo.
Don't be afraid of throwing some blazingly-hot chilli sauce on there though because chillies are life.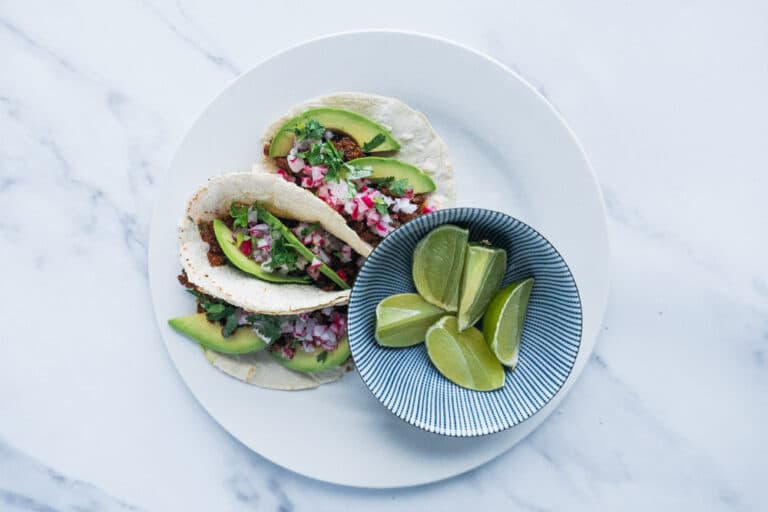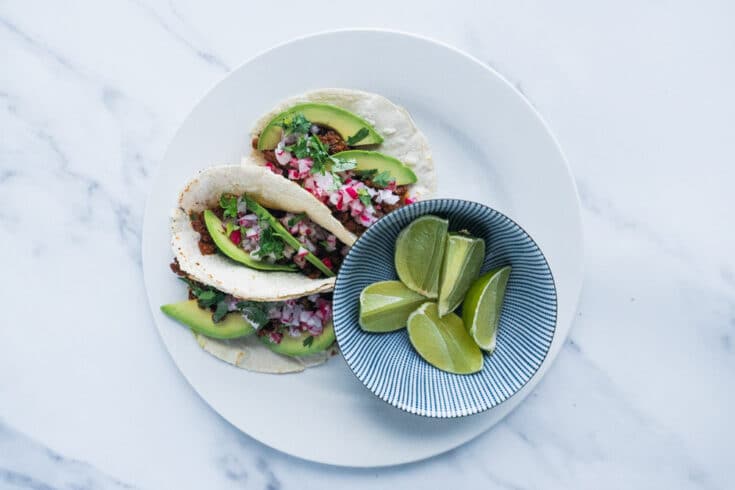 Yield:

Serves 4
Mexican Sausage Tacos Recipe
Looking for an easy Mexican sausage taco recipe? Serve these delicious spicy tacos straight from the streets of Mexico City to your table.
Ingredients
700g good-quality pork sausages
1 red onion, chopped
3 bulbs of garlic
1 tbsp Mexican oregano
Pinch of black pepper
1 tsp cumin, freshly ground
2 tsp achiote paste
100ml sour orange juice (Seville oranges are best - if not, replace with ⅓ lemon juice)
1 dried chipotle chilli
1 tbsp adobo chilli, chopped
1 tbsp red wine vinegar
Vegetable oil for frying
To Serve
Chopped radishes
Chopped lime
Hot chilli sauce
Sliced avocado
Chopped coriander
16 small fresh tortillas
Instructions
Finely chop the garlic and grind the chipotle chilli and cumin to a fine powder.

Squeeze the meat from the sausages into a large bowl, discard the skins.

Add the garlic, ground chipotle, cumin, the Mexican oregano, achiote paste and ground pepper to the sausagemeat. Mix well.

Heat 1 tbsp of oil in a large pan and fry the onions until soft and lightly browned.

Add the sausagemeat and cook until browned (you may need to do this in two batches if you don't have a large enough frying pan).

Once the sausage meat is browned, add the chopped adobo chilli, sour orange juice and red wine vinegar and stir well. Leave on a low heat to reduce for 10 minutes until most of the liquid has evaporated.

Serve the sausage in the tortillas with chopped radishes, avocado, coriander, a squeeze of lime and some hot chilli sauce.

Nutrition Information:
Yield:
4
Serving Size:
1
Amount Per Serving:
Calories:

990
Total Fat:

90g
Saturated Fat:

26g
Trans Fat:

0g
Unsaturated Fat:

55g
Cholesterol:

201mg
Sodium:

3375mg
Carbohydrates:

143g
Fiber:

13g
Sugar:

11g
Protein:

70g
Love this? Save and Share on Pinterest!