London is dark and chilly in the winter months – all the better for you to make the most of the winter festivities, snuggle up by roaring fires and drink all the mulled wine. Don't miss these 13 cool things to do in London in winter.
Think that London only comes to life in the summertime? You're wrong. London in the summer has its obvious charms – festivals, picnics in the park, pub gardens… but dig a little and you will find that there's plenty to keep your calendar packed when the temperatures drop and the days shorten.
Go to a Christmas Market
Christmas in London is a magical time of the year. The Christmas lights, the Christmas carols, the Christmas trees festooned with all kinds of gorgeous baubles and perhaps my favourite of all, the Christmas markets.
In the past few years, London's Christmas markets and fairs have mushroomed. From the all-out (slightly manic) Winter Wonderland in Hyde Park to the more relaxed Winterville in Clapham Common – there are plenty of spots to do a spot of pre-Christmas shopping, slurp up mulled wine and eat all the Christmassy sweet treats that you could ask for.
Read more: The Ultimate London Bucket List
Marvel at London's Christmas Lights
London never looks better than when it's festooned with Christmas lights casting their glow on its streets. I'll admit that I missed the lights the last few years, but this year is a total cracker.
Read more: Christmas in London
Start with the biggies at Oxford Street, which are in close competition with the super-pretty ones on Regents Street – but I'll let you in on a secret. Neither were my favourites… that title goes to the cool neon Christmas lights on Carnaby Street. See why?
Also well worth a visit: Seven Dials and Bond Street.
Read more: Self-Guided Walks in London
Hang out at one of London's Winter Pop Up Ice Rinks
I really don't understand how people do it. You put shoes with blunt knives on them on, get onto a cold and slippery surface and somehow manage to glide gracefully like a swan. Every time I step on the ice, it's like Bambi taking her first steps.
Don't let me ruin it for you though – there are so many pop-up ice skating rinks in the city that you're not going to struggle for choice. The biggest and the best known are the ones at the Natural History Museum and in Somerset House. Wrap up warm!
Read More: Everything You Need to Know about Visiting Somerset House
Get Cosy at an Alpine Ski Lodge
We may not have the mountains (unless the fake slope at Hemel Hempstead counts) but who says we don't have the apres-ski? Everyone knows that most of the fun happens off the slopes anyway, so you can skip the pesky having to hurtle down the mountain in the snow part and just go straight to the good stuff – namely the wine and the cheese.
You can find pop up ski lodges in the most unlikely of places. This year's the first that well-known New York pop up Miracle has taken up residence in Covent Garden, while Apres London near London Bridge gives all the festive feels with holly and twinkling lights.
Read more: Romantic Things to do in London
Check Out London's Cool Street Art Scene
Bundle yourself in layers and set out to see some of London's cool street art. The only question is where to start?
The street art in Shoreditch is diverse and has the added benefit of being in a relatively small area, perfect for an afternoon's stroll. Though the pieces change, there are hundreds of street art spots boasting pieces by familiar names such as Mr Cenz and Dale Grimshaw.
Camden has a thriving street art scene, as does Brixton but my new favourite street art spot is in Croydon (shout out to my hometown) – home to some of the coolest murals to pop up in the city this year, which is why I've featured it in my piece on quirky and unusual things to do in London.
Settle in for a Decadent Afternoon Tea
London's afternoon tea roster is poppin' at any time of the year but it makes so much sense during the winter when the idea of cramming yourself with warm and crumbly scones and drinking vats of tea sounds like heaven.
You can never go wrong with high tea at a London institution like The Ritz, The Dorchester or Claridges (the latter is my fave). It gets better though, with themed afternoon teas like the Charlie and the Chocolate Factory one at One Aldwych or the Festive Afternoon Tea at the Savoy.
Indulge Your Inner Child with a Trip to the Pantomime
Did you know that most pantos run well into January? So if you haven't caught one of the fabulously OTT affairs this winter, there's still time. What's more, theatres tend to quieten down after Christmas so it's easier to get tickets.
This year's top pantos include Dick Whittington at the Lyric Hammersmith, Aladdin at the Hackney Empire and Rumpelstiltskin at the Southbank Centre.
Drink a Ridiculously Good Cup of Hot Chocolate
Hot cocoa has thrown off its fuddy duddy vibe and has totally tarted itself up into the kind of irresistible drink that a) warms your cockles b) looks great on Instagram. Want to know what I mean? Take a look.
Forget measly concoctions of cocoa and water (maybe with a splash of milk if your mum was feeling generous), these hot chocolates are seriously flossed.
Chin Chin's comes with a huge dollop of melted marshmallow that is blowtorched and looks (and tastes) like something straight out of Willy Wonka's factory.
Alternatively why not choose the origin of your hot chocolate at Jaz and Jul's Chocolate House in Chapel Market (Brazilian, Peruvian or Madagascan don't you know) – then round it off with a mound of whipped cream. Because it's winter and you can.
Snuggle Down in a Riverside Igloo
Nothing says things to do in London in winter than snuggling into a see-through plastic igloo on the bank of the Thames with views of Tower Bridge and the Tower of London right?
The Coppa Club's winter igloos first came to the capital a few years ago and have been a key part of our winter warmer calendar ever since.
Like pretty much all good things in London, the igloos have been booked up well in advance but you can get lucky if you swing by on a whim and a hope.
Visit the Museums
There are so many pop ups and events in London during the winter that it can be easy to overlook some of the classic landmarks. London has some of the best museums in the world. What's more? Most of them are free.
You should head to one of the city's impressive museums, even if you're only in London for short break. Start with favourites such as the Natural History Museum, V&A and Science Museum in South Kensington's Museum Mile – that will keep you out of the cold and entertained for a few days.
Read More: Free London Museums You Need to Visit
Winter Warmer Films in a London Cinema
Cinemas pop up all over London in the run up to Christmas with one mission – to fuel our ever voracious appetite for festive films. Let's face it, you can never, ever watch Elf or Home Alone too many times.
You'll be glad to know that there are still plenty of wintery film options in that bleak period after Christmas when we all start counting down the days to summer and how few pennies we have in our wallets.
Chain cinemas in London are ten-a-penny but the Prince Charles Cinema's singalong film showings and movie marathons are something completely different.
How about a singalong screening of the Rocky Horror Picture Show? That sounds like something worth dragging your carcass out into the cold for.

A Wintery Walk Through Ham House & Hornbeam Arch
Wrap up warm and set off on one of the National Trust's gorgeous winter walks through the gardens of Richmond's 17th-century Ham House.
Set on the banks of the Thames 10 miles out of the centre of London, Ham House is the perfect spot for a wintry walk along the river and in the house's extensive formal gardens. Unlike most other gardens, Ham House's garden is at its best during the winter months, when the geometric lines and topiary look their best.
Read Next: Visiting Richmond Park – Everything You Need to Know
Snuggle in Front of an Open Pub Fire
There's nothing like a British pub for all the cosy winter feels. It's almost like someone set out to find the perfect antidote for cold nights and short days and came up with the idea of somewhere you can hang out with your mates, pint in hand, by a roaring fire with some hearty food on your plate… in other words, a pub.
Not all pubs are created equal – you need to be very particular about the kind of pubs you want to head to in in London during the winter months.
First of all there must be a fire, second, it must pull a decent pint (and have nice wine too – blasphemous but true), and finally it must serve great food. The Jerusalem Tavern in Clerkenwell fits the bill nicely, as does the Holly Bush in Hampstead (with the added bonus that it's perfectly located for post Hampstead Heath walk drinks too).

Top Tips for Winter in London
London's winters aren't actually that cold – average winter temperatures vary between 5℃ and 10℃ (January is the coldest month). That said, the wind chill can make it feel like it's about -50℃, so you're best off wrapping up warm.
Wear layers you can easily remove – the tube on a wintery day in London feels like stepping into the pit of hell. Not to mention the fact that restaurants and bars can often crank up the central heating to the point where you pretty much melt into a wet mess. Check out my winter city break packing list for more tips.
Bring an umbrella wherever you go.
Things to do in London in Winter: Map
Click here for a Google Map of London's Winter spots.
Love this? Save and Share on Pinterest!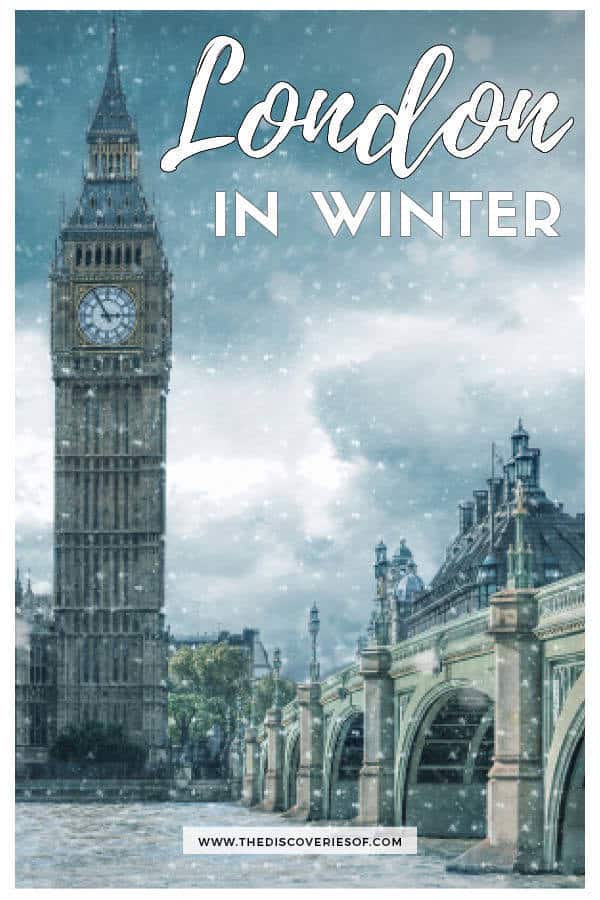 Read more London Guides