Christmas in London is a blast. From the Christmas markets that mushroom all over the city, to Christmas carols and festive films – here are the best things to do in London at Christmas.
Those of you who know me will not in any way, shape or form be surprised when I say that Christmas season in London is hands down one of my favourite times of year.
What's not to like? There are more Christmas markets in London than you could possibly visit, parties, pantos, Christmas lights – it's like everyone forgets that winter in London can be kind of bleak and decides to roll with the festive flow.
Now, I'm totally biased, but Christmas in London is just the absolute best. First of all, you have an excuse to drink Christmas cocktails (for the record, these are like normal cocktails but better), eat festive afternoon teas and dress up in ugly jumpers – all that before we get to the real stuff, like… mulled wine and Christmas carols.
Here it is: the best things to do in London at Christmas – 13 Christmas in London ideas for your December London bucket list. Ho ho ho!
Take a Jaunt to one of London's Christmas Markets
I remember the sad old days when there weren't any Christmas markets – when you had to drink your mulled wine at home and do your Christmas shopping in the gaudy department stores in Oxford Street. Thankfully, those days are over.
You can barely move in London at Christmas without stumbling across another Christmas market. Are we complaining? No.
Winter Wonderland in Hyde Park is the biggest and best-known, but if you do venture there – be prepared for the fray. The Winter Festival at the Southbank Centre is still central, but a little more low-key. Alternatively Greenwich Christmas Market is a great choice if you want to stray from the centre.
Read More: The Best Christmas Markets in London

Explore London's Christmas Afternoon Teas
Afternoon tea in London is a year-round must – nowhere does afternoon teas quite like London – but in the run up to Christmas, they really step it up a notch.
Of course, you can go for a blow-out afternoon tea somewhere incredibly fancy like The Ritz. The famous Palm Court is festooned with decorations, transforming it into a winter wonderland – plus the tea itself is pimped by the addition of mince pies, festive cakes and a glass of bubbly. All for £80… O.K London.
The Dorchester's festive afternoon is similarly fabulous and pricey.
If those are a little on the expensive side – the Biscuiteers festive afternoon tea is a more wallet-friendly alternative. Feast on their signature biscuits (complete with Christmas decorations obviously) and a selection of other sweet treats – £30 per adult.
Watch a Film at one of London's Christmas Winter Cinemas
Tempting as it is to bury yourself under covers and watch all the festive classics from the safety of your bed, there are better options at hand.
The Luna Winter Cinema has ALL the classics. Elf, Die Hard (don't start that old debate about whether it's a Christmas film – it just is), Home Alone, Love Actually. They're spread out across five cool locations (hello, Kensington Palace anyone?), so it's easy to find one convenient for you.
Other festive film pop ups include the Backyard Cinema at Winterville, Lost Rivers in Elephant & Castle (can I just take a moment to say OMG, they're showing Cool Runnings) and Nomad Screenings in a giant igloo at Citypoint. The perfect excuse to binge-watch all the Christmas films you could ever want.
Drink Christmas Cocktails at London's Best Bars
Don't you just love how things that are pretty fabulous anyway get even better at Christmas? The humble cocktail being a case in point.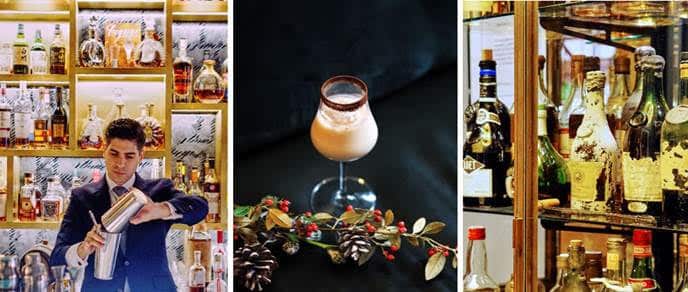 Now clearly, we all love a good cocktail at any time of year – and London's packed with bars that just so happen to excel at making them (like ahem, these ones in Shoreditch). But at Christmas? The gloves are off. The Snow Ho Ho at 70s pop up Bobby Fitzpatrick gives off all the retro vibes, while the Cantonese Mulled Wine at Duddell's provides an alternative take on a tried and tested classic.
Want to go all out? The St Nicholas' Cocktail at Donovan's Bar is a lip-smackingly good blend of raisin-infused Hennessey, tonka beans syrup, almond milk and kahlua. It's like a big, warm, boozy hug.

Participate in a Long-Standing Tradition with the Christmas Auction at Smithfield Meat Market
I've really tried to keep the Christmas Eve auction at Smithfield Meat Market a secret as it's such a cool little festive London event and I don't want it to be ruined. But I've got a blabbermouth, so really, I'm just going to tell you anyway.
Smithfield is the UK's largest meat market and one of the city's oldest markets. Great, great. But what's that got to do with Christmas?
Every Christmas Eve, one butcher shop, Hart of Smithfield's hosts a Christmas Auction on the street outside of the market. There are Christmas carols and a jovial crowd turn up to bid on a selection of cuts for the Christmas table. Not only is it excellent value, but the cheeky quips, festive atmosphere and frenetic pace make it one of the quirkier things to do in London at Christmas.
Tuck Into a Christmas Meal with a Difference
It's great to have the family over on Christmas Day isn't it?
You get to spend all day (and probably a lot of the night before) slaving away over the stove, only to have your mum complain that the brussels sprouts are overcooked, your dad tell you that the turkey's dry and then have them all mince away, leaving you with a gargantuan pile of washing up and congealed food to get on with on Boxing Day.
Fun right? No, I'm not bitter.
It's no wonder that so many people choose to sack the whole cooking malarkey off and treat themselves to a blow out Christmas meal instead.
If that sounds tempting, Roux at Parliament Square's decadent four-course French Christmas menu hits all the right spots: if you can't trust Michel Roux to get Christmas right then who can you trust? He can bloody well deal with the dishes too.
Take a Tour of the London Christmas Lights
When I was a child, my mum used to take us on a DIY tour of London's Christmas lights. You know what? I still love it now as much as I did then.
Obviously Oxford Street and Regent Street are the biggies – their lights are two of the most-visited Christmas attractions in London. But really there are so many London Christmas lights that it's best to put on a warm winter coat and walk to as many as possible once it gets dark (who am I kidding, it's winter, it's pretty much always dark).
Hit up Oxford Street, Regent's Street Carnaby Street, Covent Garden and Bond Street for starters, then trek out to Kew, where the Christmas lights are something else.

Book Tickets for a Christmas Panto in London
"Who's that behind you?"
Who said that panto is just for kids? Whoever it was, they were incorrect.
Now, I don't know about you but the costumes, the drama, the cheering, the booing – there's nothing like a London Christmastime panto to awaken that sense of childish glee that is just so Christmas.
The biggest pantos feature some of the darlings of the London stage (Robert Lindsay pops up in this year's Peter Pan at the Richmond Theatre, while Dawn French takes on the role of the Wicked Queen, alongside Julian Clary in Snow White at the London Palladium). A trip to the panto is what Christmas fun in London is all about.
Unleash Your Inner Child at Hamleys
Hamleys is the oldest and the largest toy shop in the world, so it makes sense that they're going to put on quite a show for Christmas.
Now, you can pretend that you're just popping in to Hamleys because you need to pick up a present for your eight year old niece but you and I know the truth…
It's OK, your secret is safe with me.
Make Like Harry and Visit Hogwarts in the Snow
Hands up if you start re-watching all of the Harry Potter movies on repeat the moment that it hits December. Just me then? You're missing out. It's a real Christmas treat.
You can visit the Harry Potter film set throughout the year, but it takes on an extra-special atmosphere at Christmas for Hogwarts in the Snow.
The Great Hall is decorated for the Yule Ball from Goblet of Fire (you know, the one in the Triwizard Tournament when Hermione turns up with Viktor Krum and shizz goes down big time). In fact many of the sets are given a festive makeover -and if you're quick, you can snap up tickets to have dinner in the great hall.
Christmas Activities in London: Ice Skating
I'll level with you. I actually hate ice skating – I'm infinitely clumsy and any time I've ventured onto the ice has generally ended with me spending a lot of time face down and up, close and personal to the cold stuff.
Just because I can't get my head around basic coordination doesn't mean that you shouldn't go and skate your little hearts out at one of London's pop up ice skating rinks. Somerset House's ice rink is beautiful, The Natural History Museum's rink is a stunner too.
Other popular options include the Tower of London, Canary Wharf and, if you're willing to hop on the train, Hampton Court Palace.
Don't worry, I'll be there to cheer you from the sidelines, envy twisting my heart like a dark canker.
Sing Along to Some Festive London Christmas Carols
Which is your favourite Christmas carol? Low key O Little Town of Bethlehem? No, let me guess… the all out drama of Hark the Herald Angels Sing – I knew it.
Not all carol concerts are created equal – obviously having a choir that can sing helps, a magical setting is a big bonus – most important of all? A gung ho crowd willing to belt out the old classics. Go for carols at St Paul's Cathedral or Westminster Abbey if you want the full on London Christmas carol experience, they won't let you down.
Visit the Christmas Tree at Trafalgar Square
Did you know that the good people of Norway have been sending us Brits a Christmas tree to put in Trafalgar Square every year since 1947 as a remembrance of British support during WWII? You can add that to your interesting facts about London compendium.
Let's face it, Trafalgar Square is one of the places to visit in London during Christmas that seems to slip onto everyone's festive calendar.
Seeing as they've gone to all the effort of sending over a huge Norwegian spruce, it feels like it's only the polite thing to go and check it out as a small way of saying thanks. The 25 metre-tall tree sits in the middle of the square, festooned with lights and looking ever so Christmassy.
Read More: Trafalgar Square – How to Visit, What to See + More
So, there we are – the best things to do in London at Christmas. Go forth and eat all the mince pies, washed down with lashings of mulled wine.

I hope that you enjoy and, if I don't get to speak to you before – Merry Christmas!
Top Tips for Christmas in London
Wear warm clothes – though London rarely gets below freezing, it's cold enough that you should make sure you wrap up warm!
The best way to explore London is on foot – the central attractions are in a surprisingly small area and easily walkable.
Some things, like the pantos and Christmas at Kew need to be booked in advance. I know, spontaneity killer. If in doubt, check.
Christmas is a peak period for London's hotels so it takes a bit of insider info to find something reasonable. Find the best places to stay in London in my guide to the best areas and hotels to stay in London.
Coming from out of town? Check out my winter city break packing list.
Save and Share the Festive Spirit on Pinterest!

Love This? You Should Also Read…