How do you make pasta? It's such a common question, particularly now when it's becoming increasingly difficult (read: pretty much impossible) to find pasta on the shelves.
I'm going to start by saying one thing.
Making pasta is bafflingly easy.
Before I started making my own pasta, I thought that it was something of a dark art, an enigma guarded by a secret society of nonnas in widow's weeds into which you could only gain acceptance by a) being Italian b) spending years as a lowly apprentice, cleaning up and eating scraps whilst patiently working your way towards becoming one of the deserving.
Incorrect.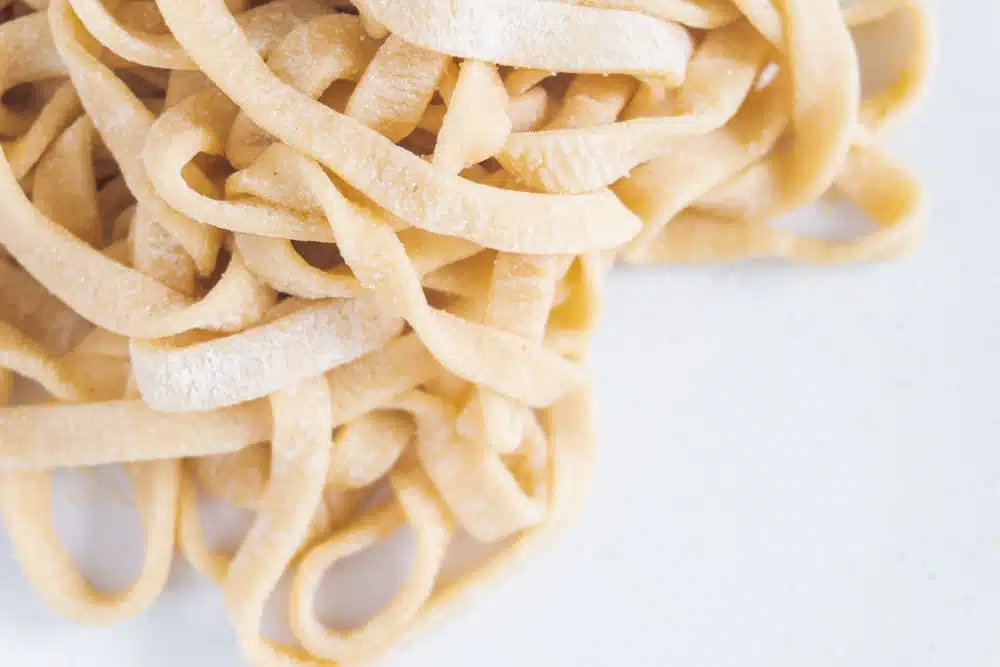 Forget any idea that making pasta needs a tonne of skill, or even that much time. It is easy peasy. There are some things you need to bear in mind as you go along, but do so and you'll find that you'll be knocking up batches of the stuff at the drop of a hat.
The dough is just the beginning.
Once you've made this basic pasta recipe, you open up a world of possibilities – from the punchy tang of a plate of puttanesca, to a comforting chicken alfredo or the silky smooth egg-coated strands of carbonara – all made from this humble pasta dough.
I'm going to walk you through the process step by step, finishing up with a batch of fresh pasta dough that you can then use to make any number of pasta-based dishes (and then some).

How to Make Homemade Pasta: Step by Step
Ingredients to Make Pasta
To make fresh egg pasta, you only need two ingredients – flour and eggs.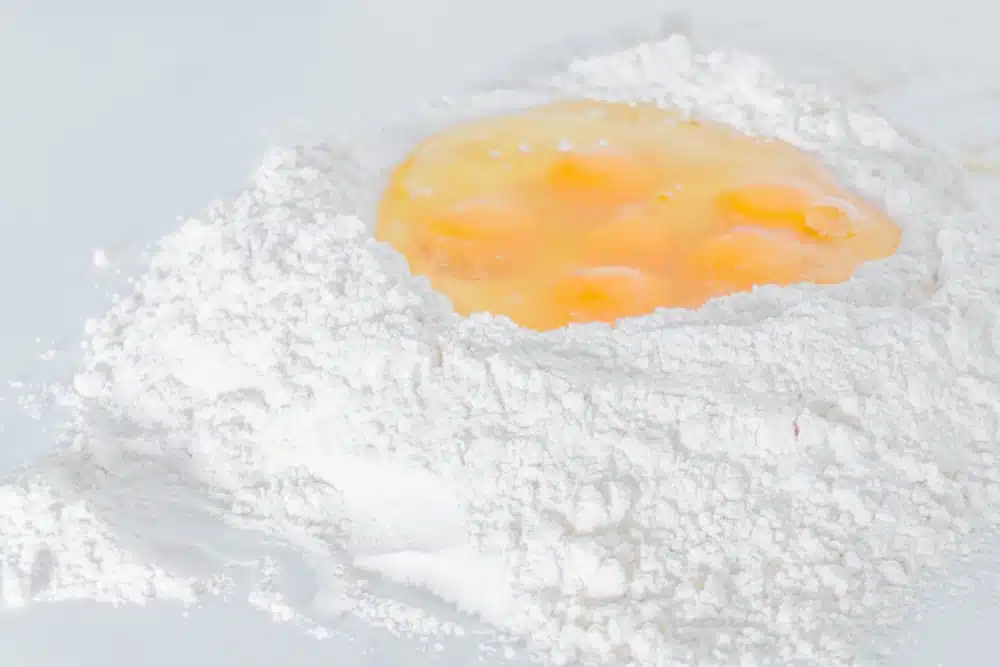 As a rule of thumb, you should allow 100g of plain flour and 1 egg per person, so if you want to make enough pasta for 6 people, you would want 600g and 6 eggs.
Type 00 flour is the best flour for pasta as it's been processed to remove more bran and germ, resulting in a silkier pasta that retains more bite once it's been cooked. That said, it's perfectly fine to make pasta with normal plain flour.
Starting the Pasta Dough
Ensure you have a large area of clean and clear surface to work in and clean hands.
Tip the flour onto the surface and make a well in the middle, crack the eggs into the well.
Using your fingers or a fork, start incorporating the flour into the eggs in a circular motion. Once the centre is no longer liquid, knead in the rest of the flour until it's all incorporated. You may need to add a tiny bit of water to do this. If the dough is too wet and sticky, add some more flour.
Kneading the Dough
This is the bit that requires patience. Start to knead the pasta dough, pushing through the pasta with the heel of your hand, stretching it as much with each motion. Continue to knead the dough until it's smooth and elastic, this will take around 5-10 minutes.
I've seen some recommendations for using a stand mixer for the kneading process but we broke a gear on our Kitchenaid a few years ago doing this, so I now do it by hand.
Let the Pasta Dough Rest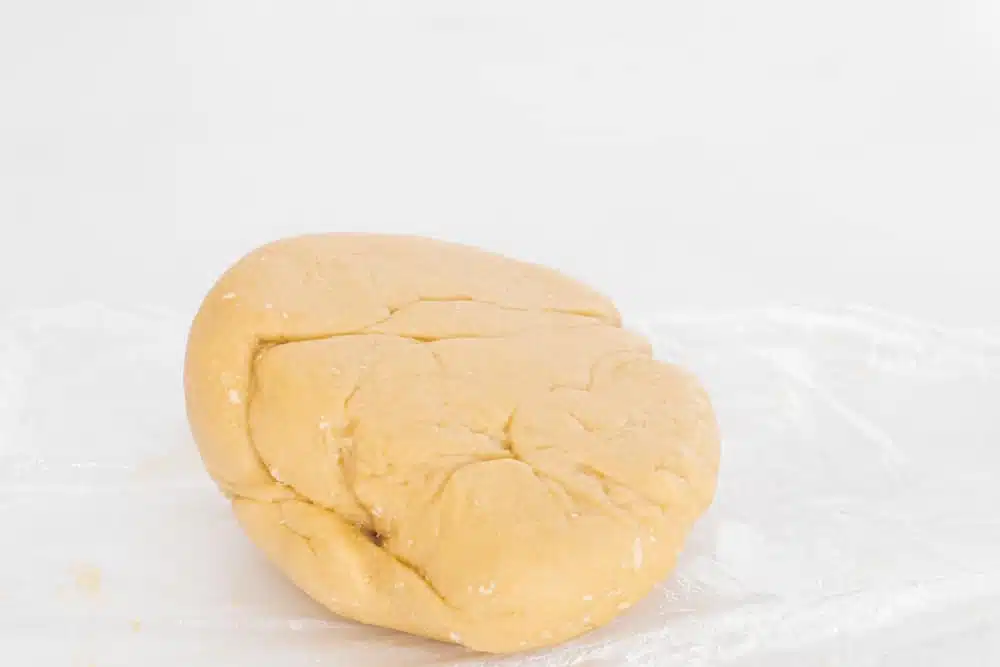 At this point, you need to leave the dough to rest. Wrap it in cling film and leave for a minimum of half an hour.
If you're not using the pasta in the next few hours, you can let it rest in the fridge, but ensure you bring it up to room temperature before you start to work with it later.
Roll and Shape
After you've rested the dough, you can roll and shape the pasta to suit its intended use.
A pasta machine is useful for this, but it's easy enough to do it without.
Rolling Pasta Without a Pasta Machine
If you're not using a pasta machine, flour your surface and a heavy rolling pin. Cut the dough into manageable amounts and roll the pasta dough out, rotating it to achieve an even thickness throughout. Roll to your desired thickness then cut.
Using a Pasta Machine
If you are using a pasta machine, pass the pasta through the settings until you achieve the thickness you want. You'll want very thin pasta for ravioli, so keep passing it through to the lowest setting, whereas you'll want to go to a medium setting for more robust pastas like tagliatelle.
The pasta is then ready to cut and shape, or you can use the machine to cut for tagliatelle or spaghetti.
Practical Tips for the Best Homemade Pasta
How Long Does it Take to Make Pasta?
It takes around 25-30 minutes of hands-on time to make and shape the pasta, plus at least half an hour for resting.
How Long Does Fresh Pasta Keep in the Fridge?
You can keep the pasta dough in the fridge for up to a day if it's wrapped in clingfilm. After this, the dough starts to discolour and deteriorate so you're better off freezing it.
You can also keep cut pasta in the fridge for the same period of time – just be sure to lightly dust it with flour to stop it from clumping together.
Can I Freeze Fresh Pasta?
Yes! You can freeze fresh pasta for up to a month. Once you've cut the pasta, spread it out and leave it to dry for 10-15 minutes, lightly dust with flour and then freeze.
You can cook pasta straight from the freezer – just follow the normal instructions for cooking fresh pasta.
How to Cook Fresh Pasta
The most important thing to remember is not to overcook your pasta. Most fresh pasta will only need to be cooked for 1-2 minutes in boiling water – the exact cooking time will depend on the thickness of the pasta. Cooking fresh pasta is easy – simply bring a large pot of water to the boil, add salt and then add the pasta. Cook for 1-2 minutes, until the pasta is cooked but still retains some bite (al dente).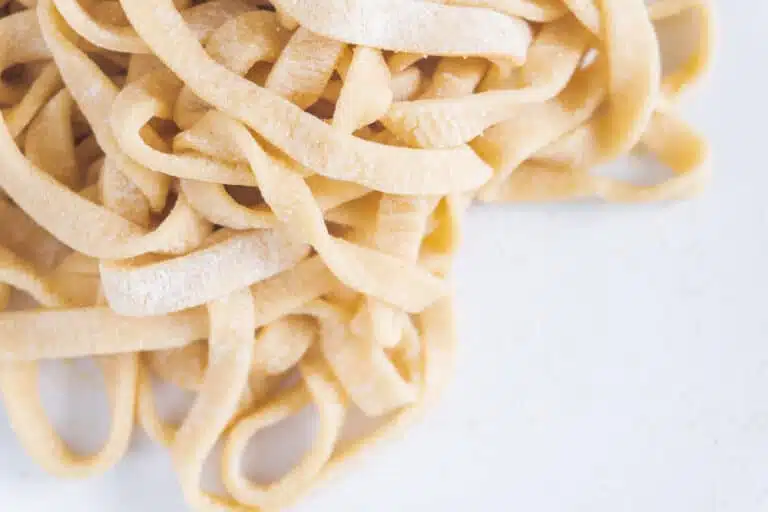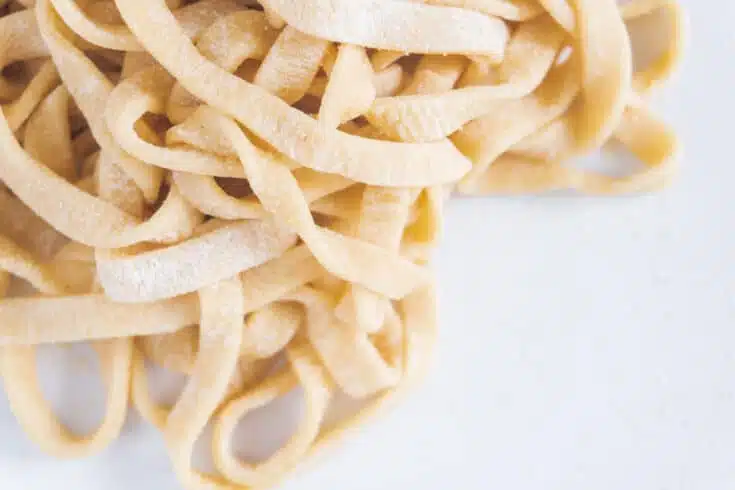 Yield:

Serves 6
Fresh Pasta Recipe
Additional Time:
30 minutes
Wondering how to make pasta? This easy step by step recipe will have you whipping up batches of homemade pasta like a pro.
Ingredients
600g type 00 or plain flour
6 large eggs
Instructions
Tip the flour onto your work surface, make a well in the middle and crack the eggs into the well.
Incorporate the flour into the eggs in a circular motion until you have a loose dough, then knead to bring in the rest of the flour.
Add water or more flour if the dough is too dry or wet.
Knead the pasta dough for 5-10 minutes until the dough is silky and elastic.
Wrap it in clingfilm and leave it to rest for a minimum of half an hour.
Take the rested dough and roll, either using a pasta machine or a heavy-duty rolling pin.
Shape the pasta as desired and it's ready to cook.

Nutrition Information:
Yield:
6
Serving Size:
1
Amount Per Serving:
Calories:

72
Total Fat:

5g
Saturated Fat:

2g
Trans Fat:

0g
Unsaturated Fat:

3g
Cholesterol:

186mg
Sodium:

71mg
Carbohydrates:

0g
Fiber:

0g
Sugar:

0g
Protein:

6g
Love this? Save and Share on Pinterest