I've had a special place in my heart for a cheesecake ever since I had enough brain cells to reach my pudgy little child hands into the fridge and ferret out illicit treats that made my heart pitter patter and my taste buds feel alive.
I'm completely serious. As a kid, I hated chocolate, hated super-sweet desserts, disliked most sweets, but say the word cheesecake to me and I'd melt in a puddle.
Just to be clear, we're not talking about a baked cheesecake (it's taken me a long time, but I can finally get on board with the idea that they too are a delicious but completely separate entity), we are talking about those light, fluffy, buttery bites of goodness that come from a no bake cheesecake.
Drooooooooooollllll.
Anyway, now that I'm on lockdown, I'm throwing myself into making all kinds of magic in the kitchen… along with every other middle-class kind of middle aged broad out there.
Of all the numerous dishes that have been born of this unnatural confinement, this honey cheesecake is the one of which I'm proudest.
First, I wouldn't be being honest if I omitted the fact that I originally planned to make this as a baked cheesecake.
In fact, I made the cheesecake, faithfully stirring, blitzing and cooking my way towards a much hoped-for perfection…only to have the damned thing cascade down my arm in a river of gloop thanks to a leaky springform tin and some insufficient foil protection to guard it against the insidious wetness of the bain marie water bath I'd cooked it in.
Fail, fail, fail with a bit more fail again for good measure.
Seeing as it's pretty much impossible to get hold of eggs right now, I was pretty pissed about the fact that I'd wasted no fewer than three on something that I ended up washing down the sink… so I decided that take two would be a no bake cheesecake that wouldn't need any eggs at all.
Well, all I can say is OMG yes. This turned out to be an absolute winner – the floral sweetness of the honey contrasts perfectly with the sour cream cheese, complemented by the piney fragrance of the rosemary. All the yes.
Let's get down to business.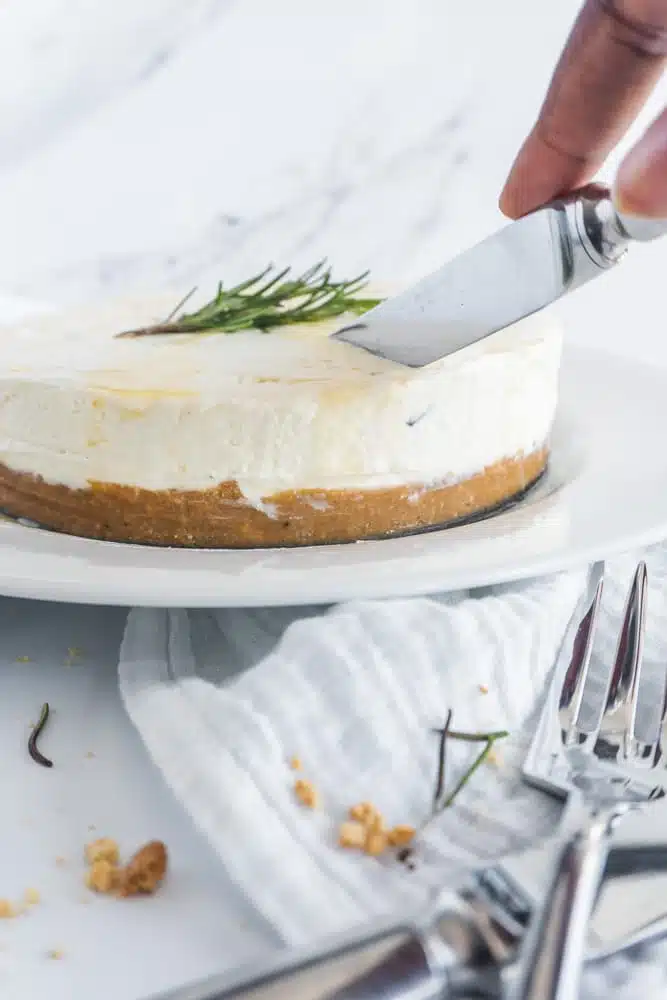 Practical Tips for Making the Honey & Rosemary No Bake Cheesecake
One of the joys of no bake cheesecakes is how simple they are to prepare, but there are a few tricks you should know to help you cook your way to cheesecake nirvana.
Whip the Cream Cheese and Double Cream
You should whip the cream cheese and double cream separately, before gently folding the two together in a figure of eight motion. This helps incorporate and retain as much air as possible into the cheesecake, ensuring you end up with a light and fluffy cake rather than a dense brick.
Use a Springform Tin
A springform tin is ideal as you can leave the cheesecake inside the tin while it sets then spring the base out with the cheesecake on it to serve. You can dice with the devil and slide the cheesecake off, or go the lazy way (aka my way) and leave it on the base.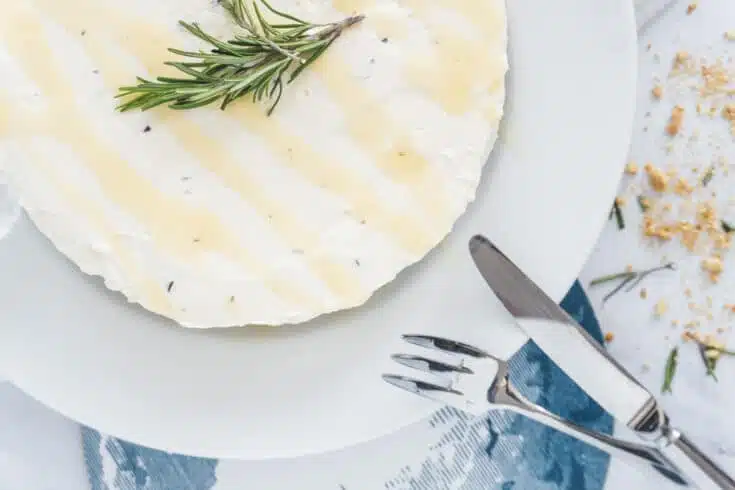 Yield:

Serves 8
Easy Rosemary and Honey No Bake Cheesecake Recipe
Total Time:
1 hour
15 minutes
Rosemary and honey pair together in this quick but decadent no bake cheesecake recipe. Try this elegant honey cheesecake that's deceptively simple to make at home.
Ingredients
400g cream cheese
300g double cream
150g honey
½ tsp vanilla bean paste / seeds of 1 vanilla pod
2 sprigs rosemary (plus extra to garnish)
200g digestive biscuits
50g walnuts
120g unsalted butte
Instructions
Finely chop the rosemary.

Add one half of the rosemary plus all the butter to a pan and melt on a low heat. Leave to infuse as you prepare the rest of the base.

Blitz or crush the digestive biscuits and walnuts to a fine powder (you can do this in a food processor or in a large pestle and mortar / with the end of a rolling in).

Mix the biscuit and nut base with the melted rosemary butter to form a thick paste. Line the bottom of the springform tin with baking parchment and pour the base into the tin. Put in the fridge and leave for 15-20 minutes to set.

Meanwhile, whip the double cream until it forms stiff peaks, set aside.
Whip the cream cheese until it's light and airy, then stir in the vanilla, the remaining rosemary and honey. Whip again.

Combine the cream cheese mixture with the double cream using a spatula and a figure of eight motion. You want the two mixtures to combine, but also to retain as much of the air as possible.

Pour the combined mixture on top of the set biscuit base, level off, cover with cling film and put back into the fridge. Leave for 1 hour to set.

To serve, push the bottom out of the springform tin and slide the cheesecake from the base to a plate or platter.

Nutrition Information:
Yield:
8
Serving Size:
1
Amount Per Serving:
Calories:

527
Total Fat:

40g
Saturated Fat:

22g
Trans Fat:

1g
Unsaturated Fat:

15g
Cholesterol:

95mg
Sodium:

235mg
Carbohydrates:

37g
Fiber:

1g
Sugar:

29g
Protein:

7g
Love this? Save and Share on Pinterest!