Any time calls for cocktail measures. Isn't that how the popular saying goes? Maybe not, but it really should.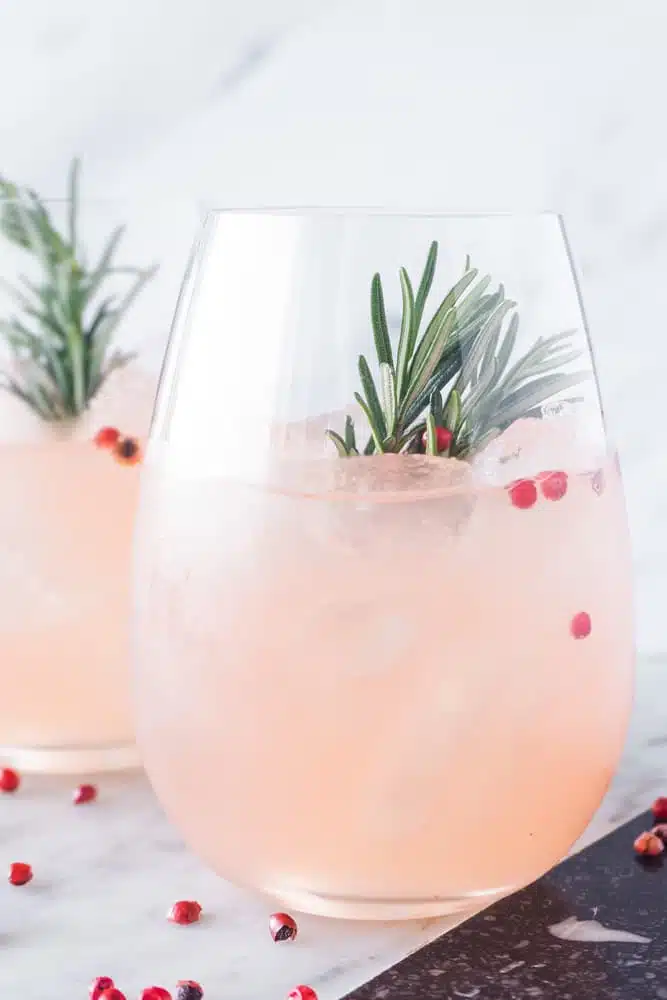 It's no secret that we're a big fan of a cocktail in the Barnabelliott household (it's a portmanteau, no, our surnames are not that ridiculous) – BUT, and this is a big but – not any cocktail will do.
No ridiculously sweet syrupy cocktails that taste like calpol in the days before they worked out that loading up sick kids with tonnes of sugar wasn't the best idea.
Definitely no cocktails that require ten times as much time to make them as it does to drink them (I once came across a book that had a bunch of sous vide cocktail recipes – who da fuq has the time for that?).
Oh, and no cocktails for people who don't like the taste of alcohol. I think you'll find that Smirnoff Ice and other such alcopops were invented for that very reason.
Now we've got all of that out of the way, I'll say this.
This gin grapefruit cocktail is a revelation. Not too sweet, not too bitter, not jaw-clenchingly tart in the way that some drinks involving grapefruit are apt to be. It's the perfect draught of cool refreshment you need on a spring or summer's day, a drink that's made to be sipped, not gulped.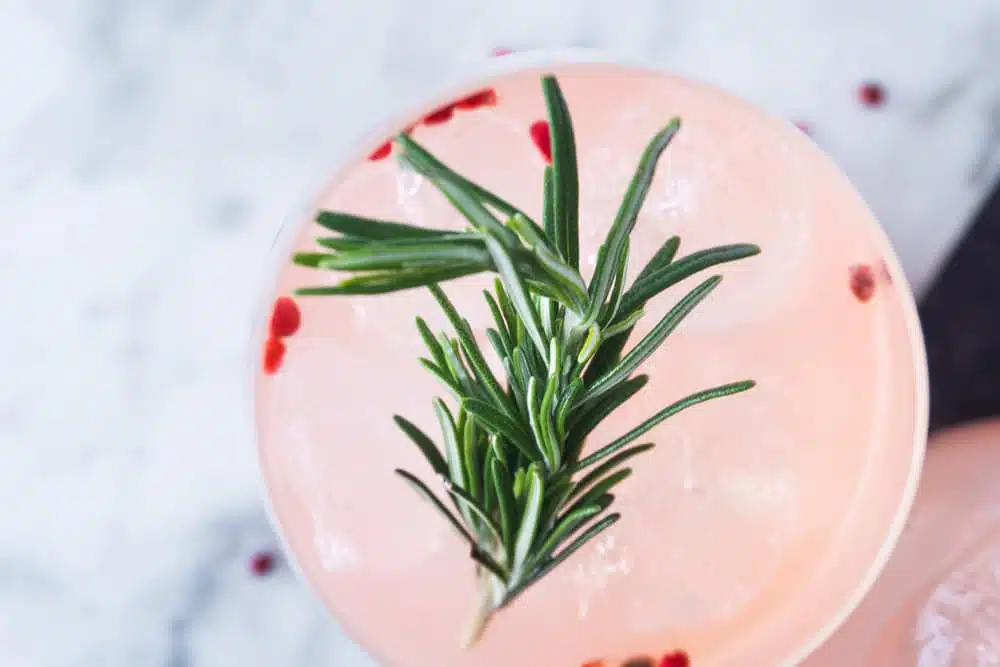 Practical Tips for Making These Grapefruit and Rosemary Gin Cocktails
Make the Rosemary Simple Syrup
Rosemary might not seem like an obvious choice for putting into a cocktail, but people have been putting herbs into alcohol under the guise of making restorative shit that's good for you since time began.
Who are we to stray from the fold?
In fact, the rosemary adds welcome woody, fragrant undertones to this cocktail – without it this would just be a lurid crash of sweet, tart and cold.
Making the rosemary simple syrup is easy as pie.
Take a couple of sprigs of rosemary, add equal parts sugar and water (how much will depend on how many cocktails you're planning to make with the syrup) and add to a low heat until the sugar dissolves and it comes to a low simmer. Leave to cool (with the rosemary sprigs still in the syrup) and then use as and when needed.
If you've made too much, no fret, the syrup will keep in a refrigerated bottle for up to a month – during which time you should obviously use it to make more awesome grapefruit cocktails to save on wasting it 🙂
Use Freshly-Squeezed Grapefruit Juice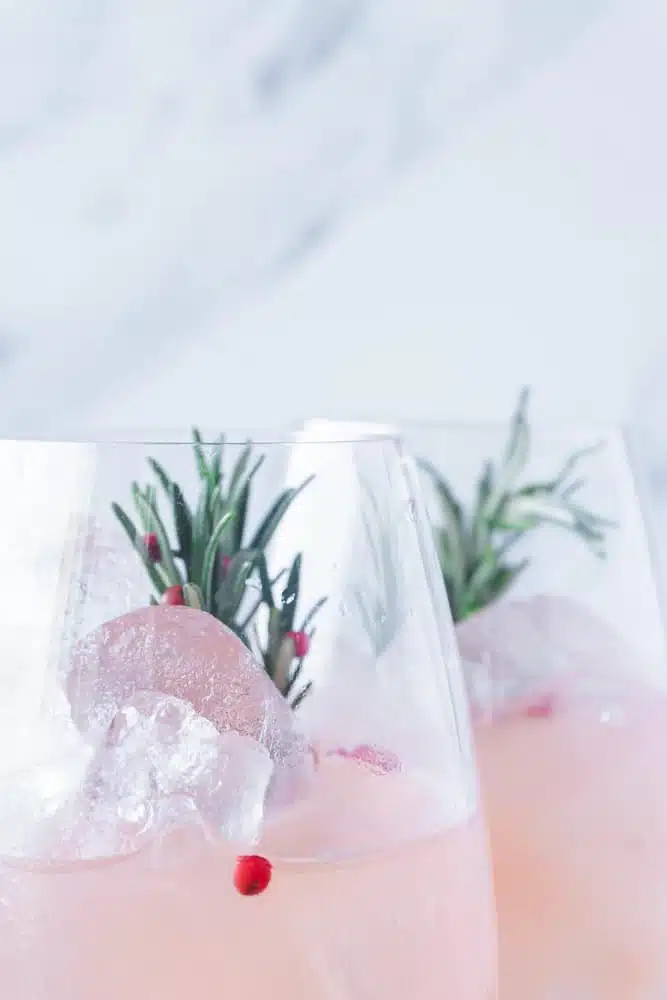 You want this cocktail to taste light and refreshing rather than syrupy sweet – so you need to make sure that you're using freshly-squeezed grapefruit juice with no additional crap.
I'd recommend straining the juice through muslin to remove the bits but, let's face it, the world really isn't going to end if you don't.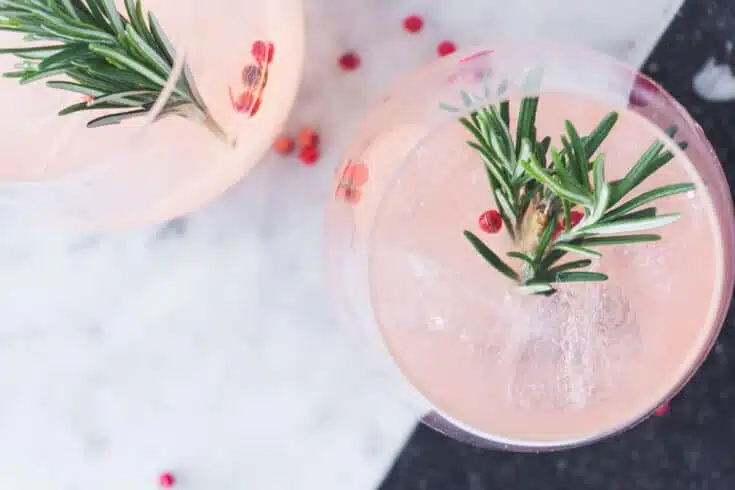 Yield:

Makes 2 cocktails
Grapefruit, Rosemary & Gin Cocktail Recipe
This delicious grapefruit, rosemary and gin cocktail is perfectly refreshing and a total breeze to make at home.
Ingredients
100ml gin
100ml freshly squeezed (and preferably strained) pink grapefruit juice
50ml rosemary simple syrup
Optional
Crushed pink peppercorns and two short sprigs of rosemary to serve
For the Simple Syrup
⅓ cup water
⅓ cup white sugar
One large sprig of rosemary
Instructions
To make the rosemary simple syrup, add the rosemary, water and sugar to a small pot and put onto a medium low-heat. Leave for 10-15 minutes under the sugar has dissolved and it's come to a low simmer.

Leave to cool.

Add the rosemary simple syrup, gin and pink grapefruit juice to a shaker with ice. Shake well.

Fill two low-ball glasses with ice, strain the cocktail into the glasses.

Garnish with rosemary and pink peppercorns and serve.

Nutrition Information:
Yield:
2
Serving Size:
1
Amount Per Serving:
Calories:

230
Total Fat:

9g
Saturated Fat:

5g
Trans Fat:

0g
Unsaturated Fat:

3g
Cholesterol:

0mg
Sodium:

35mg
Carbohydrates:

153g
Fiber:

27g
Sugar:

108g
Protein:

3g
Love this? Save and Share on Pinterest!
Looking for more cocktail inspiration? Check out this delicious watermelon martini.