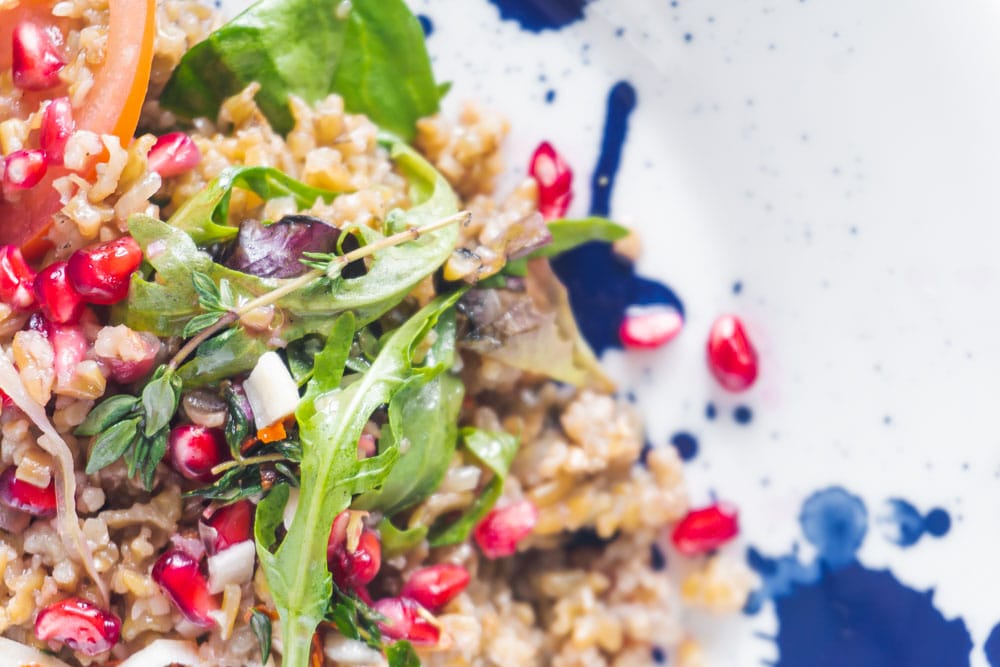 Listen up peeps, it's time to get freekeh.
Sorry, I tried to stop myself from making some kind of freekeh-based joke but the opportunity was too freekeh good to pass up.
OK, this time I'm done for real.
If you haven't discovered the joys of freekeh, a cracked wheat that is picked while green, then smoked and rubbed, it's high time you do.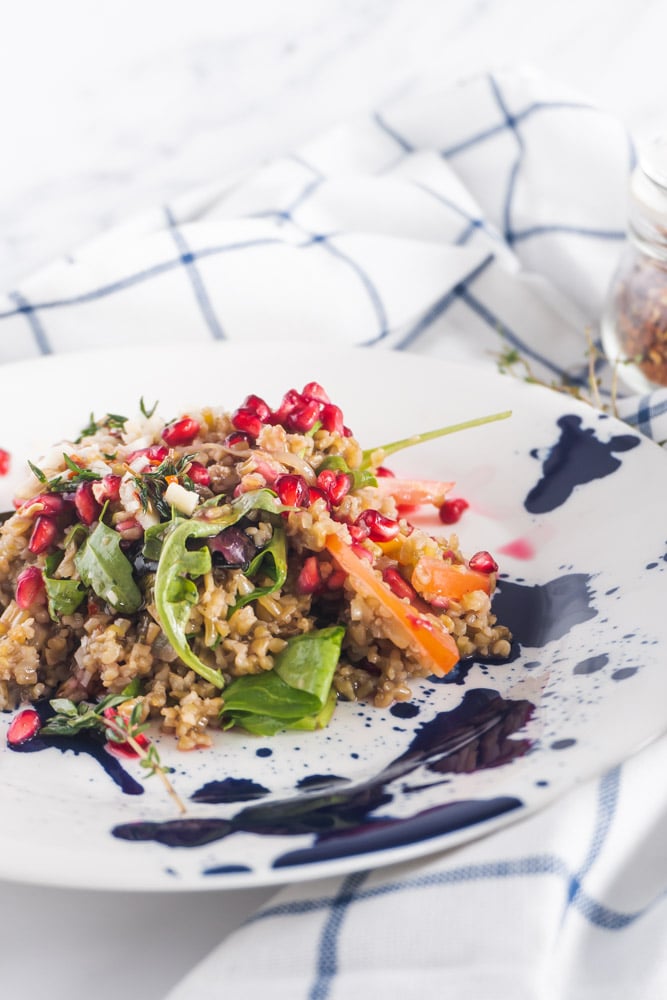 Middle Eastern cuisine knows a thing about a good grain (oh, did someone say couscous or bulghur wheat) but freekeh goes a step beyond. The smoking process lends freekeh an unusual flavour that works incredibly well in salads of the hale and hearty kind (as opposed to the limp and disgusting kind).
Like many of you guys, I'm sitting here in self-isolation day nine million.
The sun is shining outside and I'm dreaming of the good old days, you know, the ones where you could pop out for a casual walk, sunbathe on the beach, soak up some good old vitamin D.
Short of any of that becoming a reality anytime soon, I'm cooking foods that can't help but bring a bit of warmth to your day.
I also wanted to create a recipe that really showcased freekeh at its best, whilst pairing it with another Middle Eastern favourite: pomegranate seeds.
The result was this Freekeh and Pomegranate Salad – the kind of salad that even people who hate salad will love. You're welcome.
PS. This is a great light lunch on its own, but it pairs really well with my Baked Feta Cheese Recipe if you want to make a quick meal that's bursting with flavour.
Practical Tips for Making the Freekeh and Pomegranate Salad
How to Deseed a Pomegranate (Without Your Kitchen Ending up Looking Like a Bloodbath)
Pomegranate can be a bit of a misunderstood fruit and a lot of that is down to the fact that it can be a bit of a PITA to prepare. Get it wrong and you end up spending what feels like hours separating the seeds from the pesky pith surrounding them… or you end up with what looks like WWIII in your kitchen. Neither is ideal.
There are a couple of ways to prepare a pomegranate. The first (and most fun, though potentially messy) is simply to cut the pomegranate in half, hold the half over a large bowl, cut side down and hit the fruit with the palm of your hand. The seeds will shoot out into the bowl and you're all done.
The second way is much more precise – cut the top of the pomegranate off, then cut down the sides in six slices, so you can then open it up from the centre. Once done, you can manipulate the seeds out gently into a bowl, whilst leaving the pith behind.
How to Cook Freekeh
Freekeh has so much flavour that you can get away with simply simmering it on a medium heat in water for 20 minutes until it's cooked but still retains a bit of bite.
If you really want to max out on the taste stakes, like we do for this recipe, you should saute some onions in the pan first, adding the freekeh and some stock (chicken or vegetable – just enough to cover the freekeh with a cm of liquid atop) once the onions have softened, then cooking for 20 minutes until the freekeh has absorbed the liquid.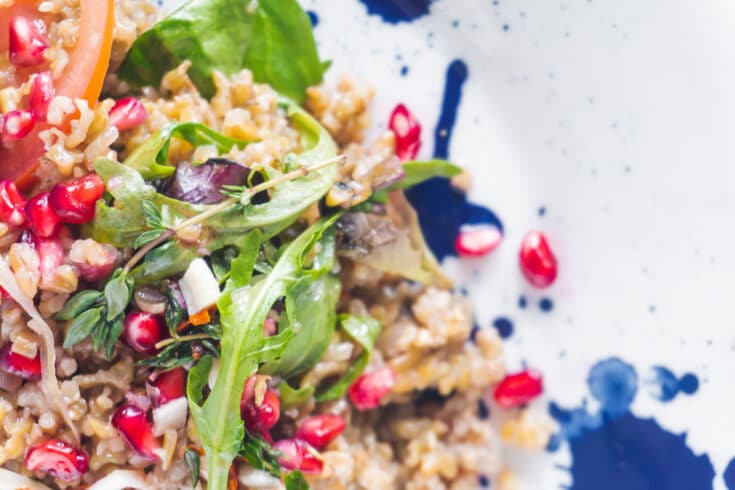 Yield:

Serves 2
Freekeh & Pomegranate Salad Recipe
Smoky freekeh pairs well with a vibrant pomegranate salad for a fresh and bright meal that's quick and easy to prepare. Try it at home.
Ingredients
125g smoked wholegrain freekeh
Seeds of ½ ripe pomegranate
½ bag mixed salad leaves
1 tsp chilli flakes
½ clove garlic
1 small onion
1 tomato
2 tbsp olive oil
200ml vegetable stock
Juice of ½ lemon
5 sprigs of thyme, leaves picked
Instructions
Finely chop the onion. Pour 1tbsp of the olive oil to a medium pan and heat on a low heat. Once warm, add the onion and saute until the onion is soft and translucent (around 10 mins).
Add the freekeh, stir to coat in the onion and oil then add the vegetable stock. Leave on a low heat to cook for 20-25mins or until soft but with some bite. Drain and allow to cool.

In the meantime, pound the garlic in a pestle and mortar, then add the chilli, thyme, lemon juice and remaining olive oil to make the dressing. Season to taste.

Chop the tomato ready to go into the salad.

Once the freekeh has cooled, toss the pomegranate seeds, salad leaves, tomato and freekeh. Dress with the thyme, chilli and lemon dressing and serve.

Nutrition Information:
Yield:
2
Serving Size:
1
Amount Per Serving:
Calories:

337
Total Fat:

15g
Saturated Fat:

2g
Trans Fat:

0g
Unsaturated Fat:

12g
Cholesterol:

1mg
Sodium:

377mg
Carbohydrates:

50g
Fiber:

8g
Sugar:

28g
Protein:

5g
Love this? Save and Share on Pinterest!