Another week at home demands another cocktail, this time a sneakily drinkable cucumber cocktail set off with a touch of thyme. If ever there was a ridiculously refreshing cocktail that you won't want to stop drinking, this is it.
There's something so summery about cucumber right?
From the dear old cucumber sandwiches beloved by Oscar Wilde's characters to a deliciously cooling cucumber and sesame salad, as soon as the sun starts to peek up, my cucumber consumption goes up about a million percent.
Which is why it's a bit of a surprise that it's taken me this long to create a cocktail with it. If you don't know by now, creating cocktails at home is. my. jam. Not to mention one of the mainstays of this weird and wonderful time where we're captive in our homes (it's weird for sure… wonderful not so much).
Cucumbers and gin are no strangers – after all, Hendricks is best served with a slice of cucumber rather than the standard lime thanks to its infusion with the essences of cucumber and rose.
It follows that a cucumber gin cocktail would work like a dream. Particularly when you add some aromatic thyme to keep things lively.
Anyway, that's enough chat from me. Let's do this.
Practical Tips for Making the Thyme, Cucumber & Gin Cocktail
Make Cucumber, Coriander & Thyme Simple Syrup
Making a cucumber simple syrup is probably the most complicated thing about this recipe and it's super easy.
Simply bring equal parts water and sugar to the boil, turn down the heat, add some chopped cucumber, whole coriander seeds and a couple of sprigs of thyme and leave on a low simmer until the sugar has dissolved in the liquid.
Leave to cool and steep for 10 minutes before straining.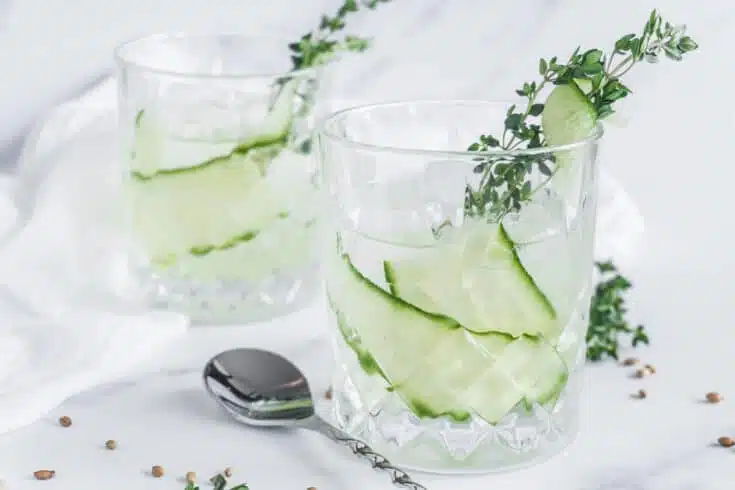 Yield:

2
Thyme and Cucumber Gin Cocktail Recipe
Is there anything more refreshing than a cucumber and gin cocktail? With hints of thyme, this refreshing cocktail is the perfect taste of summer.
Ingredients
For the cocktail
50ml gin
25ml triple sec
10ml cucumber coriander and thyme simple syrup
⅛ cucumber chopped
10ml lemon juice
For the cucumber simple syrup
½ cup water
½ cup sugar
⅛ cucumber sliced
1 tbsp coriander
2 sprigs thyme
Instructions
Make the cucumber simple syrup. Set aside and leave to cool for 10 minutes. Strain.
Take a cocktail shaker and muddle the fresh cucumber.
Add the ice, gin, triple sec, lemon juice and cucumber simple syrup.
Shake well, strain and serve into a short tumbler filled with ice.
Garnish with slices of cucumber and thyme.