You know you've joined the big boys when you start knocking up your own ravioli.
Any person with a kitchen and some motor function can fry an egg, but not nearly as many will even try to make their own ravioli at home.
Don't be afraid – making ravioli isn't actually that difficult. With a little bit of time, some fresh pasta dough and not even that much patience, you can be tucking into your very own ravioli, safe in the fug of smugness that you made it with your own two hands.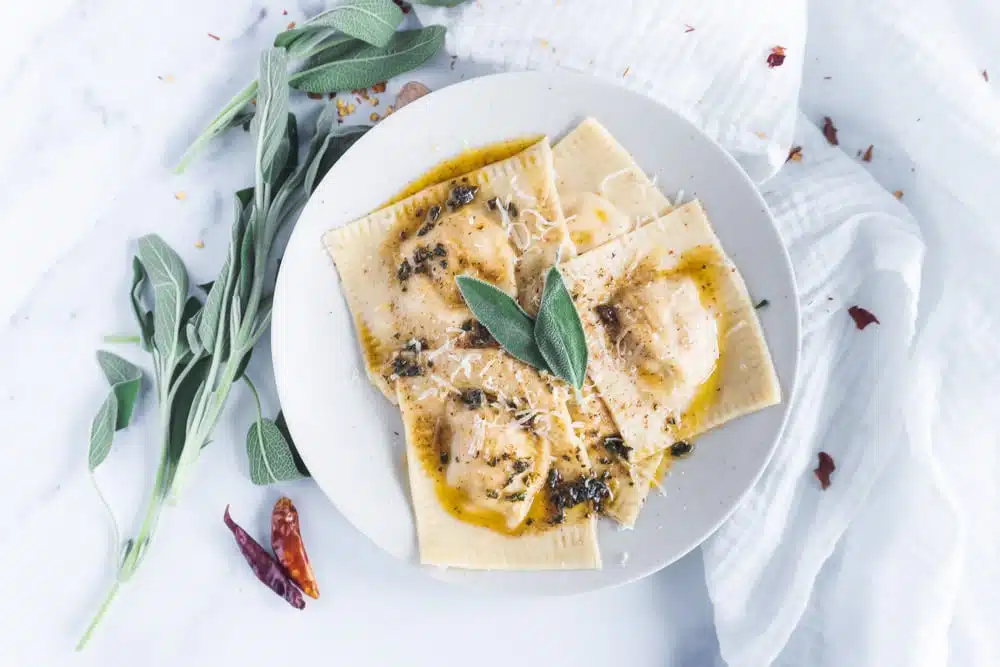 Before we get started on banging up some properly impressive butternut squash ravioli, I need to get something off my chest.
Old-school British school dinners have a lot to answer for, not least for their crimes against ravioli.
Ravioli day at school was every child's (OK, my) worst nightmare: soggy piles of overcooked pasta concealing mounds of unidentifiable filling that tasted vaguely of vomit and sadness. Worse still, as you tried to pierce them with your fork they used to squirt jets of lukewarm cooking water, mixed with filling all over your plate.
Honestly, in a roster of meals that were always pretty unappetising, ravioli day was the worst, the lowest of the low.
The nickname "pillows of sick" we gave them at school says it all.
I say all this to explain why well into my early twenties I had a horrific aversion to ravioli and still called them pillows of sick to anyone who'd listen. Cut a long story short, that all changed when I went to Italy and actually had ravioli that hadn't been massacred by some sadistic dinner lady.
I've been low-key obsessed ever since: making and eating ravioli as often as possible, trying all kinds of fillings, flavours and sauces. This is my very favourite – butternut squash ravioli with sage brown butter – the warm heat and sweetness of the filling of the ravioli offset by the understated sauce.
Enjoy.
You should also read: How to Make Pasta – a Step by Step Guide
Practical Tips for Making Roasted Squash Ravioli
What Kind of Sauce Should You Serve Your Butternut Squash Ravioli With?
I've included a simple brown butter and sage sauce here. You can change this if you want but this ravioli needs a relatively simple sauce as you don't want a sauce that overpowers the flavours of the ravioli itself.
Why Roast a Whole Butternut Squash?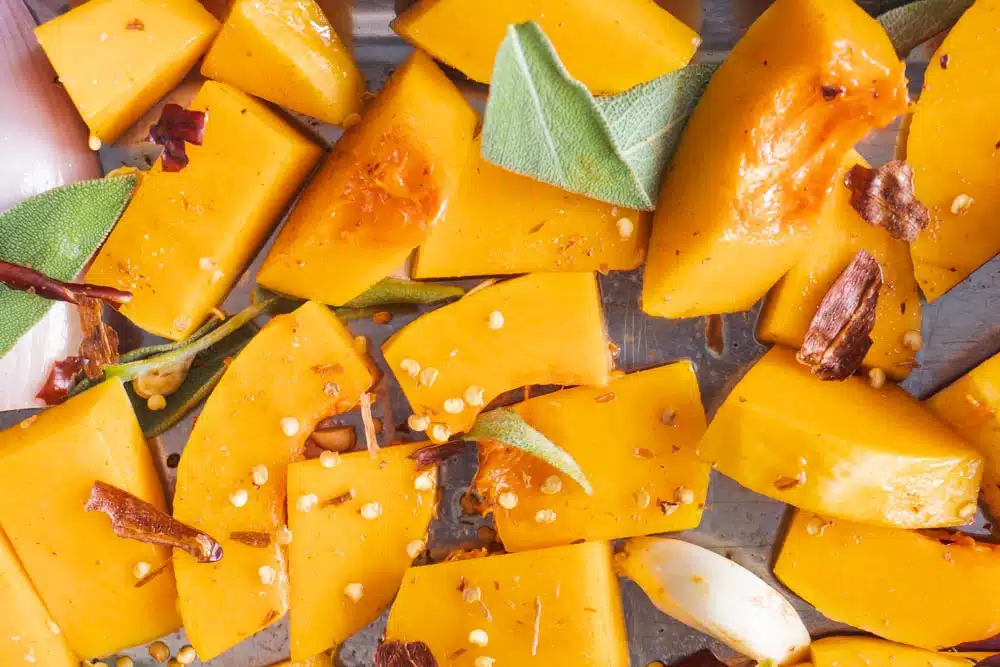 You'll see in the recipe that I've included a whole butternut squash, but only use ⅓ of it for the filling.
This is because it's a bit of a pain preparing squash and if you're going to do some, you might as well use up the squash and have some delicious roasted squash that you're able to use as you please in other dishes. It makes a very tasty risotto too #justsaying.
Can I Make Ravioli without a Pasta Machine?
Yes, you just need a heavy duty rolling pin and to be patient with the rolling process. Ensure your surface and rolling pin are lightly floured at all times and keep rotating and rolling the pasta until you reach the desired thickness.
How to Cook Butternut Squash Ravioli
Simply bring a large pot of water to the boil, add salt and then add the ravioli. Cook for 1-2 minutes, until they rise to the surface and remove with a slotted spoon.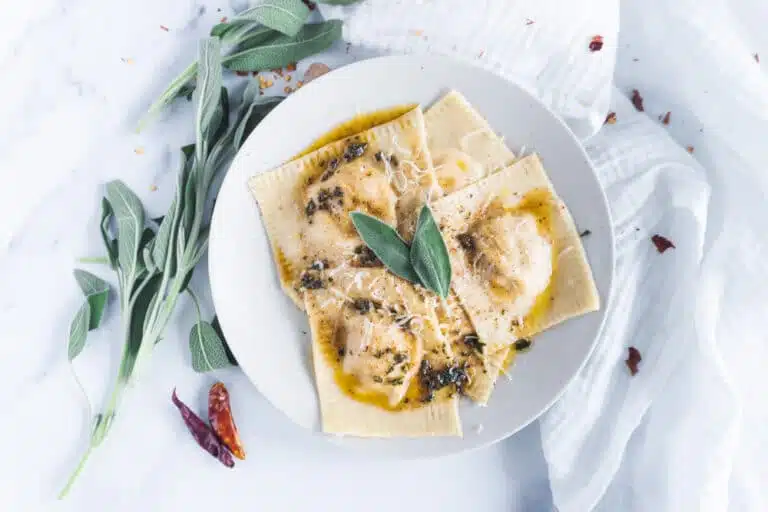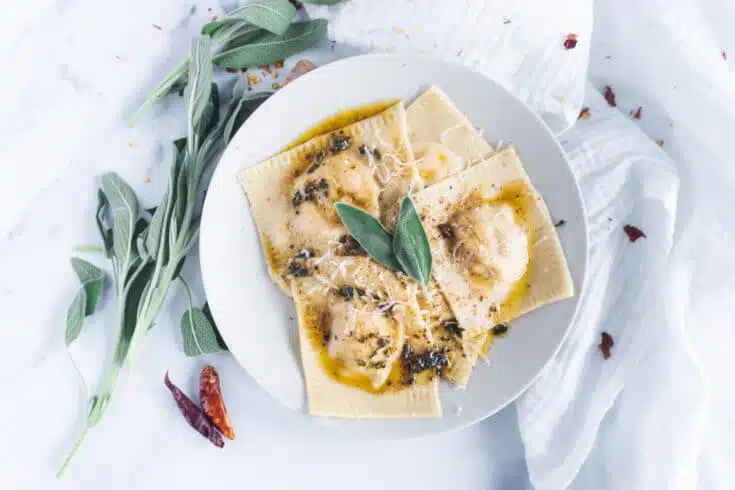 Yield:

Serves 2
Butternut Squash Ravioli with Sage Butter Recipe
Total Time:
1 hour
10 minutes
Roasted squash, sage and nutmeg create a hearty filling in this easy butternut squash ravioli recipe for you to cook at home.
Ingredients
200g fresh pasta dough
2 dried red chillies
1 butternut squash, diced
3 sprigs of sage, leaves picked
2 cloves garlic
1 shallot, halved
15ml double cream
100g butter
½ nutmeg
30g good-quality parmesan cheese
2 tablespoons olive oil
Salt for cooking the pasta
Black pepper to serve
Instructions
Preheat the oven to 200℃.

Chop and peel the butternut squash into medium chunks.

Add the squash, shallots, ⅔ of the sage and garlic cloves to a roasting tray - ensure the squash pieces have plenty of space (you may need to use two trays to allow enough space).

Crumble the red chillies and grate ½ of the nutmeg over the veg, add the olive oil and toss the veg so they're well coated.

Cook in the oven for 25-30 minutes - the squash should be soft right through if you pierce it with a fork.

While the squash is cooking, start working on the pasta. Cut your dough into thirds - work on one third at a time and keep the others wrapped in clingfilm to stop them drying out.

Take your third and roll it out to a rectangular shape on a lightly-floured surface.

If you're using a pasta machine, pass the pasta through each of the settings, starting with the thickest and working your way down to the thinnest. You will need to cut the pasta length in half as it gets longer and thinner to keep it manageable.

If you're not using a pasta machine, roll each third into a rectangle about 12 x 18 inches. The dough should be thin enough you can see your hand through it (although you can make it a bit thicker if you want sheets that are a bit easier to work with)

Lightly dust each finished layer with flour and cover with cling film while you work on the others.
Once you've finished all the sheets of pasta, prepare the filling by squeezing the cooked garlic from its skin into a food processor. Add ⅓ the roasted shallot, sage leaves, cream and squash and blitz until smooth (you can set aside the rest of the roasted veg and freeze for later use, or use in a salad / risotto).

Transfer the filling to a piping bag.

Lay out one sheet of pasta and pipe the filling into evenly sized and spaced dots along the length of the sheet. Brush water around the edges of the pasta and between the dots to help the second layer (see next step) to adhere easily.

Line up a second sheet of pasta over the first and press down along the edges and between the filling so the two stick together. It should be moulded around the filling.
Cut the squares of ravioli either with a knife or with a fluted ravioli cutting wheel. Set aside to start the sauce.

Add the butter and remaining sage leaves to a small pan and leave on a low heat to melt. The sauce is done when the butter takes on a light brown colouring.

Bring a large pot of water to the boil. Salt well and add the ravioli. Cook for 1-2 minutes.
Remove the ravioli and transfer to the serving plates with a slotted spoon.
Pour over the sage butter sauce and serve with a grating of parmesan, nutmeg and some freshly-milled black pepper.

Nutrition Information:
Yield:
2
Serving Size:
1
Amount Per Serving:
Calories:

1037
Total Fat:

64g
Saturated Fat:

32g
Trans Fat:

2g
Unsaturated Fat:

27g
Cholesterol:

202mg
Sodium:

922mg
Carbohydrates:

97g
Fiber:

6g
Sugar:

7g
Protein:

23g
Love this? Save and Share on Pinterest!