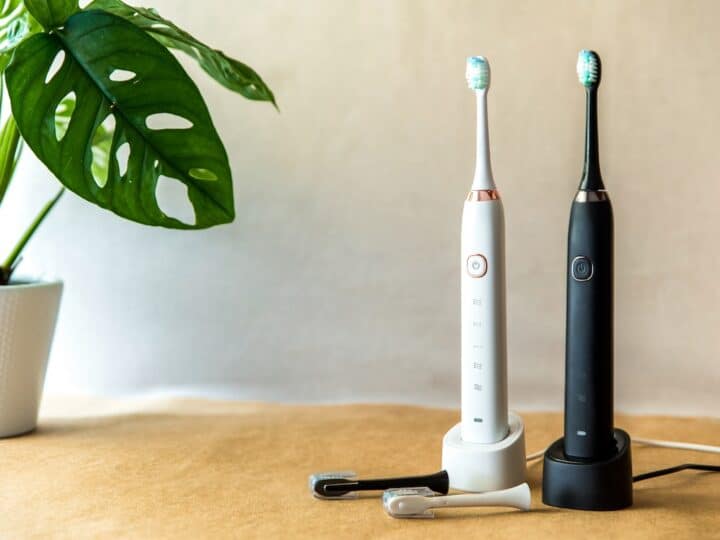 Looking for the best travel toothbrushes? These are the best on the market right now.
As tricky as it can often be when on the road, travel is no excuse not to look after your teeth.
It's a personal preference, but I much prefer electric over manual toothbrushes – the clean feeling is like no other. But, it's not a secret that these toothbrushes can be bulky AF, not to mention difficult to transport around with you and require charging often.
Not ideal when you're on a trip.
I've rated and reviewed the best travel toothbrushes to help you keep your teeth in tip-top shape while you're travelling. You and your pearly whites will thank me.
Best Travel Toothbrushes: At A Glance
Best Travel Toothbrushes
Best Travel Toothbrush: Things to Consider Before You Buy
Speed
Speed is important for achieving that squeaky-clean feeling. The main thing to consider is: What is the brush stroke per minute?
Sonic toothbrushes have a far higher brush rate than normal electric toothbrushes – this supposedly gives your teeth a deeper clean and makes cleaning difficult to reach parts of your mouth a breeze.
Timers
You are supposed to brush your teeth for two minutes at a time – but knowing how long you've brushed your teeth for can be impossible without a timer. The best toothbrushes will give you an alert every 30 seconds to move on to the next part of your mouth.
At the very least, having a toothbrush that alerts you when the two minutes is up is very useful. It's not a dealbreaker – you can just use your phone – but it is handy nonetheless.
Cleaning Method
Not all electric or sonic toothbrushes work in the same way. Some vibrate, some oscillate, some rotate. There's no one proven method that's superior to the others but you might have a personal preference.
The simpler toothbrushes in this guide do not have these cleaning methods – that's something you'll need to part with a lot more cash to have.
Heads
It's worth checking whether your toothbrush comes with extra heads, and how much these are to buy seperately. Spending slightly more upfront on a toothbrush that comes with plenty of extra heads to get you started might be worth it in the long term, particularly if you're travelling for a long time.
You also want to check that the heads are readily available – nothing sucks more than needing new toothbrush heads that are sold out 24/7 or not available where you are.
Portability
This really boils down to how heavy is the toothbrush, how easy is it to take apart and does it come with a travel case?
You can purchase travel cases separately, but let's face it – if you're parting your hard-earned cash, it's nice to know you're getting little extras thrown in, too.
Charging and Battery
Most travel toothbrushes come with rechargeable batteries. Opt for ones with the longest possible battery life.
The easier the charging options (i.e. wireless, or with an additional port for charging other devices) the fewer problems you're likely to run into while you travel. You'll definitely want a cordless toothbrush for travelling with.
Price
It's surprising how expensive some toothbrushes are. Ask yourself if you really need the extra features on the most expensive models and, more importantly, will you use them if you buy it.
There are significant differences between a good-value travel toothbrush and a top of the range one, but as the saying goes the best toothbrush is the one you actually use.
Ease of Use
How is the toothbrush to handle? Is it grippy? How heavy is it? Can you start it easily? Or is it so complicated that it's just a bit confusing?
Summary of Best Travel Toothbrush
Phew, so now you know my pick of the best electric travel toothbrushes on the market in 2023. But, which ones do I really recommend?
If you're on a budget, I cannot get over how cute the Philips One is. For such a small toothbrush, it packs a real punch – It's a great electric toothbrush for travel.
However, if you travel often and you're looking to invest in a high-quality toothbrush, the Oral B Genius X is my top pick – its features cannot be beaten and I think it's worth the higher price tag.
Love this? Save and Share on Pinterest!