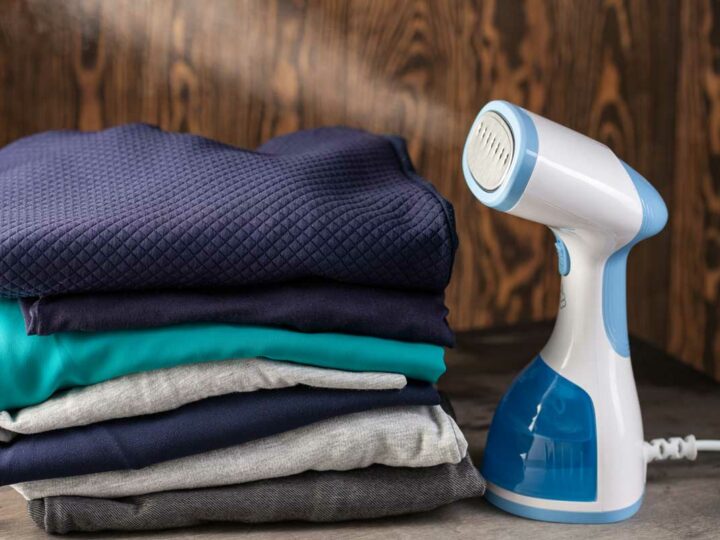 Looking for the best travel steamers? I've got you. These are the best clothing steamers for travel in 2023.
Even when you're travelling, you don't want to get caught looking like you just rolled out of bed. Ironing clothes takes too long and is too much of a faff when it comes to packing – this is why a travel steamer is your best friend on a journey.
These handheld, portable devices slip into your suitcase or carry-on and ensure you're ready for any occasion. They're quick to use, giving you more time to explore, and are gentle on even your most delicate items.
Ready to discover the best travel steamers on the market that will save your wallet, clothes, and travel luggage space? Let's go.
Best Travel Steamer: At a Glance
The Best Travel Steamer
Hilife Handheld Steamer – Best Steamer for Durability
£
The best travel clothing steamer by far is the Hilife Handheld Steamer, and I'm not just basing this on this product's sparkling reviews.
The Hilife steamer is compact, lightweight, and easy to carry around, making it perfect for travelling. And this small steamer packs quite the punch.
The 700W steamer is gentle on clothing, leaving them soft and wrinkle-free. It's super easy to use and incredibly durable. And with its 240ml internal capacity, it has 15 minutes of uninterrupted steaming ability.
The nine-foot cord allows you to use the steamer on curtains, bed sheets, etc., without hassle – so you'll even get use out of it at home. You don't have to hurt your wallet either; it's incredibly affordable and stands up to all of these high-end clothes steamers.
Like many happy users, you'll probably find the Hilife Handheld Steamer to be a great buy. It is convenient to use and does not take up a lot of space in your suitcase.
Hilife Handheld Steamer – Pros & Cons
| | |
| --- | --- |
| Pros | Cons |
| AffordableCompact size – easy to travel withDurableHeats up very quickly | Can leave small sputters of water on clothes (which will dry, but is good to know for clothing with colour stay issues)Best if you use it completely upright, or it will spill water |
Beautural Portable Steamer – Best Compact Steamer for Travel
££
The Beautural Portable Steamer is an absolute gem in the steamer category. One of the first qualities you'll notice about this steamer is that it can collapse to become a small addition to your suitcase, making it great for travelling.
But there's much more to this steam machine than meets the eye.
Its 260ml tank allows for 15 minutes of uninterrupted steaming, and it heats up within 30 seconds. You'll save space, time, and money with the compact and budget-friendly Beautural Portable Steamer.
Its detachable water tank makes filling it up super easy. It can even turn a pair of shorts you stuffed in the back of the drawer (we all have those) into a wrinkle-free wonder.
So for anyone constantly on the go, this is the perfect steamer for you. Compact enough to fit in your handbag or travel luggage, but strong enough to fight any wrinkle.
Beautural Portable Steamer – Pros & Cons
| | |
| --- | --- |
| Pros | Cons |
| AffordableHeats up within 30 secondsDoes not spit water or leakIt can collapse to become smaller – perfect for travel | The cord is a bit shortThe buttons are not very durableThe hole in the reservoir is small, so you'll need to use the pouring cup |
MagicPro Portable Steamer – Best Safety Features
£
For a wrinkle-free look in a few minutes, the MagicPro Portable Steamer is your best friend. It heats up super quickly, within 25 seconds, and you can use it on various fabrics. It removes wrinkles while properly sanitising your clothes, curtains, and more.
The steamer's water tank detaches, making it easy to travel with. It is not as small as other travel steamers for clothes, but its qualities make up for that tenfold. Due to the steamer's electronic pump system, you won't have any water spitting on your clothes.
Plus, the MagicPro steamer automatically turns off if it gets too hot or the water level goes too low to keep you safe.
The brush attachment is a game changer for anyone who understands the struggle of having pets. It's incredible at removing lint and pet hair.
For a good quality steamer with some fantastic attributes, the MagicPro Portable Steamer checks the boxes.
MagicPro Portable Steamer – Pros & Cons
| | |
| --- | --- |
| Pros | Cons |
| AffordableHas an electronic pump system to prevent water spittingThe automatic shut-off featureThe wide base design prevents the steamer from tipping and spilling | The controls are difficult to use if you're new to steamersIt's bigger than most travel steamers, so it takes up more space |
Black+Decker Advanced Steamer HGS200 – Best Steamer for Multi-Purpose Use
££
This lightweight Black+Decker Handheld Steamer is the perfect addition to your travel luggage. It delivers quick and effective performance that makes removing wrinkles a breeze.
It has a whopping 1400W of power and heats up in less than a minute. The buttons allow you to decide between a continuous steam flow or a powerful, quick burst that will chase away even the deepest of creases.
Its handheld design makes this steamer for clothes easy to travel with and comfortable to hold. You can also remove the 220ml water tank to make filling it easier.
Other wonderful attributes include a 15-minute auto shut-off feature and a 4.6-metre cord. You can journey from your bedroom to your kitchen with this steamer. It's also gentle on all fabrics, saving your silk shirts.
The Black+Decker Advanced Steamer removes pet hair like a champ but is still gentle on delicate fabrics, bedding, and curtains. You won't regret giving it a try.
Black+Decker Advanced Steamer HGS200 – Pros & Cons
| | |
| --- | --- |
| Pros | Cons |
| Has different attachments for different purposesThe automatic shut-off featureThe extra long cord allows for more freedom to move around | It does have a bit of water spittingIt's a bit bigger than other travel steamers |
PentaBeauty Steam Cleaner – Best Steamer for Steam Output
£
The adorable-looking handheld PentaBeauty Steam Cleaner honestly looks like a beauty appliance. Don't let its elegant appearance fool you; this steamer works hard.
The PentaBeauty Steam Cleaner is a gem. It heats up in 25 seconds, and you'll have 15 minutes of uninterrupted steaming. The 7-hole nozzle allows for 45% more steam output than most other steamers, which means wrinkles and creases don't stand a chance.
With its 2.4m cord, you won't struggle to get around. And the 5-in-1 multifunctional system means you can steam garments, curtains, toys, and more. This steamer is a lifesaver on trips because it's easy to pack and quick to use before heading out.
This garment steamer is incredibly safe as well. It has an automatic switch-off feature if the steamer gets too hot or the water tank runs empty. It also has good heat shielding due to the ABS material used to make the steamer.
The PentaBeauty Steam Cleaner is aesthetically pleasing to the eye while removing wrinkles like a champ.
PentaBeauty Steam Cleaner – Pros & Cons
| | |
| --- | --- |
| Pros | Cons |
| The automatic shut-off featureHeats up very quicklyEasy to use | It does have a bit of water spittingIt's a bit bigger than other travel steamers |
Travel Smart Conair Steamer – Best Overall Company for Steamers
££
The Travel Smart Conair Steamer is truly a marvel in the travel steamer world.
Conair has been around since the late 1950s and has a remarkable reputation. Their Travel Smart line has undoubtedly added to that. By creating a whole line of travel appliances and accessories, they have paved the way for you to be able to save space in your luggage.
Their Travel Smart Steamer is adorable and powerful at the same time. It's perfectly compact enough to travel with but can quickly remove wrinkles while destroying 99.9% of germs. It even has a folding handle to make it even smaller, so it fits perfectly in your carry-on.
The Conair steamer has a strong steam output that doesn't lessen as the tank empties. So even though you may need to refill it a few times, you won't have to struggle as it runs out.
This steamer doesn't need an electric converter as it has dual voltage capabilities. So with a good quality adapter, you won't struggle to use it when travelling. It's also super easy to clean – leave it open to dry inside and wipe the outside down with a cloth.
Travel Smart Conair Steamer – Pros & Cons
| | |
| --- | --- |
| Pros | Cons |
| Tiny, compact sizeHeats up very quicklyDoes not have much water spittingDual voltage capability | No automatic shut-off featureDoes not have many settings |
Quest 42140 – Best Steamer for Your Wallet
£
The Quest 42140 is the perfect steamer to leave your clothes looking super fresh.
It heats up in seconds and allows for 12 minutes of uninterrupted steaming. It's also incredibly gentle, so you can use it on materials like silk and chiffon.
The Quest 42140 is lightweight, which means your arm won't feel heavy after using it for a while. It may be a bit bigger in size compared to other travel steamers, but it's such a powerful machine that you won't even notice. This steamer will work perfectly if you're in a rush in the morning.
This magnificent travel steamer won't break your wallet either. It's incredibly affordable but still high quality. The Quest 42140 is definitely a travel steamer you need to try.
Quest 42140 – Pros & Cons
| | |
| --- | --- |
| Pros | Cons |
| AffordableHeats up very quicklyGentle on fabricsAutomatic shut-off | Bulkier than other optionsYou'll need an adapter for international travel |
MLMLANT Steamer – Best Steamer for Quick Use
££
The portable MLMLANT Steamer for clothes is a reliable and affordable travel steamer that will make the most of your time while travelling. It also works great as a fabric steamer.
This powerful tool heats up in 30 seconds. It's super effective for all garments, from suits to cotton shirts. It also has many uses, including dry iron and flat iron. With its 4-in-1 capabilities, it doubles as an iron steamer and travel steamer.
But of course, the travel aspect makes this steamer so great. It's lightweight and does not take up much space in your luggage. It also has a grip handle that allows you to hold it easily.
The MLMLANT Steamer won't burn your clothes either if you happen to forget it for a few minutes. It's incredibly safe to use.
It has an on/off switch that allows you to control the steam output. When it comes to travel steamers, the MLMLANT Steamer is an ace in the game.
MLMLANT Steamer – Pros & Cons
| | |
| --- | --- |
| Pros | Cons |
| LightweightVery safe to useHeats up quickly | Still has some water spittingNeeds a transformer and adapter for use in some countries |
Best Travel Steamer Guide – Things to Consider
Size
The most important aspect of a travel steamer is the size. If you can't pack it in a suitcase along with clothes and other items, it's not a good travel item.
Heating Element
Ask yourself these questions: Does it heat up quickly? Does it get quite hot? Will it steam the wrinkles in my clothes or spray them with lukewarm steam? You don't want to waste time in the morning waiting for a clothes steamer to heat up, only for it not to work correctly because it doesn't get hot enough.
Voltage
The purpose of a travel steamer is to travel with it. Dual voltage steamers are the best ones to look out for as you don't need an electric converter and an adapter to use in a country with a different type of power output.
Safety Features
"Steamers are hot" is an understatement. This means a critical aspect of a good steamer is how safe it is to use. You're good to go if it has an automatic shut-off system, is durable, doesn't leak water, and the manufacturers made it with good heat-absorbing material.
Summary of Best Travel Steamer
So now that you've read all about travel steamers, you're probably still asking, "Which is the best handheld steamer for clothes?"
Regarding safety features, compact size, quality, and price range, the Beautural Portable Steamer is the one to go for. And then a good second place is the MagicPro Portable Steamer if you're okay with it taking up a bit more space in your luggage (not too much, though).
I hope you have found a travel steamer that works for your travel routine. Enjoy your travels while looking and feeling super fresh!
Best Travel Steamers: Read Next