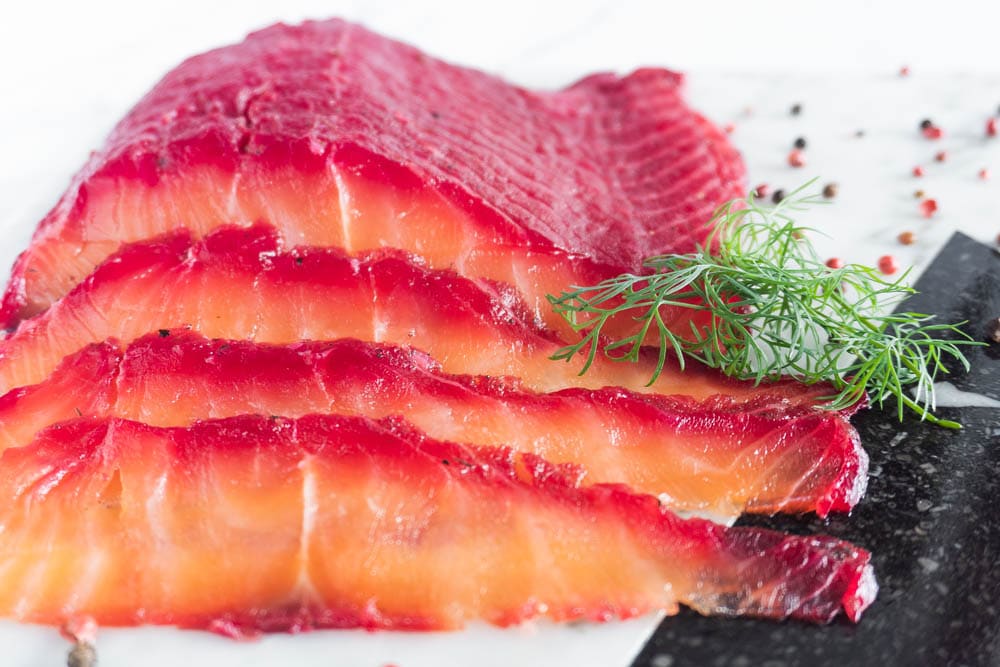 Beetroot cured salmon is one of my go-to recipes – one I've been making for years. Each time, tweaking it a little here and a little there until I've found a cure that not only infuses the salmon with a distinctive pink fringe of hue but also lends it a rich decadence that is far better than anything you can buy in the shops.
It's also surprisingly easy to make – the list of ingredients isn't that long, the hands-on time is minimal but the end result is a show-stopping beetroot gravadlax that never fails to elicit a wow from anyone unfamiliar with the process.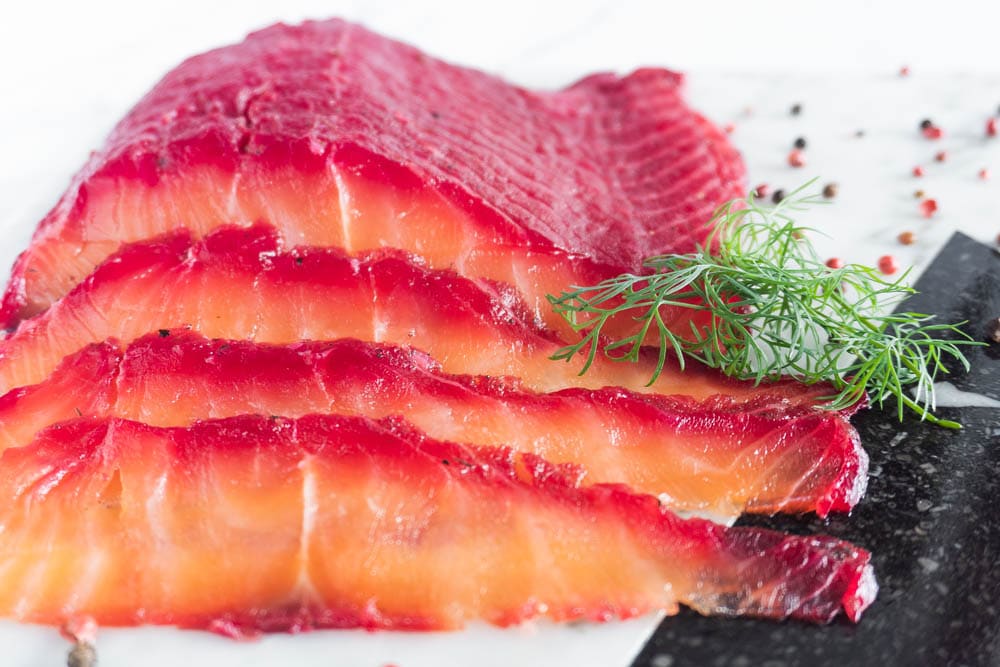 I'm basic AF, so anything that makes people think I'm some kind of culinary whizz whilst also taking very little effort is always going to get a large tick in my books.
Don't think that you have to save this recipe for special occasions either. I'm all for making recipes that feel like a treat, particularly if they'd be super expensive to buy ready-made and then just incorporating them into day-to-day life.
In fact, I make up a batch of cured salmon every couple of months because it's so versatile and you feel like some Edwardian lush eating at The Ritz rather than sitting at your battered wooden dining table.
Sounds good right? Scrap that, sounds divine.
Beetroot-cured salmon and scrambled eggs for breakfast? Naturally. What about homemade bread rolls with salmon, dill, cucumber and yoghurt? Heck yeah.
Now all we need is a Jeeves to bring it to us on a silver platter and we're good for life.
Practical Tips for Making the Beetroot Cured Salmon
Ensure You Have a Non-Corrosive Container Large Enough to Fit the Salmon
This might seem like an obvious tip, but it is really important to ensure that the salmon is able to lie flat while it is curing. It is also paramount that the curing process takes place in a non-corrosive container. To be honest, I just use a large tupperware tub (make sure it can fit in your fridge).
Remember to Rub the Cure into the Salmon Twice a Day
This is particularly important in the first couple of days. There have been times when I haven't done this consistently and the gravadlax has still turned out fine, but it does help the cure to penetrate the salmon and reduces the risk of failure, so try and be consistent.
Start Draining off the Leeched Liquid After a Couple of Days
Once you've got the salmon curing, you'll notice that it starts to leech out liquid almost immediately.
While I don't like pouring this out straight away, you should start pouring it out each time you rub the cure into the salmon a couple of days into the curing process and thereon.
Don't Be Afraid to Experiment
I first found this recipe in Lindy Wildsmith's fabulous book Cured but, over the years I've adapted it, changing up some of the quantities and adding in the caraway seeds, which give it a bit more bite.
Don't be afraid to change some of the flavourings – you might want to use maple syrup instead of sugar, tarragon alongside the dill, or experiment with the spices. Just be sure to keep the proportions of the curing ingredients equal when you do.
How to Store the Beetroot Salmon
Once you've made the house cured salmon, it will last in the fridge, wrapped in clingfilm or in an airtight container for up to a week.
You can also freeze the beetroot salmon, it will keep for up to three months.
Making the Beetroot Gravadlax: In Pictures
---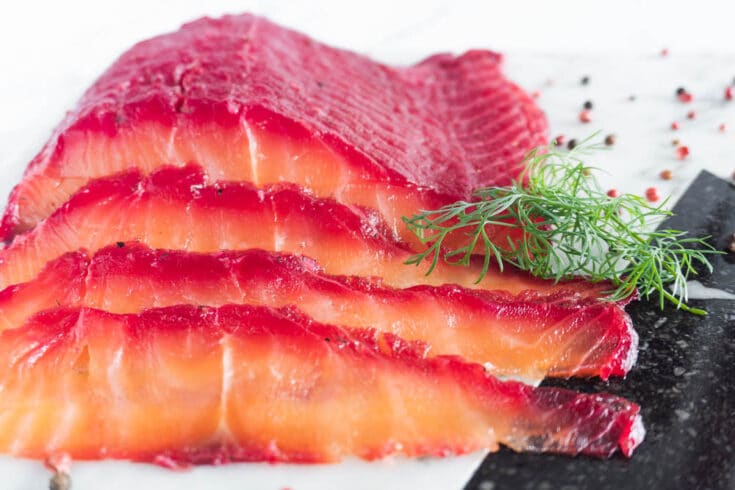 Beetroot Cured Salmon (Beetroot Gravadlax) Recipe
Total Time:
3 days
20 minutes
Beetroot cured salmon is a show-stopping dish that is ridiculously easy to make. Gravadlax is given an earthy tone and pretty hue with this unusual cure.
Ingredients
500g side of salmon
15g black peppercorns
15g juniper berries
10g caraway seeds
120g soft brown light sugar
120g salt
40ml dark rum
1 small bunch of dill, chopped
Zest of 1 lemon
500g raw beetroot, peeled and grated
Instructions
Grind the peppercorns, juniper berries and caraway seeds

Mix all the ingredients for the marinade - take the ground pepper, berries and seeds and mix with the sugar, salt, dill, zest, beetroot and rum.

Place the salmon flat in a large, non-corrosive container, empty the cure onto the salmon, rubbing thoroughly for a couple of minutes and ensuring the salmon is surrounded by the cure.

Cover with an airtight lid and put into the fridge where it will cure for three days.

As it is curing, remove the salmon from the fridge twice a day, massaging the cure into the salmon before re-covering and putting it back into the fridge.
After two days have elapsed, pour off any excess liquids and continue to do so each time you massage the cure into the salmon from thereon in.

After three days, pour off the marinade, wipe the salmon down with a sheet of kitchen towel and slice thinly to serve.

Nutrition Information:
Yield:
6
Serving Size:
1
Amount Per Serving:
Calories:

319
Total Fat:

11g
Saturated Fat:

2g
Trans Fat:

0g
Unsaturated Fat:

8g
Cholesterol:

53mg
Sodium:

7869mg
Carbohydrates:

34g
Fiber:

4g
Sugar:

27g
Protein:

21g
Love this? Save and Share on Pinterest!