A good beef ragu is a beautiful thing – the meeting point of tender, melt in your mouth beef and a rich sauce that is so much more than the sum of its parts.
Layers and layers of flavour built through careful preparation of the ingredients and the most important ingredient of all… time.
Beef shin is the perfect cut for a low and slow ragu – try and flash fry shin and you end up with something akin to leather. But let it blip on the stove, the collagen slowly breaking down to create morsels of moist but soft meat and you have a cut transformed.
It's comfort food at its very best – particularly if you really go the whole hog and serve it with ribbons of rich egg pappardelle, each bite bringing the pasta and unctuous sauce together in a delicious harmony.
Sounds good right? Let's get cooking.

Practical Tips for Creating a Banging Beef Ragu
Take the Time to Saute
Tempting as it is to bung the heat on high and flash fry your onions and celery, don't do this. You want to saute them on a low heat until they sweat and go translucent, not turn them into crispy crumbs. It always amazes me how much you can taste this in the final dish so don't rush it.
Brown Your Beef in Batches
Browning the beef might feel like one of those fussy things that people make up just to make your life more difficult but the maillard reaction you get from browning the beef is key to getting that nice rich taste in the stew.
Let me put it another way.
Do you like eating boiled meat? No? Well if you don't take the time to brown your beef, that's pretty much what it will taste like.

Which Pasta to Serve With Ragu?

Beef ragu tastes great with most pasta shapes but you'll want to serve it with wide ribbons of pappardelle for best effect. 
The wide ribbons give plenty of purchase for the sauce to stick to, without you having to drown the pasta in sauce in the way you would for conchiglie or macaroni.



What's the Difference Between Ragu and Bolognaise? 

This is a loaded question – the true difference between a ragu and bolognaise is a hotly contested one, but there are differences. 
Generally an Italian ragu is simply a meat-based sauce, so a bolognaise is a type of ragu. In bolognaise, the meat tends to be chopped very finely and there's a lot more tomato in it. In some regions, bolognaise is made with white wine rather than red, but that's not universal either.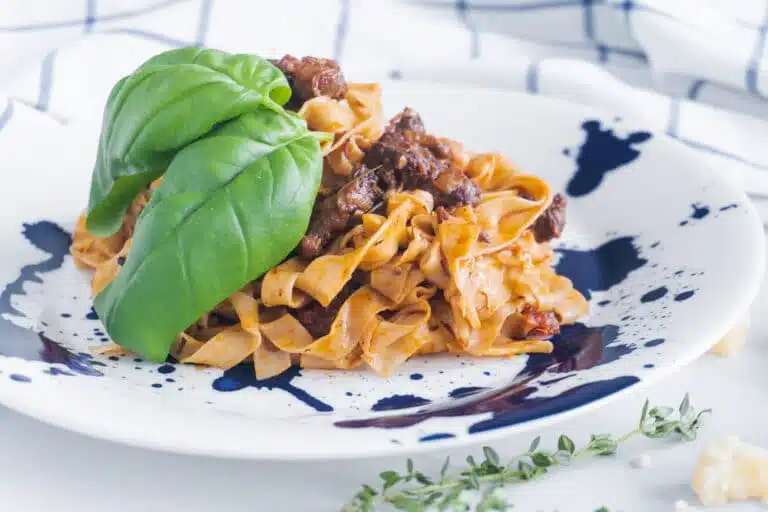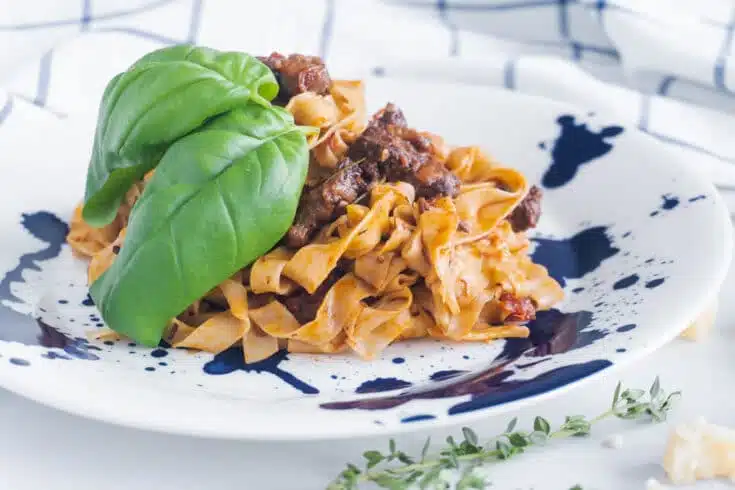 Yield:

Serves 4
Beef Shin Ragu Recipe
Cook Time:
3 hours
30 minutes
Total Time:
3 hours
45 minutes
Looking for the best beef shin ragu? This meltingly tender ragu is easy to prepare but tastes fantastic - rich, unctuous and perfect with pasta. 
Ingredients
2 tbsp olive oil
1 onion
½ stick celery
350ml red wine
1 tin chopped tomatoes
500g diced beef shin
1 tbsp tomato puree
2 cloves garlic
500ml beef stock
2 bay leaves
Sprigs thyme, basil, parsley and oregano
Instructions
Finely chop the onion, celery and garlic.
Heat a tablespoon of the olive oil in a large heavy pot on a medium heat. Add the onion and celery and turn to medium-low. Saute the onions and celery until translucent, then add the garlic, sauteeing for a few minutes more. Remove the onions, celery and garlic from the pot and put aside.
Turn the heat up, add the remaining olive oil and fry the beef until browned - you may need to do this in batches to ensure the beef has plenty of space.
Once the beef is browned, add the tomato puree, coating the beef and cook quickly for a minute or so to allow the puree to caramelize (but don't let it burn).
Return the onions, garlic and celery to the pan. Pour in the chopped tomatoes, red wine and beef stock.
Tie the bay leaves and herbs into a bouquet garni and add to the pot.
Cover and leave to simmer on a low heat for 3 hours. Remove the lid and turn up the heat to medium to reduce the sauce for 15 minutes.
Cook the pappardelle, drain the pasta, toss with the sauce, season with black pepper and a few shavings of parmesan (optional) and serve.
Nutrition Information:
Yield:
4
Serving Size:
1
Amount Per Serving:
Calories:

536
Total Fat:

32g
Saturated Fat:

11g
Trans Fat:

0g
Unsaturated Fat:

17g
Cholesterol:

109mg
Sodium:

342mg
Carbohydrates:

9g
Fiber:

1g
Sugar:

3g
Protein:

36g
Love This? Save and Share on Pinterest