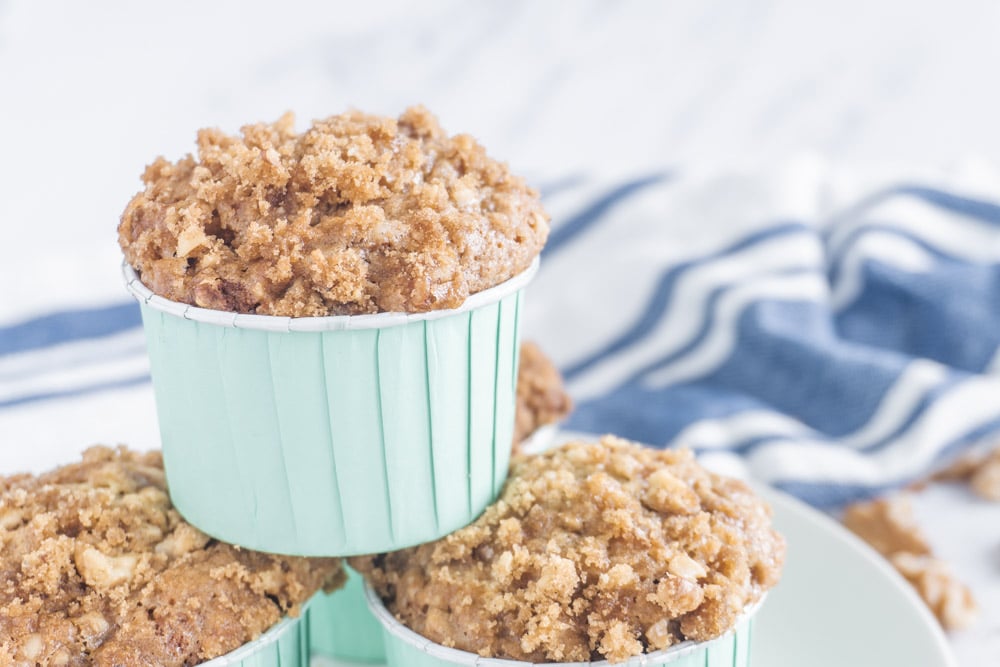 Banana muffin recipes are ten a penny – in a sea of recipes, it takes a real corker to stand out. Well my friends, that's exactly what you have here: a failsafe recipe for making amazing banana muffins that you can munch for breakfast, elevenses and pretty much every other moment of the day it takes your fancy.
This unnatural confinement we're all experiencing at the moment has so many unexpected consequences.
Can't keep my hands off them
Case in point? I accidentally ordered two bunches of bananas with my food delivery but, when they turned up, they were completely underripe and inedible. Somehow those very same bananas managed to segue to overripe and inedible without going through the expected delicious and edible stage in between. Go figure.
That left me with two big bunches of overripe bananas – so like any overenthusiastic baker in self-isolation, I decided to make not one but three sets of banana muffins.
First up were these fabulous banana crumb cake muffins, followed by a healthier version omitting the sugar and with extra grains and then some vegan muffins to round things off.
It's amazing how perky you feel when you're working on the first recipe… and how distinctly not perky you feel eight hours later when you're working through the third recipe for banana muffins in a day. Take my advice and just stick to one set of muffins at a time.
Anyway, these muffins were the undisputed king of the three. Turns out that when you take a plump and moist muffin and sprinkle a crunchy crumb mixture atop before baking, the end result is nothing short of heaven.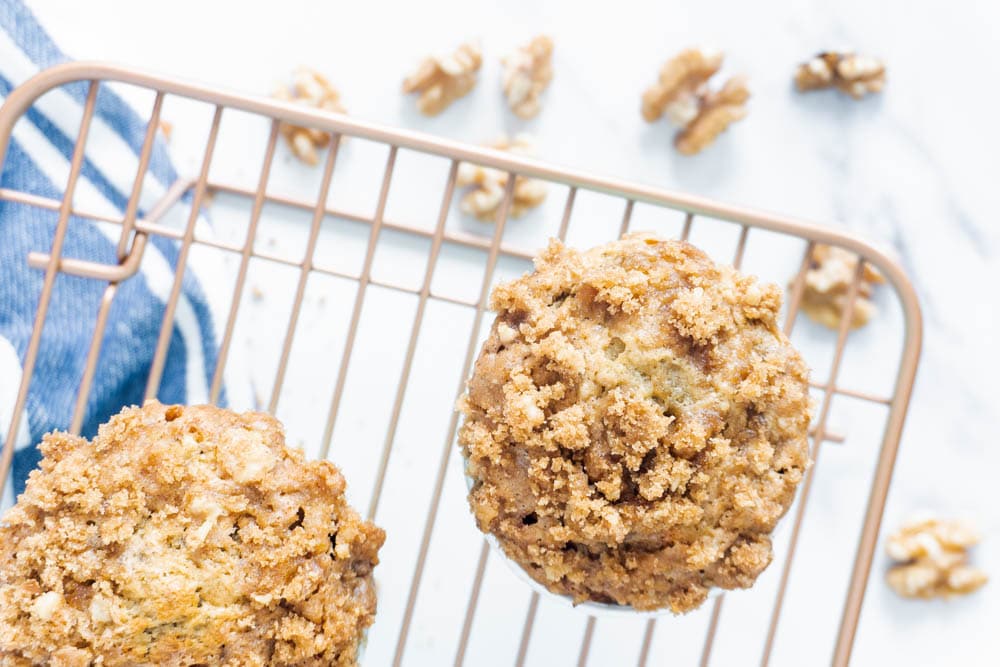 Practical Tips for Making the Best Banana Muffins
Use Ripe Bananas
It's absolutely crucial that you use ripe (or overripe) bananas for your banana bread muffins. You need them to transform into a thick, gooey liquid with small solid lumps when you mash them and that just won't happen with unripe bananas. Also, that chalky weird taste from unripe bananas finds itself into the final muffins and that's not what you want at all.
This is probably a good time to say that you should mash the bananas well before you mix with the other liquid ingredients.
Don't Overmix the Dry and Liquid Ingredients
As with most muffin recipes, you prepare the dry and liquid ingredients separately before mixing them together and baking.
Don't overmix the dry and liquid ingredients – you want them to be just combined, so use a spatula in a figure of eight in the bowl until they're combined.
Overmixing stretches out the gluten in the flour and results in dry muffins – ain't nobody want a dry muffin.
What's more, mixing too much can cause the air introduced by the bicarb and baking soda to be squeezed out, so you end up with flat and dry muffins – yuck.
Don't Skip the Crumb Topping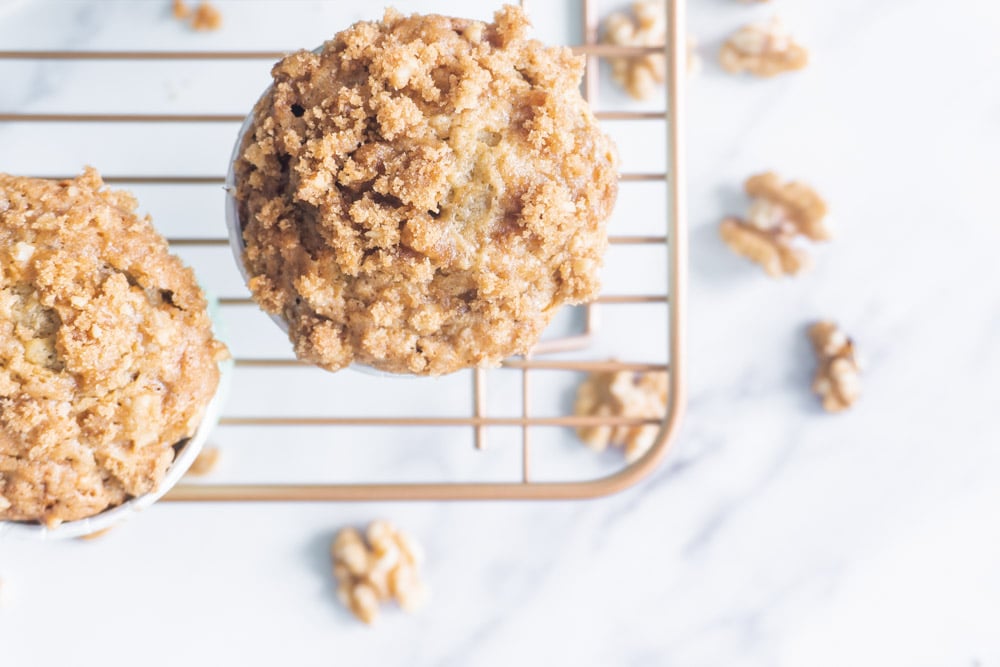 I won't front. These muffins are really good without the streusel crumb topping, but it is the crumb topping that will capture your heart. That surprise crunch and little burst of sweetness before you plunge into the plump muffin is everything.
Freezing the Muffins
You can freeze these banana muffins without a problem. Simply pop them in the freezer and then leave them to defrost slowly overnight… or pop them in the oven from frozen if you're feeling impatient (who isn't).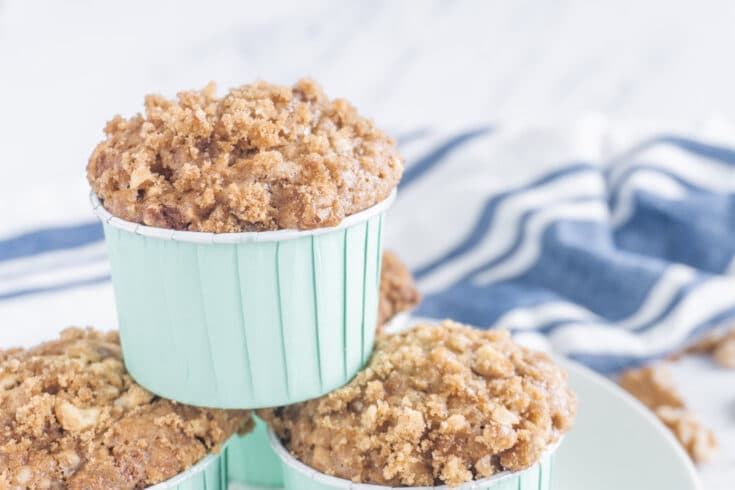 Yield:

Makes 12 Muffins
Banana Muffins with Crumb Topping
Make these moist and fluffy banana muffins with a crumb topping with this quick and easy recipe.
Ingredients
For the Muffins
190g all purpose flour
1 tsp baking soda
1 tsp baking powder
3 large ripe bananas
75g melted butter
95g soft brown sugar
1 large egg, beaten
½ tsp vanilla extract
Pinch of salt
Streusel Topping
75g brown sugar
10g flour
½ tsp cinnamon
15g butter
30 walnuts, crushed into small pieces
¼ tsp dried ginger
Instructions
Preheat the oven to 190℃ and prepare a muffin tray with muffin cases.
Start by making the streusel topping - put all the ingredients into a bowl and rub the butter in until the mixture resembles breadcrumbs.
Sift the flour, baking soda and bicarbonate of soda into a bowl, add the sugar and salt and mix through.
Mash the bananas until liquid in a separate bowl. Add the beaten egg, melted butter and vanilla extract. Stir to combine.
Make a well in the bowl with the dry ingredients and pour in the wet ingredients, stir in a figure of eight until just combined - it's important you don't overstir it.
Spoon the mixture into the muffin cases - each one should be about ⅔ rds full. Top with a spoonful of the crumb topping, applying it as evenly as you can.
Put into the oven and bake for 20-25 minutes, or until a toothpick comes out clean when inserted into the muffins.
Leave to cool on a wire rack.
Nutrition Information:
Yield:
12
Serving Size:
1
Amount Per Serving:
Calories:

239
Total Fat:

10g
Saturated Fat:

4g
Trans Fat:

0g
Unsaturated Fat:

5g
Cholesterol:

32mg
Sodium:

215mg
Carbohydrates:

35g
Fiber:

2g
Sugar:

18g
Protein:

3g
Love This? Save and Share on Pinterest!