Nasty women have been doing great things since time began.
Cleopatra, Joan of Arc, Elizabeth I, Emmeline Pankhurst, Rosa Parks – history is filled with problematic women who left great legacies behind.
Now I don't want to be too tongue in cheek, but the same could be said of the prostitutes who blessed us with pasta puttanesca.
What? Don't shoot the messenger.
Even for a country that isn't afraid to embrace flavour, pasta puttanesca feels a little vigorous.
The salty tang of anchovies, the intense hit of olives, pushed even further by the little bursts of flavour from the capers and garlic, barely tempered by the tomato sauce that brings it all together.
That's all before you get to the controversial chilli flakes, are they traditional or are they not? Do we even care? These are the questions Hamlet should have been pontificating about if he really wanted to get our pulses racing.
Hold up… what is puttanesca?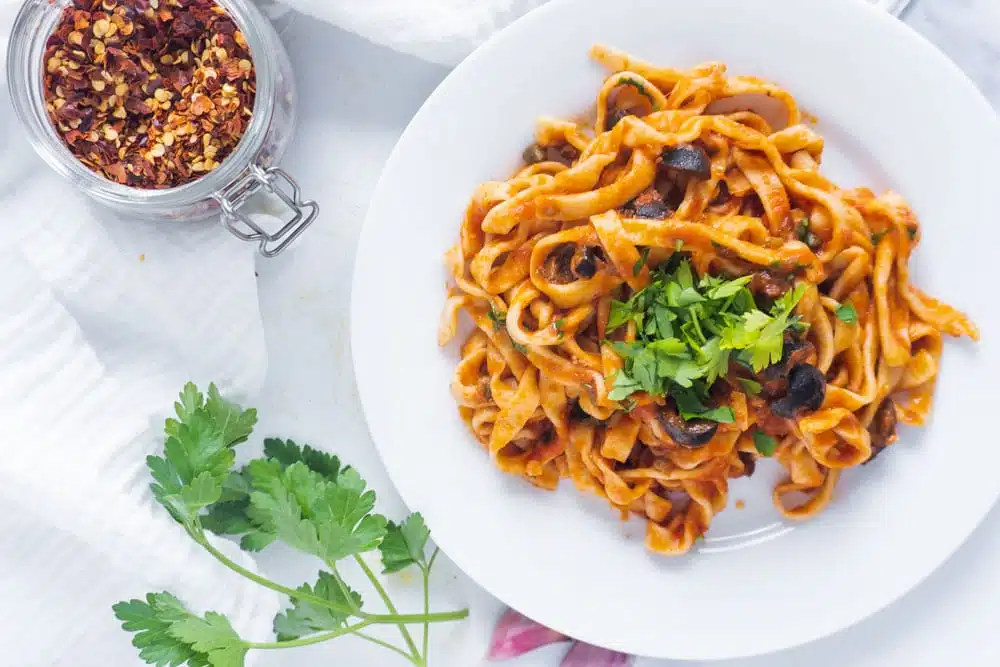 Pasta puttanesca translates as whore's pasta, as legend has it that courtesans created it to use up ingredients in the cupboard to restore their strength after a hard day's (night's?) work.
It's not elegant, it's not shy or timorous, rather, pasta puttanesca is the kind of dish you finish then lick the plate to get just one more touch of that umami hit (not that I'd know from personal experience, obvs).
Making a recipe that was borne out of the necessity of using whatever people could find on the shelves feels apt at this moment in time. Not to mention the fact that it can get you out of a tight spot when the shelves are increasingly bare (don't start protesting about the fact you can't buy pasta – I've put up a recipe for making fresh pasta here).
I've always loved Felicity Cloake's granular way of breaking down different approaches to the same recipe in order to create a "perfect" version and, with a dish whose correct ingredients are so hotly disputed, her "How to Cook the Perfect Pasta Puttanesca" was a good place to start.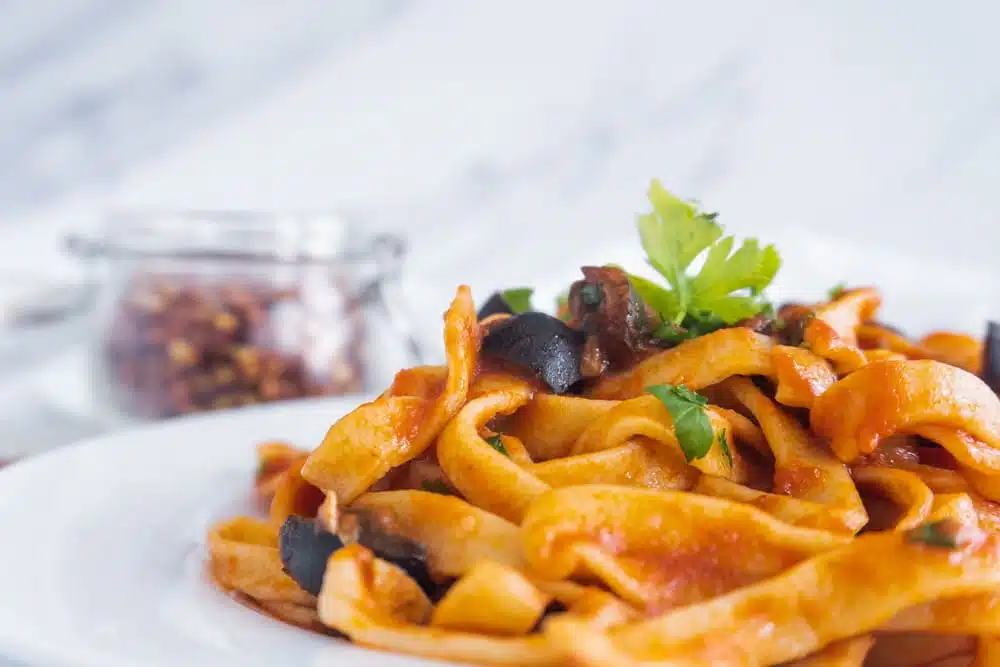 That said, I don't always agree with where she gets to with the final dish and this was one of those cases, so I've amended it accordingly. Enjoy with gousto.
Practical Tips for Making Pasta alla Puttanesca
Which Pasta Should I Use?
Traditionally, you use spaghetti to make pasta puttanesca but (and I pray to escape the wrath of uncle Giuseppe for saying this), I prefer it with tagliatelle, so that's what I made it with.
You can use most pastas for this sauce but ideally you want a lighter pasta that can be nicely coated in the sauce, so think long pasta (fettuccine, tagliatelle and, of course, spaghetti) rather than short here.
Don't Use too Much Tomato
The point of puttanesca sauce is to let the flavour of the other ingredients really sing, which they definitely can't do if you get your ratios out of whack and do something crazy like using a tin of chopped tomatoes with one solitary anchovy. Step away from the tomatoes. Less is more.
Don't Serve it With Cheese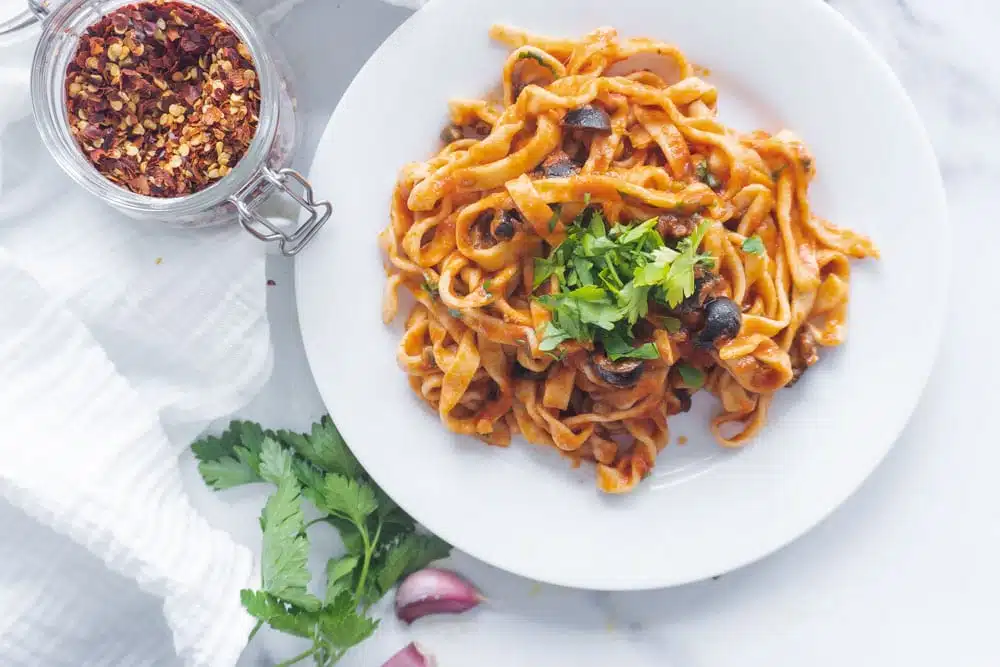 I always loved the late Italian chef Antonio Carluccio, particularly as he wasn't afraid to lay down some rules about what can and can't fly in Italian cooking, so it was natural I took a peek at his "Complete Italian Food" before daring to stray into the world of the puttanesca.
Carluccio doesn't even have a recipe on pasta puttanesca, assuming that every enthusiastic cook will already have their own preferred way of cooking the dish up their sleeve but he does take the time to give us one rule. "Dishes using this sauce are never served with cheese".
Not sometimes, not rarely… never. Doesn't get much clearer than that.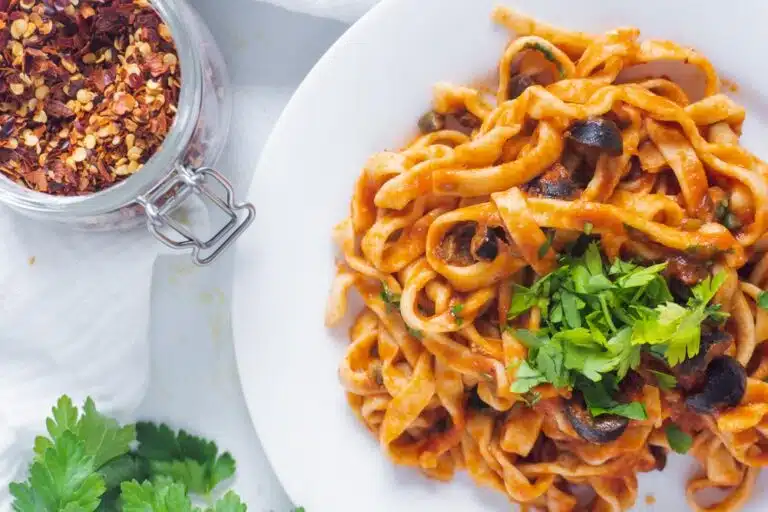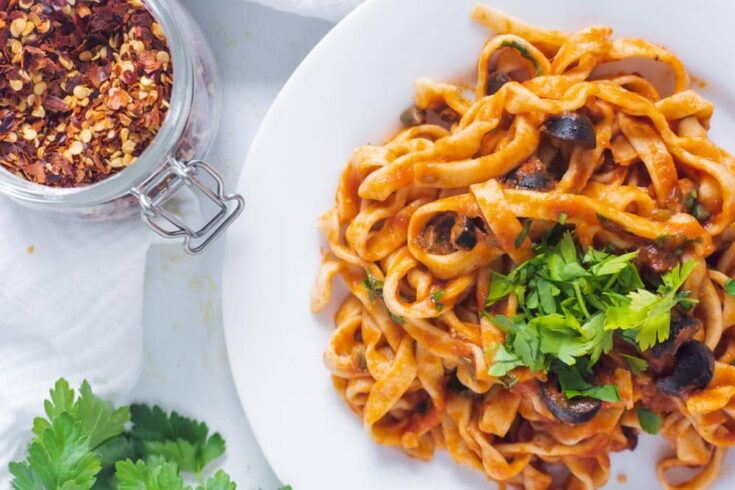 Yield:

Serves 2
Authentic Pasta Puttanesca Recipe
Pasta puttanesca is punchy, bold and unapologetically full of flavour. Learn how to make authentic puttanesca sauce with this step by step recipe.
Ingredients
160g long pasta
1 tsp chilli flakes (optional)
2 garlic cloves, thinly sliced
Four anchovies, chopped
75g pitted black olives
1 tbsp capers (rinse if they come in salt), roughly chopped
3 tablespoons olive oil
200ml passata
1 tsp tomato paste
Instructions
Warm the olive oil on a medium-low heat. Once hot, add the garlic and gently fry until it turns a light golden brown.

Add the anchovies and stir until they break up and melt into the oil.

Add the olives, chilli and capers and stir until covered and sizzling.

Pour in the passata and squeeze in the tomato paste, stir well and leave on the heat to simmer for around five minutes.

Cook the pasta (fresh or dried) according to instructions.

Drain the pasta, toss into the sauce, stir and coat thoroughly.
Serve with freshly-ground pepper.

Nutrition Information:
Yield:
2
Serving Size:
1
Amount Per Serving:
Calories:

376
Total Fat:

26g
Saturated Fat:

4g
Trans Fat:

0g
Unsaturated Fat:

21g
Cholesterol:

7mg
Sodium:

684mg
Carbohydrates:

29g
Fiber:

3g
Sugar:

1g
Protein:

8g
Love this? Save and share on Pinterest